This Apple Pie Spiced Coffee recipe is wonderfully flavored and easy to make. This delicious Fall coffee drink is perfect for cool Fall days or evenings. This non alcoholic spiced coffee recipe will win your heart with its yummy, creamy apple pie flavors. Your whole family can enjoy this
you can add a shot of your favorite whiskey to warm it up even more if you prefer. Otherwise enjoy it alcohol free. It's so delicious!
What is a spice coffee? A spice coffee, also known as spiced coffee, is coffee that has been flavored and enhanced with various spices and seasonings. Spiced coffee recipes involve adding spices like cinnamon, nutmeg, cardamom, cloves, or other flavorings to the coffee grounds or brewed coffee to infuse them with extra depth and complexity.
Adding spices to coffee transforms a regular cup of coffee into a wonderfully flavorful drink that brings out the best part of your favorite home brewed coffee.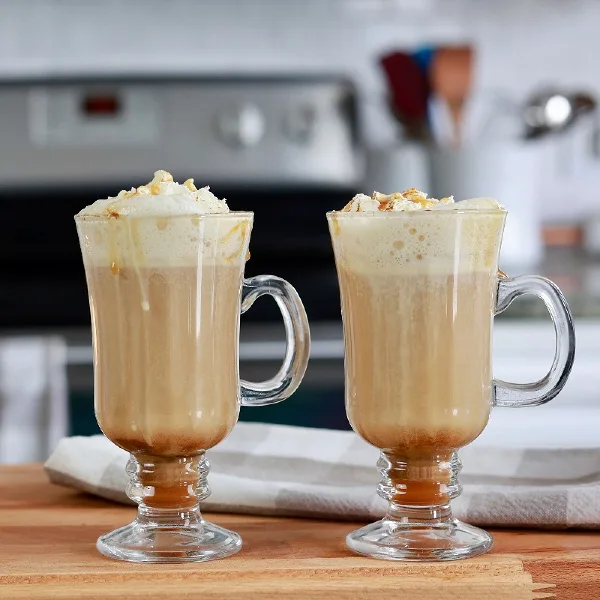 Common Types of Spiced Coffee:
There are myriad ways different traditions and cultures have made coffee throughout the history of man. Spiced coffee drinks hold a valued position in those traditions for many of the people of our world.
Why is Moroccan Coffee so good? Moroccan coffee, often referred to as "Gahwa," is known for its uniquely distinct flavor profile. Moroccan spiced coffee recipe is flavored with a blend of spices. Here's a thumbnail sketch of how to make it.
To every 1 cup of freshly brewed strong coffee (preferably dark roast), add 1/4 teaspoon ground cardamom, 1/4 teaspoon ground cinnamon, 1/4 teaspoon ground nutmeg, 1/4 teaspoon ground cloves. For sweetener add 1-2 tablespoons granulated sugar (adjust to taste). A pinch of nutmeg is optional.
These spices add depth and complexity to the coffee's flavor, creating a rich and aromatic taste that sets it apart from regular coffee.
For even more ways to make spiced coffee take a look at this list. Fall coffee recipes abound at all the coffee kiosks. Here's some ideas on what to use to make your own spiced coffees.
Cinnamon Spiced Coffee Recipe: This is coffee flavored with ground cinnamon or cinnamon sticks. It has a warm, sweet, and slightly spicy flavor. Start with 1/2 Tsp. ground cinnamon per cup of coffee. Add a sweetener, like brown sugar and a dollop of whipped cream on top with a sprinkle of cinnamon for color.
Pumpkin Spice Coffee: Typically made with a blend of spices like cinnamon, nutmeg, cloves, and ginger, (use the pumpkin pie spice found at your local grocer to get the right mix). Pumpkin spice coffee is a popular fall and winter coffee drink that mimics the flavors of pumpkin pie.
Chai Coffee: Inspired by chai tea, chai coffee combines spices like cardamom, cinnamon, ginger, and cloves with coffee to create a fragrant and spiced drink.
Mexican Spiced Coffee: Often made with ground cinnamon and sometimes a hint of chili powder, Mexican spiced coffee is known for its bold and spicy flavors.
Gingerbread Coffee: Gingerbread spices like ginger, cinnamon, and cloves are added to coffee for a holiday-inspired treat reminiscent of gingerbread cookies.
Spiced Mocha: Combining spices with chocolate in a mocha (coffee with cocoa), this variation offers a rich and indulgent experience.
If you see a favorite flavor at your local coffee shop, you can probably make it at home.
How To Make Spiced Coffee Recipe
Spice coffees are usually made with two methods. Add the spices to the coffee grounds before brewing or stir them right into the brewed coffee, like we did in this spiced coffee recipe. The choice of spices and how much you want to use are a matter of taste.
But like all things food, coffee is amazingly complex and diverse. The type of bean you use, it's roasting method, the spices freshness and how you put them together with the ground coffee will all play a part in the finished product.
When you've discovered your perfect spice blend we would love to know in the comments section below, what you came up with. It's so fun to share unique and aromatic coffee experiences. Whether you enjoy your coffee black or with cream and sugar, spiced coffee is a delightful way to change up your daily brew.
What Spices To Put In Coffee?
Spices do add a wonderful depth and flavor to your coffee when properly done. Adding a few spices into your favorite coffee drink will make it even better. Here are some common spices you can add to your coffee:
Cinnamon: Ground cinnamon is one of the most popular spices to add to coffee. It provides a warm and slightly sweet flavor that complements the coffee's bitterness.
Nutmeg: Nutmeg adds a nutty, slightly sweet, and spicy flavor to your coffee. You can use freshly grated nutmeg or ground nutmeg.
Cardamom: Cardamom is a fragrant spice that adds a unique, citrusy, and slightly sweet flavor to coffee. You can use ground cardamom or whole cardamom pods that you crack open before adding.
Cloves: Ground cloves can add a spicy and slightly earthy flavor to your coffee. Be cautious with cloves, as they are quite potent, and a little goes a long way.
Allspice: Allspice has a flavor reminiscent of a combination of cloves, cinnamon, and nutmeg. It adds a warm and slightly spicy note to your coffee.
Ginger: Ground ginger or freshly grated ginger can add a spicy and slightly zesty kick to your coffee. It pairs well with other spices like cinnamon and nutmeg.
Vanilla: Vanilla extract or vanilla bean can provide a sweet and aromatic flavor to your coffee. You can also add a vanilla pod or bean while brewing.
Anise: Ground anise or star anise can impart a licorice-like flavor to your coffee. It's a unique and bold addition.
Peppermint: A dash of peppermint extract or a crushed peppermint candy can give your coffee a refreshing minty twist.
TIPS: When using spices in your coffee, start with a small pinch or dash, as some spices can be quite potent. You can experiment with different combinations to find the flavor profile you enjoy the most. Add the spices directly to the ground coffee before brewing or stir them into your brewed coffee. Spiced coffee can be especially enjoyable during the colder months or as a special treat.
What Are The Benefits Of Adding Spices To Coffee?
Adding spices to coffee can offer several benefits for both the flavor and even potential health advantages.
Here are some of the benefits of adding spices to your coffee:
Enhanced Flavor: Spices like cinnamon, nutmeg, and cardamom can add depth and complexity to the flavor of your coffee. They provide a unique and aromatic profile that complements the natural taste of coffee, making it more interesting and enjoyable.
Variety: Customize your spice combinations to suit your tastes. You can create different flavor profiles, such as pumpkin spice for a fall treat or gingerbread spice for a holiday twist, to keep your coffee experience diverse and exciting.
Aromatherapy: The aroma of spices can have a soothing and comforting effect, enhancing the overall coffee-drinking experience by engaging your sense of smell. Aromatic spices can evoke feelings of warmth and relaxation.
Digestive Benefits: Certain spices, such as ginger, may have digestive benefits. Adding a small amount of ginger to your coffee can potentially help with digestion and alleviate stomach discomfort.
Antioxidant Properties: Some spices, like cinnamon and cloves, like a good organic coffee bean, are rich in antioxidants. Antioxidants help combat free radicals in the body and may contribute to overall health and well-being.
Blood Sugar Regulation: Cinnamon, in particular, is known for its potential to help regulate blood sugar levels. Adding cinnamon to your coffee may have a positive impact on your blood sugar control.
Anti-Inflammatory Effects: Certain spices, such as turmeric, have anti-inflammatory properties. While it's less common to add turmeric to coffee, doing so may offer potential health benefits.
Weight Management: Some spices, like cayenne pepper, have been associated with boosting metabolism and promoting weight loss. Adding a pinch of cayenne to your coffee might be beneficial if you're looking to support your weight management goals.
Reduced Sugar Intake: Adding spices can naturally enhance the sweetness of your coffee without the need for additional sugar or syrups. This is a benefit if you're looking to reduce sugar intake.
Of course its best to know what your trying to accomplish with the health benefits and your personal flavor preferences before you begin.
Make This Spiced Coffee Recipe Into a Coffee Cocktail:
This is a non alcoholic spiced coffee recipe. However, If you want to add alcohol to it here are some ideas on how to do that.
Adjust the quantities based on your personal taste and preference.
You can either mix the alcohol directly into the coffee mixture in the final step before serving, after removing the spiced coffee recipe from the heat, or add it to the individual mugs before garnishing with whipped cream.
Heating alcohol on the stove can poorly impact its flavor and potency.
Rum: Dark or spiced rum pairs well with the flavors of apple pie spice and caramel. Start with 1 to 1.5 ounces (30 to 45 ml) of rum per serving.
Baileys Irish Cream: This creamy liqueur with a hint of coffee flavor can add a delightful twist to your coffee. Begin with 1 to 1.5 ounces (30 to 45 ml) of Baileys per serving.
Whiskey: A good-quality bourbon or whiskey can complement the warm, spiced notes of your coffee. Start with 1 to 1.5 ounces (30 to 45 ml) of whiskey per serving.
Kahlúa: This coffee liqueur can enhance the coffee flavor in your recipe. Use 1 to 1.5 ounces (30 to 45 ml) of Kahlúa per serving.
Brandy: A smooth brandy can add depth to your coffee. Start with 1 to 1.5 ounces (30 to 45 ml) of brandy per serving.
Adding flavored alcohols into this spiced coffee recipe allows you to take control of the flavor profile of this drink and make it into a flavorful Fall drink suited perfectly for just you. There are so many flavors of vodka, whiskey and schnapps you can play around with. Here's a couple to get you started.
Whipped Cream vodka: Whipped cream vodka adds a creamy and slight sweetness to the drink. It also complements the caramel and apple spice flavors nicely.
Vanilla-Flavored Vodka: Vanilla-flavored vodka can be a delicious addition to your Apple Pie Spiced Coffee. Start with about 1 to 1.5 ounces (30 to 45 ml) of vanilla vodka per serving. It will add a subtle vanilla note that pairs well with the other flavors.
Flavored Whiskey: Flavored whiskeys like Crown Apple or other fruit-infused whiskeys can work wonderfully in this recipe. They can enhance the apple pie theme. Start with 1 to 1.5 ounces (30 to 45 ml) of flavored whiskey per serving. Adjust the quantity to your preference, as flavored whiskeys can vary in sweetness and intensity.
Cinnamon Schnapps: For an extra boost of cinnamon flavor, consider adding a splash (about 0.5 to 1 ounce or 15 to 30 ml) of cinnamon schnapps.
Apple Pie Spiced Iced Coffee Recipe:
Are you enjoying a warm Fall season? Want this Apple Pie spiced coffee recipe iced? Here's how to make this drink into a cold apple pie spiced coffee drink.
Ingredients:
3 cups of freshly brewed coffee, cooled
1/2 cup of heavy cream
1/2 cup of salted caramel sauce
1 teaspoon of apple pie spice
Ice cubes
Whipped cream (for garnish)
Instructions:
Brew the coffee, pour it in a saucepan with additions per the printable recipe and allow it to cool completely.
Drizzle salted caramel sauce along the sides of the glass for extra sweetness as desired.
Fill 12 oz. glasses with ice cubes.
Pour the cooled coffee mixture evenly into the glasses with ice.
Garnish with a dollop of whipped cream, an extra drizzle of caramel sauce and a sprinkle of apple pie spies if desired.
Yield:

2 coffee drinks
Apple Pie Spiced Coffee
Apple Pie Spiced Coffee drinks are a wonderfully flavored, easy to make Fall coffee drink. I'ts non alcoholic.
However, you can add a shot of your favorite alcohol to warm it up even more if you prefer. Read the entire post for ideas on how make this an iced coffee drink, or to add alcohol to it, or even more and different spices. So many ways to enjoy this recipe. It's so delicous!
Ingredients
3 Cups Coffee (fresh brewed)
1/2 cup heavy cream
1/2 cup salted caramel
1 tsp. apple pie spice
Garnish: As desired salted caramel and whipped cream
Instructions
Heat ingredients together on stove top on low heat a few minutes until the caramel is melted.
Stir gently until combined.
Pour into 12 oz. serving cups
Garnish with salted caramel stripes in the cup and whipped cream on top with more caramel to taste. Enjoy!
Notes
A full 12 cup coffee pot will make up to 8 servings. Just scale up the other ingredients by three. You can also make this in a large batch in a slow cooker or keep it on warm in your instant pot. Just stir gently before serving.
To add alcohol to this drink: You can add 1/2 oz whipped cream vodka, or a caramel or apple whiskey (to taste) to bring even more flavor to this drink and enjoy a warm Fall coffee cocktail.
Nutrition Information
Yield
2
Serving Size
1
Amount Per Serving
Calories

256
Total Fat

22g
Saturated Fat

14g
Trans Fat

1g
Unsaturated Fat

7g
Cholesterol

67mg
Sodium

98mg
Carbohydrates

14g
Fiber

0g
Sugar

14g
Protein

2g
More Delicious Coffee Drinks:
No matter the time of year, we have coffee drinks that will satisfy your seasonal cravings. Some with alcohol and some without. You choose your favorites and let us know in the comment section below.
More Delicious Drinks:
Follow Us:
We enjoy meeting you on our social networks. Follow us on Facebook, Pinterest, Instagram . Tag us with your pictures of our recipes and comment on how it went for you. We would love to see what you do with them.
We often like, comment and share your posts of our recipes on our daily Instagram stories.
Ask questions and rate the recipe in the comments section below. Please share what you did with this recipe. We are always looking for more and better ways to make homemade food. Other cooks love your ideas!
Recent Posts: