The Buttery Nipple Shot is a particularly fine dessert shot. So sweet and smooth and creamy you will be completely satisfied. A nice shot of sweet satisfaction.
A buttery nipple shot is a cream based shot that uses Butterscotch Schnapps. The base of this shot is two ingredients Bailey's Irish Cream and Butterscotch Schnapps. This shot gets its name from the creamy buttery taste of the butterscotch. It's a delicious and easy shot to take.
This shot is also known in different forms by other names like cowboy…and a few names I'm not saying here. They are not exactly the same recipe. But they DO use the same ingredients.
The cowboy is double the alcohol. I like the buttery nipple as a mellow sweet creamy shot.
Check out ALL of our delicious alcohol drinks in our Cocktail Section. We have a little something in there for everyone who drinks.
What Alcohol is in Butterscotch Schnapps?
Butterscotch schnapps is a liqueur. Schnapps is made from flavoring, sugars, and a base spirit. The base spirit for butterscotch schnapps is commonly Jamaican rum. Butterscotch schnapps is very smooth and has a lower ABV (alcohol by volume). The ABV of most butterscotch schnapps is between 15-20%. This is an easy schnapps to drink, and is popular in fall and winter cocktails.
What drinks can you make with butterscotch schnapps?
The buttery nipple is probably the most popular butterscotch schnapps drink However, it certainly isn't the only delicious beverage you can make with it. Here are a few of our favorite drinks to make with butterscotch schnapps:
Buttered Monkey Cocktail
Butterfinger Milkshake (alcohol version)
Caramel Apple bomb shot
Butter Beer (alcohol version)
Banana Foster Cocktail
Butterball Cocktail
Butter shots Cocktail
Candy Corn Martini
Slippery Nipple
Salted Caramel White Russian
Butterfinger Cocktail
Butterscotch Coffee Cocktail
Buttery Hot Chocolate
Butterscotch Martini
Butterball Shots
Shots that are creamy:
B-52 Layered Cream Shot
Blow Job Shot
Butterball Shooter
Cinnamon Toast Crunch Shot
Scooby Snack Shot
Irish Slammer (bomb shot)
Oatmeal Cookie Shot
Nutty Irishman
Candy Corn Pudding Shots
Mudslide Shot
Nutella Vodka Shots
Baileys Butterfinger Shots
Buttery Nipple Recipe:
Have a butterscotch shot for a lovely after dinner drink or drink with a friend.
At 129 calories per shot The Buttery Nipple is a great choice for a dessert drink. It's sweet and tasty. And Way less calories than a chocolate martini, espresso martini or baileys mudslide or holy cow the Banana Split dessert Cocktail.
Buttery Nipple Ingredients:
This is SO simple to make. Who doesn't have a bottle Baileys Irish Cream and Butterscotch Schnapps in the ole wet bar? You don't? Go get them. You will find lots of drink recipes to use them up. Promise.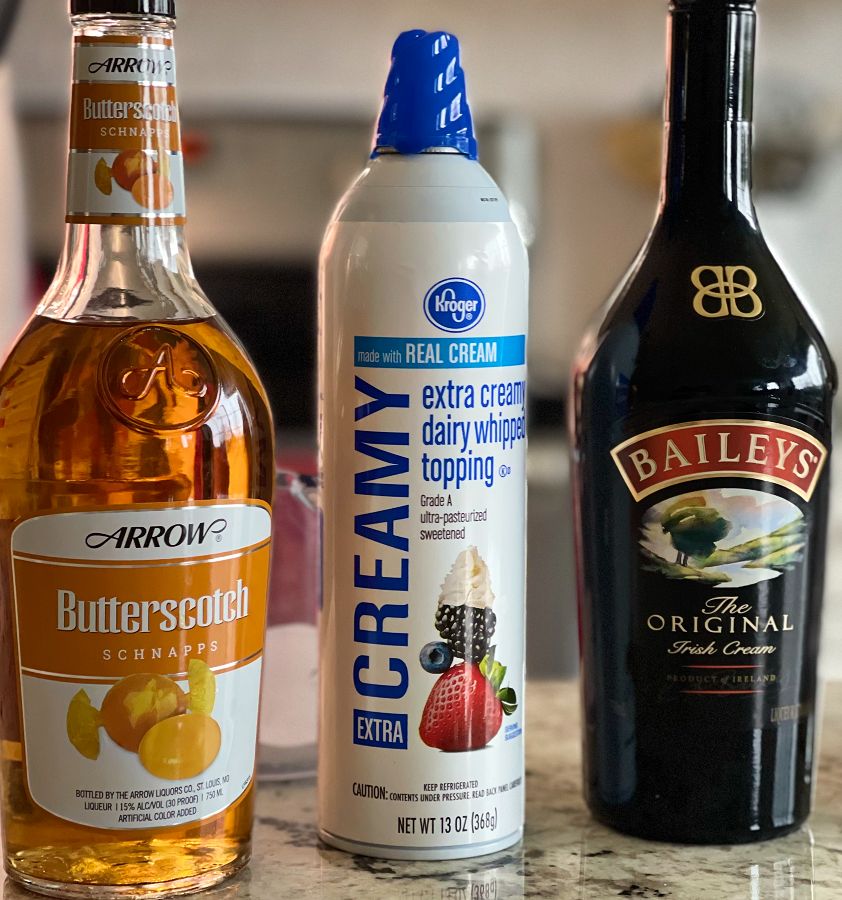 This shot is 32 proof or about 16% alcohol. Perfect relaxer but not too powerful. Just right. Enjoy!
Garnish:
I make the buttery nipple in a tall 2 oz. shot glass so I have room to add a dollop of whipped cream on top. That just finishes this drink perfectly as a dessert drink.
You can also add a fresh raspberry on top if you like. It's tasty and adds a certain…ambience. If you take my meaning.
More Delicious Shots: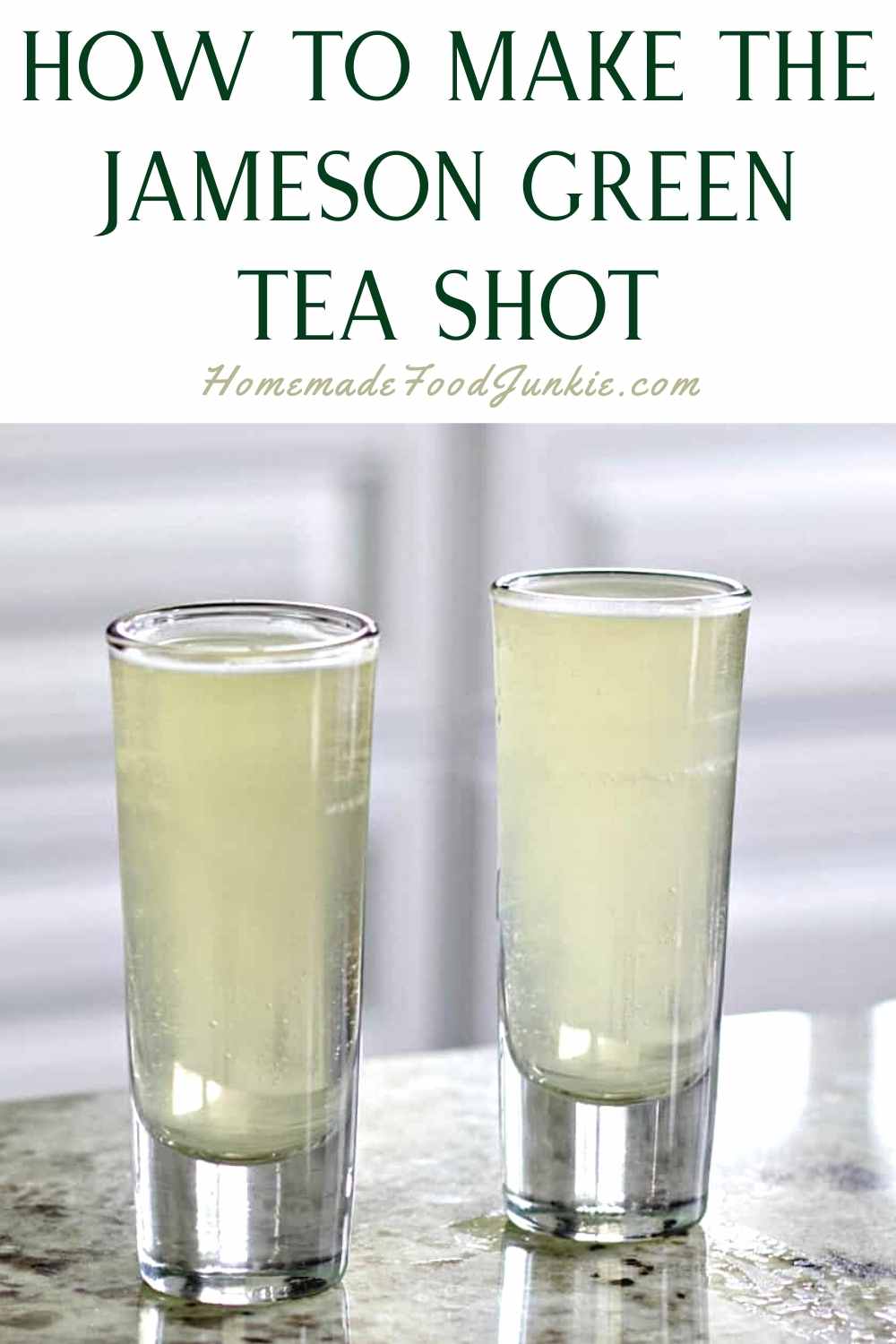 Your Printable Recipe Card:
If you print this recipe card the pictures will not print. This is to save you paper and ink.
For more information on this recipe please also watch our recipe demonstration video at the bottom of this recipe card.
Yield:

1 shot
Buttery Nipple Shot Recipe
The buttery nipple shot is Smooth sweet and delicious. With only two major ingredients. Shake it, pour and top with a dollop of whipped cream. This is one of my favorites. Yummo!
Ingredients
Shot:
1 oz. Butterscotch Schnapps
1/2 oz. Baileys Irish Cream
Garnish:
1 tsp. Canned Whipped Cream
1 fresh raspberry (optional)
Instructions
fill your shaker with ice.
Pour in the butterscotch schnapps
measure and pour in the Baileys Irish Cream
Shake until the shaker is cold.
Pour the shot into a 2 oz. shot glass.
Garnish with a dollop of whipped cream.
Serve
Notes
I make this shot in a tall 2 oz. shot glass so there is room for the whipped cream and raspberry if you like.
Nutrition Information
Yield
1
Serving Size
1
Amount Per Serving
Calories

129
Total Fat

1g
Saturated Fat

1g
Trans Fat

0g
Unsaturated Fat

0g
Cholesterol

5mg
Sodium

2mg
Carbohydrates

15g
Fiber

0g
Sugar

15g
Protein

0g
Follow Us:
We enjoy meeting you on our social networks. Follow us on Facebook, Pinterest, Instagram . Tag us with your pictures of our recipes and comment on how it went for you. We would love to see what you do with them.
We often like, comment and share your posts of our recipes on our daily Instagram stories.
Ask questions and rate the recipe in the comments section below. Please share what you did with this recipe. We are always looking for more and better ways to make homemade food. Other cooks love your ideas!
Recent Posts: