Follow this simple Homemade Lemon Meringue Pie recipe tutorial for the dreamiest, bright and sweet lemon dessert you could ask for. A pillowy soft lemon filling in a delicate, flaky pie crust topped with a sky high pile of homemade meringue lightly toasted and finished with lemon zest.
Classic Lemon Meringue Pie is one of those desserts you just need to experience, and homemade cannot be beat. The flavor is outstanding and a well made lemon meringue pie filling makes all the difference.
Lemon meringue pie ingredients are simple, fresh, and airy. When this pie is made from scratch it creates an unbeatable dessert that is perfect for any occasion.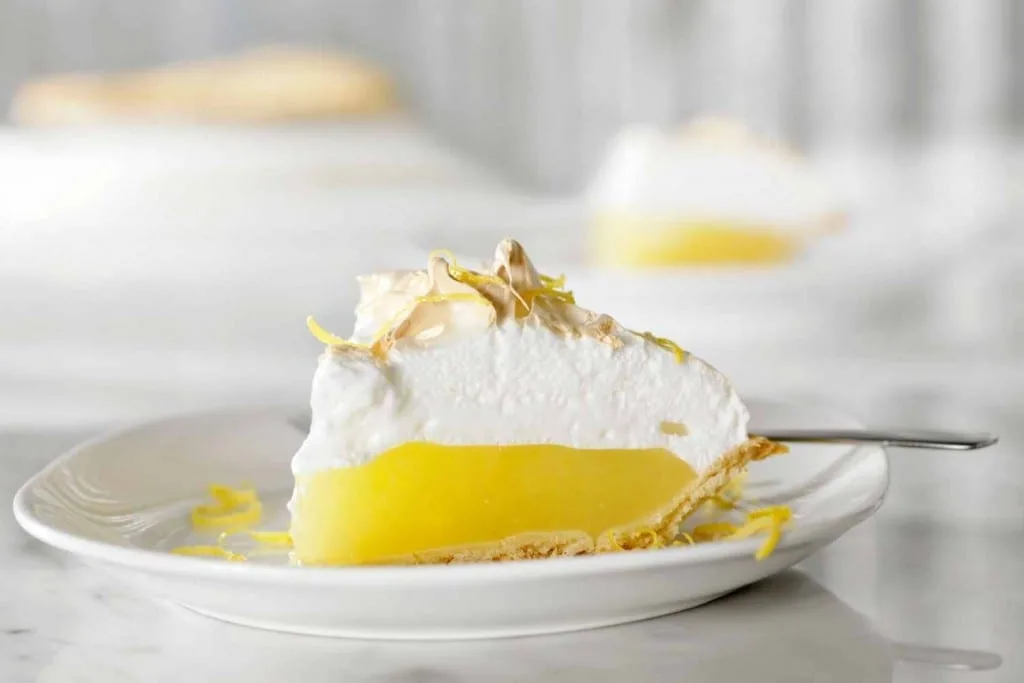 Watch our full tutorial for how to make a dreamy old fashioned lemon meringue pie
If you love this homemade pie be sure to explore our dessert section on the blog. Some of our most popular desserts include the Simple Banoffee Pie, Blackberry Cobbler, and New York Cheesecake.
Crust for Lemon Meringue Pie
If you want an easy lemon meringue recipe, buy your favorite pie crust. It saves time and effort, however, you will be sacrificing on flavor and flakiness. Nothing beats a well executed homemade pie crust.
A Coconut Oil Crust
We are sharing two of our very favorite homemade Pie Crust recipes for you to try is you want to make your own crust. This Coconut Oil Crust is easy to make and doesn't lack in flavor or flakiness despite having no butter.
The flavor and ease of making this crust recipe make it our first choice for pie crusts. If you have never made a pie crust we recommend you start with this one.
This crust will work with Tom's Red Mill gluten free flour if you need gluten free.
A Sourdough Crust
Another great pie crust is our Sourdough Pie Crust. If you are a sourdough baker this is one fantastic way to use up your discard and the flavor is amazing. This is a butter crust made in a food processor. It's very good and very easy.
You will need some pie weights, sugar, or dried beans to hold down your single crust pie as it bakes to prevent bubbling and rising.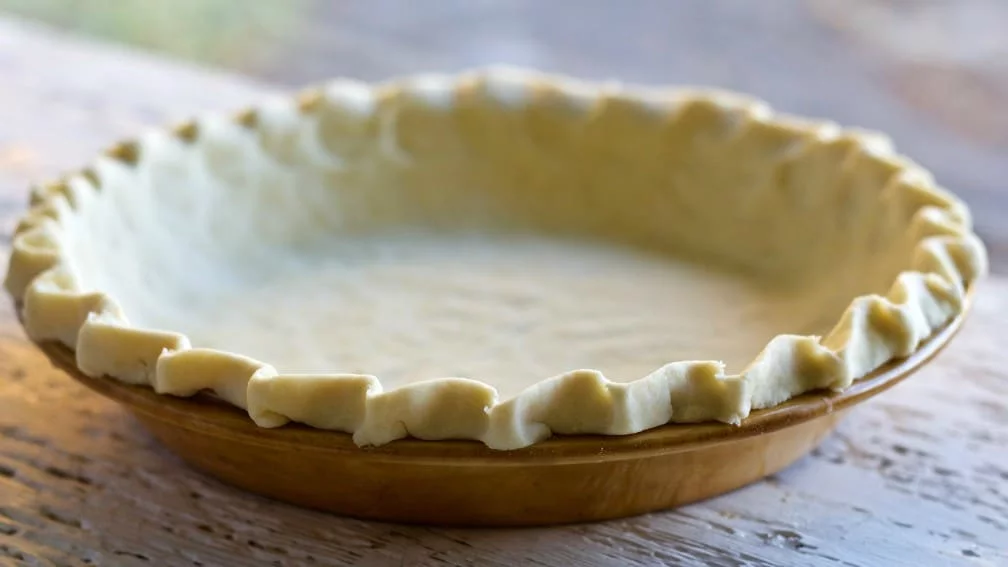 Making the Lemon Filling
Making the Lemon Curd is really pretty simple. All you need is a medium saucepan and a good whisk.
The only tricky part when making a filling like this is adding in the egg mixture to the sugar mixture without partially cooking the eggs. This is why you turn down the sugar mixture and stir some of it hot, into the eggs. This tempers the eggs so they won't cook.
Whisk it constantly to avoid little white flecks of cooked egg in your filling. It takes about three minutes, stirring constantly, to thicken the sauce.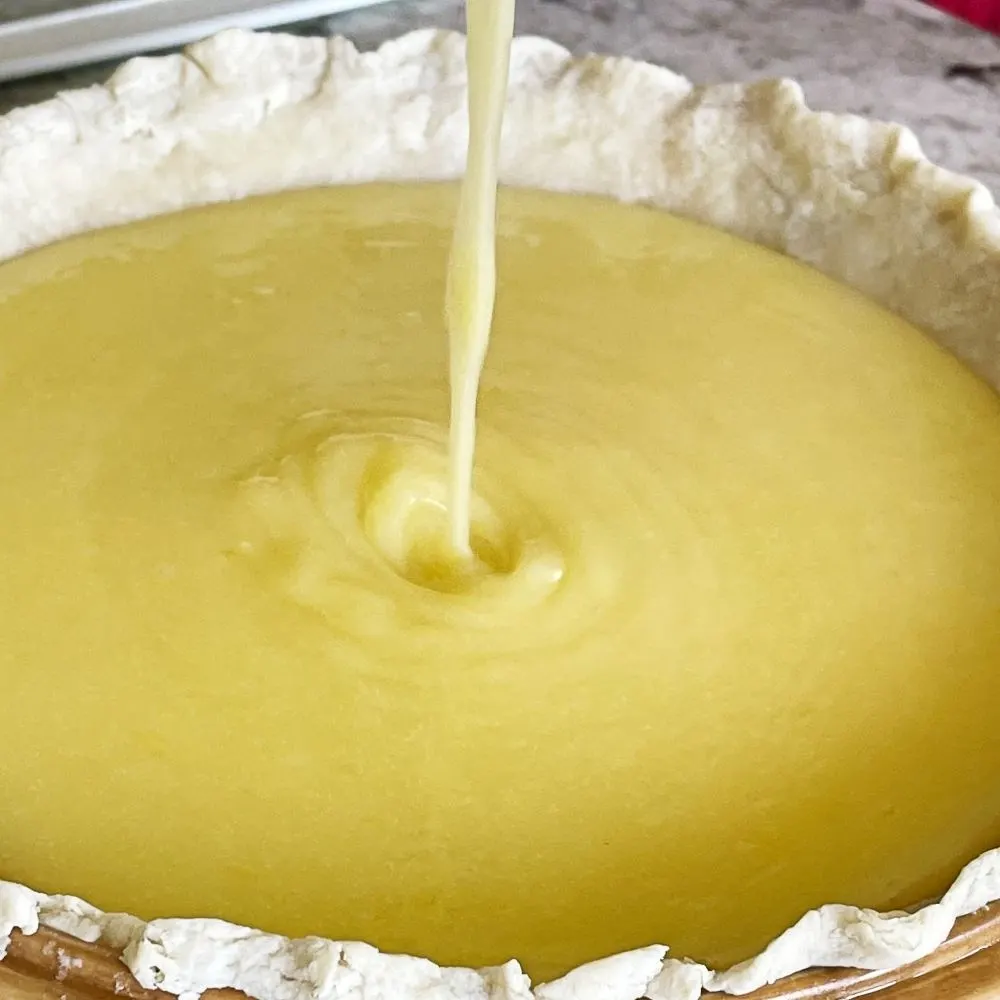 What is the perfect Meringue secret?
A pie like this needs a beautiful, strong, thick meringue topping that won't weep and collapse. To achieve this feat make sure to use fresh cream of tarter. Cream of tarter is an acid that will stabilize the egg whites, giving them body and stability.
Spread and seal the meringue over the top of the filling while it is hot. This will help seal the meringue onto the filling when cooling the pie. Details and finesse are important when dealing with meringue because it is a delicate ingredient that will react to different environments and factors.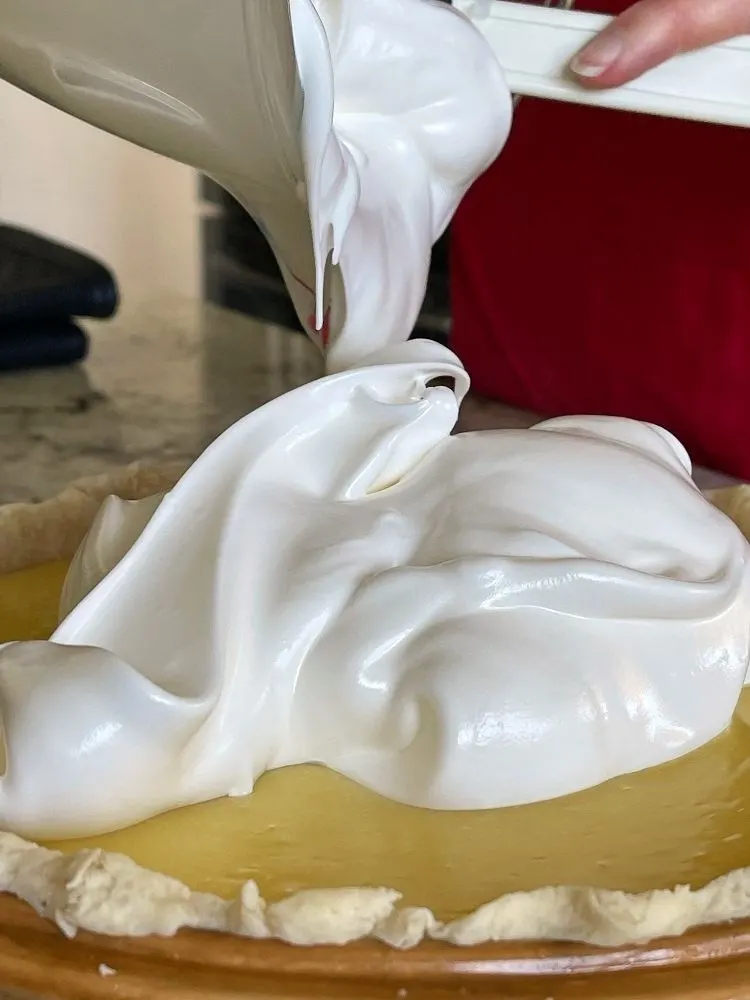 How do you brown Meringue?
The best Lemon Meringue Pie recipe always includes a beautifully browned meringue topping. It finishes the pie with a sophisticated and elegant flair. There are two ways to brown a meringue, with a culinary hand held torch, or bake in the oven.
For our recipe we chose to place the pie in the oven in order to brown the meringue. This method takes about 15 minutes at 350 degrees F. You can also use the broiler function, turning the pie halfway through to prevent uneven toasting, which will take only a couple of minutes.
The broiler method is faster, but you may notice that the meringue breaks down and weeps rather quickly. We recommend serving and finishing the pie within a day if you finish under the broiler.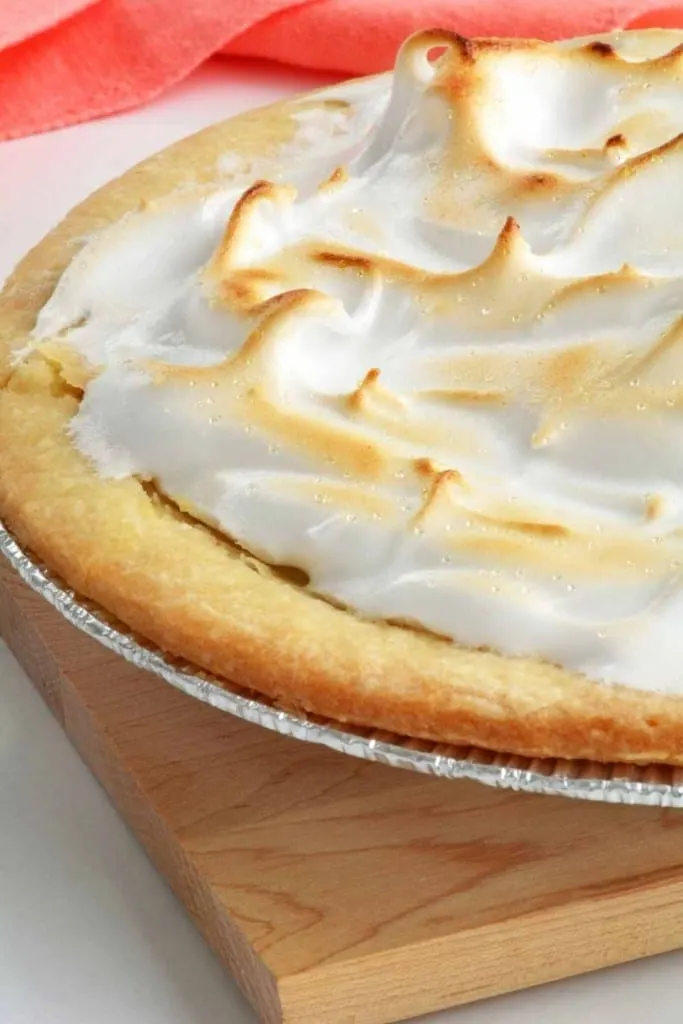 Should I refrigerate a Meringue Pie?
Refrigeration will make a meringue weep at a faster pace so it's best to place the pie in a draft free area of your kitchen. If it will not be eaten for a few hours move the pie to your fridge as it is not stable at room temperature for extended periods of time.
Don't let the filling cool too long before sealing it with the meringue. Hot lemon filling will cling better to the meringue and seal as it cools.
Smooth the meringue over all of the filling. Do not leave spaces along the crust edge where you can see the lemon filling.
How to make Lemon Meringue Pie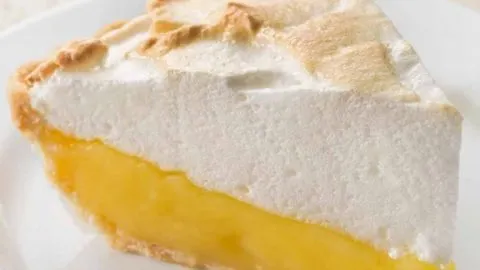 Yield:

10 servings
Lemon Meringue Pie Recipe
Total Time:
1 hour
15 minutes
Lemon Meringue Pie. A lightly browned meringue; a luscious lemon filling, with a flaky, tender, coconut oil crust. Slightly sweet, tangy elegance.
Ingredients
For the filling:
1 Cup white sugar
2 Tablespoons all-purpose flour
3 Tablespoons cornstarch
1/4 tsp. salt
1 1/2 Cups water
2 lemons, juiced and zested
2 Tablespoons butter
4 egg yolks, beaten
For the Meringue:
4 egg whites
1/2 Cup white sugar
1/4 tsp. cream of tartar
Instructions
The Pie Crust:
You can use any purchased crust you want. OR make your own (for the best end product make your own!) We offer links to two of our favoirte pie crust recipes in the notes section.
To Make Lemon Filling:
In a medium saucepan, whisk together 1 cup sugar, flour, cornstarch, and salt.
Stir in water, lemon juice and lemon zest.
Cook over medium-high heat, stirring frequently, until mixture comes to a boil.
Stir in butter and reduce heat to medium.
Place egg yolks in a small bowl and gradually whisk in 1/2 cup of hot sugar mixture.
Whisk egg yolk mixture back into remaining sugar mixture.
Bring to a boil and continue to cook while stirring constantly until thick. Remove from heat.
Pour filling into baked pastry shell.
To Make Meringue:
In a separate deep mixing bowl beat egg whites with cream of tartar.
Add a pinch of salt until they are foaming and hold soft peaks.
Beat in sugar in a slow stream, beating until meringue just holds stiff peaks.
Spread the meringue on top of the HOT lemon filling with a spatula.
Be SURE to cover the hot filling completely, sealing it to pastry. Draw meringue up into peaks as desired.
Bake pie in middle of oven at 350 degrees F. until meringue is golden, about 15 minutes. OR...
Broil on low for 2 or more minutes, watching constantly until meringue is golden brown. I had to brown the center top and then partially pull it out of my oven and turn it like roasting a marshmallow to get it evenly browned. NOTE: This method is quick but the meringue may not hold up as long, so plan on finishing the pie quickly.
Cool pie completely to room temperature and allow it to set. Serve.
Notes
Tips on Lemon Filling:
When making the lemon filling: The only tricky part to this is accomplishing adding in the egg mixture to the sugar mixture without partially cooking the eggs.
This is why you turn down the sugar mixture and stir in some of it hot, into the eggs. This tempers the eggs so they won't cook.
However, be careful when reheating the mixture to boiling. those eggs will try to cook.
Carefully whisk it constantly to avoid little white flecks of cooked egg in your filling; not the end of the world if it happens, just not the desired result.

Meringue:
This meringue uses cream of tartar to help it hold up longer. Meringue pie should be eaten up quickly to get the best result.
Often the meringue slumps or slips off the filling or weeps. If you have those troubles follow my link in the post to hints on how to correct these problems.

Lemon Meringue Baked Pie Crust:

We have two homemade pie crust recipes that will work well with this lemon meringue pie.
Baked Coconut oil single pie crust is the one you see pictured in this post.

OurOur Sourdough Pie Crust Recipe is a butter crust that will also work great with this pie.
Nutrition Information
Yield
8
Serving Size
1
Amount Per Serving
Calories

231
Total Fat

5g
Saturated Fat

3g
Trans Fat

0g
Unsaturated Fat

2g
Cholesterol

100mg
Sodium

130mg
Carbohydrates

44g
Fiber

1g
Sugar

38g
Protein

4g
Follow Us:
We enjoy meeting you on our social networks. Follow us on Facebook, Pinterest, Instagram . Tag us with your pictures of our recipes and comment on how it went for you. We would love to see what you do with them.
We often like, comment and share your posts of our recipes on our daily Instagram stories.
Ask questions and rate the recipe in the comments section below. Please share what you did with this recipe. We are always looking for more and better ways to make homemade food. Other cooks love your ideas!
Recent Posts: