Our elegant Espresso Martini mocktail is a blend of cold espresso, velvety cream, and a hint of chocolate syrup, all perfectly blended to deliver a coffee lover's dream drink. Topped with a delicate coffee bean design on a light layer of foamy cream, this mocktail is a treat for both the eyes and the taste buds. It's beautiful, classy and delicious.
Enjoy this sophisticated non-alcoholic twist on a classic espresso martini. Our Espresso Martini mocktail is the perfect choice if your looking for a non alcoholic caffeine-infused masterpiece.
Make this lovely mocktail a part of your non alcoholic menu at your next cocktail party, or serve it for a special dinner. It looks beautiful at brunches, events, office parties or any place you need a touch of elegance and class.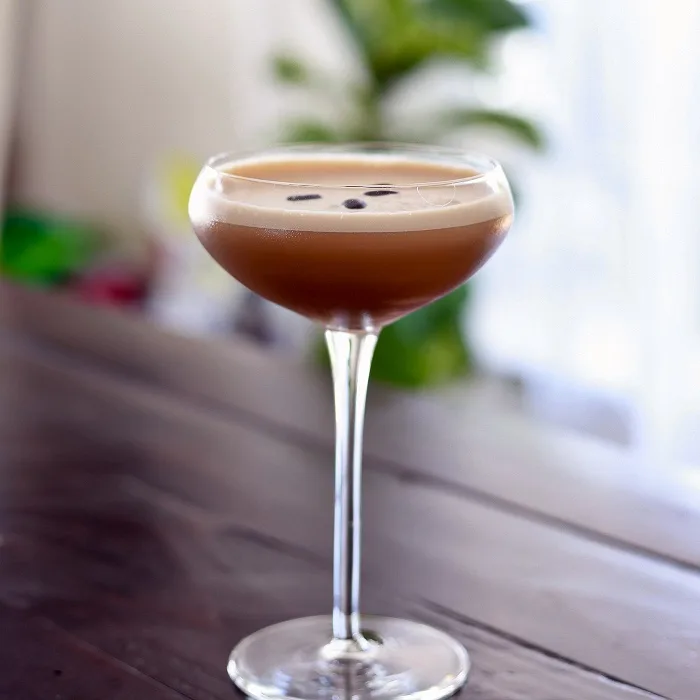 When we make a drink like this, there are always choices to make and ideas to try. Your personal tastes or those of your guests, should be a main driver for what you choose to use for this drink. We do recommend you serve it in a stemmed martini glass with a foam layer and the coffee bean garnish to really bring home the sophistication and charm of this drink.
But you do you. Following are some ideas for substitutions and some tips and techniques that will help you get the most out of this virgin espresso martini recipe.
What is a non alcoholic martini called?
A non alcoholic martini is often called a mocktail Martini, Mocktini or virgin martini. We chose Espresso martini mocktail for the name of this recipe. Whatever you call it this is a yummy drink with lots of style to set it off. Enjoy.
What can you use instead of vodka in espresso martini?
In a mock-tail version of an Espresso Martini, which is what we are discussing in this article, you can replace the vodka with a non-alcoholic alternative that provides a similar base and body to the drink. Here are a few options:
Cold Brew Concentrate: Cold brew coffee concentrate can mimic the strong, rich element that vodka provides in the cocktail. It adds a robust coffee flavor and depth to the mocktail. This will give you the best depth of flavor.
Non-Alcoholic Spirits: There are non-alcoholic spirits on the market that are designed to mimic the flavors of various liquors. Look for a non-alcoholic vodka alternative that can provide the same base character.
Non-Alcoholic Vanilla Extract: While not a perfect substitute, a small amount of non-alcoholic vanilla extract can provide some of the aromatic and complex notes that vodka contributes.
What is a good substitute for espresso in a cocktail?
Wondering How to make espresso martini mocktail without espresso coffee? If you don't have an espresso machine handy you can still make this yummy drink. Espresso provides a strong, rich coffee flavor and a touch of bitterness. We need to use a substitute that fits that flavor profile to make an espresso mocktini that is similar to an alcoholic Espresso Martini.
Here are a few alternatives you could consider:
Strong Brewed Coffee: If you're looking for a similar coffee flavor but with less intensity, you can use strong brewed coffee as a substitute. You might need to adjust the quantity to achieve the desired taste.
Cold Brew Coffee: Cold brew coffee offers a smooth and less acidic flavor compared to espresso. It can work well in cocktails, especially those that require a milder coffee presence.
Coffee Liqueur: Coffee liqueurs like Kahlúa or Tia Maria can add both coffee flavor and sweetness to your cocktail. These are often used in cocktails like White Russian or Espresso Martini.
Instant Coffee: While it might not provide the same depth of flavor as espresso, instant coffee can be dissolved in a small amount of hot water to create a concentrated coffee-like liquid. Make sure to let it cool before using.
Coffee Extract or Essence: These are concentrated coffee flavorings and can be added in small quantities to achieve a coffee taste without the liquid volume.
Chicory Coffee: Chicory coffee has a similar bitterness to espresso and can be used as an alternative if you're looking for a unique twist.
When substituting espresso with any of these alternatives, consider the overall balance of flavors in your cocktail. It may take some experimentation to find just the right taste, so adjust the quantities and ingredients until you're happy with it.
Useful tips for Making Espresso Martini Mocktail Recipe:
Tips to help you perfect your Espresso Martini mocktail and achieve that beautiful foam layer and coffee bean design on top:
Chill Ingredients: Ensure that your espresso and heavy cream are properly chilled before you start making the mocktail. Cold ingredients will give you a good cold martini with the best texture.
Chill the Martini Glass: You'll want to serve this drink is a chilled martini glass for the full martini experience. Chill at least 15 minutes before you make the drink.
Use Fresh Ingredients: Freshly brewed espresso will provide the best flavor for your mocktail. Similarly, opt for high-quality chocolate syrup for optimal taste.
Making The Foam Layer:
Shaking Technique: Shaking vigorously is key to creating that frothy foam layer. Use a cocktail shaker filled with ice and shake the mixture vigorously for around 30 to 45 seconds. The shaking action will emulsify the ingredients, creating a creamy texture.
Dry Shake Method: Some bartenders use a "dry shake" method, which involves shaking the ingredients without ice first. This can help create a more stable foam layer. After the dry shake, add ice and shake again to chill the mocktail. Be surety strain out the ice when you do the pour.
Layering the Foam: After shaking, gently tap the shaker on the counter to settle the foam. Slowly pour the mixture into the glass, allowing the foam to rise to the top.
Garnising Tips:
Use a Martini Glass: When considering presentation the glass is a big part of the overall ambiance. We highly recommend a stemmed martini glass for the best look.
Coffee Bean Design: Coffee beans are a nice garnish for this drink. Nothing says coffee like coffee beans. Gently place three coffee beans in the center of the foam layer, forming a triangle or other pattern. The oils from the beans will disperse and create a visually appealing effect.
Garnish and Presentation: You can also lightly dust cocoa powder or grated chocolate over the foam layer before adding the coffee beans for a more elegant look.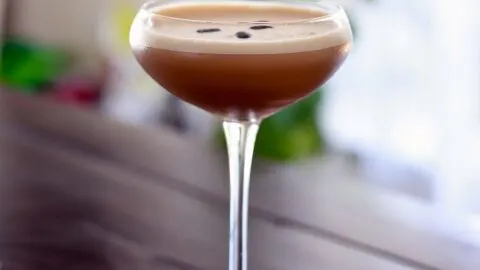 Yield:

2 drinks
Espresso Martini Mocktail
Make this delicious, creamy espresso mocktini for you and your honey. It's lovely and not a drop of alcohol. This drink is a perfect desert drink or special occasion refreshment.
Ingredients
4 oz. cold espresso
2 oz. heavy cream
1 tsp. chocolate syrup
pinch of sea salt
3 coffee beans for garnish
Instructions
in your cocktail shaker pour in the espresso, cream, chocolate syrup and salt.
Now add ice to the shaker and seal it.
Shake the shaker a LOT. This helps give you the foamy top you want.
strain the drink into your chilled martini glass.
Arrange the three bean on the top of the foam. The drink will layer as it sits. This is expected and will keep the beans up top.
Enjoy!
Notes
For more tips on making this drink with different ingredients and for some excellent tips and tricks, please read the full article.
Nutrition Information
Yield
2
Serving Size
1
Amount Per Serving
Calories

238
Total Fat

11g
Saturated Fat

7g
Trans Fat

0g
Unsaturated Fat

4g
Cholesterol

34mg
Sodium

527mg
Carbohydrates

31g
Fiber

5g
Sugar

13g
Protein

7g
More Delicious Mocktails:
In addition to our espresso martini mocktail, we have a lovely selection of more non alcoholic drinks you really need to try out. There is something for everyone. Enjoy!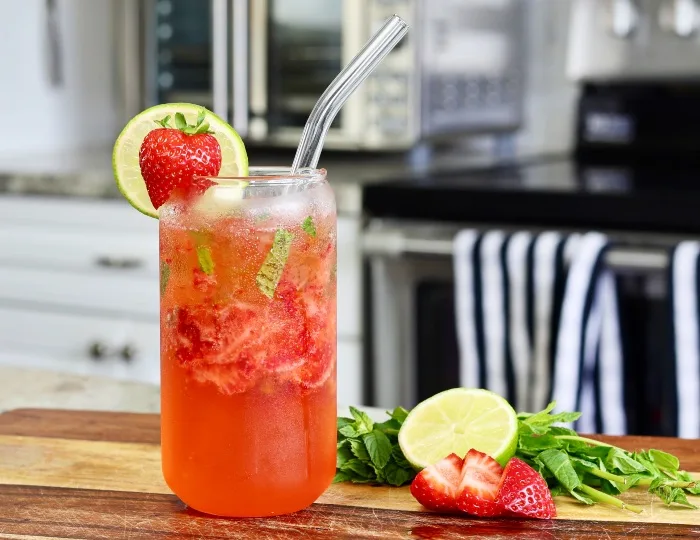 Even More Mocktails:
Follow Us:
We enjoy meeting you on our social networks. Follow us on Facebook, Pinterest, Instagram . Tag us with your pictures of our recipes and comment on how it went for you. We would love to see what you do with them.
We often like, comment and share your posts of our recipes on our daily Instagram stories.
Ask questions and rate the recipe in the comments section below. Please share what you did with this recipe. We are always looking for more and better ways to make homemade food. Other cooks love your ideas!
Recent Posts: