Zesty flavors and refreshing sips come together in our lightly spicy Watermelon Jalapeño margarita mocktail. It's a tantalizing blend of spicy sweetness. Embrace the spirit of summer while you Indulge in the ultimate margarita mocktail experience… without the booze.
The beauty of this vibrant alcohol-free twist on the beloved classic is its delicious versatility. This dynamic, non-alcoholic refreshment can easily be transformed into an alcoholic margarita cocktail by simply adding a bit of tequila (we enjoy it best with gold tequila. you do you). Garnish with a salt rim and a vibrant lime wedge to complete the margarita aesthetic. Create a visual delight with cocktail garnishes It is as inviting as it is delicious.
Enjoy this drink with several friends and each one can choose to make it a Margarita mocktail… or cocktail; with only one additional ingredient.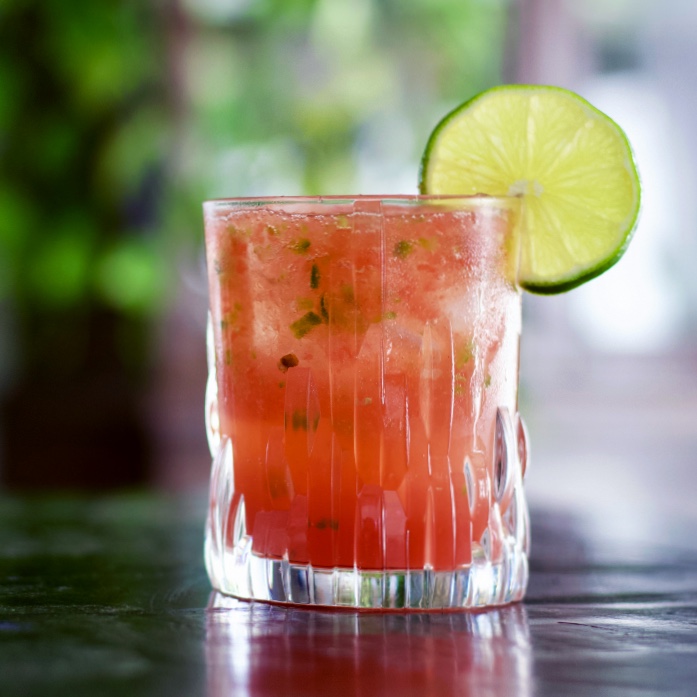 This lightly spicy refreshment hits all the spots and feels for summer. Let it transport your taste buds to paradise.
Stir, Sip, savor and enjoy the summertime vibes. This drink honors the tradition of a watermelon margarita recipe while also embracing the versatility of a delightful non-alcoholic drink. It's the ideal beverage for adult parties, gatherings, or simply a relaxing evening at home with the kids.
Savor the vibrant citrus notes of lime juice, perfectly complemented by the subtle sweetness of agave syrup. Every sip delivers a burst of flavor that mirrors the classic margarita taste, minus the alcohol.
What is Considered a Mocktail?
Mocktails are non-alcoholic drinks designed to resemble and mimic the appearance, flavors, and overall experience of a traditional cocktail. But without any alcoholic ingredients. Mocktails are created using a combination of non-alcoholic ingredients such as juices, sodas, syrups, herbs, fruits, and other flavorings to create a flavorful and enjoyable drink.
Mocktails come in various styles and flavors, ranging from fruity and refreshing to creamy and indulgent. They can be shaken, stirred, muddled, or blended, and are often garnished with fruits, herbs, or creative decorations to enhance their presentation.
Mocktails are often served as alternatives for those who don't consume alcohol or prefer non-alcoholic options, including individuals who are designated drivers, pregnant women, or those who simply prefer not to drink alcohol. They can be served at social gatherings, parties, or bars alongside alcoholic beverages to cater to a wider range of preferences.
Some popular mocktails include the virgin versions of well-known cocktails like the Virgin Mojito, Virgin Pina Colada, Shirley Temple, and of course, the Virgin Margarita. However, there are countless mocktail recipes available, and mixologists often create their own unique concoctions using a combination of flavors and ingredients to provide a delightful non-alcoholic drinking experience. We did that with our Berry Mint Bubbler Mocktail.
Mocktails are a great option for those who prefer not to consume alcohol but still like the presentation and flavors of traditional cocktails.
What is a non-alcoholic substitute for tequila in margarita?
What are Virgin Margaritas Made Of? Virgin margaritas like our Spicy Watermelon Mocktail are typically made using margarita mocktail ingredients. Agave, lime juice and other flavors are favorite ingredients that replicate the flavors of a traditional margarita when properly combined.
These are a few non-alcoholic substitutes for tequila that you can use in a margarita if you really want that tequila flavor and don't want the alcohol. Here are a few options:
Can you buy Non-Alcholic Margarita Mix? Yes, Tequila-flavored mixes can be purchased and used instead of tequila to bring in that flavor. This is a non-alcoholic drink mix that aims to mimic the taste and aroma of tequila without containing any alcohol. Just follow the package instructions to make you own version of a margarita mocktail.
Agave Nectar: Agave nectar is a sweetener derived from the agave plant (learn more about the agave plant used to make tequila here). Since agave is also used to produce tequila it has a similar flavor profile to tequila and can be used as a substitute in a margarita. You can combine agave nectar with lime juice and other ingredients to create a non-alcoholic version of a margarita. This is how we set up our mocktail. All the margarita flavors are in there. Just no tequila.
Non-Alcoholic Spirits: There are several non-alcoholic spirits available in the market that aim to replicate the flavors of various alcoholic beverages, including tequila. These non-alcoholic spirits are often made using botanical extracts, spices, and other flavorings to mimic the taste of tequila. You can use these non-alcoholic spirits as a substitute for tequila in your margarita recipe.
Limeade or Citrus Juice: If you're looking for a simpler option, you can use limeade or a combination of citrus juices (such as lime, lemon, and orange) as a non-alcoholic base for your margarita. While it won't replicate the distinct flavor of tequila, it will still provide a tangy and refreshing taste.
Herbal or Floral Infusions: Another option is to experiment with herbal or floral infusions to add complexity to your margarita mocktail recipes. You can infuse water or a non-alcoholic base with herbs like cilantro, mint, or basil, or use floral flavors like rose or hibiscus to create a unique twist on a margarita.
These ideas for substitutes will not exactly replicate the taste of tequila. But they will get you close, depending on how you use them. Experiment with them. The flavors and profiles can still make for a delicious non-alcoholic margarita. Feel free to adjust the quantities and experiment until you find the combination that suits your taste preferences.
Watermelon Margarita Mocktail Recipe:
This is not an easy margarita mocktail recipe when compared to just buying a mix and stirring it up. But this one does have its advantages.
While using purchased mocktail mixes can be convenient, making mocktails with fresh ingredients instead of using a purchased mix can offer several advantages:
Customization: When you make mocktails with fresh ingredients, you have full control over the flavors and can customize the drink to suit your taste preferences. You can adjust the sweetness, tartness, and intensity of flavors by using different amounts of fresh juices, syrups, or muddled fruits. This allows you to create a mocktail that is perfectly tailored to your liking.
Freshness and Quality: Fresh ingredients taste better. Fruits, herbs, and juices provide a vibrant and natural taste to your mocktails. Using fresh citrus juices, for example, gives your mocktail a zesty and authentic flavor. Fresh herbs can add complexity and aroma to the drink. By using high-quality ingredients, you can ensure that your mocktail has a fresh and delicious taste.
Health Benefits: Fresh ingredients offer nutritional benefits that store-bought mixes can't. Fresh fruits and herbs contain vitamins, antioxidants, and fiber, which can contribute to your overall health and well-being. You can opt for healthier sweeteners or adjust the sweetness to your preference.
Creativity and Experimentation: Making mocktails with fresh ingredients allows you to get creative and experiment with different flavors and combinations. You can try various fruits, herbs, and spices to come up with unique and exciting mocktail recipes. It can be a fun and enjoyable process of discovering new flavors and perfecting your own signature mocktails.
Presentation and Aesthetics: Garnishing your mocktails with fresh fruit slices makes for a more authentic drink if you use those same fresh elements in the drink.
Finally, This Margarita mocktail recipe also holds well in the fridge for several days. So you can enjoy at least four servings over a day or so without making the puree again.
Yield:

4-10 oz. mocktails
Watermelon Jalapeño Mocktail
Additional Time:
30 minutes
This delightful mocktail combines the natural sweetness of Agave and watermelon with a subtle hint of lime and spicy jalapeño for a unique and invigorating drink. Instructions in the note section on how to make this macoktail into a tequila drink too.
Ingredients
1/2 Cup Jalapeño pepper(-deseed and slice into rings)
1/4 Cup Agave Syrup
1/4 Cup boiling water
12 oz. Watermelon cubes (rind off)
1/3 Cup lime Juice
16 oz. sparkling water
Instructions
Place jalapeño slices and agave syrup in a heat proof bowl.
Pour boiling water over pepper slices, then stir and allow it to steep 15 minutes.
In a blender combine the watermelon chunks, lime juice and Jalapeño mixture.
Blend until watermelon is liquified. Refrigerate 30 minutes or until chilled.
At serving, pour chilled watermelon puree over ice in a glass.
Fill the glass to brim with sparkling water.
Garnish with watermelon, jalapeño slice or lime wheel as desired.
Refigerate leftovers.
Notes
To make this into a delicous tequila drink stir 1 1/2 oz. gold tequila into the glass before adding sparkling water for each serving.
The processed pulp can be made ahead and chilled up to 48 hours before serving in an airtight container. After that, the texture and flavors may degrade.
Nutrition Information
Yield
4
Serving Size
10 oz.
Amount Per Serving
Calories

76
Total Fat

0g
Saturated Fat

0g
Trans Fat

0g
Unsaturated Fat

0g
Cholesterol

0mg
Sodium

4mg
Carbohydrates

19g
Fiber

1g
Sugar

15g
Protein

1g
Delicious Margarita Drinks:
We love margaritas. Look in these margarita drinks recipes for Mocktail inspiration!
Follow Us:
We enjoy meeting you on our social networks. Follow us on Facebook, Pinterest, Instagram . Tag us with your pictures of our recipes and comment on how it went for you. We would love to see what you do with them.
We often like, comment and share your posts of our recipes on our daily Instagram stories.
Ask questions and rate the recipe in the comments section below. Please share what you did with this recipe. We are always looking for more and better ways to make homemade food. Other cooks love your ideas!
Recent Posts: