Welcome to a culinary journey that fuses the best of Mediterranean culinary influences into one delightful dish. This easy tortellini pasta salad recipe brings together the elements of the traditional beloved Italian Caprese tortellini pasta salad and adds a complimentary Greek cuisine twist with the dressing.
The traditional caprese salad is a delicious, sustaining, blend of cheese tortellini, cherry or grape tomatoes, fresh mozzarella pearls, and a healthy sprinkle of finely chop fresh basil. These simple, basic ingredients infuse the salad with fragrant, herby aroma and flavor in the best Italian tradition.
Replacing the traditional dressing with a Greek Feta Vinaigrette dressing adds in tangy Greek herbs and spices. The result is a zesty and refreshing twist to the dish. Greek and Italian flavors are so good together.
This yummy mixed up tortellini pasta salad is very simple to put together with a few basic ingredients, making it a winner recipe on so many levels.
With each bite of this Mediterranean tortellini pasta Salad, enjoy the melding of Greek and Italian flavors with fresh pops of flavor in every morsel. Experience the beauty of fusion cuisine with all its endless possibilities.
How Is This Salad Fusion Cooking?
What is a traditional Caprese Salad? The combination of fresh mozzarella, tomatoes, basil dressed with olive oil and balsamic vinegar is the iconic traditional recipe Italian Caprese salad is built upon.
Replacing the balsamic and olive oil with a tangy Greek Vinaigrette brings in a whole new host of flavors to enjoy and makes the Caprese salad into a simple but delicious faux Greek tortellini salad.
The result is a pleasing fusion of flavors that showcase both cuisines in one dish. We are sure you will love this cold pasta salad and want to incorporate into your recipe box for a quick and easy tortellini salad the whole family will enjoy, over and over…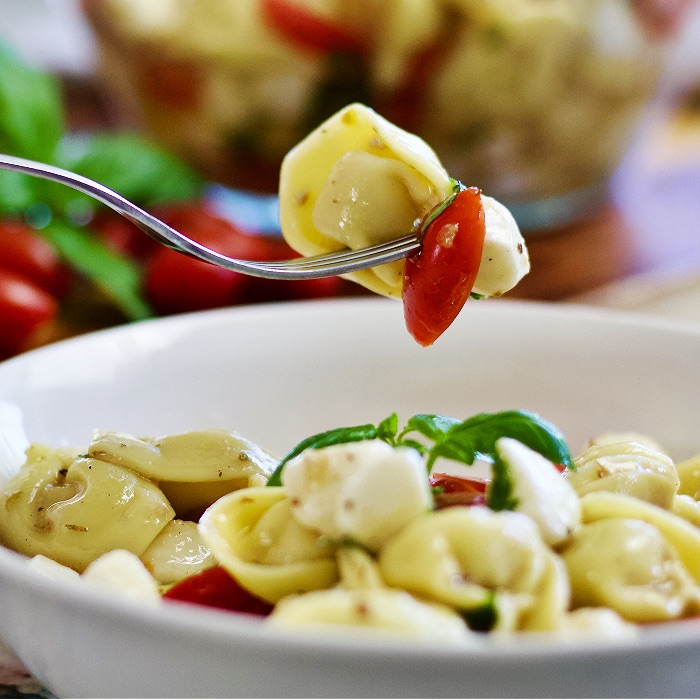 Our Caprese Greek pasta salad with tortellini is an example of how, with only one ingredient, fusion cooking can bring into play a whole new way to enjoy tortellini.
Where To Serve This Pasta Salad:
This tortellini salad is a versatile dish that can be enjoyed in various settings and occasions. Here are some suggestions for when to serve this salad:
Picnics and Outdoor Gatherings: The refreshing and portable nature of this salad makes it an excellent choice for picnics, barbecues, or outdoor gatherings. Its vibrant flavors and easy-to-serve nature make it a crowd-pleaser in casual settings. It will hold up well sitting out at warm temperatures and is food safe at warm temperatures.
Potlucks and Parties: This salad can be a standout addition to potluck dinners or parties. Its colorful presentation and unique flavor profile will make it a memorable dish among a variety of offerings. This salad is so easy to put together you will love adding to your party menus.
Lunches and Light Meals: The tortellini pasta salad can also be served as a satisfying lunch or light meal option. It provides a balance of carbohydrates, proteins, and fresh ingredients, making it a filling and nutritious choice.
Summer Entertaining: The bright and vibrant flavors of this salad make it particularly suitable for summer entertaining. Its refreshing ingredients and Mediterranean flair evoke a light and summery feel. It goes very well with BBQ meats, fish or poultry. Its a nice vegetarian offering as well.
Buffets and Salad Bars: Consider including this salad as part of a buffet spread or salad bar selection. Guests can arrange it on their plates with a combination of fresh greens, other salads, and protein options.
This tortellini salad can be served year-round and adapted to various occasions and settings. Its versatility, flavor profile, and appealing presentation make it a crowd-pleasing dish suitable for a range of dining experiences.
What Goes With Tortellini Pasta?
Tortellini pasta is versatile. It comes in lots of different flavors and can be both stuffed and unstuffed with cheeses and other ingredients. Tortellinis of all types pair well with a variety of ingredients and flavors.
Try these delicious options to serve alongside or incorporate into a dish with tortellini: Take a look at our numerous recipes for tortellini and other pastas for more ideas at the end of this post!
Sauces: Tortellini can be served with a variety of sauces, such as marinara, Alfredo, pesto, or creamy tomato sauce. The sauce adds flavor and moisture to the pasta, enhancing its taste.
Vegetables: Add cooked or roasted vegetables to your tortellini dish for added color, texture, and nutrition. Popular choices include roasted cherry tomatoes, sautéed spinach, roasted red peppers, or steamed broccoli florets.
Cheese: Cheese complements tortellini beautifully. Sprinkle grated Parmesan, Pecorino Romano, or shredded mozzarella over the pasta to add richness and depth of flavor.
Herbs and Spices: Fresh herbs like basil, parsley, or thyme can be added to provide a burst of freshness. Additionally, spices such as garlic, red pepper flakes, or black pepper can elevate the overall flavor profile.
Protein: Incorporate protein to make the dish more filling. Cooked chicken, sliced Italian sausage, crispy bacon, or cooked shrimp are all great options to add substance to your tortellini dish.
Greens: Toss in some leafy greens like baby spinach, arugula, or kale to add freshness and a healthy component to the dish. They can be added raw or lightly sautéed.
Dressings or Vinaigrettes: If you're making a tortellini salad, consider using dressings or vinaigrettes that complement the flavors of the pasta. Citrus-based dressings or balsamic vinaigrettes work well with tortellini.
Chill your pasta with the dressing to help the flavors absorb right in.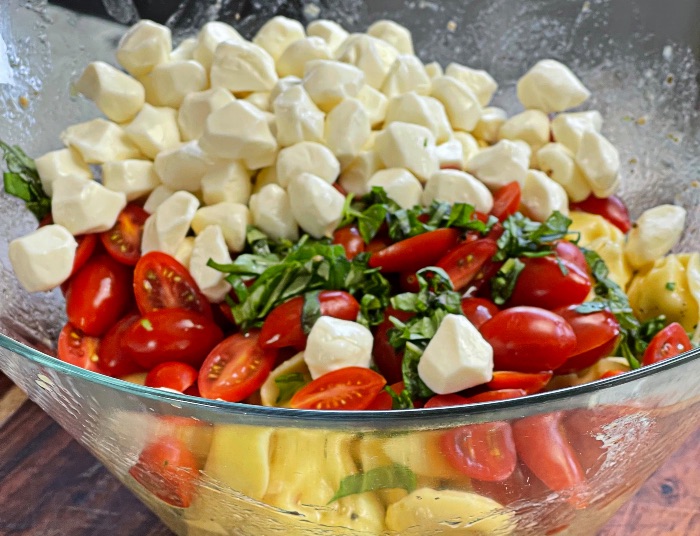 You can mix and match ingredients you like with tortellini. Experiment with different combinations to create a unique and delicious tortellini pasta salad, soup or casserole dish with your personal signature.
Making Caprese Greek Tortellini Salad Recipe:
Let's start with some tips on pasta as a salad ingredient. You want to follow the tips below to ensure the best results when using tortellini for a cold pasta salad.
What Are The Five Mistakes to Avoid Pasta Salad?
When preparing pasta salad, it's to make mistakes preparing the pasta. Tortellini is no exception.
Here are five mistakes to avoid when making pasta salad:
Overcooking pasta: One of the most crucial mistakes is overcooking the pasta, leading to a mushy and unappetizing texture. Be sure to cook the pasta al dente, following the package instructions, as it will continue to soften slightly when mixed with the other ingredients.
Skipping the seasoning: Pasta salad can turn bland if you forget to season it properly. Don't forget to season the pasta while it's cooking with salt. Taste the cooked pasta and adjust the seasoning of the dressing and overall salad to ensure a well-balanced dish.
Not cooling the pasta: Cool the cooked pasta completely before tossing it with other ingredients. The other ingredients, such as vegetables or dressing, can wilt or become watery if mixed with hot pasta. Rinse the cooked pasta under cold water and give it enough time to chill in the refrigerator before assembling the salad.
Overloading with dressing: Too much dressing can make the pasta salad heavy and overwhelming. Start by adding a modest amount of dressing and gradually increase as needed. All the ingredients are just evenly and lightly coated rather than swimming in dressing. Remember, you can always add more dressing if desired, but it's challenging to remove excess dressing once it's mixed in.
Not allowing flavors to meld: Pasta salad benefits from some time for the flavors to meld together. Prepare the salad in advance, if possible, and let it sit in the refrigerator for at least an hour or two before serving. This allows the ingredients to absorb the flavors of the dressing, herbs, and seasonings, resulting in a tastier and more cohesive dish.
Can You Not Boil Tortellini?
Tortellini requires boiling to cook it properly. Boiling helps to soften the pasta, cook it to the desired texture, and make it safe to eat. Boiling the tortellini also allows it to absorb flavors from the cooking liquid, such as salted water or broth, which enhances its taste. Simmering tortellini with other ingredients without boiling, can be done. But your pasta may cook unevenly with hard and mushy spots.
TIP: Don't boil it too long, just to al dente stage. Pre-packaged tortellini package instructions will recommend boiling it in water for a specified amount of time. Follow those instructions to ensure the tortellini cooks evenly and retains its most perfect texture.
Can you eat cold cooked tortellini? Yes, you can eat cold cooked tortellini safely. Cooked tortellini will retain its flavor, shape and texture when properly cooked and cooled. It's excellent cold in a pasta salad recipe like this one. Cold Tortellini is delicious and food safe in both warm and cold dishes. In the case of pasta salad it is most often served chilled.
What else can you do with this tortellini salad? Please let us know in the comments how you change it up and give this recipe a rating. We welcome comments, questions and shared experiences on our recipes.
Yield:

10 servings
Caprese Tortellini Pasta Salad
Additional Time:
30 minutes
Ingredients
12 oz. cheese tortellini pasta-uncooked
1 Cup Greek Feta Vinaigrette (choose your favorite Greek dressing)
12 oz. cherry or grape tomatoes-halved
8 oz. fresh mozzarella pearls
1/4 Cup fresh basil-finely chopped
Instructions
Cook Tortellini as directed on package to aldenté.
Drain cooked pasta.
Pour the drained pasta into a large bowl and stir together with the dressing.
Cover and chill 30 minutes.
Chop tomatoes and set aside until needed.
When pasta is chilled, stir in tomatoes and mozzarella balls.
At serving, add the fresh chopped basil and toss the salad together.
Serve.
Notes
Refridgerate leftovers covered. This Salad will hold a day or so in fridge but it may need more dressing stirred in since the pasta will absorb it and dry out over time. Even covered. Also basil will wilt. The salad will still be edible, food safe and good. But not at its best as this point. This salad is best served same day it is made.
Traditional Caprese Dressing:
If you prefer to stick with the traditional dressing, you can simply use a high-quality extra virgin olive oil, a splash of balsamic vinegar or red wine vinegar, salt, and pepper. Shake it up in a Carafe.
Drizzle this mixture over your fresh tomatoes, mozzarella pearls, and basil for a classic Caprese salad experience.
Nutrition Information
Yield
10
Serving Size
1 Cup
Amount Per Serving
Calories

248
Total Fat

11g
Saturated Fat

6g
Trans Fat

0g
Unsaturated Fat

4g
Cholesterol

42mg
Sodium

421mg
Carbohydrates

27g
Fiber

2g
Sugar

6g
Protein

12g
More Delicious Tortellini Recipes:
You can never have too many ideas on how to put tortellini on the menu. It's a very easy pasta to work with, has many different types of tortellini to choose from and it goes in so many dishes!
Even More Pasta Dishes!
We have so may recipes that use pasta as the foundation of the recipe. Try these delicious dishes.
We'd Love to meet You!
Follow Us:
We enjoy meeting you on our social networks. Follow us on Facebook, Pinterest, Instagram . Tag us with your pictures of our recipes and comment on how it went for you. We would love to see what you do with them.
We often like, comment and share your posts of our recipes on our daily Instagram stories.
Ask questions and rate the recipe in the comments section below. Please share what you did with this recipe. We are always looking for more and better ways to make homemade food. Other cooks love your ideas!
Recent Posts: