Healthy fats and delicious Italian flavors fuse into this Italian Pasta Salad for a delightfully healthy twist on classic macaroni salad.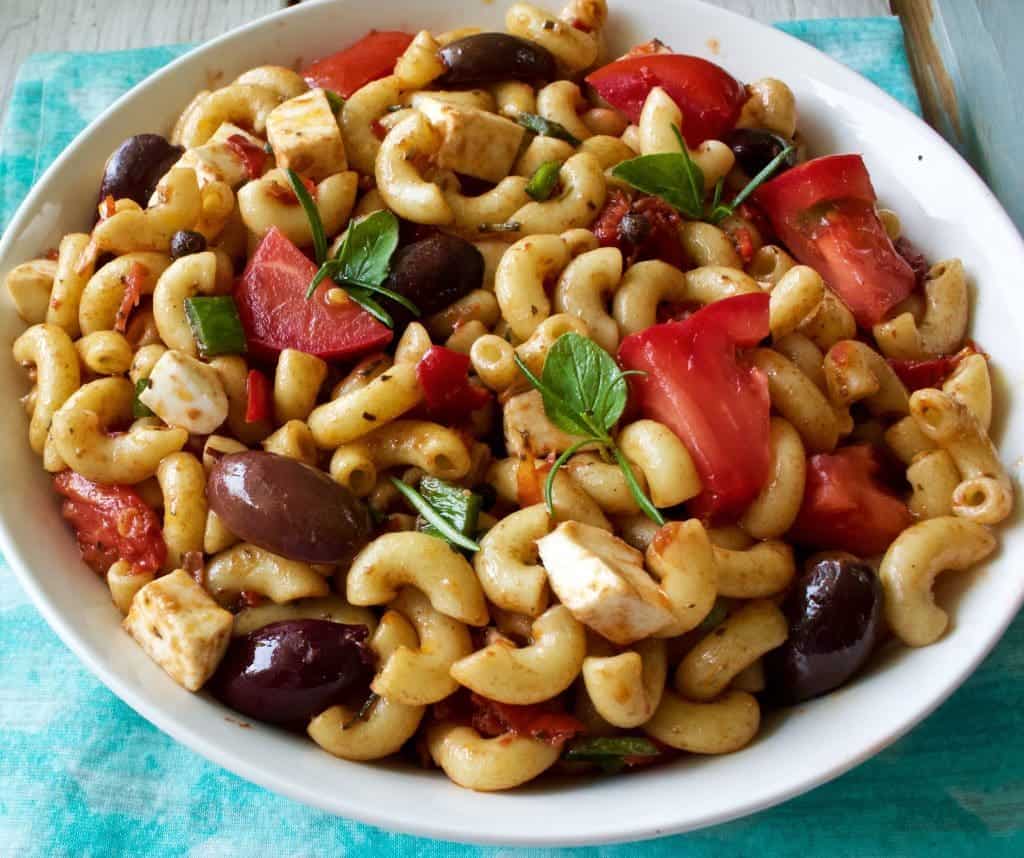 The garden and greenhouse are going into prime harvest mode. Our greenhouse is delivering lovely tomatoes, herbs and peppers! YAY…except they always overwhelm me. This year I'm trying out some new ways to use that produce up.
I made some "Sun Dried " tomatoes in my food dehydrator last week. They were amazingly Fantastic! We were so happy to have a new way to use our lovely, fresh tomatoes and such a handy condiment for so many recipes. Like this Italian macaroni salad.
In fact, our sun dried tomatoes were the inspiration for this easy pasta salad. If you don't make your own marinated sun dried tomatoes you should.
If you can't make your own you'll have to buy them. They are pricey. But worth it.
We also froze a batch of fresh tomatoes whole, like my mom told me to do. I have always blanched them in the past. Messy, hot work. Her way is so simple.
I didn't know freezing tomatoes could be so easy to do and to use. Just grab what you need from the freezer and use them like whole canned tomatoes. I use them in soups all the time. Nice!
Mediterranean Macaroni Salad Recipe:
We also eat a lot of tomatoes and peppers fresh in cold pasta salads just like this one. This particular salad is a good one for a large group. Particularly, an outdoor event where it's not really safe to use Mayonnaise, meats or eggs.
This easy Macaroni Salad will hold up fine on a potluck table for hours without sending people home with a tummy ache. And they will love it. Promise. This party food recipe has been tested and approved.
We took this salad to a large party once in a huge wind storm and the power went out.
Fortunately it was daytime. But there was no refrigeration. This was a handy recipe to have sitting out on the dimly lit table for hours and hours. Everyone loved it!
This pasta salad recipe is a great grill side or light lunch. The refreshing flavors delight the palate. The ingredients can be adjusted as you need.
If you need Gluten free, just use gluten free noodles! I found this article about low carb noodle choices if you need those.
Search Low Carb Noodles at Amazon: These are affiliate links. We will receive a small commision if you purchase through our links at no extra charge to you. Thank you for supporting Homemade Food Junkie.

Pasta Salad-Italian style:
Recipe NOTES:
Double this recipe for a large crowd. It's so pretty. A large bowl of this macaroni salad on your party table is festive and delicious.
This salad recipe is safe to serve at room temperature. There is no dairy, mayo or eggs in this recipe.
You won't need a store bought Italian dressing or any bottled salad dressing to make this pasta salad. This recipe makes its own delicious dressing.
This salad has NO added sugars and the fats come from healthy kalamata olives, the mozzarella cheese and pure high grade olive oil.
The Sun-dried tomatoes add much of the flavor but…
The real secret ingredient in this salad is the balsamic vinegar. It brightens and enhances the other ingredients immensely.
Top this cold pasta salad recipe off with your favorite fresh herbs and salt and pepper for a brilliant Italian twist on Macaroni salad.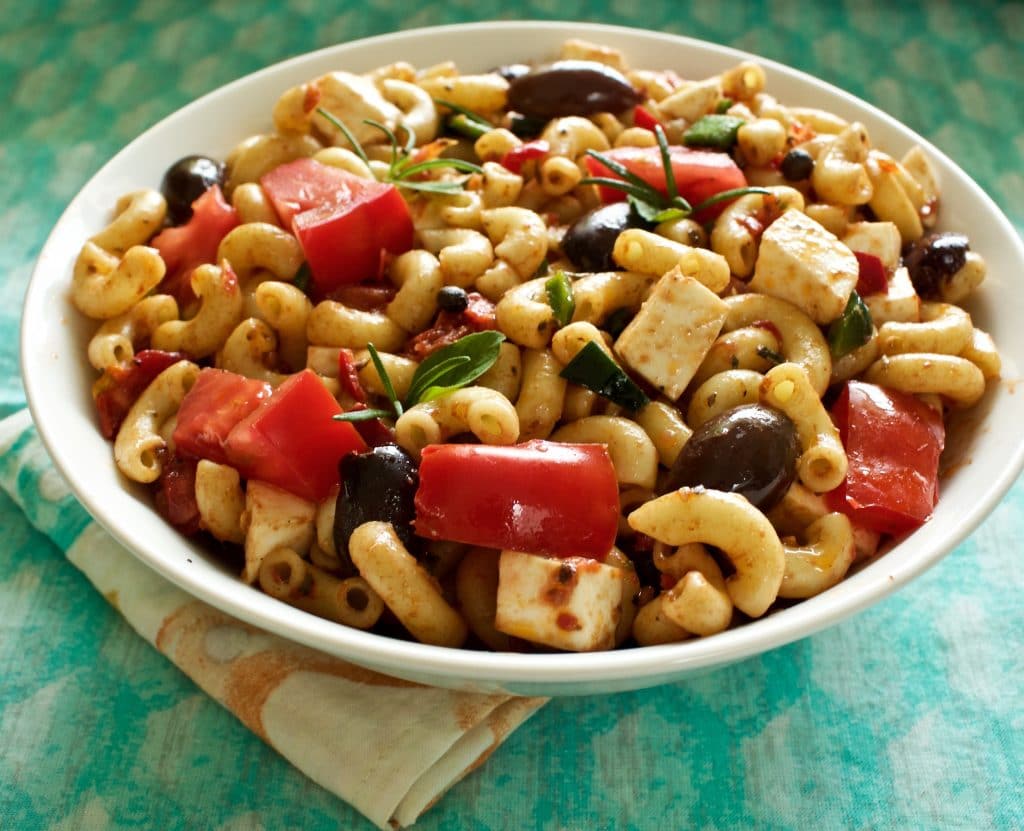 A filling salad full of mediterranean flavor and healthy fats
How to Make Pasta Salad Italian Style
Your Printable Recipe Card: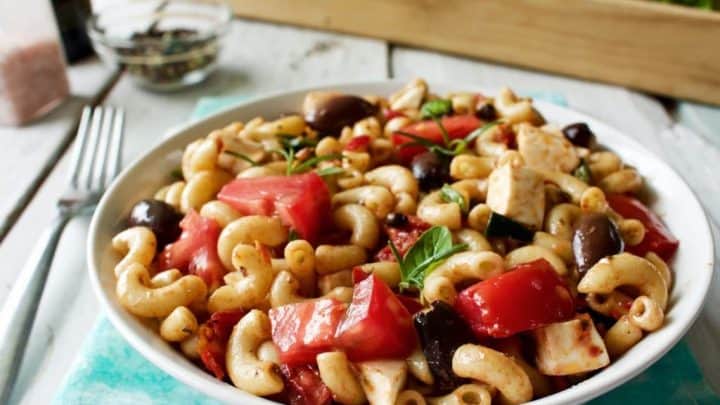 Yield:

8
Mediterranean Macaroni Salad
Healthy fats and delicious Italian flavors fuse into Mediterranean Macaroni Salad for a delightfully healthy twist on an old American favorite! Enjoy!
Ingredients
8 oz. Elbow Macaroni or any other pasta you prefer
1/2 Cup mozzarella cheese- cubed into 1/2 inch cubes or smaller (I'm using Caprese style mozzarella cheese today)
1/2 Cup olive oil
1 Cup dried herbed tomatoes-chopped in small pieces (I make my own-I recommend Costco's dried tomatoes if you're buying them)
1/2 Cup kalamata olive-sliced in half
1/2 cup peppers-diced (hotness to your taste- we used red flames from our greenhouse)
2 Tablespoons balsamic vinegar(to taste)
1 fresh tomato
whole peppercorns to taste
sea salt or pink Himalayan salt to taste
fresh Italian herbs like rosemary, basil or oregano for garnish
Instructions
Boil your noodles according to the package directions.
Meanwhile, assemble and prepare your ingredients.
Cool your noodles to room temperature by rinsing in cold water and draining them thoroughly.(or chill 30 minutes in the fridge)
Pour the noodles into a large bowl and toss with olive oil.
Add the chopped dried tomatoes and chopped pepper. Gently stir until thoroughly mixed.
Add the cheese, fresh tomato and olives, and toss. Pour the vinegar over the salad. Add salt and pepper. Garnish with your herbs if desired. Enjoy!
Notes
This salad is safe at room temperature. It makes great party food!
Nutrition Information
Yield
8
Serving Size
1
Amount Per Serving
Calories

282
Total Fat

20g
Saturated Fat

5g
Trans Fat

0g
Unsaturated Fat

15g
Cholesterol

14mg
Sodium

299mg
Carbohydrates

18g
Fiber

2g
Sugar

3g
Protein

7g
Mediterranean Macaroni Salad post was updated and re-posted on April 26, 2017
Pin it:
This recipe post is published on The Daily Meal Slide Show and was featured on MSN.