Delicious Chicken Pasta with Sun-Dried Tomatoes cooked over the stove top in a creamy mozzarella sauce. This easy one skillet dinner is perfect for a busy weeknight dinner.
Loaded with Italian seasonings and roasted peppers, this dish brings the deep flavors of Tuscany. Enjoy it with a slice of bruschetta garlic bread, and a glass of white wine for the perfect meal.
This chicken mozzarella pasta with sun-dried tomatoes is fantastic with homemade sun dried tomatoes and homemade roasted peppers. Find out how to freeze and roast peppers in this post. They are so handy to have on hand for recipes like this!
What can I do with a jar of Sun Dried Tomatoes?
Sun dried tomatoes are an amazing ingredient to have in your kitchen, and can be incorporated into so many recipes! They are most often enjoyed with recipes that use Italian ingredients since they are a Mediterranean import. Here are some ideas for ways to use those delicious tomatoes.
Sun dried tomato and basil soup
An asparagus, sun dried tomato, and olive bread loaf
Potato and sun dried tomato salad
Cheese and pesto whirls with sun dried tomatoes
Mediterranean scones with sun dried tomatoes
Asiago chicken pasta with sun-dried tomatoes and spinach
What is the best way to use up Sun Dried Tomatoes?
Sun dried tomatoes can be used to elevate and deepen the flavor of so many dishes. Sauces, dips, pastas…they can be added to so many recipes. Sun dried tomatoes can be enjoyed right out of the jar or cooked into breads, casseroles, and soups. Chicken pasta with sun-dried tomatoes is a scrumptious way to use these marinated tomatoes, but it isn't the only way.
What wine goes best with Sun Dried Tomato Pasta?
White wines are always the best option to enjoy with pasta dinners that incorporate Italian flavors and cream based sauces. Sauvignon blanc and Pinot gris are the most popular choices because they have bright acidity and notes of citrus flavors. This compliments the herbs, cheeses, and creams that are commonly found in these recipes.
Do you soak Sun Dried Tomatoes before cooking them?
If you purchase dehydrated sun dried tomatoes in a bag, yes, they will need to be rehydrated before you cook with them. Put the dried tomatoes in a shallow bowl, cover them with water and allow them to soak for two hours. Then proceed to cook with them as directed by the recipe.
If you purchase sun dried tomatoes in a jarred packed in olive oil you won't need to do any prep work. Just cook them as directed for this chicken pasta with sun-dried tomatoes.
How do I cook juicy chicken in a skillet?
Cooking the chicken in the olive oil from the jarred sun dried tomatoes will help to keep them juicy and tender. Place them in the skillet along with olive oil, cover and allow them to cook for roughly 10 minutes. It is important not to cook the chicken too hot, as this will dry it out. Keep the heat low and even.
Covering the chicken is very important because it contains the heat. This helps to render the fat and juices from the chicken which will give you a crisp, even cook.
Fun fact, the addition of chicken to pasta dishes is considered an American invention. Chicken is not usually found in traditional Italian pasta dishes.
What are traditional Italian side dishes?
This pasta is a delicious all in one meal, but of course, gets even better when you enjoy it along with some delicious appetizers and sides. Here are some traditional Italian dishes that would be amazing to serve with this chicken mozzarella pasta with sun dried tomatoes.
Caprese salad
Italian stuffed tomatoes
Friselle
Italian stuffed artichokes
Tuscan white bean salad
Italian marinated mushrooms
Italian roasted potatoes
Focaccia bread
Savory parmesan cookies
Any of these recipes would be an amazing addition to the simple chicken pasta with sun-dried tomatoes dinner. It is versatile and pairs well with so many different flavors.
What cheese is best for pasta?
Mozzarella is arguably the best choice for any pasta dish. It melts into a creamy consistency and brings a wonderful, slightly salty flavor to the dish. Parmesan cheese can also be used to add a stronger flavor profile, and is used most in traditional Italian dishes. Adding it to our chicken pasta with sun-dried tomatoes will bring a wonderful depth of flavor.
Other types of cheese that work well in pasta dishes are fontina, gouda, provolone, havarti, and gruyere. All of these cheese melt wonderfully and will coat the pasta in a rich, creamy layer. Don't be afraid to experiment with your ingredient choices and find what works best for you.
How can I elevate my Chicken Pasta?
Chicken pastas are widely popular in America. They provide a delicious all in one meal that is high in protein, healthy fats, and loads of flavor. Chicken is a popular choice of meat because it is so versatile and mild in flavor. It can be paired with an endless amount of ingredients, and prepared in ways that will change the texture and flavor.
If you are looking to spruce up your chicken pasta with sun-dried tomatoes it can be as simple as adding in a few extra ingredients to change the flavor.
Here are some of our favorite ideas
Change up the choice of cheese and throw in some fresh spinach to make this a delicious asiago chicken pasta with sun dried tomatoes and spinach dinner.
Add some bacon for a deeper, smoky flavor profile and even higher fat content.
Finish with red pepper flakes to bring a spicy element to the dish. You can of course change up the pasta you use. Penne pasta is another popular option for pasta skillet dinners, but don't be afraid to use whatever you have on hand. Recipes like this chicken pasta with sun-dried tomatoes can be customized to work for you.
Chicken Pasta with Sun-Dried Tomatoes Recipe
This creamy Chicken Pasta with Sun-Dried Tomatoes is an easy dinner with massive flavor. It's one of our favorites and we know it will become a favorite in your family too.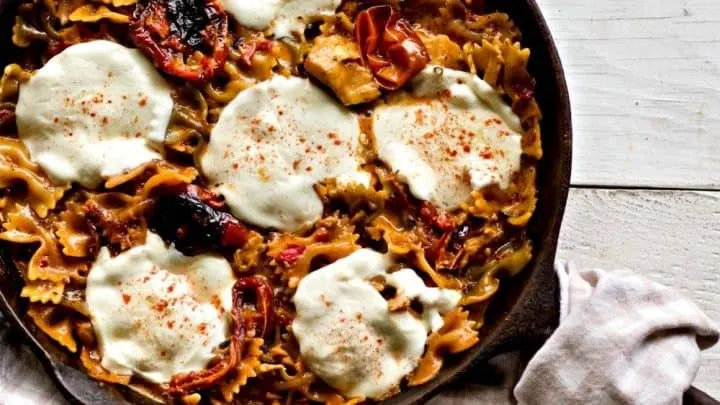 Yield:

6
Chicken Pasta with Sun-Dried Tomatoes
Delicious Chicken Pasta with Sun-Dried Tomatoes cooked over the stove top in a delicious and creamy flavorful sauce. This easy one skillet dinner is perfect for a busy weeknight dinner. Your family will love it!
Ingredients
1-4 oz. Jar Sun-Dried Tomatoes in Olive Oil
1/2 Cup roasted peppers-chopped
2 large cloves garlic chopped fine
1 Cup of Half and Half
2 Cups of chicken broth-(more as needed)
1 lb. of Chicken Tenders
1 Cup of Shredded Mozzarella Cheese or sliced as you prefer
8 oz. Pasta Noodles-(I used bow tie)
1/2 Tablespoon Italian Seasonings
1/2 Tablespoon Crushed Basil leaves (dried)
1 tsp. Smoked Paprika (to taste)
1 tsp. Salt (to taste)
Instructions
Lightly coat the chicken in smoked paprika and salt.
Lay the pieces of chicken into a large skillet with some of the oil from the tomatoes.
Cook 10 minutes covered on low heat.
When the chicken is about half done push the chicken to the side.
Add the sun dried tomatoes, roasted peppers and garlic on a medium heat in the same large skillet with 2 tablespoons of the olive oil from the jar of sun dried tomatoes.
Add the Italian Seasoning and basil. Stir.
Pour 2 Cups Chicken Broth into the skillet and add the pasta.
Stir COVER and simmer on low for 20 minutes.
Cook until the pasta is done al dente.
Pour the cream into the skillet and mix to form a sauce.
Add the mozzarella cheese and stir until thoroughly mixed or rest slices on top as pictured. Reduce heat to a simmer immediately and cover for 10 minutes until cheese is melted.
If the sauce is too thick add more chicken broth to thin it out. If the sauce is too thin, then add more half and half and cheese until it is creamy.
Adjust the spices to your taste. Enjoy!
Recommended Products
As an Amazon Associate and member of other affiliate programs, I earn from qualifying purchases.
Nutrition Information
Yield
6
Serving Size
1
Amount Per Serving
Calories

464
Total Fat

23g
Saturated Fat

7g
Trans Fat

0g
Unsaturated Fat

14g
Cholesterol

60mg
Sodium

1444mg
Carbohydrates

42g
Fiber

4g
Sugar

10g
Protein

25g
Follow Us:
We enjoy meeting you on our social networks. Follow us on Facebook, Pinterest, Instagram . Tag us with your pictures of our recipes and comment on how it went for you. We would love to see what you do with them.
We often like, comment and share your posts of our recipes on our daily Instagram stories.
Ask questions and rate the recipe in the comments section below. Please share what you did with this recipe. We are always looking for more and better ways to make homemade food. Other cooks love your ideas!
Recent Posts:
Recipe Adapted from: juliasalbum.com