This delicious, refreshing virgin mojito recipe is the Perfect Summer Mocktail. If you're looking for a tantalizing non-alcoholic drink to beat the summer heat whip up this strawberry Virgin Mojito recipe.
This particular mocktail is an easy virgin mojito recipe with a tasty blend of fresh strawberries, fresh zesty lime juice, aromatic mint leaves, and a touch of sweetness from the simple syrup (learn how to make your own simple syrup recipes here).
Originating from the classic rum based Cuban Mojito cocktail, the Virgin Mojito offers all the refreshing flavors without the alcohol content, making it a delicious drink for all ages and occasions.
The popular classic Mojito cocktail originates from Cuba. It's known for its popular combination of mint, lime, rum, sugar, and soda water.
The demand for alcohol-free alternatives to cocktail, wine coolers and other alcohol containing drinks is increasing in todays world. The Virgin Mojito has emerged as a top non alcoholic drink choice among non-drinkers, designated drivers, and those seeking a healthier beverage option.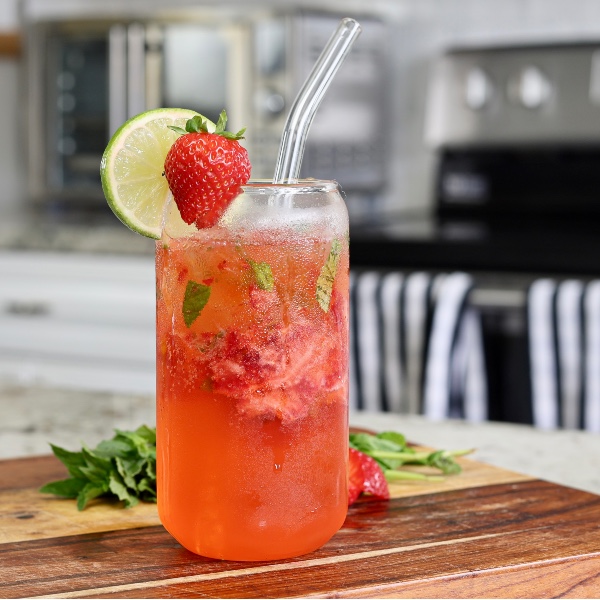 In this article, we'll explore the history and popularity of the Virgin Mojito, its key ingredients, and step-by-step instructions on how to make this delectable drink at home.
What's The Difference Between a Mojito and A Virgin Mojito?
The difference between a Mojito and a Virgin Mojito recipe is the presence of alcohol, specifically rum. A Virgin Mojito is a non-alcoholic drink resembling a mojito that omits the rum. The virgin focuses on the refreshing flavors of mint and lime combined with soda water.
A virgin mojito recipe replaces the rum with alcohol free ingredients that add even more flavor and texture to the drink. And you enjoy your day sipping this drink worry free.
What Does A Virgin Mojito Contain?
The Virgin Mojito recipe contains the same basic ingredients as the Mojito but without the alcoholic content. The key ingredients of a virgin Mojito are:
Fresh mint leaves
Lime juice
Simple syrup
Club soda or sparkling water
Ice
By removing the rum and increasing the amount of club soda , tonic water or sparkling water, the Virgin Mojito still delivers the refreshing flavors of mint and lime. For our virgin mojito recipe we add strawberries. Strawberries, lime and mint are amazing together in this drink. You will enjoy it.
Unraveling the Ingredients:
Fresh Strawberries: Bursting with natural sweetness and vibrant color, fresh strawberries add a fruity twist to this mocktail.
Fresh Mint Leaves: The essence of a Mojito is incomplete without the invigorating aroma of mint leaves, which lend a refreshing and cooling effect to the drink.
Simple Syrup: To balance the tanginess of lime juice and the natural tartness of strawberries, a touch of simple syrup is used to sweeten the Virgin Mojito. We'll also explore some alternative sweeteners for those looking to cut down on sugar.
Tonic Water: Providing effervescence and a slight bitter note, tonic water elevates the Virgin Mojito's taste and adds a delightful fizz.
Lime Juice: A splash of fresh lime juice infuses the mocktail with a zesty kick, bringing all the flavors together.
How to make a virgin mojito without mint:
Mint is a key ingredient in a classic Virgin Mojito. However, you can create a delicious mocktail without using mint. You can substitute it with other aromatic herbs or fruits. Just follow our virgin mojito recipe instructions and substitute the herb you want to use.
We suggest either Basil or cilantro to replace the mint. Even rosemary will work and may be delicious, if difficult to muddle. Remember, you are making a huge change in the flavor profile of the mojito.
So your mocktail may not have much of a mojito vibe. Instead you may have created something you'll enjoy better and may be your own personal signature mocktail. 🙂
Crafting The Perfect Virgin Mojito:
Let's dive into the step-by-step guide for creating the perfect Virgin Mojito recipe. We will explore some useful tips and tricks to make you a mocktail-making expert:
Select the Juiciest Strawberries: Choosing ripe and juicy strawberries is crucial to achieving a delicious and fruity flavor. Look for strawberries that are bright red, plump, and free from any signs of mold or mushiness. When you can, select organic or locally sourced in season strawberries for the freshest taste.
Mastering the Muddling Technique: Muddling releases the mint's essential oils into the drink. Muddling the lime, mint and strawberries together infuses the virgin mojito with refreshing flavor.
To muddle this drink properly:
Place the fresh mint leaves, strawberries, simple syrup and lime juice in the bottom of the glass.
Set your muddler straight down into the glass.
Now gently press and twist the chopped mint leaves, lime juice, berries and simple syrup together until the mint is slightly bruised and the strawberries are slightly mashed.
Don't overdo this. Muddling the the mint and berries too vigorously can release bitter flavors and make a mushy looking drink. Not at all pleasant.
Tip: If you prefer a milder mint flavor, you can start with a few leaves and adjust to your taste.
Helpful Tips-Virgin Mojito Recipe:
Use Fresh Lime Juice: For the best flavor, always use freshly squeezed lime juice in your Virgin Mojito. Bottled lime juice lacks the vibrant, zesty taste of fresh limes. you will notice the difference.
Tip: To make squeezing limes easier, roll them gently on a flat surface before cutting them open. This helps release more juice.
Balancing the Sweetness: The level of sweetness in your Virgin Mojito is up to you. Start with the small amount of simple syrup we suggest in the recipe and adjust to your taste.
Tip: If you want to reduce the sugar content, try using a natural sweetener like honey, agave syrup, or a sugar substitute.
How to use Ice: Using cubed ice in your Virgin Mojito is ideal. Crushed ice chills the drink quickly without stirring, but it quickly melts with these room temperature ingredients. Small cubed ice (1/2 inch) prevents dilution if you serve it quickly. Fill the glass with ice halfway. Add it right over the muddled ingredients, but leaving enough room for the tonic water.
Tip: If you don't have small cubed ice, you can use large ice cubes and crush them by placing them in a clean kitchen towel and tapping with a rolling pin or mallet. Large cubes are difficult in a drink like this since they tend to get in the way of enjoying the muddled ingredients pretty visuals.
Building Layers of Flavor: A well-rounded and delightful Virgin Mojito, is built with layers of flavor. Start with the chopped berries, mint and sugar, then add the lime juice. Now muddle it. The simple syrup and lime juice will seep into the berries and mint as you gently crush them. Flavor layers.
Tip: To enjoy even more flavor, let the Virgin Mojito sit for a minute or two before adding the tonic water. This allows the ingredients to meld together.
The Finisher: To substitute the rum we chose tonic water to finish this drink. Its not too sweet and adds it own tiny bit of bitter into the flavor mix which we appreciate. Along with that you have some pretty good flavors in this drink you want to highlight and low flavor finishers will work best for that. It you want to substitute the tonic water a club soda or coconut water or sparkling water are good choices.
Tip: Gently clap mint sprigs between your hands if using as a garnish. This will release aromatic oils and enhance the freshness of the drink.
Feel free to adjust the ingredients to suit your taste. You want to create a mocktail that will leave your taste buds craving more.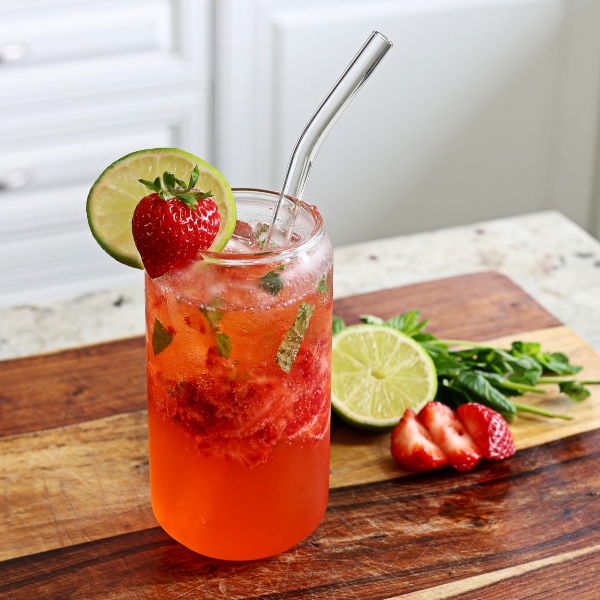 Variations and Customizations
There are numerous ways to get creative and tailor this mocktail to suit yourself. We love our strawberry virgin mojito recipe as it is. but if you want to change it up here are some ideas:
Change the Fruits: Besides strawberries, you can experiment with other fruits to create different flavor profiles. Some popular fruit variations include:
Raspberry Virgin Mojito: Add fresh raspberries along with the strawberries for a vibrant and tangy twist.
Mango Virgin Mojito: Incorporate diced ripe mango for a tropical and sweet flavor.
Watermelon Virgin Mojito: Blend fresh watermelon chunks and strain the juice into the drink for a refreshing and juicy taste.
Herb and Spice Enhancements: Mint isn't the only herb that can elevate a Virgin Mojito. Consider trying other herbs or spices to add depth and complexity to the mocktail:
Basil Virgin Mojito: Use fresh basil leaves for a herbal and slightly sweet note.
Cilantro Virgin Mojito: Try cilantro for a unique and citrusy twist.
Ginger Virgin Mojito: Add a few slices of fresh ginger for a spicy kick.
Cardamom Virgin Mojito: Crush a couple of cardamom pods and infuse the mocktail with a subtle, aromatic flavor.
Finisher Options: There are many other choices for replacing the rum in this drink and any other virgin mojito recipe you might make. Club soda, sparkling water, non alcoholic rum alternatives like this one work well if you want that rum flavor. Also Ginger ale, ginger beer, coconut water and pineapple fruit juice add their own flavors and textures.
Mocktail Mixers: Some brands offer non-alcoholic premade mocktail mixers. They are interesting and worth a try. These mixers will have flavor profiles already fixed but you can play around with the other ingredients if you like. Using a mix simplifies the mixing process if you like what you're getting.
Reduced Sugar Options: For a healthier version, reduce the amount of sugar or use natural sweeteners like agave nectar, honey, or maple syrup.
Unique Garnishes: The garnish heavily impacts your Virgin Mojito vibe. Experiment with different garnishes to bring focus on the elements of the drink you find most important or pretty:
Edible Flowers: Add fresh or dehydrated edible flowers like lavender, rose petals, or pansies for a touch of elegance and a floral aroma.
Citrus Zest: Sprinkle some lemon or orange zest on top for an extra burst of citrusy fragrance.
Fresh Berries: Use additional fresh berries as garnish to complement the fruits used in the drink.
Nutritional Benefits:
Vitamin C from Lime Juice: One of the primary ingredients in a Virgin Mojito is fresh lime juice. Limes are rich in vitamin C, which is a potent antioxidant known for supporting the immune system, promoting skin health, and aiding in collagen production. Consuming a Virgin Mojito made with fresh lime juice can provide a refreshing and tasty way to boost your vitamin C intake.
Antioxidants from Strawberries: Strawberries, the star ingredient in a Virgin Mojito, are packed with antioxidants such as anthocyanins, quercetin, and vitamin C. These antioxidants play a crucial role in neutralizing harmful free radicals in the body, which can help reduce oxidative stress and inflammation. Including fresh strawberries in your mocktail adds a nutritional punch and can contribute to your overall antioxidant intake.
Hydration: The base of a Virgin Mojito often includes tonic water, club soda or sparkling water, which not only provides the characteristic fizz but also helps keep you hydrated. Staying adequately hydrated is essential for overall health and is very important in the warmer months. Hydration it supports various bodily functions, including digestion, nutrient absorption, and temperature regulation.
Potential Healthier Sweetener Options: Make this Virgin Mojito a more nutritious option by using a healthier sweetener. Instead of using traditional simple syrup, try using natural sweeteners like agave nectar or honey, which contain some beneficial nutrients and may have a lower glycemic index compared to refined sugar. you can also use a dissolving or liquid form of monkfruit or other zero calorie sweeteners.
Low Calorie Mocktail: Compared to many alcoholic cocktails, a Virgin Mojito is much lower in calories.
Adapting to Dietary Preferences: The versatility of a Virgin Mojito allows you to customize it to suit various diets. By using suitable ingredients you can adjust the recipe to suit your personal needs.
The Virgin Mojito is the epitome of a refreshing and satisfying non-alcoholic beverage. With its enticing blend of fresh strawberries, mint, lime, and tonic water, it's a perfect companion for hot summer days, gatherings with friends, or simply whenever you want a delightful mocktail to lift your spirits and refresh your soul.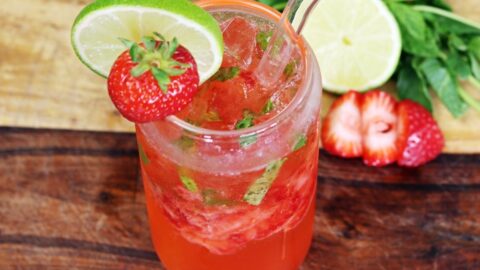 Yield:

1 virgin mojito
Strawberry Virgin Mojito Recipe
This strawberry virgin mojito is packed full of fruity flavor. A refreshing essence of mint and a hint of lime muddled bring out the flavors. This mojito mocktail is the perfect summertime cooler.
Ingredients
4 fresh strawberries- large
3 fresh mint leaves
1/2 oz. simple syrup
4 oz. tonic water
Juice of half a lime
Instructions
Assemble ingredients
Wash and chop up the strawberries and mint.
Load the Strawberries, mint, simple syrup and lime juice into a tall glass.
Muddle these ingredients until well mushed.
Fill glass half full with ice.
Top with tonic water.
Garnish with strawberries and lime wheel.
Serve.
Nutrition Information
Yield
1
Serving Size
1
Amount Per Serving
Calories

137
Total Fat

1g
Saturated Fat

0g
Trans Fat

0g
Unsaturated Fat

0g
Cholesterol

0mg
Sodium

171mg
Carbohydrates

36g
Fiber

5g
Sugar

27g
Protein

2g
More Fantastic Mocktails:
We enjoy a good mocktail. It's always nice to have some recipes handy for a good variety of non alcoholic drinks when the mood suits. Here are some of our favorites.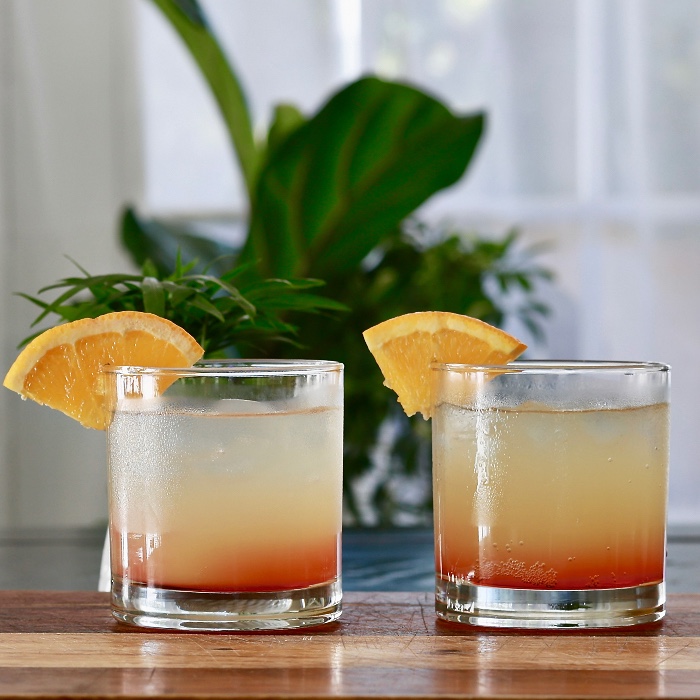 Some Cocktails To Consider:
Follow Us:
We enjoy meeting you on our social networks. Follow us on Facebook, Pinterest, Instagram . Tag us with your pictures of our recipes and comment on how it went for you. We would love to see what you do with them.
We often like, comment and share your posts of our recipes on our daily Instagram stories.
Ask questions and rate the recipe in the comments section below. Please share what you did with this recipe. We are always looking for more and better ways to make homemade food. Other cooks love your ideas!
Recent Posts: