Introducing the newest addition to the Baileys family – the smooth and creamy Baileys Vanilla Mint shake Irish cream Liqueur. This one is Infused with the rich flavors of vanilla and invigorating mint. Baileys Vanilla mint shake liqueur is the perfect ingredient to elevate your creamy cocktail game. Wait till you see what we do with it.
Baileys Vanilla Mint Liqueur has a creamy, velvety texture with a cool and refreshing taste of mint, complemented by the smooth, sweet notes of vanilla. It can be enjoyed on its own, over ice, or mixed with other spirits and ingredients to create unique and delicious cocktails like this one.
We add vanilla vodka and half and half to double down on the creamy vanilla notes and then bring on the chocolate! What is better than that? Add a chocolate syrup drizzle to your glass and a sprinkling of shaved chocolate to the top. It will bring out the vanilla mint and a hint of chocolate blended into the liqueur.
The flavor combination in the vanilla mint shake baileys offers with this new flavor is just miraculous. Cheers to the perfect blend of flavor and fun.
This is a new release from Baileys. And from what I'm seeing it is the only mint flavored baileys currently available. If they ever had a different mint Baileys, this must be replacing it. We can see why. It's a lovely balance of flavors, well suited as a base for LOTS of creative cocktails.
Substitutions:
What tastes like Baileys but is cheaper?
Here's a few ideas for liqueurs that have similar flavor profiles to Baileys Vanilla Mint Shake but are less expensive. Please note that the taste of these liqueurs may differ from Baileys and change this drink somewhat. Use your personal preferences to decide the best substitute.
Options similar in taste to Baileys but less expensive Include:
Carolans Irish Cream: Carolans is a less expensive cream liqueur from Ireland that is similar to Baileys in taste and texture.
Saint Brendan's Irish Cream: Saint Brendan's is another Irish cream liqueur has a similar flavor profile to Baileys but not as much money.
Kirkland Signature Irish Cream Liqueur: This is a private-label brand available at Costco, and is a great value for the price. It is similar in taste and texture to Baileys.
O'Mara's Irish Country Cream: This is a cream liqueur from Ireland that is often compared to Baileys in taste and texture, but less expensive.
These brands may have vanilla mint flavors but they won't be precisely like this baileys vanilla mint. So if you use them you may have to balance the flavors of this drink differently to make it the luscious, dreamy drink we intend for you.
Subbing out the Vodka:
To keep the vanilla flavor use a vanilla vodka. If you want to use a plain vodka it won't be a deal breaker, but you will lose a bit of the richness a good vanilla vodka can offer here.
Cream VS. Half N Half:
Half N Half is plenty creamy for this already richly decadent drink. If cream is all you have, try cutting it with milk. Milk by itself will be definite loss for the creaminess so try to keep that yummy richness by using Half N Half.
The chocolate Syrup and Shavings:
You can omit these if you like but you will notice they add a nice bit of flavor and counterpoint texture to the drink. You can use dark chocolate if you want to cut the sweet.
How Much Alcohol is in Bailey's Vanilla?
The alcohol content of Baileys Vanilla and Baileys Vanilla mint liqueurs is 17%. This makes for a nice mild buzz when imbibed by itself, over ice cream, drizzled into a milkshake or drank alone in a shot.
The Vanilla Vodka we used is 80 proof so the ABV is 40%.
With the Baileys Vanilla Mint Liqueur ABV of 17%, and the Vanilla Vodka ABV of 40%(assuming you use 80 proof vodka), the alcohol content of this cocktail recipe is approximately 12.67% ABV.
With a low ABV of only 12.67% you have a lightly alcoholic sweet treat perfect for celebrating with friends. This creamy dreamy drink will hit all the sweet desires with chocolate, vanilla and mint all in one lovely drink.
However, The actual alcohol content may vary based on the ABV of the specific brands used and the accuracy of the measurements. So check your labels if you're concerned about the amount of alcohol you are drinking or serving to others. Also MEASURE accurately.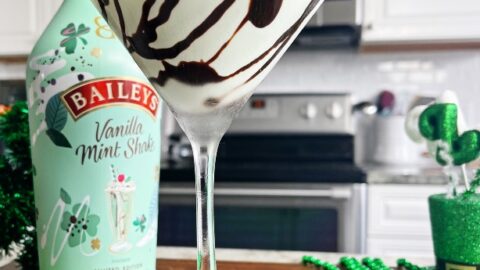 Yield:

1 5 oz. cocktail
Baileys Vanilla Mint Dream Cocktail
Baileys Vanilla Mint Liqueur has a creamy, velvety texture with a cool and refreshing taste of mint, complemented by the smooth and sweet notes of vanilla with a hint of choclate blended in. Our vanilla Mint Dream cocktail doubles down on the vanilla, cream and chocolate for a lovely smooth creamy dream of a drink.
Ingredients
2 oz. Baileys Vanilla Mint liqueur
1/2oz. Vanilla Vodka
1 1/2 oz. half and half
Instructions
Prep:
Chill glass 15 to 30 minutes
Drizzle the chocolate syrup around the glass as desired. Set aside.
Pour the vanilla mint liqueur, vodka and half N half into a shaker filled with ice.
Seal and Shake the shaker until it is very cold.
Pour the drink into your prepared glass.
Garnish with shaved chocolate as desired.
Nutrition Information
Yield
1
Serving Size
1
Amount Per Serving
Calories

436
Total Fat

5g
Saturated Fat

3g
Trans Fat

0g
Unsaturated Fat

2g
Cholesterol

16mg
Sodium

35mg
Carbohydrates

31g
Fiber

0g
Sugar

31g
Protein

1g
More Delicious Baileys Drinks From our Archives:
Follow Us:
We enjoy meeting you on our social networks. Follow us on Facebook, Pinterest, Instagram . Tag us with your pictures of our recipes and comment on how it went for you. We would love to see what you do with them.
We often like, comment and share your posts of our recipes on our daily Instagram stories.
Ask questions and rate the recipe in the comments section below. Please share what you did with this recipe. We are always looking for more and better ways to make homemade food. Other cooks love your ideas!
Recent Posts: