This Garlic butter chicken bites is an easy and complete 30 minute one pan dinner. This meal is a cinch to make and full of delicious flavors. And with the whole dinner going into one skillet there is minimal clean up. It's easy on the cook as well as new a family favorite week night meal. Win Win!
We traded out the traditional Indian seasonings a bit with a dash of chili powder and smoked paprika. This adds a tantalizing smokiness to each garlicky buttery chicken bite. The freshness of lime juice and cilantro adds another zesty twist. It's FAB!
Think of this garlic butter chicken dinner as a fusion dish. This garlic butter chicken blends together garlic, butter, chili powder, and smoked paprika. The addition of fresh, zesty lime juice and cilantro enhance the smoky flavors. Cojita cheese emphasizes a south of the border vibe.
Tender chunks of seasoned chicken breast simmered with fresh zucchini, sweet corn, and bell peppers, create a colorful blend of tastes and textures. Minced garlic and butter add the characteristic garlic butter chicken flavors we love. This unique dish is overflowing with rich, pleasing aromatics and dynamite flavor.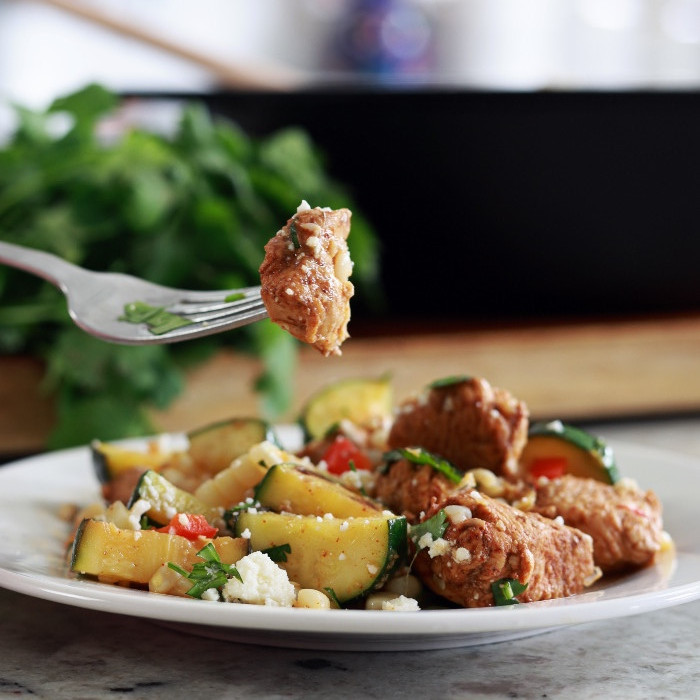 What is Butter Chicken Sauce Made Of?
Traditional Indian Butter chicken sauce, also known as "Murgh Makhani" has a tomato base with tomato sauce, tomatoes or tomato puree, onions, ginger and/or Ghee, cream or yogurt. The sauce is spiced with a variety of Indian cuisine flavorings. This can include garam masala, cumin, coriander, turmeric, chili powder, and fenugreek (kasuri methi). The sauce also often uses cashews or almonds, and sugar.
Does Butter Chicken Contain Garlic?
Yes, butter chicken usually has garlic in it. Fresh garlic is typically minced or finely chopped and sautéed along with onions in butter or ghee to create the flavorful base for the sauce.
Yet, even within Indian cuisine recipes for butter chicken, the sauce can vary depending on the region of India they come from. Some variations may include ground cardamom, cloves, or cinnamon for added complexity. The garlic butter chicken sauce is usually simmered with cooked chicken pieces to create the well-known dish, butter chicken.
What is so Good About Butter Chicken?
Butter chicken is a beloved and popular dish for several reasons. It has a rich and creamy tomato based sauce with a well balanced spice blend, which gives the dish a lovely flavor profile. Tender marinated chicken is cooked with butter to bring in that decadent comfort food element we all enjoy. It's a great meal.
Our garlic chicken dinner is obviously a completely different flavor profile, but we think you will enjoy this take off on the original recipe. It's very simple and overall this recipe is not only fast to put together, but healthier for the family.
Garlic Butter Chicken Dinner Recipe:
We remove some of the fats, and calories and use chicken breast so the protein is lean. And this dinner is packed with your favorite vegetables. You can use whatever veggies your family loves.
Recipe Tips:
Preheat the Skillet: Preheat your skillet over medium heat before adding the ingredients.
Add Vegetables Wisely: Since zucchini and bell peppers cook differently than chicken, we add them to the skillet a few minutes before cooking the chicken. Then we remove them and set them aside to ensure they are cooked but still retain some crispness while the chicken cooks. We add it all back together at the end.
Avoid Overcooking: Cook the chicken just until it reaches an internal temperature of 165°F (74°C). Overcooking the chicken breast may result in dryness. This is another good reason to cook the chicken by itself so you know it's cooked correctly.
Control Butter Quantity: While butter adds richness, you can control the amount to avoid excessive greasiness. Consider using 1 tablespoon of butter to sauté the garlic at the beginning, and then add the remaining 1 tablespoon of butter when adding the vegetables for a balanced flavor.
Balance the Spice: Adjust the 1 tsp. of chili powder and 1 1/2 tsp. of smoked paprika to suit your spice preference. If you prefer a milder taste, you can reduce the amount of chili powder.
Freshness with Lime Juice: After cooking the chicken and vegetables, drizzle the 1/4 cup of fresh-squeezed lime juice over the dish to add a tangy and fresh flavor.
Cilantro Finishing Touch: Just before serving, sprinkle the 1/4 cup of fresh chopped cilantro over the garlic butter chicken bites to bring in the Mexican flavor to this dish.
Adjust Cotija Cheese: Cotija cheese can be salty, so taste the dish before adding the 1/2 cup of crumbled cotija cheese and adjust the quantity to taste.
Substitutions:
What can I season my chicken with?
Seasoning your chicken is the basis for the flavor profile you want with this dinner. If you want to change up the Mexican flavors with another, there is really no end to what you can use. It all depends on how you like your spice. Here are some popular chicken seasoning ideas:
Salt and Pepper: A simple combination of salt and black pepper can enhance the natural flavors of the chicken.
Italian Seasoning: A blend of dried herbs like basil, oregano, thyme, and rosemary, which works well for Mediterranean-inspired dishes.
Lemon Pepper: Combines tangy lemon zest with the warmth of black pepper for a bright and zesty flavor.
Cajun Seasoning: Adds a spicy kick with a mix of paprika, cayenne pepper, garlic powder, and other herbs and spices.
Herbs de Provence: A French herb blend containing thyme, rosemary, marjoram, and other fragrant herbs.(here's a homemade version from the Spruce Eats)
Curry Powder: Perfect for adding an exotic twist with a mix of Indian spices.
Tandoori Masala: A traditional Indian spice mix that imparts a reddish hue and a bold, earthy taste.
Adobo Seasoning: A Latin American blend with garlic, oregano, and cumin for a savory and aromatic taste.
Honey Mustard: Combine honey and Dijon mustard for a sweet and tangy glaze.
Za'atar: A Middle Eastern spice mix containing thyme, sesame seeds, sumac, and other herbs.
All these spices will take this dinner in new directions. Experiment with these seasonings and create your own combinations to suit yourself. Always taste as you go to make sure you get the perfect flavor profile.
Different Versions Of this Garlic butter Chicken recipe:
Garlic Butter Chicken and Pasta: This will add carbs to the recipe but also make it more sustaining and filling for your guests. To make It: In a separate pot, cook the pasta according to the package instructions until it is al dente. Drain the pasta once it's cooked. Now add it in at the end of the recipe.
Garlic Butter Baked Chicken Breast:
This is a great version of this recipe if you just want a single serving meal. Or if you want to serve more than one breast, simply adjust the recipe for however many breasts you prefer. It is a very different method than our skillet dinner, but still simple and delicious.
The method:
Marinate the chicken: In a small bowl, combine the chicken breast with a bit of olive oil, minced garlic, a pinch of salt, and a dash of smoked paprika. Allow the chicken to marinate for about 15-30 minutes.
Cook the chicken: Heat a skillet over medium-high heat and add the marinated chicken breast. Cook for about 4-6 minutes per side or until the chicken reaches an internal temperature of 165°F (74°C) and is fully cooked through. Remove the cooked chicken from the skillet and set it aside.
Prepare the sauce and vegetables: In the same skillet, melt the butter over medium heat. Add the chopped zucchini, corn kernels, and bell pepper. Sauté the vegetables until they are slightly tender.
Add spices: Stir in the chili powder, smoked paprika, and garlic salt to the vegetables, infusing them with flavor.
Combine chicken and vegetables: Place the cooked chicken breast back into the skillet with the vegetables and garlic butter sauce. Toss everything together until the chicken is coated with the sauce and the ingredients are well combined.
Add lime juice and cilantro: Drizzle the fresh-squeezed lime juice over the chicken and vegetables. Sprinkle the chopped cilantro on top to add a burst of freshness.
Finish with cheese: Sprinkle the crumbled cotija cheese on top of the garlic butter chicken breast.
15 Minute Garlic Butter Chicken:
This is a little less controlled method, but it is a very quick way to get your dinner on the table in a hurry. just be careful you get all the parts cooked correctly.
Prepare the chicken: Pre-cooked rotisserie chicken, is a good choice for this method. Shred the chicken breast into bite-sized pieces. If you're cooking the chicken from scratch, cut it into small cubes for quicker cooking.
Cook the chicken: In a skillet over medium-high heat, add the olive oil and small cubed or precooked shredded chicken. Cook for about 2-3 minutes until the chicken is heated through.
Sauté vegetables: Add the chopped zucchini, corn kernels, and bell pepper to the skillet with the chicken. Sauté for an additional 2-3 minutes until the vegetables are slightly tender.
Create the sauce: Move the chicken and vegetables to one side of the skillet, and on the other side, melt the butter over medium heat. Add the minced garlic, chili powder, smoked paprika, and garlic salt to the melted butter. Stir the spices into the butter and garlic until fragrant.
Combine everything: Mix the chicken, vegetables, and the garlic butter sauce together in the skillet until well combined.
Finish with lime juice and cilantro: Drizzle the fresh-squeezed lime juice over the dish and sprinkle the chopped cilantro on top.
Garnish with cheese: Finish by sprinkling the crumbled cotija cheese over the chicken.
Yield:

4
One Pan Garlic Butter Chicken Recipe
A delicous quck and easy one pot chicken dinner with a south of the border flavor profile. Its a new twist on garlic butter chicken. This is a great weeknight meal the whole family can enjoy.
Ingredients
2 large chicken breast-cut into 1 inch cubes
2 small zucchini-chopped
2 Cups corn kernels (frozen, canned or fresh)
2 Bell peppers- chopped
4 cloves garlic-minced
2 Tablespoons butter
1 tsp. chili powder
1 1/2 tsp. smoked paprika
1/2 tsp. garlic salt
2 tsp. olive oil
1/4 Cup fresh squeezed lime juice
1/4 Cup cilantro
1/2 cup cotija cheese-crumbled
Instructions
Cube chicken and lay out on a work surface
Sprinkle with the paprika, chili powder and garlic salt. Mix the chicken bites around until each piec is thoroughly coated with seasoning (to taste).Heat large skille to medium heat.
Add 2 tsp. olive oil.
Add chopped zucchini and peppers to preheated skillet.
Cook vegetables until softened- about 5 minutes.
Remove vegetables to plate and set aside.
Add 1 tsp. of olive oil and pour in seasoned chicken pieces.
Cook chicken (stirring occasionally) for 6 to 8 minutes until the chicken is completely cooked through.
Add the minced garlic and cook another minute until fragrant.
Push cooked chicken to sides of skillet. Add into the open center of the skillet, the butter lime juice.
Add cooked veggies back into the pan. Add the corn. Stir it all together.
Simmer 5 minutes on low heat.
Top dish with cojita cheese, additional fresh chopped cilantro (to taste) and a sprinkle of lime juice.
Serve!
Nutrition Information
Yield
4
Serving Size
1
Amount Per Serving
Calories

335
Total Fat

16g
Saturated Fat

7g
Trans Fat

0g
Unsaturated Fat

7g
Cholesterol

81mg
Sodium

523mg
Carbohydrates

25g
Fiber

4g
Sugar

6g
Protein

26g
More Delicious Easy Skillet Dinners:
One skillet dinners are a favorite with our families. Here are a few more recipes for easy weeknight skillet dinners.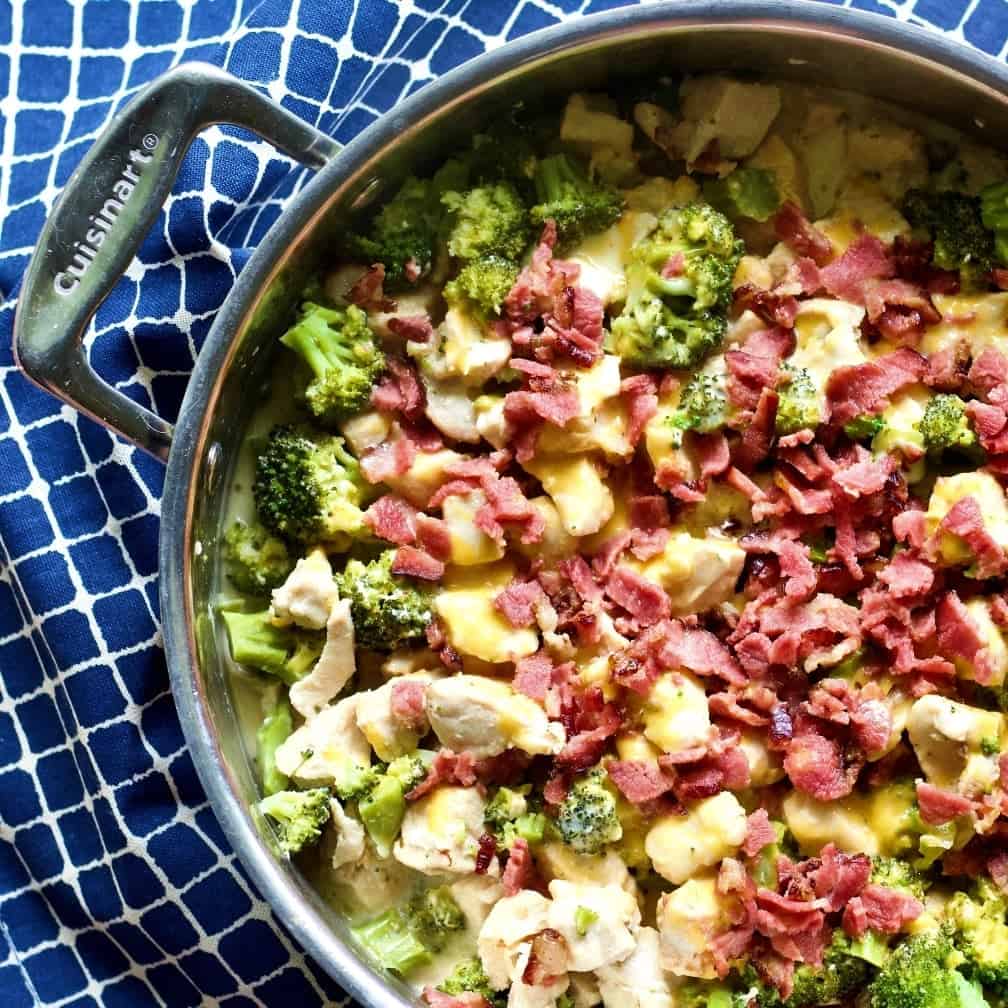 More delicious Dinners:
Follow Us:
We enjoy meeting you on our social networks. Follow us on Facebook, Pinterest, Instagram . Tag us with your pictures of our recipes and comment on how it went for you. We would love to see what you do with them.
We often like, comment and share your posts of our recipes on our daily Instagram stories.
Ask questions and rate the recipe in the comments section below. Please share what you did with this recipe. We are always looking for more and better ways to make homemade food. Other cooks love your ideas!
Recent Posts: