Cheesy Sausage Noodle Dinner is A Quick N Easy 30 minute weeknight skillet dinner. The whole family will love this cheesy tasty comfort food meal.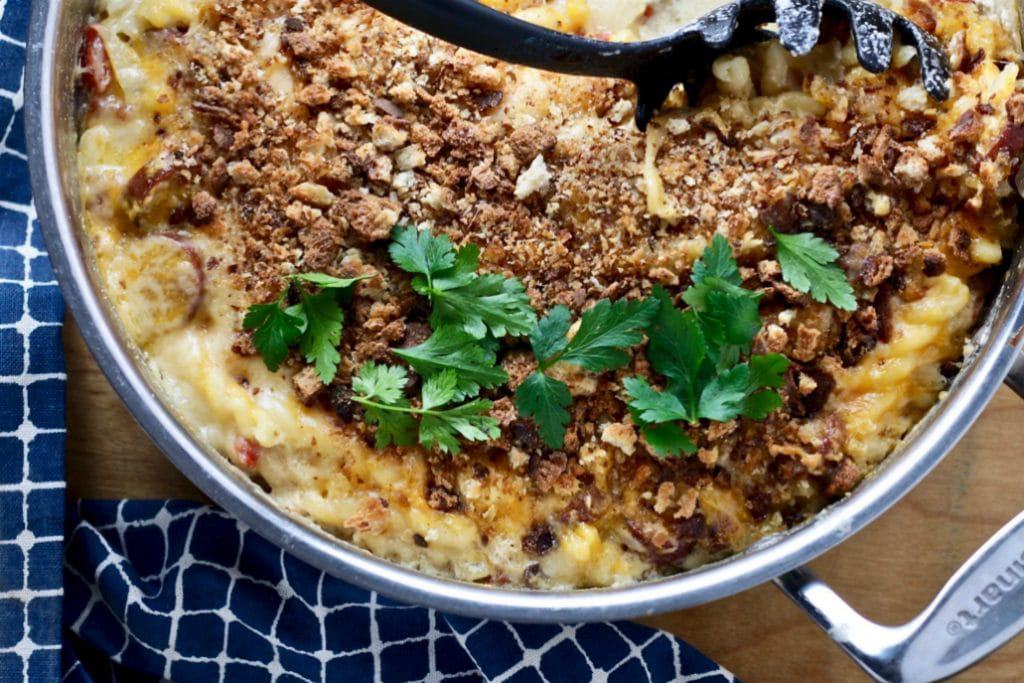 This is one of Kayti and Brian's FAVORITE scrumptious casseroles. She was talking it up, so I had to try it out. Yep! It's good. Full of delicious flavor and very easy to make. This one's a winner dinner for sure. My hardworking man agrees. This recipe will be back on our dinner table soon!
For me, food usually has to be healthy easy, quick and cheap. Most times fancy ingredients that cost a lot are never in my cupboard and I won't go out and buy them. I have always been a lazy cook and I'm normally in a hurry. Or tired from being in a hurry.
Thinking and planning food ahead…not so much a part of my life. So one skillet dinners like this one that require stuff I usually have on hand, about 30 minutes to make and 10 minutes of clean up make my day. And fortunately my hubby loves to eat them. Win Win!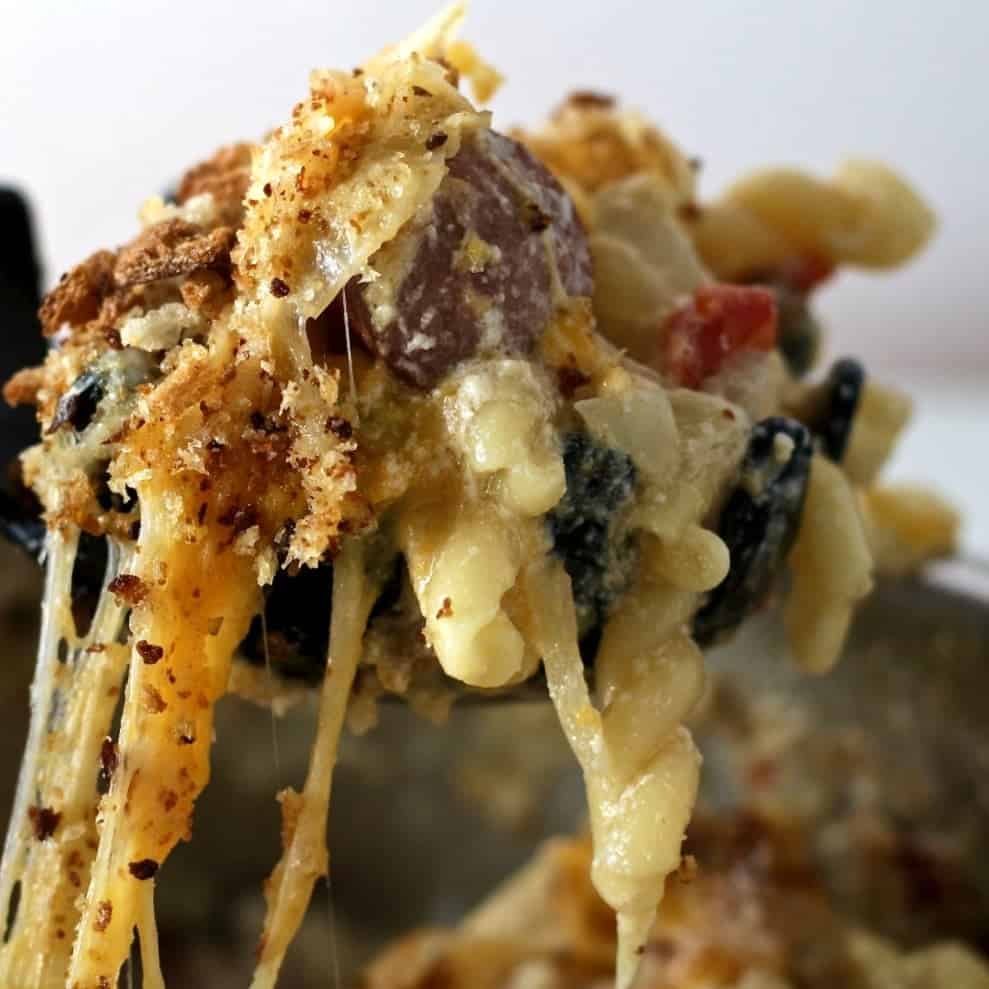 Twisted Tuna Casserole, Cheesy nacho Pie, Cheesy Hamburger Pie, and many other easy weeknight dinner recipes you'll find in our Main Dishes section are all quick and easy weeknight dinners. Perfect comfort food for the cold hibernation months. Winter is NOT my favorite season. Cold dreary and bleak. Makes me wanna cuddle up to a hot plate of noodly deliciousness. Cheesy Sausage Noodle Casserole makes me feel all warm and cozy with a full tummy of yumminess.
This is a filling dinner. LOTS of cheese and sausage to sustain you too. Dave and I ate a kale salad with it and NO dessert. Perfect weeknight meal. This is a carb heavy higher calorie dinner so load up on the salad and go light on after dinner treats. You won't miss them.
I FORGOT to get the green onions this recipe calls for. ARG! I always forget something which is why I encourage you to use what you have on hand when making our recipes. That's what I do too. Tonight I substituted with flat leaf parsley. The green onions are way better I'm sure so I encourage you to use them for the extra flavor they offer. Next time, so will I.
I crushed up some breadcrumbs from my odds and ends of My Beginner Artisan Sourdough bread for the topping. Since I had some in the freezer all ready to go. Any bread crumb will work as a topping for the casserole. The recipe calls for Panko Bread crumbs which are delicious too, OR crush up some Focaccia Croutons. We like the crunchier bread bits.
Another home hack for this recipe our Instant pot bone broth. I had a jar handy in the fridge, so that delicious, flavorful and amazingly healthy bone broth went into this casserole. Tons of flavor and gelatin in that broth.
You won't find that gelatinous high quality broth in a store. Make it cheaply and easily in your instant pot from leftover bones and save yourself some money. Or just buy a quart of store bought broth if it works best for you.
Cheesy Sausage Noodle Dinner Recipe:
This is perfect winter time comfort food. When I'm in hibernation mode, like now, I bake bread, make broth, make filling simple meals like this and drink a lot of coffee!
Instructions:
In a large(12 inch) ovenproof skillet on medium heat.
Pour in olive oil
Add sausage and onions. Saute to onion transparent.
Toss in garlic and cook until fragrant (about 30 seconds)
Add in broth, tomatoes, half n half, and pasta.
Stir to combine and raise heat to a boil.
Cover and reduce heat to medium low. Simmer until pasta is tender. (about 15 minutes).
Remove skillet from heat.
Stir in Parmesan cheese.
Top with cheddar cheese, then bread crumbs and green onions overall.
Broil on high until cheese is slightly brown and bubbly. Watch it-should take 5 minutes or less)
NUTRITION INFORMATION:
620 CALORIES/serving
Fat 41 % 30 g
Carbs 18 % 60 g
Protein 51 % 28 g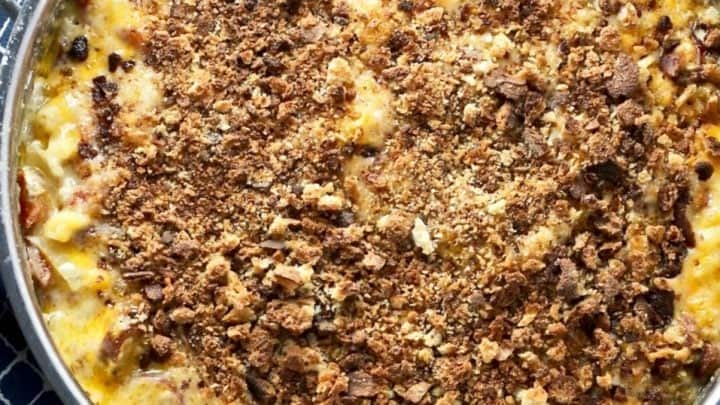 Yield:

8 1 1/2 Cup servings
Cheesy Sausage Noodle Dinner
A quick N Easy weeknight skillet dinner. Full of comforting noodles, sausage and cheese. A filling meal the whole family will love.
Ingredients
1 lb, smoked linked pork sausage -sliced into coins.
1 large yellow onion-diced
2 Tablespoons of minced garlic
1 tablespoon olive oil
12 oz. Rotini pasta, use penne or bowtie
1 10 oz. can mild rotel tomatoes
11/2 Cup Chicken broth, use enough to cook noodles
1 Cup half n half
1 Cup shredded parmesan cheese
1 Cup of shredded sharp cheddar cheese
1 Cup of Panko bread crumbs, or crushed focaccia croutons
1/3 Cup thinly sliced green onions
Instructions
In a large(12 inch) ovenproof skillet on medium heat.
Pour in olive oil
Add sausage and onions. Saute to onion transparent.
Toss in garlic and cook until fragrant (about 30 seconds)
Add in broth, tomatoes, half n half, and pasta.
Stir to combine and raise heat to a boil.
Cover and reduce heat to medium low. Simmer until pasta is tender. (about 15 minutes).
Remove skillet from heat.
Stir in Parmesan cheese.
Top with cheddar cheese, then bread crumbs and green onions overall.
Broil on high until cheese is slightly brown and bubbly. Watch it-should take 5 minutes or less)
Nutrition Information
Amount Per Serving
Calories

620
Pin it: