Mediterranean shrimp sheet pan dinner is a quick and easy meal, perfect for a family lunch or busy weeknight dinner.
This dish brings together roasted veggies, shrimp and feta cheese for a high protein, low carb macro count. Seasoned with fresh garlic, lemon juice, oregano and paprika; it's a deliciously light meal that comes together in about 20 minutes.
Sheet pan dinners are a great way to use up whatever veggies and seasonings you have on hand. This recipe is a great option if you have vegetables that you need to use up, roasting brings a wonderful flavor and locks in the nutrition for a hearty meal.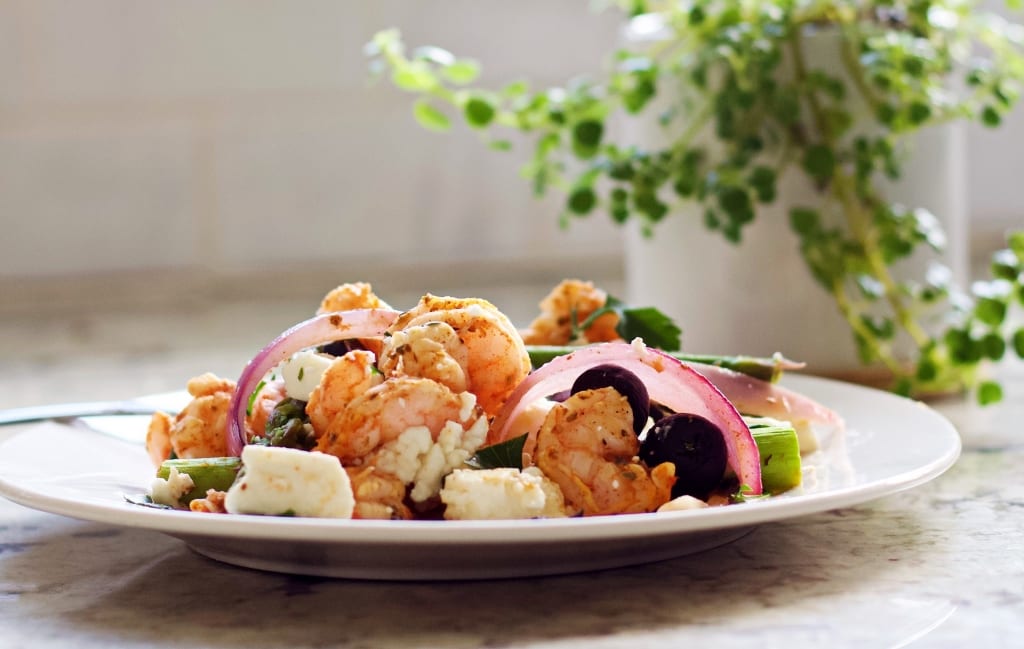 What goes with shrimp for dinner?
Shrimp is a very versatile protein and pairs well with many different veggies. It is a great option to have on hand as it cooks quickly and is easy to season. We enjoy shrimp with many different vegetables including
Asparagus
Cauliflower
Onions
Broccoli
Yellow Squash
Potatoes
Carrots
Leeks
Zucchini
Celery
Brussel Sprouts
What is a sheet pan dinner?
Sheet pan dinners are an all-in-one method of cooking your meal, similar to a one pot or skillet dinner. It saves time, provides easy cleanup, allows flavors to marry and marinate together, and does not require any fancy kitchen equipment. Pick your protein, add an assortment of vegetables, season and drizzle with oil then roast until everything is cooked through.
What sauce goes good with shrimp?
Because shrimp is so versatile in flavor, many different sauces and seasonings will compliment it very well. We use a lemon oregano based sauce for this recipe, but you could also opt for sauces like butter garlic, pesto, a mango salsa, Old Bay and paprika, or a spicy Cajun marinade.
Can I use parchment paper for sheet pan dinners?
Parchment paper or even aluminum foil are great to use when making a sheet pan dinner. Lining your baking sheet will aid in quick cleanup, prevent food from sticking to the pan, and maximize the amount of food that makes it to your plate.
Silpat mats are another great liner if you have some on hand. They are non-toxic reusable baking mats that are quick to clean up and naturally non-stick. We use silpat mats whenever possible, they are a valuable kitchen tool.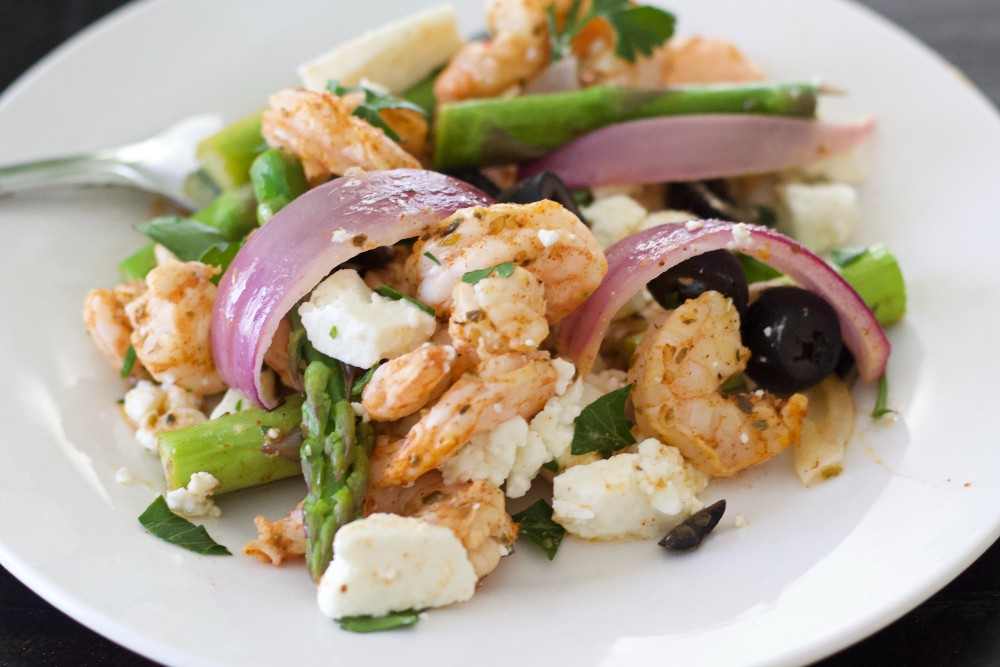 What sides go well with shrimp?
There are many different dishes that go well with shrimp dinners. Some of our favorites include
Coleslaw
Corn on the cob
Boiled potatoes
Mac N Cheese
Biscuits
Broccoli bacon salad
Couscous salad
Crispy potato wedges
Mediterranean salad
Rice pilaf
More Quick and Easy Meals:
Do you enjoy fast easy meals made from scratch? We do. These are a few of our favorites.
Mediterranean Shrimp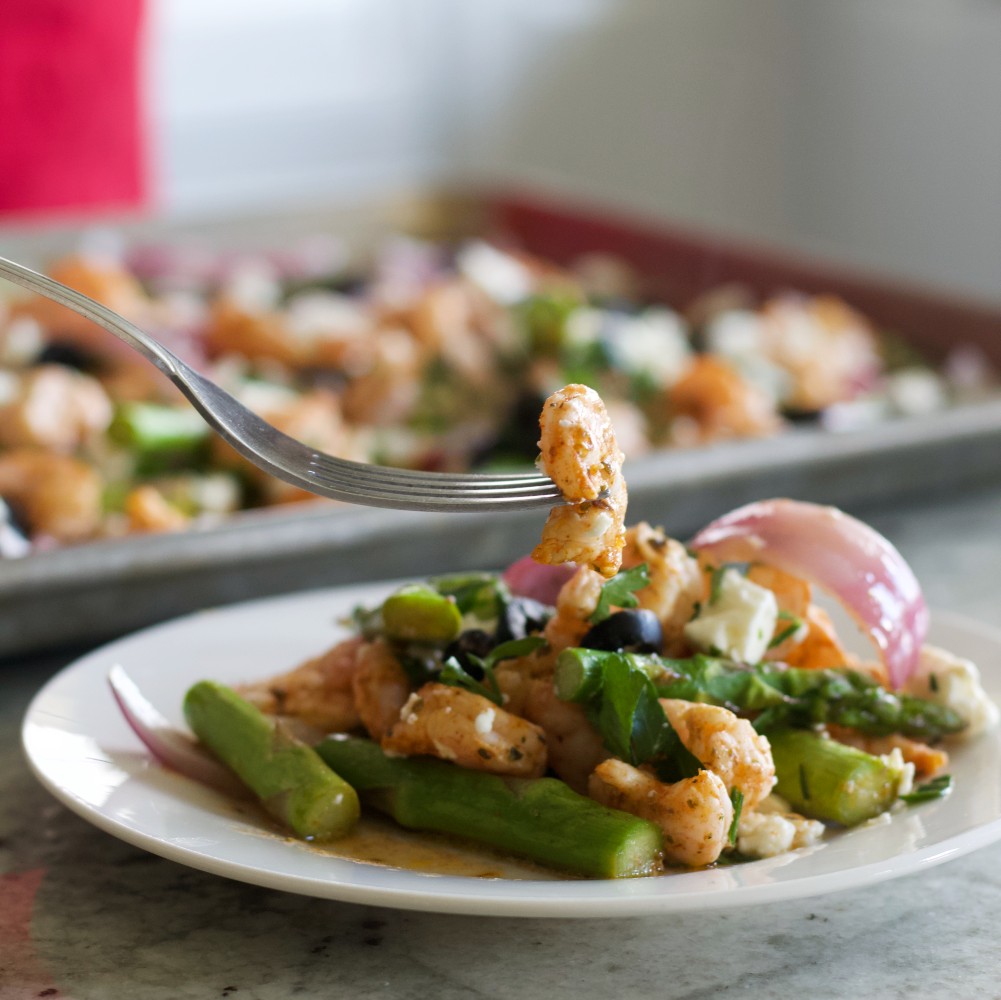 Shrimp asparagus, red onion and feta cheese are key ingredients in this recipe. So healthy and delicious.
And…easy on the cook. Best thing ever.
Printable Recipe Card:
Sheet pan shrimp is so easy you'll be making it all the time. Below is our printable recipe card.
If you print the recipe out the pictures will not print. This is to save you ink and paper.
At the bottom of the card is our recipe demonstration video.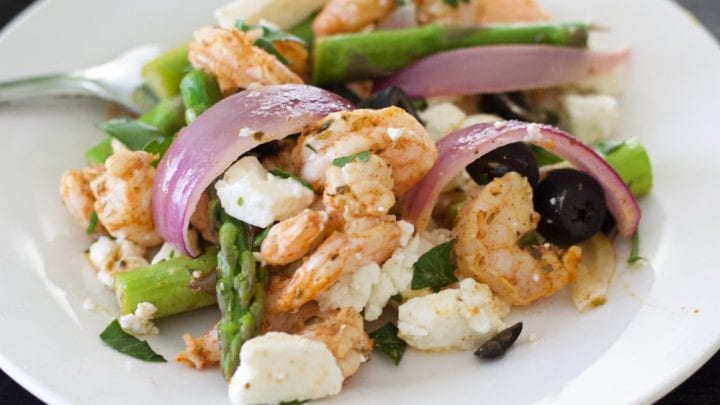 Yield:

4
Mediterranean Shrimp Sheet Pan Dinner
Here's a healthy, quick shrimp dinner idea. Lay out your veggies and flavored shrimp on a sheet pan. Bake it. It's terrific!
Ingredients
1 1/2 lb. large shrimp- peeled
1 bunch fresh asparagus
4 T olive oil, divided
2 cloves garlic, minced
1 whole red onion, sliced
2 tsp each, oregano and smoked paprika
1 /4 tsp. sea salt and ground black pepper, to taste
1 whole lemon, juiced
1 Cup black olives, pitted
1 Cup feta cheese
1/3 Cup fresh cilantro or parsley
Instructions
Preheat oven 450 degrees F.
Oli the sheet pan or line with parchment or a silicone mat.
Chop the asparagus stalks into thirds.
Cut the onion into long strips (see video)
Lay the veggies out on prepared baking sheet.
Drizzle 2 T olive oil over veggies.
Dump the peeled shrimp into a medium bowl.
Squeeze fresh lemon.
Pour the fresh lemon juice over the shrimp.
Add remaining 2 T olive oil over shrimp.
Add salt and pepper and the minced garlic to the shrimp bowl.
Sprinkle oregano and smoked paprika over shrimp.
Stir the shrimp gently until it is evenly coated with the seasonings.
Spoon the seasoned shrimp over the veggies on your sheet pan.
Bake for 10 minutes or until shrimp turn golden brown.
Remove from oven.
Sprinkle the sliced olives evenly over the sheet pan dinner.
Sprinkle on the Feta Cheese
Serve directly from the sheet pan.
Nutrition Information
Yield
4
Serving Size
1
Amount Per Serving
Calories

481
Total Fat

28g
Saturated Fat

9g
Trans Fat

0g
Unsaturated Fat

18g
Cholesterol

392mg
Sodium

4532mg
Carbohydrates

11g
Fiber

2g
Sugar

3g
Protein

45g
Follow Us:
We enjoy meeting you on our social networks. Follow us on Facebook, Pinterest, Instagram . Tag us with your pictures of our recipes and comment on how it went for you. We would love to see what you do with them.
We often like, comment and share your posts of our recipes on our daily Instagram stories.
Ask questions and rate the recipe in the comments section below. Please share what you did with this recipe. We are always looking for more and better ways to make homemade food. Other cooks love your ideas!
Recent Posts: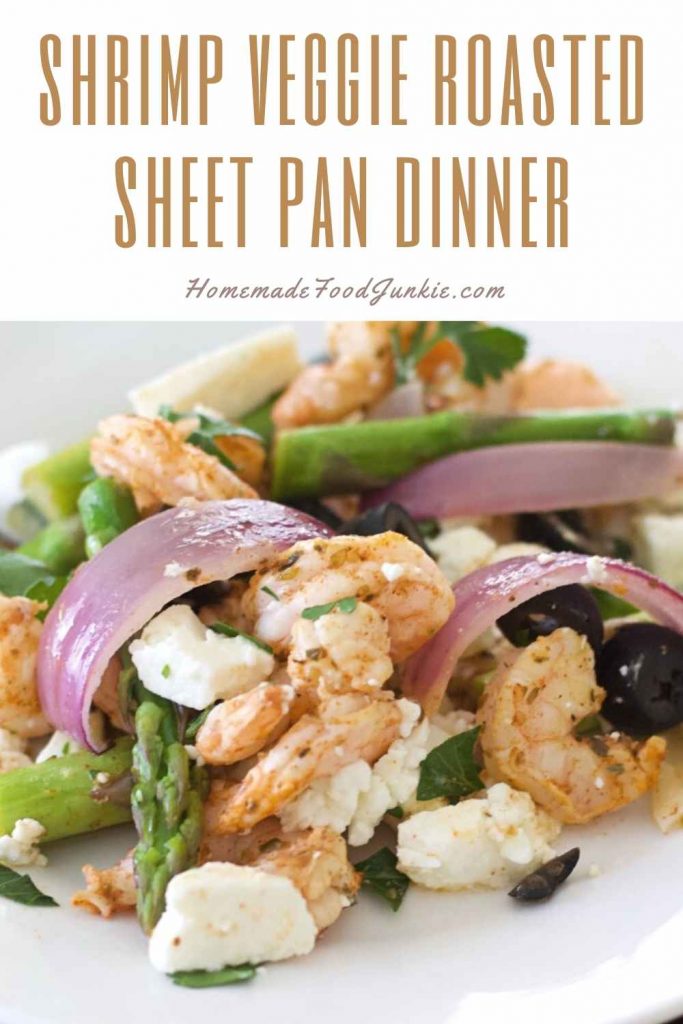 Recipe Source: Garden in the Kitchen