Honey Mustard Chicken is an excellent, easy one pot dinner recipe. The tasty sauce compliments a variety of vegetables. A Dairy-​Free, Gluten-​Free, simple meal ready in about an hour. Enjoy!
*******
This recipe has been in the family for several years. It was one of our first posted recipes on Homemade Food Junkie. Kayti finally convinced me it needed a redo and repost so it has another moment in the limelight because her family LOVES it. I turned Honey Mustard Chicken Dinner into a one pot dinner because I love easy and I think you will too. Now it's all in one skillet from stove to oven to table. Enjoy!
*******
I love feeding my family. It's especially gratifying when they enjoy the recipes I cook. This recipe quickly passed the family taste test. They devoured it fast and happily. It's all about the sauce. The honey mustard combo is delicious with the chicken, bacon and veggies.
Avocado oil is a clear winner for any high heat recipe. I use Avocado oil because it withstands heat up to 520 degrees and is excellent for your family health. This recipe adds it to both the skillet and the sauce. So it cancels out the bacon fat…right?
Honey Mustard Chicken fills up the family nicely. If you have picky eaters, who turn their noses up at veggies, give this one a try. The sauce is so good they will love it. My Son in Law LOVES this dinner. Even my 'Not a fan of chicken' husband enjoyed this meal. He thought he was eating pork chops???
This dinner uses up any veggies I have ready to harvest in our garden or fridge. I prefer carrots, fingerling potatoes and green beans if I have them. I'm going to say the carrots and peppers are really a must. The flavors and texture of carrots and peppers is so perfect with this dinner.
If you purchase items from our affiliate links we may receive a small commission at no extra charge to you. Thank you for supporting Homemade Food Junkie.
Honey Mustard Chicken Dinner Recipe:
Using an ovenproof skillet is an easy way to reduce work and clean up. The whole meal is in one pot. It needs nothing more. We loved it exactly like you see it. Eat it straight out the of the skillet with a nice crusty artisan bread, or Serve over rice or potatoes if you prefer. Enjoy!
Cooking tips:
If you don't have an ovenproof skillet, transfer the sauteed veggies to a greased 9 x 13 baking dish before adding the chicken rosemary sprigs and the sauce. Cover and bake as directed. OR you can cook this dinner entirely on the stove top. You will need to cover it and watch it as it simmers to be sure it doesn't stick but it's doable.
Chicken Notes:
I used fresh organic free range chicken tenders this time. This recipe also works great with frozen chicken tenders, chicken thighs or breasts. The cooking time is about the same. Just check the oven the last five minutes to make sure any frozen chicken parts you use are browned.
The honey mustard sauce blends well with many diverse vegetables and enhances the chicken with its piquant flavor. It's ready to eat in about 45 minutes from first thought to first taste. And I make it all in an ovenproof skillet so there is just one dirty cooking pan and a small bowl to whisk up the sauce.
Looking for a good side dish for this dinner? Try our Red Cabbage Carrot Salad or Fresh Apple Cabbage Salad. Crunchy coleslaw type salads make a wonderful combo with this meal.
This easy one skillet meal will be a favorite once you learn it. An easy baked weeknight chicken recipe the whole family will enjoy!
Gluten Free ingredient tips: I have linked gluten free mustards in the recipe card. Not all mustard is gluten free. This article by Very Well Fit will give you a more detailed look at gluten free mustards.
We'd love to hear from you. If you make this recipe please rate it and comment below on how it went for you. Our other readers will benefits from your experience.
Your Printable Recipe:
Yield:

4 servings
Honey Mustard Chicken Dinner
Honey Mustard Chicken is an excellent, easy one pot dinner recipe. The tasty sauce compliments a variety of vegetables. A  Dairy-​Free, Gluten-​Free, simple meal ready in about an hour.
Ingredients
1/4 cup of grainy brown mustard-gluten free brand
1/4 cup smooth dijon mustard-gluten free brand
1/4 cup honey
3 teaspoons Avocado oil
1/2 yellow onion- diced
2 cloves garlic, minced
1/4 lb. bacon, sliced into one inch pieces
1 large carrot, sliced julienne style
1 Cup green beans, chopped into one inch pieces
1 sweet red pepper sliced in long ribbons, or any pepper you prefer
1 pound boneless skinless chicken tenderloins, fresh or frozen
salt and pepper
3 - 4 tsp. or several sprigs of fresh rosemary
Instructions
In a small bowl, combine the mustards, honey and 2 teaspoons of the avocado oil.
In a sauté pan, add 1 teaspoon of avocado oil.
In an ovenproof skillet:
Add the onion, carrot, green beans, bacon and garlic.
Sauté over medium heat until tender, about 5 to 10 minutes.
Place the chicken tenderloins on top of the onion and garlic mixture
Salt and pepper the tops of the chicken according to your personal preference.
Pour the honey mustard mixture on top of the chicken. Arrange the rosemary sprigs around the chicken in the pan.
Bake the chicken covered at 400 degrees F for 20 minutes.
Remove the cover, Turn the chicken pieces until all are coated with the sauce.
Continue to cook uncovered for an additional 20 - 30 minutes, or until the chicken is browned on top and cooked through. Serve right in the skillet.
Recommended Products
As an Amazon Associate and member of other affiliate programs, I earn from qualifying purchases.
Nutrition Information:
Yield:
4
Serving Size:
1/4 Lb chicken tenderloins plus sauce
Amount Per Serving:
Calories:

372
Other one skillet dinners you may enjoy:
Chicken Pasta with sundried Tomatoes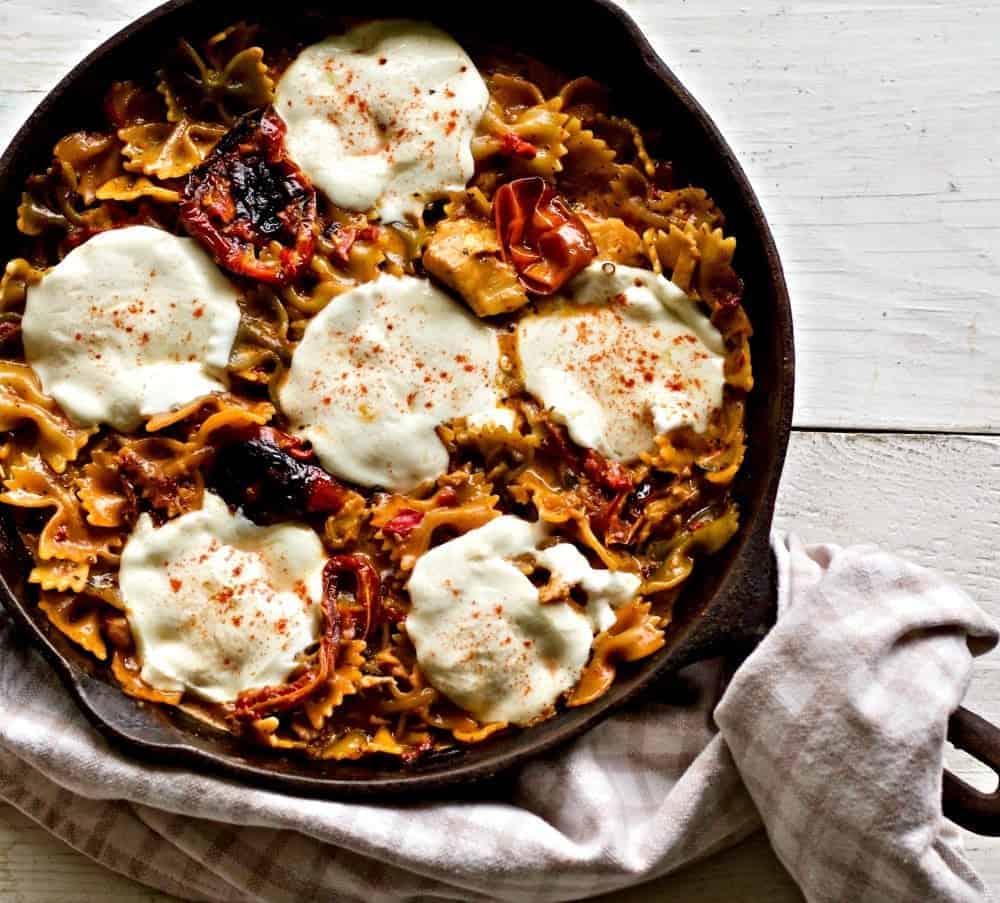 Tamale Pie Recipe
Pin it: