Our Mediterranean ground turkey recipe is a delicious and nutritious skillet dinner that comes together in a flash. You can have it on the table in about 30 minutes. This yummy family friendly dinner is packed with flavorful healthy ingredients that please the tastebuds and bring boring turkey out of its shell into a satisfying meal for busy weeknights.
Ground turkey recipes like this one provide a healthy, lean protein that keeps you feeling satisfied without weighing you down. A handful of simple pantry staples and some fresh ingredients added to the skillet are all you need. With very little work, you'll create one of the best ground turkey recipes you'll ever eat.
This dinner is bursting with vibrant flavors and wholesome goodness. The combination of aromatic onions, minced garlic, and a delightful blend of herbs and spices will excite your taste buds from the very first bite. Add in the rich and tangy notes of sun-dried tomatoes and the vibrant kick of lemon zest and juice, and you've got a symphony of flavors that will make your mouth water.
The finishing touch of nutrient-rich baby spinach adds a vibrant pop of green and a dose of vitamins and minerals to the dish. Plus, the long grain white rice provides a satisfying carbohydrate base that complements the flavors perfectly and gives this meal the staying power a good one pan dinner should have.
Recipes using ground turkey can be flavorless and boring. Not so for this ground turkey Stir fry. It's a treat for your taste buds and a wholesome choice for your family.
A sprinkle of feta cheese crumbles over the top adds even more Mediterranean vibes and a creamy, touch. A well-rounded, flavorful, and satisfying meal that will have your family and friends coming back for seconds.
Experience the convenience, healthfulness, and incredible flavors of this Quick and Healthy ground Turkey stir-fry.
How To Make Ground Turkey More Flavorful:
Dinner recipes with ground turkey can be boring since turkey, like chicken, has little flavor on its own. However, the mild flavor of turkey works very well with a LOT of flavorful ingredients. This makes turkey a versatile meat you can take into many different flavor and cuisine directions.
Ground turkey recipes for dinner can be made more flavorful with a variety of ingredients and seasonings. If you are out of something, try these ideas for enhancing, or recreating this recipe with flavorful ingredients.
Onion and garlic: Sauté finely chopped onions and minced garlic in a little oil before adding the ground turkey. They add depth of flavor and aroma to the meat.
Herbs and spices: Experiment with different herbs and spices to season your ground turkey. Some popular choices include paprika, cumin, chili powder, oregano, thyme, rosemary, and basil. These can be added directly to the meat or mixed in with other ingredients.
Worcestershire sauce or soy sauce: A splash of Worcestershire sauce or soy sauce can add a savory and umami flavor to ground turkey. Add a small amount and adjust to taste.
Diced vegetables: Add finely diced vegetables like bell peppers, carrots, zucchini, or mushrooms to the ground turkey mixture. They not only add flavor but also provide moisture and texture.
Cheese: Incorporate shredded cheese into your ground turkey mixture. Options like cheddar, Parmesan, or feta can contribute a rich and tangy taste.
Fresh herbs: Finely chopped fresh herbs such as parsley, cilantro, or basil can bring a burst of freshness and enhance the overall flavor.
Tomato-based sauces: Adding tomato sauce, tomato paste, or salsa to your ground turkey can infuse it with a tangy and savory taste. You can also explore different flavors of pre-made pasta sauces or barbecue sauces to suit your preferences.
Hot Peppers: Don't forget the spice. If you're a heat lover, throw in some fresh peppers and bring all the flavors of the meal into a new dimension.
Bacon: This smoky flavored meat thrown in with turkey will add a lot of life to turkey.
Alfredo sauce: This is an excellent creamy sauce for ground turkey recipes. You can add in peppers and spices, bacon and pasta to partner with turkey and make it full of flavor.
Seasonings: Montreal chicken seasoning, smoked paprika seasoning, creole seasonings, taco seasoning, and Italian seasoning blends all work well with turkey.
Remember when cooking ground turkey have a generous hand with salt and pepper to enhance the overall taste. Seasoned ground turkey makes all the difference in the overall flavor of your recipe.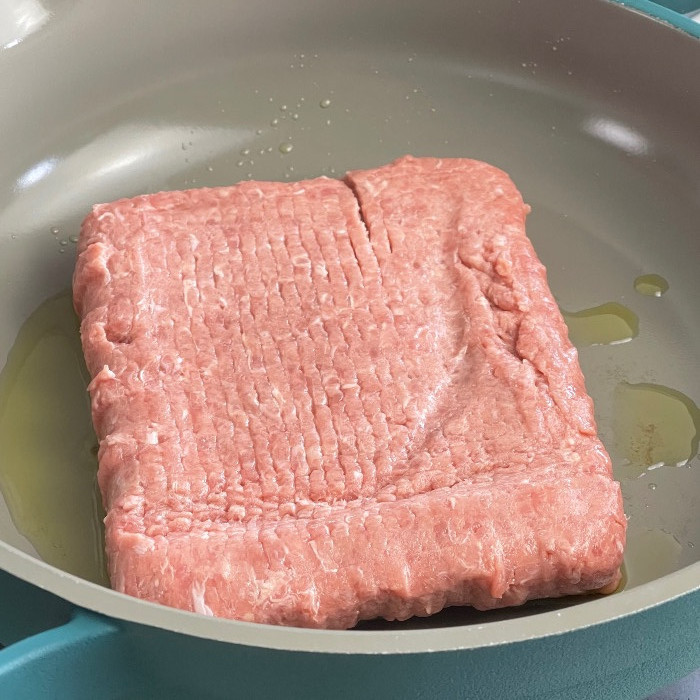 Healthy ground turkey recipes should be on your regular meal rotation. We love this quick skillet dinner and have to for dinner at least once a month. It's chock full of healthy, flavorful family pleasing ingredients. The nutritional label for our mediterranean turkey dinner in in the printable recipe card below for your convenience.
How Healthy is Ground Turkey?
Is ground turkey really good for you? Yes. Ground turkey is a healthy meat choice. Turkey is an excellent low calorie, lean protein. It has a low fat content and provides essential nutrients such as iron, zinc, phosphorus, and vitamin B12. Turkey has all the above mentioned nutrients and Lean ground turkey contains good omega 3 fatty acids and selenium as well. WebMD Has a good article going into detail on all the health benefits of turkey
Is Ground turkey good For High Blood Pressure? Lean ground turkey without the skin, has a low saturated fat content which is beneficial for managing blood pressure. Just watch the sodium.
Is ground turkey healthier than ground beef? In general, yes turkey is healthier than beef. Turkey and beef both offer similar nutrients, but turkey, like chicken is a leaner protein source.
Mediterranean Ground Turkey Skillet Dinner Recipe:
This is a really approachable recipe with very few steps and not much fuss. But turkey is a lean meat that has little flavor. It can dry out easily so don't skips steps. Use the ingredients listed for the best Mediterranean flavors.
Here are some essential tips to get the most out of this recipe:
Properly season the ground turkey: Season the ground turkey with salt, pepper, and dried oregano before cooking it in the skillet. This will enhance the flavor of the meat and ensure it is well-seasoned throughout.
Sauté the onions and garlic: Sautéing the onions and garlic before adding the other ingredients helps to develop their flavors and add depth to the dish. Cook them until they become fragrant and translucent.
Adjust seasoning as needed: Taste the dish as you go and adjust the seasoning if necessary. You can add more salt, pepper, or herbs to suit your taste preferences. Remember, seasoning is key to elevating the flavors of the dish.
Use high-quality ingredients: Opt for fresh and high-quality ingredients whenever possible. This includes the ground turkey, onions, garlic, sun-dried tomatoes, and feta cheese. Fresh ingredients tend to have better flavor and can significantly enhance the overall taste of the dish.
Don't overcook the spinach: Add the baby spinach towards the end of the cooking process, just before serving. This ensures that the spinach wilts slightly without becoming overcooked and losing its vibrant color and nutrients.
Garnish with lemon zest and juice: The lemon zest and juice add brightness and a refreshing tang to the dish. Sprinkle the zest over the skillet dinner just before serving and drizzle with fresh lemon juice to enhance the flavors.
Let it rest before serving: Allow the skillet dinner to rest for a few minutes after cooking. This allows the flavors to meld together and ensures the dish is at its best when served.
Serve with a side dish: While the skillet dinner itself is a complete meal, you can consider serving it with a side dish or accompaniment to add variety and complete the meal. For example, a simple side salad or crusty bread can complement the flavors and provide additional textures.
Be sure to cook ground turkey with a little healthy oil, like avocado or olive oil, to prevent it from drying out. Be sure to taste as you cook and adjust the seasonings accordingly to achieve the desired flavor profile.
Personalize the recipe to your taste preferences and experiment with additional herbs, spices, or ingredients that you enjoy. With attention to seasoning, quality ingredients, and proper cooking techniques, your skillet dinner will be flavorful, delicious, and a hit at the dinner table.
The Method:
Heat oil in a large skillet over medium heat. Set turkey into skillet and break it up into small pieces.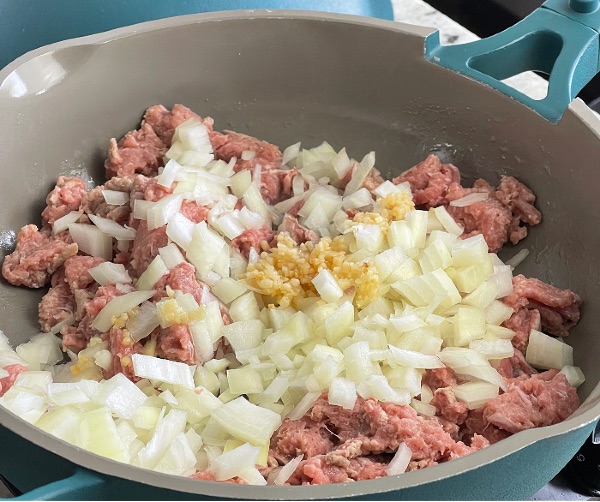 Then cook ground turkey with onion, seasonings and garlic until meat is browned and onion is translucent.
Add sun dried tomatoes, rice and chicken broth. Bring to a boil.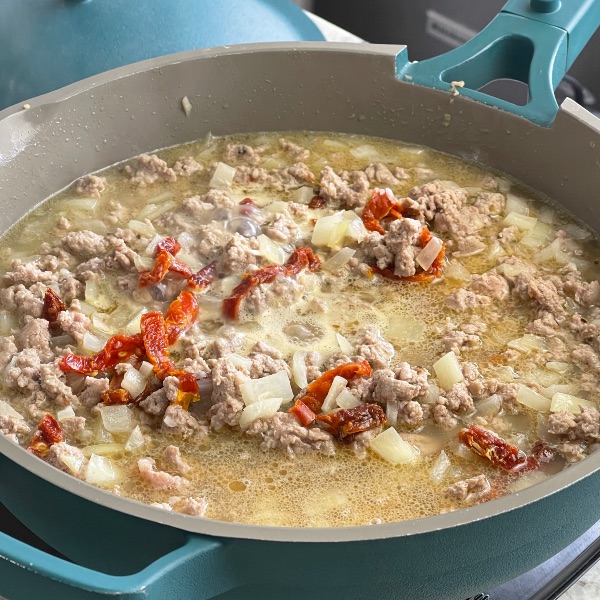 Reduce heat to simmer, cover the skillet and cook 15 minutes until rice is tender.
Uncover and stir in spinach, lemon juice and zest.
Cook until spinach is wilted. Serve topped with Feta straight from the skillet.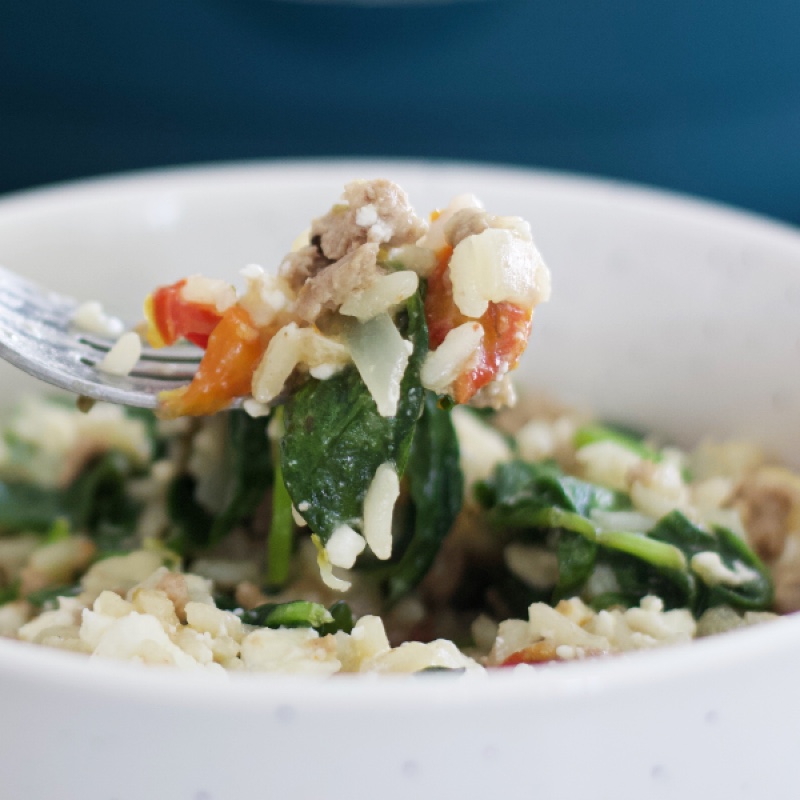 Convert this Skillet Dinner to Slow Cooker:
Making this dinner in a skillet is very quick and the results are scrumptious. But converting from skillet to crockpot ground turkey recipes also makes sense. Slow cookers offers convenience, time savings and even more tender meat and flavor. And it's a hands-off approach to cooking that delivers a delicious and healthy meal.
Slow cooker turkey Recipes have several benefits over skillet dinners that make the option worth exploring:
Convenience: Making skillet dinners is not hard but it does require about an hour in the kitchen before dinner. Using a slow cooker allows you to prepare the meal with minimal effort. Once all the ingredients are combined in the slow cooker, you can simply set it and forget it. This is especially beneficial for busy individuals or those who don't have a lot of time to spend in the kitchen in the dinner hour.
Time-saving: Slow cookers are designed to cook food slowly over a longer period of time. This slow cooking process allows the flavors to develop and the ingredients to tenderize gradually. By utilizing a slow cooker, you can achieve a flavorful and well-cooked meal without having to spend a lot of time actively cooking or monitoring the stove.
Enhanced flavors: Slow cooking allows the flavors of the ingredients to meld together and intensify. The low, steady heat helps to release the aromas and infuse the dish with rich flavors, resulting in a more flavorful result than fast cooking in a skillet can sometimes achieve.
Tender meat: Ground turkey can sometimes become dry or tough when cooked quickly over high heat in a skillet. By using a slow cooker, the ground turkey will have ample time to cook slowly and become tender and juicy.
Versatility: Slow cookers are incredibly versatile appliances that can be used for a wide variety of recipes. Converting this skillet dinner into a crock pot ground turkey recipes makes sense and allows you to explore different cooking methods and enjoy the benefits of slow cooking.
To convert the skillet dinner recipe into a slow cooker dinner, follow the slow cooker method in our recipe card.
Yield:

6 servings
Healthy Mediterranean Ground Turkey Recipe
Delicous, healthy and full of flavor, this Mediterranean ground turkey dinner can be made in about 30 minutes in a skillet on stovetop. It's easy to put together and a family pleasing week night dinner.
If a slow cooker method works better for you, we've included the method for that as well. Enjoy!
Ingredients
1 tablespoon olive oil
1 pound ground turkey
1 small onion, chopped
2 tsp. minced garlic
1 tsp. salt
12 tsp. ground black pepper
1/2 tsp. dried oregano
1/2 Cup Sun-Dried Tomatoes, drained and
roughly chopped
1 Cup long grain white rice
2 Cups chicken broth
5 oz. baby spinach
1 lemon, zested and juiced
1/2 Cup feta cheese crumbles
Instructions
Heat oil in a large skillet over medium heat.
Set turkey into skillet and break it up into small pieces. Then cook ground turkey with onion, seasonings and garlic until meat is browned and onion is translucent.
Add sun dried tomatoes, rice and chicken broth. Bring to a boil.
Reduce heat to simmer, cover the skillet and cook 15 minutes until rice is tender.
Uncover and stir in spinach, lemon juice and zest. Cook until spinach is wilted.
Serve topped with Feta straight from the skillet.
Slow Cooker Method:
To convert the skillet dinner recipe into a slow cooker dinner, follow these steps:
Heat the olive oil in a skillet over medium heat. Add the ground turkey and cook until browned. Transfer the cooked turkey to the slow cooker.
In the same skillet, sauté the chopped onion and minced garlic until softened. Add them to the slow cooker.
To the slow cooker, add the salt, black pepper, dried oregano, sun-dried tomatoes, long grain white rice, and chicken broth. Stir well to combine all the ingredients.
Cover the slow cooker and cook on low heat for 3-4 hours or on high heat for 1-2 hours. Cooking times may vary, so check for doneness by ensuring the rice is tender and the liquid is absorbed.
Once the cooking time is complete, add the baby spinach, lemon zest, and lemon juice to the slow cooker. Stir gently to incorporate the spinach into the mixture. Cover and let it cook for an additional 10-15 minutes, or until the spinach is wilted.

Serve the slow cooker dinner hot, garnished with feta cheese crumbles.
Notes
The slow cooker method may require adjustments to the amount of liquid used and cooking times compared to the skillet method. Keep an eye on the dish while cooking and make any necessary adjustments to achieve the desired texture and doneness.
Nutrition Information
Yield
6
Serving Size
1
Amount Per Serving
Calories

366
Total Fat

22g
Saturated Fat

8g
Trans Fat

0g
Unsaturated Fat

12g
Cholesterol

104mg
Sodium

984mg
Carbohydrates

19g
Fiber

3g
Sugar

5g
Protein

26g
More Simple Dinners:
We love simple, quick and easy meals and make them all the time. Here are some of our favorite dinner recipes that are put together pretty quick and the family loves them. We think yours will too!
Follow Us:
We enjoy meeting you on our social networks. Follow us on Facebook, Pinterest, Instagram . Tag us with your pictures of our recipes and comment on how it went for you. We would love to see what you do with them.
We often like, comment and share your posts of our recipes on our daily Instagram stories.
Ask questions and rate the recipe in the comments section below. Please share what you did with this recipe. We are always looking for more and better ways to make homemade food. Other cooks love your ideas!
Recent Posts: