Slow Cooker Harvest Pork Roast Dinner is an easy, gluten free, low sodium, dairy free pork roast dinner. Full of in season fall produce. Nothing else is required for dinner. It's all in the pot!
It's harvest time. Dave's garden and greenhouse are blessing us with massive amounts of produce. Descriptive words fall far short of envisioning the amazing diet we are getting. Our garden produce keeps us in excellent quality food for months!
We took that Enormous lovely, basket of peppers to a family gathering, in a huge windstorm last Saturday. Along with my Mediterranean Macaroni Salad which everyone loved. The family congregated in a large gymnasium for a big double birthday bash and pot luck. We had no power in the building, or most of the county!
Trees and branches fell all over the place. Roads were closed and there were lots of detours. That didn't stop us! We delivered those peppers to a table in the gym. We had a lovely time, visited for hours and… made sure nobody escaped without a bag of peppers! A few lucky souls were even strong armed into taking home a zucchini!… It happens.
This business of Dave growing 67 pepper plants for TWO of us has to stop! He's actually feeling virtuous in his generosity. He gave away a lot of his baby pepper plants or we would have had 75 pepper plants! Next year he promised he will cut back. Fingers crossed! Last year we only had 50 plants. The pepper planting trend is moving in the wrong direction!
I learned with my Peach Pepper Tart how wonderfully roasting peppers cook with peaches. I was sure they would work well with nectarines too. Yes, they do!
The sweet heat of peppers is a great combination with the sweet juiciness of peaches and nectarines. I bet they would be fantastic with mangoes! Our garden carrots also work well with this meal, adding more sweetness and another counterpoint flavor.
Pork is a meat that loves sweetness. The coconut milk also puts a bit of sweet in this meal. But This meal tastes very balanced. Even though I LOADED that crock pot with peppers, the flavors were really good together! the rice absorbed all the yummy juice. What a glorious fall dinner!
The days are getting shorter and cooler now. The big wind storm was accompanied by lots of welcome rain. Our garden and flower beds need rain. We are so thankful to have it, and that is saying something where we live. It has been a very dry year!
Slow Cooker Harvest Pork Roast Dinner Recipe Notes:
Making Slow cooker harvest pork roast dinner is easy. A little slice and dice, roast the peppers for 10 minutes and start layering ingredients into the slow cooker.
If you need detailed instructions on roasting your own peppers I have a post that describes the roasting pepper process and shows you how to freeze your roasted peppers too!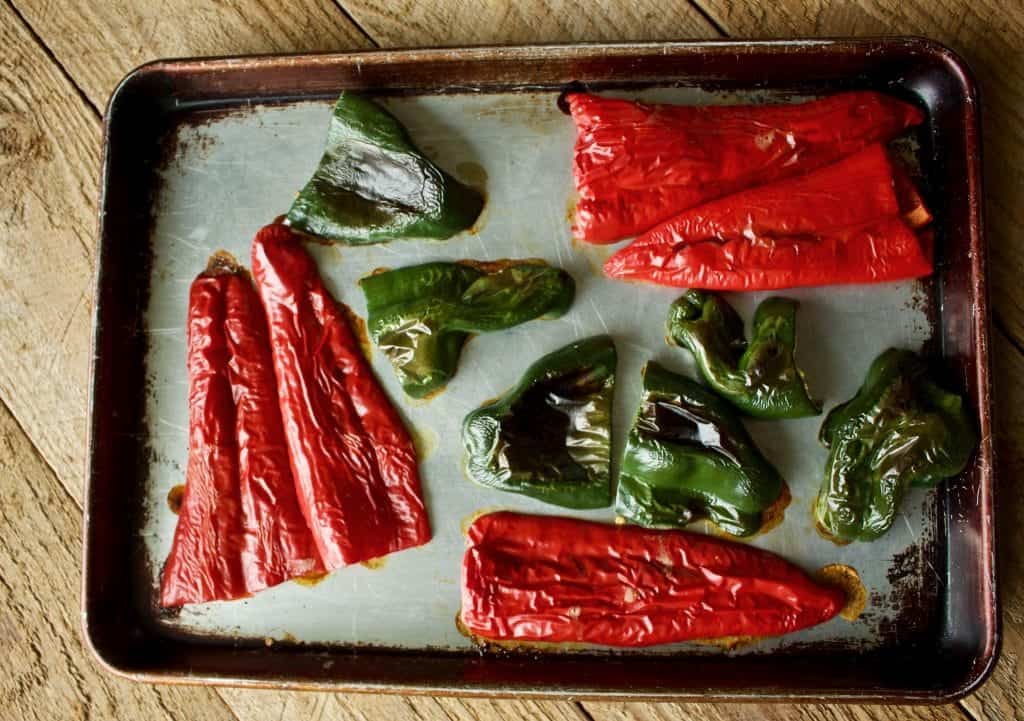 After all this delicious food is layered together in the slow cooker, pour the sauce over it and cook it on high for four hours or low for 8.
An hour before it's dinner time, pour the rice into the slow cooker. That's it! When the rice is cooked, Dinner is served!
Such a good fall dinner!
Total Time: 4 hours, 30 minutes
Number of servings: 8
557 calories/serving
Fat

28 g

Carbs

39 g

Protein

37 g
Your Printable Recipe:
Yield:

8 servings
Slow Cooker Harvest Pork Roast Dinner
Total Time:
4 hours
30 minutes
Slow Cooker Harvest Pork Roast Dinner is an easy, gluten free, low sodium, dairy free pork roast dinner. Full of in season fall produce. Nothing else is required for dinner. It's all in the pot!
Ingredients
3 lb. Pork Roast
1/2 Cup brown sugar
4 Large roasting peppers
1 large carrot
3 nectarines
1 Cup coconut milk
1 tsp. chipotle seasoning
1 cinnamon stick
1 bay leaf
1 cup white rice
1 Tablespoon dried herbs to taste
Instructions
Deseed and roast the peppers at 400 degrees for 10 minutes.
Slice the nectarines off the pits.
Slice the carrots into small sticks.
Layer half the peppers, carrots and nectarines in the bottom of the slow cooker.
Lay the pork roast on the bed of nectarines, carrots and peppers.
Layer the remaining roasted peppers, carrots and sliced nectarines over the pork roast.
Top with the cinnamon stick and bay leaf.
Put the coconut milk, brown sugar and chipotle seasoning in a cup and whisk it smooth to make a sauce. Pour it over the pork roast.
Set the cooker onto high for four hours, or low for eight hours.
One hour before the cooker is done add in the rice and stir until it is coated in liquids.
Garnish with dried herbs as desired.
Nutrition Information
Yield
8
Serving Size
1
Amount Per Serving
Calories

669
Total Fat

43g
Saturated Fat

19g
Trans Fat

0g
Unsaturated Fat

20g
Cholesterol

153mg
Sodium

175mg
Carbohydrates

29g
Fiber

2g
Sugar

18g
Protein

42g