It's our Tuesday in the Garden Blog hop! This week our Theme is garden tours! Enjoy a peek into all of our 2016 gardens and projects! Please remember to visit the other blogs by scrolling to the end of this post and clicking the blog links. Happy Gardening!
It's high summer and the garden produce is starting to roll in the door from our garden and greenhouse. This is my VERY favorite time of year. The days are long and warm. The garden is maturing and we have Tons of fresh, delicious produce to enjoy.
This is the quiet moment of summer, before the fall harvest time when we run around in endless circles from garden to kitchen sink, to stove, to freezer.
When the garden is just maturing in spring we harvest by the handfuls, rather than bucket fulls. Every day is like a treasure hunt. We love going out on daily garden walks to see what we can find.
2016 Summer Garden tour – The Outdoor Garden:
This week we are moving into the mid-summer gardening stage. New veggies are ripening everyday. We are eating very well right now. Lots of great salads, stir fries and slaws!
Our green juicing frequency is also revving back up. We have an abundance of produce to use up. Drinking up greens is an excellent way to keep ahead of the garden and improve health!
Strawberry and pea season is over for the year. Dave has the strawberries trimmed and he pulled out the pea plants yesterday. Our strawberries were too dry this year for a large harvest. They were small and sparse and not as sweet as they should have been.
We DO love the lasagna method of gardening! Look at how weed free our garden is. Wherever we DIDN'T mulch the weeds are growing like crazy (Notice the compost area).
Last year Dave made an ENORMOUS raised bed for our new raspberry patch. This year that bed is bursting with HUGE raspberry bushes. There are a few first year berries. My biggest crop from there this year will be raspberry leaves. I may dry them for tea!
He also planted nine new blueberry bushes. All of our blueberry bushes are young so they don't produce a lot yet. But both the raspberries and blueberries are gifting us with fresh berries for dessert. We love them! I can't wait to get enough to freeze!
2016 Summer Garden Tour – Garden Pests, Perplexing Corn and a drying well!
Until about two weeks ago all the produce in our garden was growing along and looking great! We are still perplexed about the corn…Dave has replanted it THREE times! And it's still very spotty and lackluster. We have pretty well given up on it for this year.
The Potatoes are looking a bit sad, part of the reason is they are maturing so the tops die off. But they are also getting full of little holes and now we know why. Flea Beetles! They love our potatoes! Even more sad; they are slowly moving across the garden. We can track their progress by looking at the plants as the beetles find new ones. They haven't gotten to ALL of our garden plants yet. But they will by seasons end.
Dave is attacking the those nasty beetles with Diatomaceous Earth. That is somewhat helpful. It seems to slow them down anyway. Organic gardening means we share with the pests to some degree.
Weeding today, we found another unwelcome garden pest. Aphids! In our rhubarb and squash! Surprising that aphids like toxic rhubarb leaves. But they do! In fact from the astonishing number of black nasties I found; they LOVE rhubarb leaves. Dave sprayed the aphids with Neem's Oil to hold them back a bit.
Other than an unending number of slugs; flea beetles and aphids are, so far, the biggest pest problems we have found. Cabbage worms were, hopefully, caught early when our cabbages were young. We hand-picked them off the small, still open leaves. We just ate our first cabbage and it's lovely. No damage at all.
Our biggest garden challenge is our old well.
It's drying up! We still have water….but I'm not sure how much longer. We are beginning a remodel project on our house next month. Drilling a new well is off the table this year… Unless it goes completely dry.
We are severely rationing the outdoor watering already and summer is barely here! Thank goodness Dave installed our automatic watering system. That is such a help in keeping the water on the plants without so much water wasted.
2016 Summer Garden tour – continued:
Notice the two straw potato towers in the rear of the garden? Dave harvested one tonight. Look what he brought in for dinner tonight!
We have never grown purple potatoes before. I had seen them and was curious about them. I looked them up and found out these pretty purple spuds contain the highest level of nutrients of all potatoes! So of course we had to try them. They taste great too! Mild and buttery.
2016 Summer Garden Tour-The Greenhouse:
Dave's favorite garden space is his greenhouse. He is in there all the time! Dave reduced his number of peppers and tomatoes this year. There is an open look and feel to the greenhouse beds. The Tiburon peppers and tomatoes are ripening. Tiburons are usually much later to harvest. It's delightful to have them so early in the summer!
Dave's latest project. Flowers! He's growing lobelia and around our house he has containers of begonias. They are small yet. I'll photograph the begonias when they get big and blooming. The nasturtiums are volunteers. They love the greenhouse!
2016 Summer Garden Tour-The Herb Garden:
Finally, I'll share a photo from our herb garden. A few years ago I started planting herbs in the raised flower garden around our pond patio. It's maturing now into a lovely summer display.
It handy to have the herbs close by the front door. I can easily run out with my shears and clip off some sprigs for our meals. This year I will get plenty to freeze!
Lavender, mint and oregano. Thyme and sage are out there. So far I can't keep parsley or basil outside or in the greenhouse. Aphids and slugs love them!
TUESDAY IN THE GARDEN BLOG HOP!
Please stop by our other blog friends to see what they are growing this season. Gardening is so fun and SO endless! you will find many great gardeners in this blog hop! Both flower and vegetable gardeners!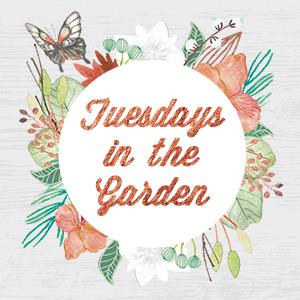 The Freckled rose:
Pin it: