Every sip of our refreshing and easy virgin piña colada recipe is bursting with the vibrant flavors of frozen pineapple chunks, creamy coconut, and a splash of pineapple juice. This simple three ingredient tropical drink will have you wishing for sandy beaches and swaying palm trees.
Whether you're lounging by the pool, hosting a summer gathering, or simply craving a taste of the tropics, this non alcoholic virgin pina colada recipe will cool you down with the essence of the caribean.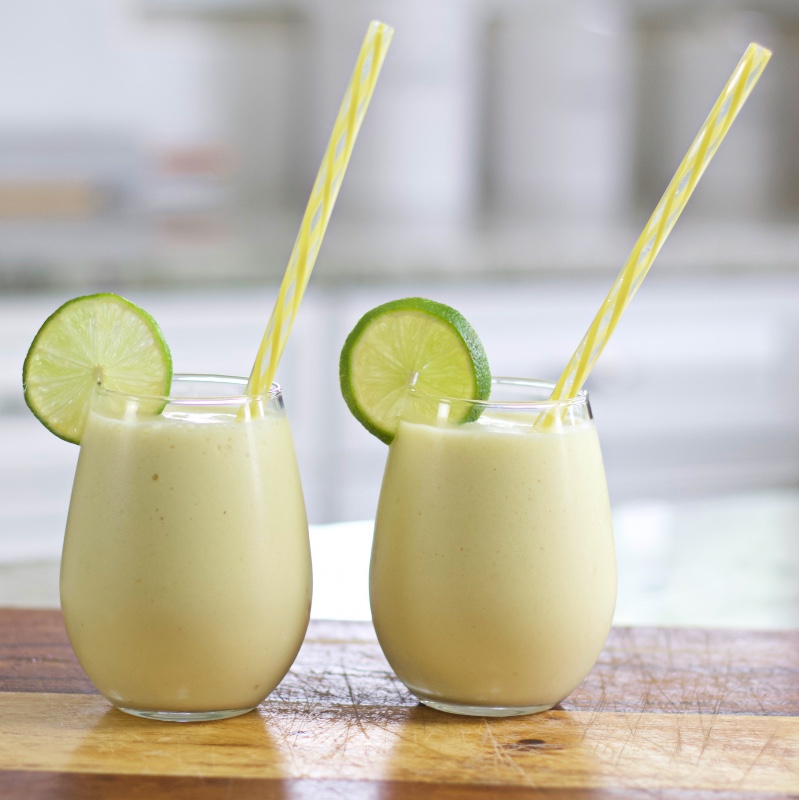 Virgin Pina Colada Recipe:
This virgin pina colada recipe is a simple three ingredient blender drink. Just pour, close the lid and whir it up until you have a smoothly blended drink.
The only prep required is to freeze the pineapple chunks ahead. Once frozen they give you that rich deep pineapple flavor. Ice is not required nor recommended since it will dilute the flavors.
Here are some tips to help you make a delicious virgin piña colada:
Use Frozen Pineapple Chunks: Using frozen pineapple chunks will help create a thick and frosty texture for your drink. Using frozen pineapple chunks also eliminates the need for ice. You'll get a much richer, intense pineapple flavor this way. Ice will create dilution.
Blend Until Smooth: For the creamiest and smoothest consistency, blend the ingredients well. Start on a low speed and gradually increase it until no chunks remain.
Adjust the Sweetness: Taste the mixture before blending and adjust the sweetness to your preference. Our recipe is not excessively sweet. You can add a sweetener like honey, agave syrup, or simple syrup if desired.
Garnish with Pineapple Wedges, lime wheel or Cherries: For a beautiful presentation, garnish your virgin piña coladas with pineapple wedges, a lime wheel or maraschino cherries. It adds a tropical touch and makes the drink prettier.
Serve Chilled: Piña coladas are best enjoyed immediately after blending them up.
Experiment with Additions: Get creative and experiment with additional flavors and garnishes. You can add a splash of lime juice for a tangy twist, a hint of vanilla extract for extra depth, or even a handful of fresh mint leaves for a refreshing twist.
Remember to have fun and customize this homemade virgin pina colada recipe to make it the way you like it. This is your drink now.
What is the best substitute for rum in piña colada?
The best way to add rum flavor to virgin Pina colada recipe is by Adding a few drops of rum extract. The extract will give it a distinct rum flavor. Be careful not to add too much, its potent. Coconut extract can also be used to enhance the authentic flavor of this tropical drink.
Rum extract infuses the drink with a stronger and more authentic rum-like taste and the coconut extract is a good balancer with it. Remember to add these extracts in small amounts to avoid overpowering the other flavors in the piña colada drink.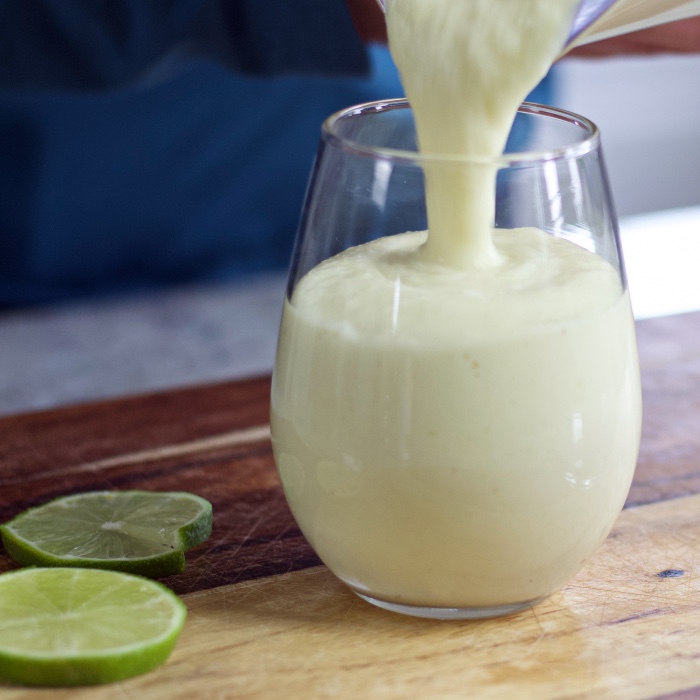 Are virgin pina coladas unhealthy?
Our Virgin piña colada recipe is high in calories, fat and sugar. This is a delicious and refreshing treat. It's not healthy. The cream of coconut used in piña coladas is high in fat and calories. The sugar content in sweetened pineapple juice is also significant.
However, you can create a healthier version of this virgin piña colada recipe with a few substitutions.
Opting for light coconut milk instead of cream of coconut
Using unsweetened pineapple juice and
Adding a zero calorie sweetener or eliminating the sweetener.
These options will reduce the calorie and sugar content while still providing a satisfying tropical flavor. We recommend our virgin pina colada recipe for an occasional drink treat. It's powerfully good, but does have a dense calorie count.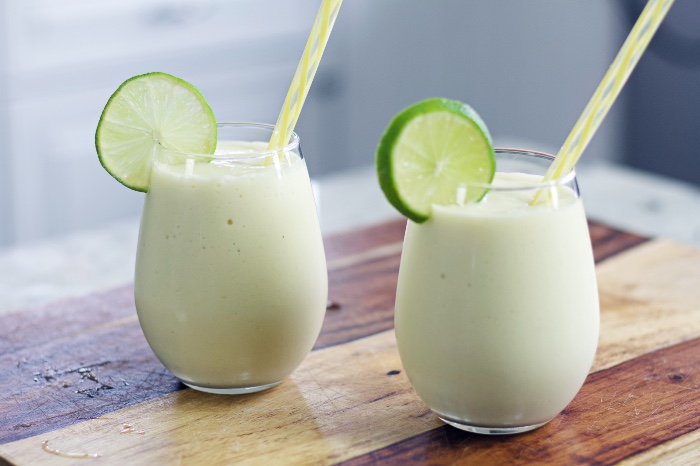 Adding Alcohol to Make Pina Coladas:
If you're looking for a recipe to make as both a virgin and alcoholic pina colada, this recipe will work fine. To make this virgin Pina Colada recipe into a cocktail, just add in 4 oz. light or white rum.
Be sure to check out our Baileys Colada Frozen rum Drink recipe. It's delicious, has two rums for incredible flavor and mixes up in a minute.
Do you use vodka or rum for piña colada?
Traditionally, white or light rum is used in a classic piña colada recipe. The rum adds a distinct tropical flavor and character to this Puerto Rican drink. Vodka will not give you the flavor you want for this drink.
What alcohol goes best with piña colada mix?
Light or white rum is traditionally used to complement the flavors of pineapple and coconut in a piña colada. The rum adds depth and richness to the drink, enhancing its tropical character.
But you can also experiment with different rum flavors.
Coconut Rum: Coconut-flavored rum, such as Malibu or Parrot Bay, intensifies the coconut taste in the piña colada mix. You get a more pronounced tropical flavor.
Spiced Rum: Adding spiced rum to the mix introduces more warm and aromatic notes, building the complexity of the drink flavor profile.
Dark Rum: While not as common, dark rum lends a deeper and more robust flavor to the piña colada mix. you get a richer and slightly caramelized taste.
Yield:

2 drinks
Virgin Pina Colada Recipe
A non alcholic treat in a drink. This virgin Piña Colada is a pleasing tropical refersher, perfect for hot summer days.
Ingredients
2 Cups frozen pineapple chunks
1 Cup cream of coconut
6 oz. pineapple juice
Optional: Add simple syrup or other sweetener to taste)
Instructions
Pour all ingredients into your blender pitcher.*
Start blender on low speed and then increase the speed until it is smooth without chunks.
Garnish the glass and Serve immediately after blending for best texture and flavor
Notes
*To Make this drink a cocktail add 4 oz. Light rum to the blender.
Nutrition Information
Yield
2
Serving Size
2 12 oz. drinks
Amount Per Serving
Calories

558
Total Fat

34 g
Saturated Fat

30g
Trans Fat

0g
Unsaturated Fat

4g
Cholesterol

0mg
Sodium

57mg
Carbohydrates

64g
Fiber

4g
Sugar

53g
Protein

4g
More Non Alcoholic Drinks:
It's nice to have a fancy summer drink without the booze occasionally. Sip these lovely drinks any time of day. Enjoy!
Summer Cocktails:
When you're looking for delicious tropical summer drinks, here are a few of our favorites.
There is something for everyone in our complete cocktail section. Be sure to check it out!
Follow Us:
We enjoy meeting you on our social networks. Follow us on Facebook, Pinterest, Instagram . Tag us with your pictures of our recipes and comment on how it went for you. We would love to see what you do with them.
We often like, comment and share your posts of our recipes on our daily Instagram stories.
Ask questions and rate the recipe in the comments section below. Please share what you did with this recipe. We are always looking for more and better ways to make homemade food. Other cooks love your ideas!
Recent Posts: