This refreshing rum punch recipe is perfect for any occasion that calls for a tropical vibe with fizzy, delicious flavors. Bring it to a pool party, summer event or any ole time. Its so yummy and pretty.
Blue curaçao adds a beautiful blue hue to the punch which turns a decidedly Caribbean blue green when the pineapple juice is added. It's an eye-catching addition to any party or gathering. The Prosecco gives the punch a light and bubbly quality, while the pineapple juice and light rum bring a sweet and tangy flavor to the mix. The addition of sparkling water balances out the sweetness of the pineapple juice, making it a perfect refreshing drink for warm weather.
To garnish, simply add a wedge of fresh pineapple and a maraschino cherry to each serving glass. This adds an extra pop of color to the already vibrant blue punch, making it even more visually appealing.
This cocktail punch is perfect for entertaining a smaller crowd. You can easily double this recipe and make a large batch. Serve it in small hurricane glasses with pineapple wedges and bright red maraschino cherries for a fun and festive presentation. The light and fruity flavors make it a crowd-pleaser that is sure to impress your guests.
Whether you're hosting a summer barbecue, a holiday party, or just want to enjoy a refreshing drink on a hot day, this cocktail punch is a must-try.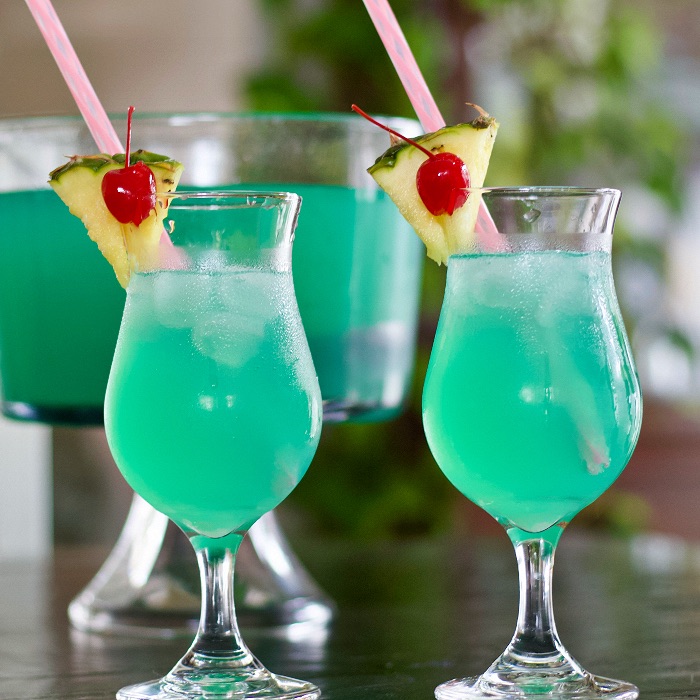 Trivia Question for you:
What are the five original ingredients of a punch? The original five ingredients of a punch are spirits, citrus, sugar, water, and spice. The term "punch" comes from the Hindi word "panch," which means "five," referring to these five key ingredients.
Our Bayou Rum Punch Cocktail Recipe has the necessary five ingredients with coconut rum, Meyers dark aged rum, fruit punch, orange juice, and grenadine. It is a delicious punch but has has a very different flavor profile from this blue lagoon tropical rum punch we are making today. It's also served in a hi ball glass rather than the hurricane glass we use here.
But that is how the creative spirit works. We love to change up textures, colors and flavors. And rum punch is a good recipe to do that with. There are so many ways to enjoy it.
What is Rum Punch Made Of?
The essential ingredients for making a basic rum punch are light or dark rum, citrus juice (typically lime or lemon), simple syrup or another sweetener, and ice. And there are MANY delicious versions of rum punch out there.
Some rum punch recipes call for additional ingredients like fruit juices, bitters, and various spices such as nutmeg or cinnamon. The ratios of these ingredients in a common recipe would be 2 parts rum, 1 part citrus juice, 1 part sweetener, and a splash of fruit juice or bitters.
Rum punches are popular in many parts of the world. However, they originated in the Caribbean and are a part of the drinking traditions there. You'll find rum punches are a staple at beach bars, resorts, and local gatherings, and they are often enjoyed as a refreshing drink on hot days.
Rum punch gives the picture of a laid-back, relaxed hot weather lifestyle. Rum punches are also popular in Hawaii and other tropical places. They are often served at luau parties, and in other parts of the world where rum is a popular spirit.
Is This A Classic Rum Punch Recipe?
The classic rum punch originates from the Caribbean and typically includes five key ingredients: rum, lime juice, sugar, water, and nutmeg.
A simple rum punch recipe of classic proportions uses this rhyme. It's easy to remember and gives you the bones of a classic rum punch. "One of sour, two of sweet, three of strong, four of weak". This describes the ratios of lime juice, sugar, rum, and water respectively. A classic rum punch can, and often does, include other ingredients such as fruit juice, bitters, or spices.
Our Blue Lagoon punch is not the classic rum punch profile. It does include some of the classic rum punch ingredients like rum and pineapple juice, but it also includes Prosecco, blue curaçao, and sparkling water, which are not traditionally part of a classic rum punch.
These extra ingredients add fizz, color and more depth of flavor to the classic recipe. We think you'll enjoy this lovely tropical variation of the classic rum punch.
The best rum punch recipe for you is the one you enjoy the most. Do you like is Simple and classic, or fun and fizzy? There is no wrong answer. 🙂
What Rum is Best for Rum Punch?
Some popular light and gold rum brands that are frequently used in rum punches include Bacardi, Mount Gay, Appleton Estate, and Cruzan.
The choice of rum for a tropical rum punch recipe can vary but a light or gold rum is a reliable choice. Light rums tend to have a more neutral flavor and are often used in cocktails where the rum is not the main focus. Gold rums, on the other hand, have a slightly richer flavor and can add more depth to a rum punch.
Dark or spiced rums can also be used, but they tend to have a more distinct flavor profile that may not work as well in just any rum punch recipe.
When you serve the punch you'll want to know you chose the best rum for your particular rum punch recipe. Choose a rum that you enjoy and also complements the other ingredients in the cocktail.
How Much Alcohol is in a Rum Punch?
Typically, a rum punch recipe with only rum spirits can have an alcohol content of around 15-20% ABV or higher. The amount of alcohol in the rum punch will depend on the type of rum used and the ratio of rum to other ingredients.
Our blue Lagoon cocktail punch with it's multiple ingredients, including the non-alcoholic ones, actually has a lower alcohol content than a punch made solely with rum like the ones mentioned above in this post.
This is because the total amount of alcohol is spread out among the different ingredients. In our recipe, the sparkling water, ice and pineapple juice dilute the alcohol content of the rum and Prosecco. Since Blue Curaçao has a lower alcohol content than rum, it doesn't contribute as much alcohol as a larger amount of rum would by volume, per serving.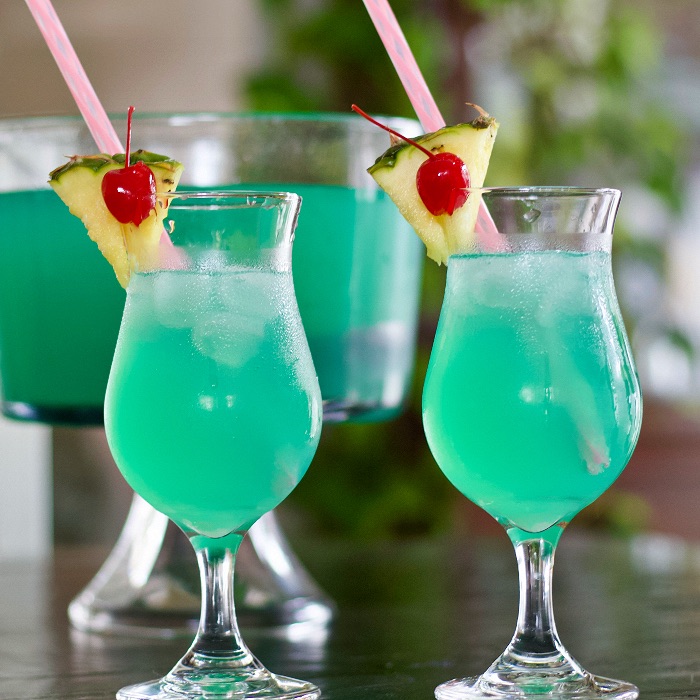 Adjusting The Blue Lagoon Punch By Volume:
Here's a table that shows how to adjust the ingredient amounts for various size batches of the cocktail punch recipe:
To do the math: Adjust the ingredient amounts for a different batch size, simply multiply the amount in the "Original Recipe" column by the corresponding factor.
For example, to make a single serving of the punch, you would use 0.5 oz of Blue Curaçao, 4 oz of Prosecco, 1.5 oz of pineapple juice, 1 oz of light rum, and 3 oz of sparkling water. To make a gallon batch of the punch, you would use 16 oz of Blue Curaçao, 3 L of Prosecco, 48 oz of pineapple juice, 32 oz of light rum, and 96 oz of sparkling water.
| Ingredient | Original Recipe | 1 Gallon Batch | 5 Gallons | 6 oz. Serving |
| --- | --- | --- | --- | --- |
| Blue Curaçao | 4 oz | 16 oz | 80 oz | 0.5 oz |
| Prosecco | 750 ml | 3 L | 15 L | 4 oz |
| Pineapple Juice | 12 oz | 48 oz | 240 oz | 1.5 oz |
| Light Rum | 8 oz | 32 oz | 160 oz | 1 oz |
| Sparkling Water | 24 oz | 96 oz | 480 oz | 3 oz |
Here's how to adjust the ingredient amounts for a pitcher size, assuming a standard pitcher holds around 64 ounces:
| Ingredient | Original Recipe | Pitcher (64 oz) |
| --- | --- | --- |
| Blue Curaçao | 4 oz | 2.5 oz |
| Prosecco | 750 ml | 20 oz |
| Pineapple Juice | 12 oz | 8 oz |
| Light Rum | 8 oz | 5 oz |
| Sparkling Water | 24 oz | 15 oz |
To adjust the ingredient amounts for a different pitcher size, simply multiply the amount in the "Original Recipe" column by the corresponding factor. For example, to make a pitcher size of the punch, you would use 2.5 oz of Blue Curaçao, 20 oz of Prosecco, 8 oz of pineapple juice, 5 oz of light rum, and 15 oz of sparkling water.
Tweaking This Punch Recipe:
This is not a particularly sweet punch. You can taste the alcohol. If you prefer a sweeter, punch that just falls down your throat in sweet bliss; here are several ways you can do this:
Add more fruit juice: You can increase the amount of pineapple juice in the recipe or add other fruit juices like orange or passionfruit juice to make the punch sweeter. Be careful here. More pineapple will definitely impact the flavor of this punch. And the color. You will have a very green punch with a heavy pineapple flavor.
Add a sweetener: A better idea is to add sugar, honey, agave nectar, or simple syrup to the punch to sweeten it. Start with a small amount and taste as you go, adding more if needed.
Use a sweeter Prosecco: Prosecco can vary in sweetness, so if you're finding that the punch isn't sweet enough, try using a sweeter Prosecco.
Use tonic water: Change out the sparkling water for tonic water since tonic water is sweeter and still bubbly.
Keep in mind you need to taste the punch as you make these adjustments to avoid over-sweetening it. Or ruining the balance of flavors you wind up with.
You may also want to try making this your signature party punch. Try these ideas.
Experiment with different ratios: You can play around with the ratios of the ingredients to find the balance that you like best. For example, if you prefer a stronger punch, you can increase the amount of rum, or if you prefer a less alcoholic punch, you can decrease the amount of rum.
Make it a frozen cocktail: You could also blend the ingredients with ice to create a frozen cocktail version of the punch.
Try different fruit juices, or fizzy substitutes for the sparkling water.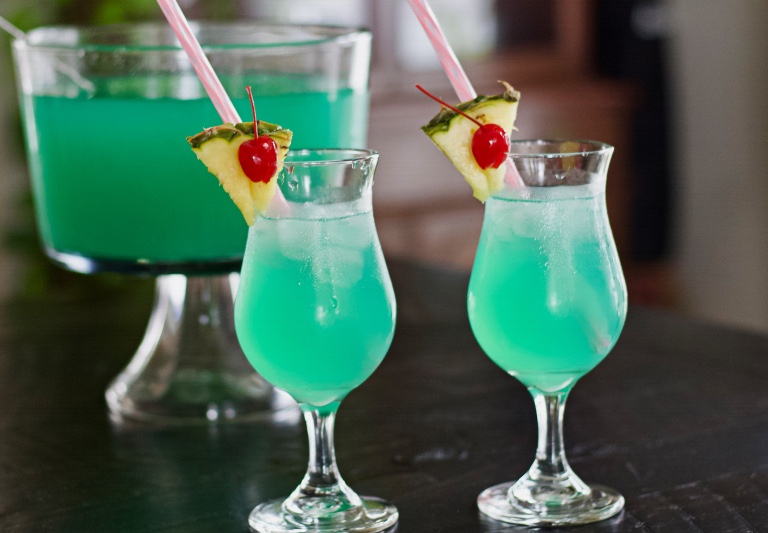 Is Blue Lagoon Rum Punch Potent?
The alcohol content of this punch is not particularly high compared to some other cocktails or punches. With an estimated alcohol content of around 9-10% ABV for the entire batch, it falls within the range of a typical wine or beer.
However, the actual potency of the punch will depend on the specific ingredients used, the ratio of each ingredient, and the size of the serving. It's also important to remember that even a less potent drink can still be intoxicating, and it's crucial to drink responsibly and in moderation.
Garnishing and Presentation Suggestions:
How you present this punch to your guests is up to you. It will be pretty in almost any hi ball or short glass. It even looks good in a regular punch glass. 🙂
We chose to use these smaller 11 Oz. Hurricane glasses(-set of 4) from amazon to up the tropical tiki drink vibe. The pineapple wedges and pop of red from the cherries are very simple but with the gorgeous color of this punch stealing the show, you don't need a lot to set it off.
More Ideas For Presentation:
In addition to the pineapple wedges and maraschino cherries, you could garnish the punch with mint leaves, lime wedges, or edible flowers to add color and flavor.
Serve it in a different way: We enjoy serving the punch in individual glasses and offering each guest a garnished glass.
But this punch is easy to serve straight from a large punch bowl with a ladle into punch glasses or in a dispenser with a spigot to make it easier for guests to serve themselves.
Yield:

8 servings
Blue Lagoon Rum Punch Recipe
Total Time:
2 hours
10 minutes
This tropcial rum punch recipe is a powerful blend of refreshing, tropical flavors. This punch is both delicious and fizzy with all the blue green colors of a caribbean lagoon. Perfect for a pool party.
Garnish each glass with a wedge of fresh pineapple and a maraschino cherry for an extra pop of color. This cocktail punch is perfect for entertaining a crowd and is sure to impress your guests.
Ingredients
4 oz. Blue Curaçao
1 (750ml) bottle Prosecco
12 oz. Pineapple juice
8 oz. light rum
24 oz. sparkling water (or tonic water for sweeter)
ice as needed
For Garnish:
Pineapple wedges
Maraschino cherries
Instructions
Chill all ingredients before using to reduce dilution at serving. Pre cut the pineapple into wedges and put them in a bowl. Set aside.
Fill a large punch bowl with ice, (about halfway).
Pour the curaçao, prosecco, rum, pineapple juice and sparkling water over ice..
Serve immediately in small hurricane glasses, (or whatever 10 oz. glasses you prefer)
Garnish glasses with pineapple wedges and maraschino cherries.
Nutrition Information
Yield
8
Serving Size
1
Amount Per Serving
Calories

104
Total Fat

0g
Saturated Fat

0g
Trans Fat

0g
Unsaturated Fat

0g
Cholesterol

0mg
Sodium

3mg
Carbohydrates

7g
Fiber

0g
Sugar

5g
Protein

0g
More Delicious Rum Drinks:
We do love our rum. Here's just a taste of our rum drink recipes. For a complete listing of our cocktails please visit our cocktail section.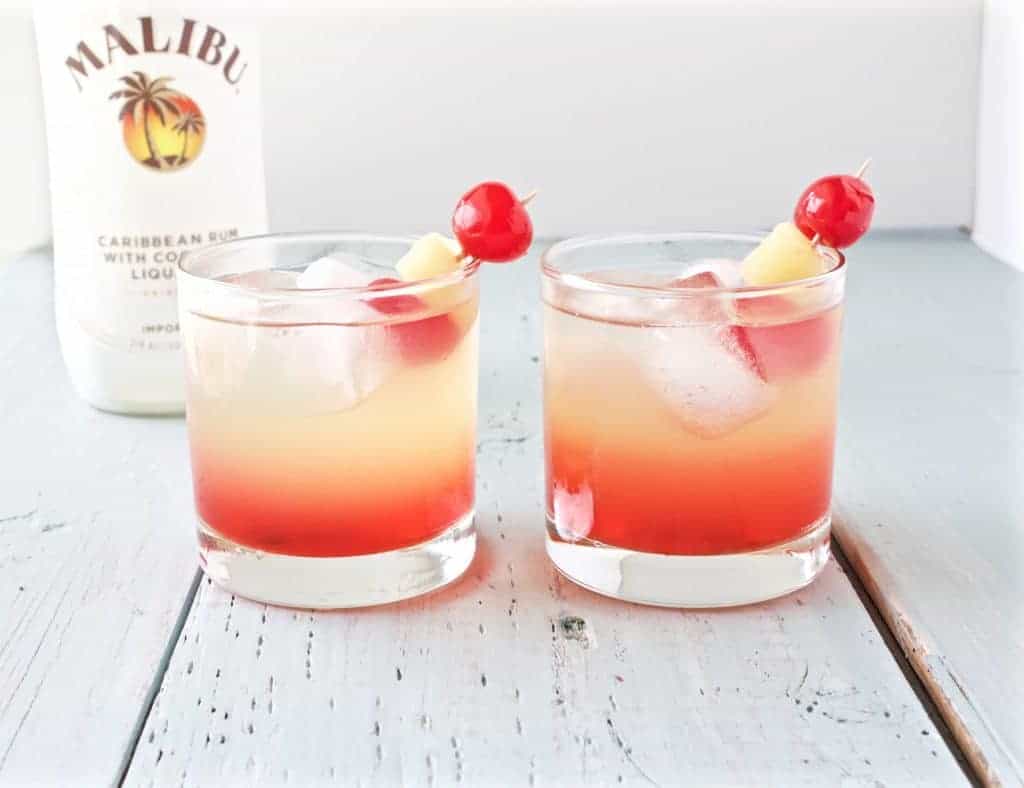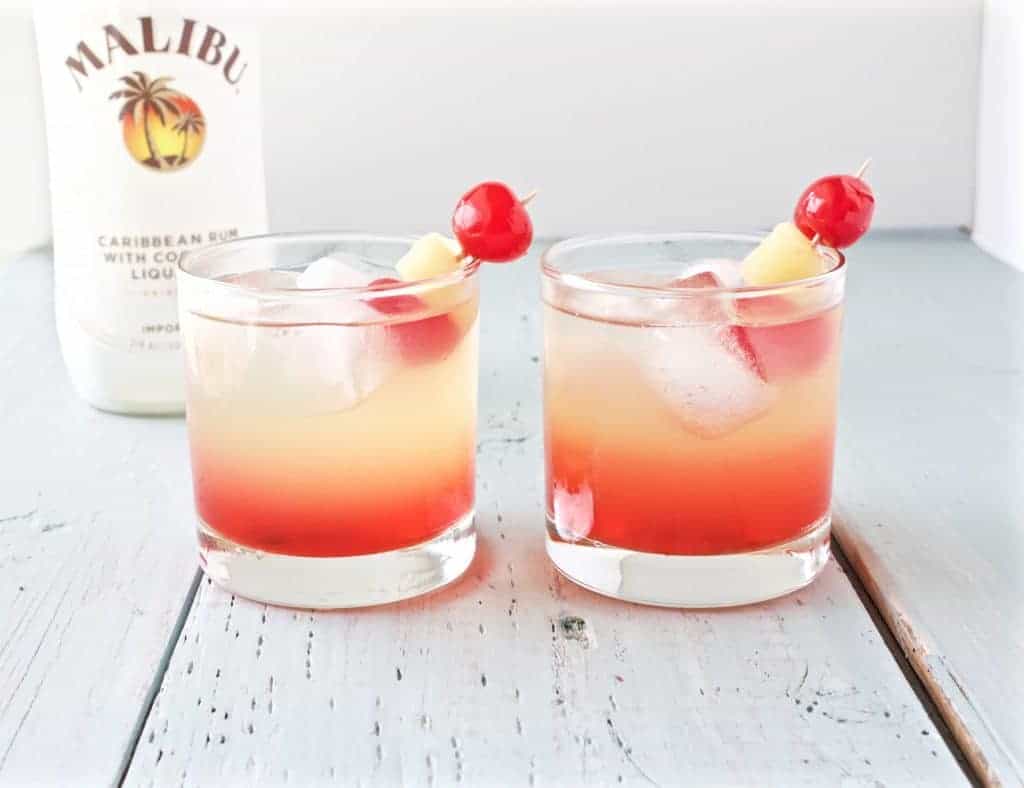 Follow Us:
We enjoy meeting you on our social networks. Follow us on Facebook, Pinterest, Instagram . Tag us with your pictures of our recipes and comment on how it went for you. We would love to see what you do with them.
We often like, comment and share your posts of our recipes on our daily Instagram stories.
Ask questions and rate the recipe in the comments section below. Please share what you did with this recipe. We are always looking for more and better ways to make homemade food. Other cooks love your ideas!
Recent Posts: