Lemon cream pie is a classic dessert that combines the bright and tangy flavors of fresh lemon juice with the sweetness of condensed milk and the creaminess of sour cream. This irresistible lemon pie recipe is perfect for any occasion. Serve it at a casual family dinner, summertime party or any special celebration.
This Lemon cream pie recipe is incredibly simple to put together. We'll show you how to make this easy yummy lemon cream pie with a scratch graham cracker crust and a silky smooth filling with very little time or fuss required.
All you need are a few simple ingredients and some basic baking skills. Create this lemon pie dessert and impress your family and friends. Your all going to enjoy this recipe.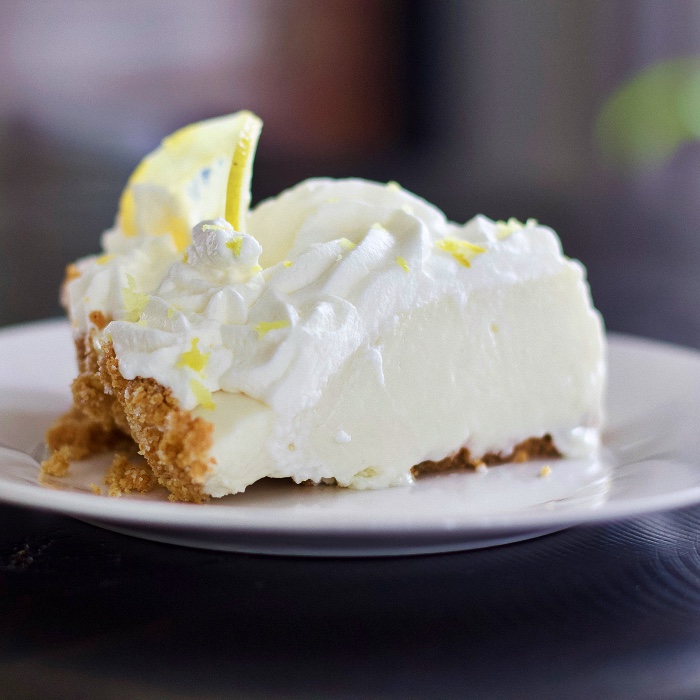 What is the difference between a lemon meringue pie and a lemon cream pie?
There are several differences between a lemon meringue pie and a lemon cream pie. Lemon cream pie uses a graham cracker crust, has a creamy smooth custard type filling and is topped most often with whipped cream. Lemon meringue pie has a more transparent, gel like cooked lemon curd filling with a pastry crust. It's topped with meringue,(whipped egg whites).
The difference in the filling ingredients gives the two pies distinct textures and flavors. Lemon cream pie has a richer and creamier texture, while lemon meringue pie has a tangy and sweet filling with a fluffy, cloud-like meringue topping.
Actually the whole experience of eating these two pies is quite different. The crust, filling and topping of each pie are completely distinct. Don't get them confused when your looking for a recipe. 🙂
Why is my lemon pie filling not thickening?
This is not a big problem with lemon cream pies. And with our method, the filling set up within an hour. However, If you're having trouble with your lemon pie filling not thickening, follow the recipe and use these tips.
Use room temperature ingredients: Using Room temperature sweetened condensed milk and sour cream ensures that they blend together smoothly.
Mix thoroughly: The filling will most reliably thicken properly if you mix the sweetened condensed milk and sour cream together thoroughly before adding the lemon juice.
Use fresh lemon juice: Freshly squeezed lemon juice is best for this recipe. Fresh lemons contain natural pectin which helps to thicken the filling. Make sure to strain out any seeds or pulp before adding the lemon juice to the mixture.
Let the filling thicken: After adding the lemon juice, make sure to continue to blend the mixture until it is thick and creamy. This may take a few minutes, but be patient and keep mixing until the filling is fully thickened.
Chill the pie: Once the filling is poured into the crust, chill the pie for at least 2 hours in the refrigerator before serving. This completely sets the filling and gives it a chance to fully thicken.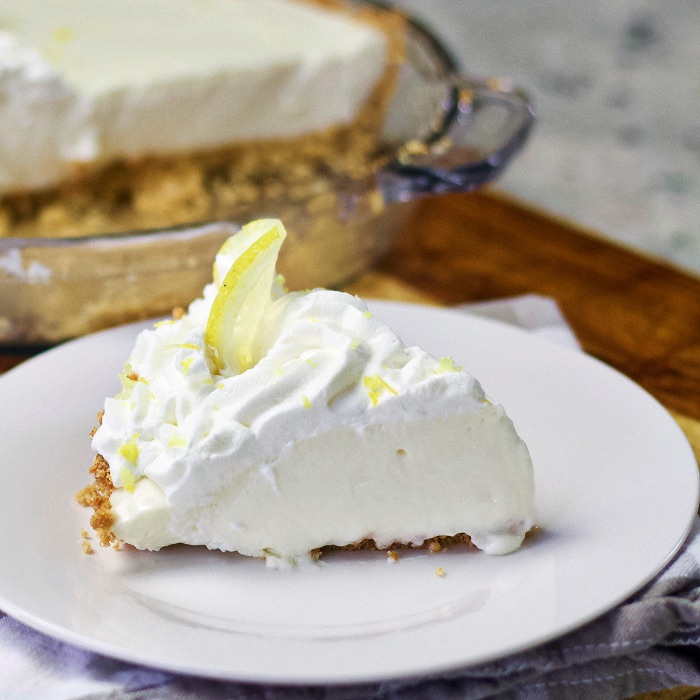 What is lemon pie filling made of?
For our lemon cream pie, the filling is made of just three ingredients. Fresh lemon juice, sweetened condensed milk and sour cream. They give lemon cream pie filling its unique and delicious taste. Some lemon pie filling recipes have extra ingredients such as sugar, lemon zest, or heavy cream. And some will substitute cream cheese for the sweetened condensed milk.
The combination of sweetened condensed milk, sour cream, and fresh lemon juice in our lemon cream pie filling creates a creamy, tangy, and sweet flavor that is both smooth and velvety.
These three ingredients work together in harmony to create the delicious and unforgettable flavor of a lemon cream pie.
When all these ingredients are properly combined and baked, they create a luscious and creamy lemon filling that is both sweet and tart. The resulting texture is smooth, velvety, and just firm enough to hold its shape when sliced.
Can you make a lemon cream pie recipe without condensed milk? Yes. Cream cheese and heavy cream can be used instead of condensed milk. However, it is a completely different recipe so don't substitute the recipe ingredients and use our method for this pie.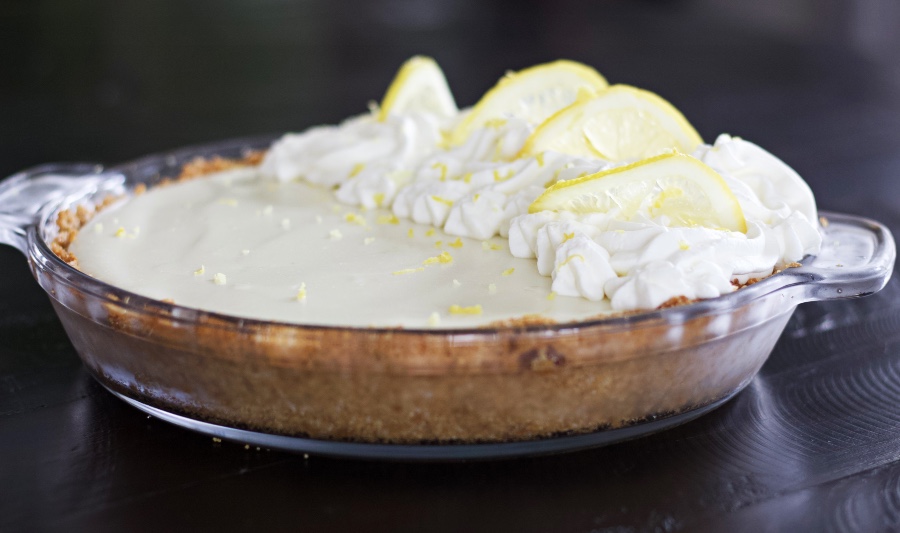 Variations:
There are many ways to change up this dessert so it never gets boring. These ideas are meant for inspiration and won't work well with our recipe method. You'll need a different recipe for each one.
Lemon Cream Cheese Pie: Combines the tanginess of lemon with the creaminess of cream cheese. It uses cream cheese along with condensed milk, lemon juice, and sour cream to make the filling.
No-Bake Lemon Cream Pie: Lemon cream pie recipe no bake method is perfect for hot summer days when you don't want to turn on the oven. It's made with a graham cracker crust and a filling of lemon juice, condensed milk, and whipped cream.
Vegan Lemon Cream Pie: For those who are vegan or dairy-free, you can make a vegan lemon cream pie using coconut cream, cashews, lemon juice, and agave or maple syrup as a sweetener.
Meyer Lemon Cream Pie: This variation uses Meyer lemons, which are sweeter and less tart than regular lemons.
Double lemon cream pie recipe: Add the lemon zest of one or two lemons to the filling in addition to fresh lemon juice. This creates a doubly intense lemon flavor. Follow the original recipe for the graham cracker crust and garnishings.
What is lemon drop pie?
Lemon drop pie is similar to lemon cream pie, but with a different texture and flavor profile. Lemon drop pie has a shortbread crust that is baked until golden brown and crispy. The lemon curd filling is made with fresh lemon juice, sugar, eggs, and sometimes butter, cornstarch or flour to thicken it.
Once the filling is cooked, it is poured into the crust and chilled until set. The finished pie is usually served cold and can be garnished with whipped cream or lemon slices. The tart and tangy flavor of the lemon filling reminds one of a lemon drop candy. This is the same filling used for lemon meringue pies. go to this post to learn how to make it.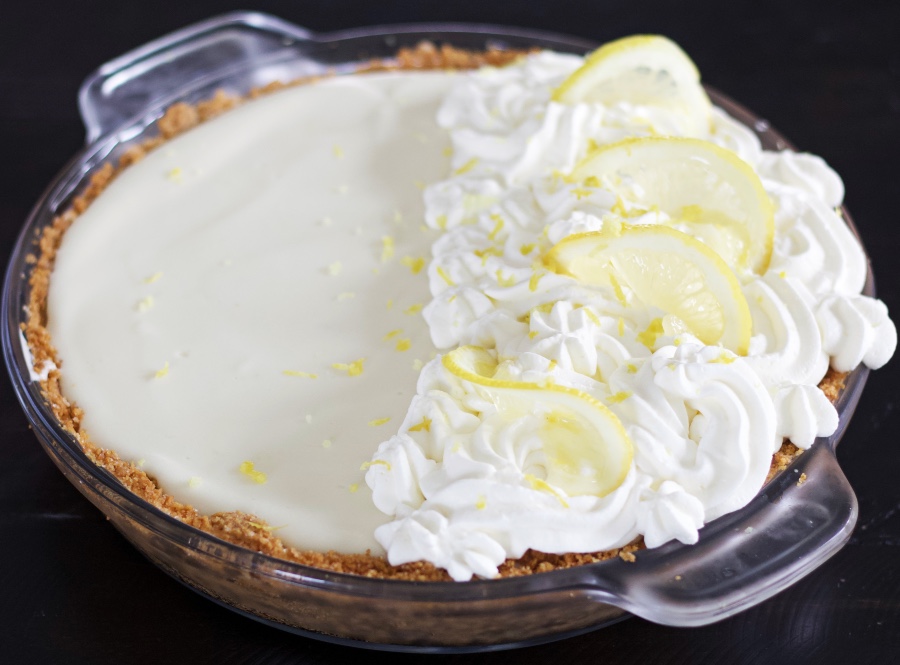 Storing Instructions:
In the Fridge:
Our lemon cream pie will store well in the fridge for about 3-4 days. It needs to be tightly covered with plastic wrap or aluminum foil. For food safety it is best to store it in the fridge rather than at room temperature due to the dairy content.
When it comes to leftovers, the pie will still be tasty but the crust may become a bit soggy. However, some people actually prefer the texture of the pie once it has had time to sit and meld together in the fridge. To freshen it up, you can add a dollop of whipped cream and a sprinkle of lemon zest before serving.
Can You Freeze Lemon Cream Pie?
Lemon cream pie can be frozen, but it may not maintain its original texture and flavor as well as when it is fresh. When you freeze the pie, the moisture in the filling can cause the crust to become soggy and the filling may become icy or grainy when it thaws.
We recommend you enjoy this creamy lemon pie fresh for the best taste and texture. However, if you need to freeze your lemon cream pie, here are some tips for best results:
Cool the pie completely: Allow the pie to cool completely to room temperature before freezing. This will help to prevent condensation from forming on the surface of the pie.
Freeze the pie just plain whithout the whipped cream topping for best results.
Wrap tightly: Wrap the pie tightly in plastic wrap or aluminum foil to prevent freezer burn and to keep the pie from absorbing any freezer odors.
Freeze flat: Place the wrapped pie on a flat surface in the freezer until it is completely frozen. This will help to prevent the filling from shifting and becoming misshapen.
Thaw slowly: To thaw the pie, transfer it to the refrigerator and allow it to thaw slowly for several hours or overnight. Avoid thawing the pie at room temperature or in the microwave, as this can cause the filling to become too soft or runny.
Yield:

8 servings
Lemon Cream Pie
Total Time:
2 hours
33 minutes
This lemon cream pie is a classic dessert that is perfect for any occasion. And it is a VERY simple process. Even when you make your crust, bake it and do the whipped cream and lemon decoration this pie is easy enough for beginner bakers.
The filling is made with only three ingredients. Its richly smooth, creamy, tangy and refreshing.
Serve is plain after chilling, or fancy it up as you please. Your guests will love this lemon cream pie.
Ingredients
For the Lemon pie Filling:
2 Cans Sweetened Condensed Milk
1/2 Cup Sour Cream
3/4 Cup Fresh Lemon Juice
For the Crust:
1 1/2 Cups Graham Crackers (crushed)
1/4 Cup Granulated Sugar
6 Tbsp Melted Butter
Garnishing Suggestion:
Whipping Cream and Lemon Slices
Instructions
For the Crust:
Preheat Oven to 350 F
Mix Crushed Graham Crackers, sugar, and melted butter together in a medium bowl.
Press graham cracker crust into a pie plate (not greased)
Bake for 10 minutes until lightly golden brown and set firmly.
For the Filling:
In mixer, blend the sweetened condensed milk and sour cream together,
Add in the lemon juice and blend until thickened.
Pour the lemon filling into the par-baked graham cracker crust
Bake in oven for 8 minutes
Remove from oven and allow the pie to cool completely on countertop.
Place pie in fridge and chill for 2 hours before serving.
Decorate the top with whipping cream and lemon slices just before serving.
Keep leftovers refrigerated.
Notes
The chilling time is variable. Consider the 2 hour time frame the minimum cooling period. You can leave it chill up to overnight or longer without garnishings and tightly covered..
Nutrition Information
Yield
8
Serving Size
1
Amount Per Serving
Calories

232
Total Fat

14g
Saturated Fat

8g
Trans Fat

0g
Unsaturated Fat

5g
Cholesterol

35mg
Sodium

158mg
Carbohydrates

26g
Fiber

1g
Sugar

16g
Protein

2g
More Delicious Lemon Desserts:
Lemon deserts are wildly popular because they are delicious. Here's a few of our to get you in the mood for a luscious lemon experience.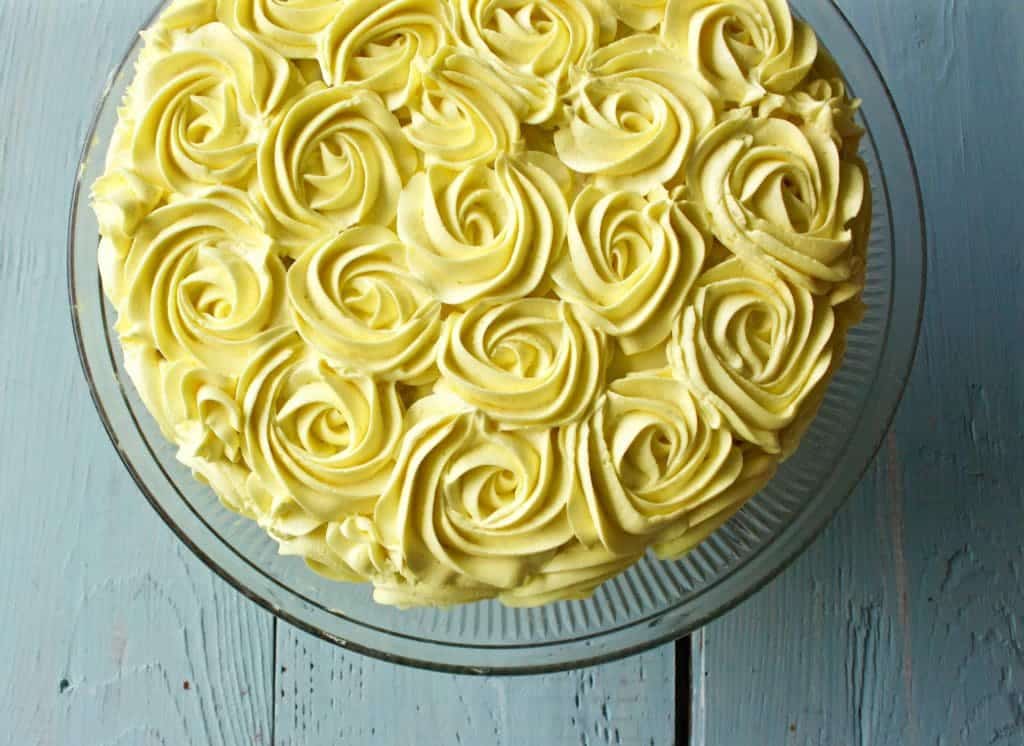 Other scrumptious Desserts from our dessert Archives:
Follow Us:
We enjoy meeting you on our social networks. Follow us on Facebook, Pinterest, Instagram . Tag us with your pictures of our recipes and comment on how it went for you. We would love to see what you do with them.
We often like, comment and share your posts of our recipes on our daily Instagram stories.
Ask questions and rate the recipe in the comments section below. Please share what you did with this recipe. We are always looking for more and better ways to make homemade food. Other cooks love your ideas!
Recent Posts: