Indulge in the rich, decadent world of chocolate with this easy chocolate cake recipe. Perfectly moist, deeply flavorful, and utterly irresistible, this Retro, single layer chocolate cake from scratch recipe is a true delight for all chocolate lovers.
Whether you're a seasoned baker or a beginner in the kitchen, you'll find this recipe both simple and deliciousness. From birthdays to special occasions, or simply for a sweet treat after dinner, this chocolate cake is a hit with the family and easy on the baker.
Which type of Chocolate cake is best? The best chocolate cake recipe is the one that most perfectly fits your need at the time. When you want a flavorful, quick and easy chocolate cake recipe done in around an hour, this chocolate radio cake is the perfect choice.
This cake makes a wonderful family dessert, or lunch box treat. It's yummy enough to eat just plain with a simple sifting of powdered sugar, or enjoy it with a simple buttercream frosting. Your house will smell heavenly and this cake tastes just like grandma used to make. She probably did. 🙂
What is a Radio Cake?
This recipe came from an old church cookbook, full of contributions from the congregation. This recipe title is Aunt Hilda's Radio Cake. We were instantly captivated and HAD to give this vintage recipe a go. She says it's a great 'busy day' cake. It can be made without interrupting a busy day.
But what is a radio cake? We looked it up. A "radio cake" is a term that was commonly used during the mid-20th century to refer to a simple, single layer chocolate cake recipe. Radio cake mean't the cake was quick and easy to make. Home cooks could prepare and bake a radio cake during the time it took to listen to a radio program or show. Rather like cooking to podcast today. 🙂
Radio cakes were a popular choice, back in the day, when home cooks needed a quick and easy chocolate cake for a family dessert. So tune in to your favorite podcast and bake this busy day cake.
Aunt Hilda's Radio cake turn out with a nice texture and density. It is also yummy and simple. Thanks Aunt Hilda!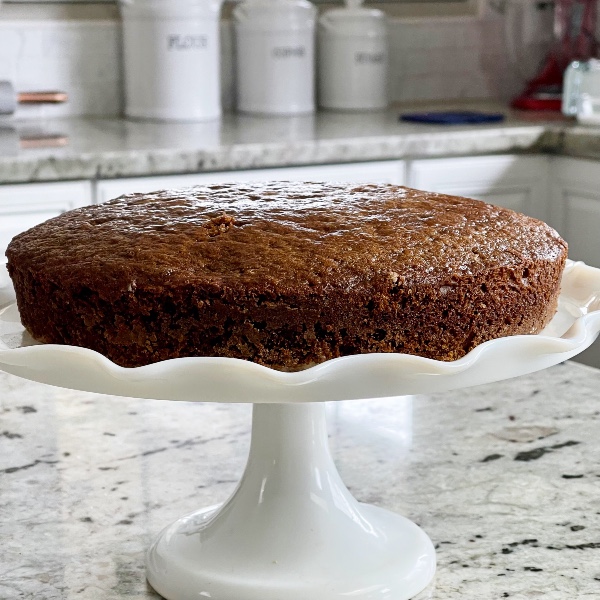 What is the Secret to Making a Good Cake?
The secret to making a good cake involves careful measurement of ingredients, proper mixing technique, appropriate baking time and temperature, and attention to detail.
By following these tips and techniques, you can increase your chances of making a delicious and successful cake. Remember that practice, attention to detail, and using quality ingredients are key to achieving a scrumptious homemade cake!
Tips For a Delicious and successful Cake:
Follow the Recipe: Start with a trusted recipe and carefully measure all the ingredients as instructed. Baking is a science, and precise measurements can greatly impact the outcome of your cake.
Use Fresh Ingredients: Use fresh and high-quality ingredients, including eggs, dairy, and leavening agents, for the best flavor and texture. Using stale or expired ingredients can affect the taste and performance of your cake.
Room Temperature Ingredients: Allow your eggs, butter, and dairy to come to room temperature before using them in the recipe. Room temperature ingredients combine better and result in a smoother batter.
Proper Mixing Technique: Mix your cake batter just until the ingredients are combined. Overmixing can develop gluten in the batter, resulting in a tougher texture. Follow the mixing instructions in the recipe carefully.
Don't Overbeat Eggs: When incorporating eggs into your cake batter, be careful not to overbeat them. Overbeating can cause the cake to rise too much and then collapse, resulting in a dense texture.
Oven Temperature: Preheat your oven to the temperature specified in the recipe and use an oven thermometer to ensure accuracy. Baking at the correct temperature is crucial for even baking and a properly risen cake.
Baking Time: Follow the recommended baking time in the recipe, but start checking for doneness a few minutes before the suggested time. Insert a toothpick or cake tester into the center of the cake; if it comes out clean or with a few crumbs clinging to it, the cake is done.
Cooling and Frosting: Allow the cake to cool in the pan for a few minutes, then transfer it to a wire rack to cool completely before frosting. Applying frosting to a warm cake can result in a runny or melted frosting.
Attention to Detail: Pay attention to small details such as sifting dry ingredients, leveling the measurement of ingredients, and evenly distributing the batter in the cake pans for a uniform rise and texture.
Practice: Baking is a skill that improves with practice. Don't be discouraged if your first attempt doesn't turn out perfectly. Keep trying, learn from any mistakes, and experiment with different techniques and recipes to find what works best for you.
Is Chocolate Cake Better with Oil or Butter?
Using oil in a homemade chocolate cake recipe from scratch helps the cake be moist and tender. The cake will have a soft crumb, is dairy free and vegan. It is often the best choice for bakers. However, Butter adds a rich, creamy flavor to chocolate cake and a good crumb as well. Butter also has a solid consistency at room temperature, which can help with the structure and stability of the cake.
What happens if you use oil instead of butter in cake?
Both oil and butter have their own unique characteristics and can yield delicious chocolate cakes, so it's worth experimenting with different recipes and finding what suits your taste buds best.
Here are some points to consider:
Moisture: Oil tends to create a moister cake compared to butter. Oil has a higher fat content, which can result in a cake with a more tender and moist crumb. Butter, on the other hand, has water content, and using butter in a cake may result in a slightly drier texture compared to oil.
Flavor: Butter imparts a rich, distinct flavor to baked goods, including chocolate cake. It has a creamy, buttery taste that can add depth and richness to the cake. Oil, on the other hand, is typically neutral in flavor and may not contribute as much to the overall taste of the cake, allowing the chocolate flavor to shine more prominently.
Texture: Oil can result in a softer, more tender crumb in a chocolate cake, while butter can yield a denser texture. The choice between oil and butter can affect the mouthfeel and structure of the cake.
Ease of Use: Oil is typically easier to work with in cake recipes because it is a liquid and can be easily measured and mixed. Butter, being a solid, needs to be softened or melted before use, and its water content can sometimes affect the consistency of the cake batter.
Personal Preference: Some people may prefer the taste and texture of chocolate cakes made with oil, finding them to be moister and lighter. Others may prefer the rich flavor and denser texture that butter can provide. Personal preference plays a significant role in determining whether oil or butter is better for a chocolate cake.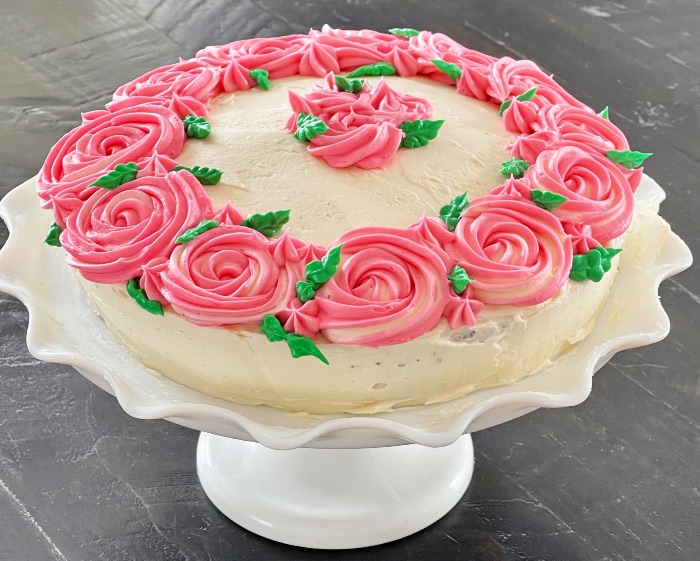 Our Radio cake calls for melted butter. This is because butter gives the cake a lovely flavor and texture. However, this single layer chocolate cake is best eaten in a day. The cake may dry out rather quickly after cutting, so keep it covered to prevent that. Fortunately, this is a single layer cake that is the perfect size for an after dinner dessert for a family or small dinner party.
How to Substitute Oil for Butter:
If you want this chocolate cake recipe to hold longer and remain moist, replacing the oil with butter will help increase the moisture after cutting. Here's how to make a moist chocolate cake recipe with oil.
Choose a flavorless oil. We suggest Avocado oil. It is the healthiest choice of oil, works well in baking and will not affect the flavor of your cake. If you love the flavor of coconut oil, it will make a good substitute for butter in this recipe as well.
When substituting oil for melted butter in this chocolate cake recipe, do not use a 1-to-1 ratio. Butter contains both fat and water, while oil is 100% fat. The water content in butter can affect the texture, flavor and moisture of the cake, so simply substituting oil for butter in equal amounts is not the best approach.
As a general guideline, when substituting oil for melted butter in a cake recipe, you can use about 3/4 cup of oil for every 1 cup of melted butter. This is because oil is denser than melted butter, so you'll need slightly less oil to achieve a similar amount of fat.
Remember overdoing the oil will give you a denser cake and the oil may break through to give the cake a rather oily texture with a slightly oily taste.
What Type of Cocoa Is Best for Chocolate Cake?
The best type of cocoa for a chocolate cake depends on the desired flavor, color, and texture of the cake. Here are some differences.
Natural cocoa powder is made from roasted cocoa beans, and is often used in recipes that call for baking soda as a leavening agent, as it has a slightly acidic pH. It tends to have a reddish-brown color and a deep, robust chocolate flavor.
Dutch-process cocoa powder, on the other hand, is treated with an alkalizing agent to reduce its acidity, resulting in a darker color and a milder, smoother flavor. It is often used in recipes that call for baking powder as a leavening agent.
Both types of cocoa can be used in chocolate cake recipes, but the choice depends on the desired flavor profile and the leavening agents used in the recipe. Use the type of cocoa specified in the recipe for best results. If you're not sure, look to the leavening agents in the recipe.
The Flour:
All-purpose flour is a versatile flour that will work well in this cake recipe. It has a moderate protein content, which can provide adequate structure and texture to the cake without making it too dense or dry.
Remember to use fresh all purpose flour to ensure best results when baking with it.
Aunt Hilda's Radio Cake Recipe
Here is her recipe with a few clarifications. Vintage recipes often use vague terms like 'dash' and 'moderate' rather than specific terms we are used to today. Hilda didn't even say how long to bake it. We have tested the recipe and added our specifics. We know you'll enjoy this cake. Happy Baking!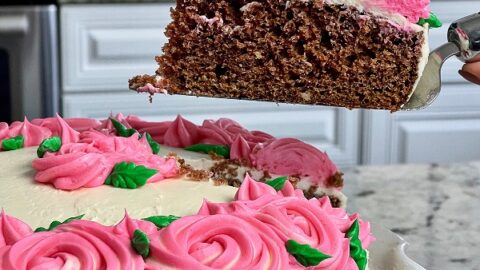 Yield:

9 inch single layer cake
Easy Chocolate Cake Recipe
Total Time:
1 hour
10 minutes
Indulge in the ultimate chocolate lover's dream with this easy and delicious chocolate cake recipe. Whether you're celebrating a special occasion or simply craving a slice of pure chocolate indulgence, this simple, single layer, homemade chocolate cake is sure to impress.
Frost it with your favorite frosting or dust it with powdered sugar for a simple yet elegant finish. Get ready to satisfy your chocolate cravings with this irresistible and easy-to-make chocolate cake recipe.
Ingredients
1 Cup sugar
1 1/2 Cup all purpose Flour
1 /4 tsp. salt
1 large egg
1 1/2 Tablespoon Cocoa powder
1 tsp. baking soda
5 Tablespoons melted butter
1 Cup sour milk (or buttermilk)
Instructions
Preheat oven to 350 degrees F.
In a large bowl Sift together sugar, cocoa, flour, soda and salt.
Add the melted butter, egg and milk and mix until combined.
Let raise 15 minutes.
Bake 25 minutes or until toothpick comes out clean.
Allow cake to cool completely before frosting and cutting.
Notes
If you choose to substitute oil in this recipe use 1/4 Cup oil. Keep in mind your cake may be a bit denser and have a different flavor than you will get with butter.
Nutrition Information
Yield
10
Serving Size
1
Amount Per Serving
Calories

219
Total Fat

7g
Saturated Fat

4g
Trans Fat

0g
Unsaturated Fat

2g
Cholesterol

36mg
Sodium

1121mg
Carbohydrates

36g
Fiber

1g
Sugar

21g
Protein

4g
This is for an unfrosted cake
More Delicious Desserts:
We have SO many fantastic desserts. Be sure to check out our complete dessert section for year round treats your family will love.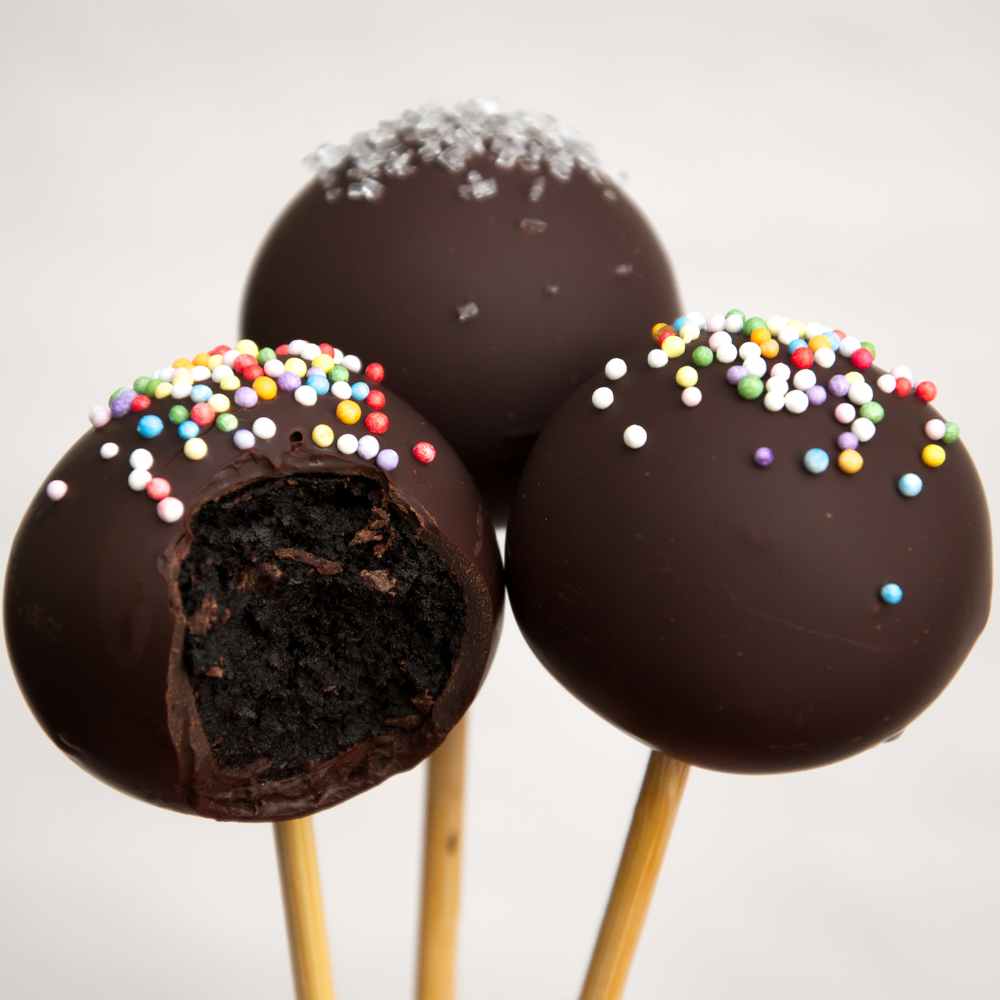 Cupcakes!
Be sure to look through our Complete list of cupcakes for inspiration and dynamite recipes!
Follow Us:
We enjoy meeting you on our social networks. Follow us on Facebook, Pinterest, Instagram . Tag us with your pictures of our recipes and comment on how it went for you. We would love to see what you do with them.
We often like, comment and share your posts of our recipes on our daily Instagram stories.
Ask questions and rate the recipe in the comments section below. Please share what you did with this recipe. We are always looking for more and better ways to make homemade food. Other cooks love your ideas!
Recent Posts: