Adorable easter egg cupcakes that are sure to be a hit at your next party! These cupcakes feature a chocolate cupcake, vanilla buttercream frosting and A great big Cadbury Egg surprise inside! 
Easter is just around the corner! I have been absolutely terrible about getting anything done lately! My husband and I are both in school and my husband has finals this week. I have been on baby duty 100% this week so he can study for his tests. Unfortunately this has left me very drained! Little Ellie is going through what they call the 4 month sleep regression. Basically, babies forget how to sleep around this age because their brains are so busy! This is unfortunate because she was a prize sleeper! Seriously, she used to sleep 7 hour stretches at night. Now we are back to waking up every 3 hours or so. I am in total zombie mode. Most days, I float around my house in a haze. I nearly broke my poor coffee pot by turning it on and leaving it without any water in it! That would have been the second pot that I've broken lately!
[tweetthis hidden_urls="pic.twitter.com/1JLfperHDJ"] Adorable Easter cupcakes. Filled with a Cadbury Egg! #Easter #cupcakefriday #Cupcake[/tweetthis]
So these cupcakes had to be simple. I don't have the mental space to make something that requires a whole lot more than autopilot. These yummy Easter treats are very easy to put together! I used a fantastic chocolate recipe that requires Guinness beer. It's amazing how adding alcohol to baked goods really improves the flavor and texture. If you don't want to use a recipe that call for alcohol, try this chocolate cupcake recipe. It's excellent!
Here's How I Made Easter Egg Cupcakes:
I baked a Cadbury egg into the center of each cupcake. It's a lot easier than it sounds, you really just put a frozen egg in the middle of the muffin tin on it's side with some batter around it and pop it in the oven. The top decorations are also very easy, just white buttercream piped into a circle. Then I dyed shredded coconut green and sprinkled it on the top in a nest design.
.
Dye the shredded coconut by putting 1 cup of shredded coconut into a bowl and add a tablespoon of water, put in a small amount of gel green food coloring and stir until it is the color you would like.
The cupcake batter is from this recipe and the frosting I made using the buttercream recipe from my strawberry cupcakes.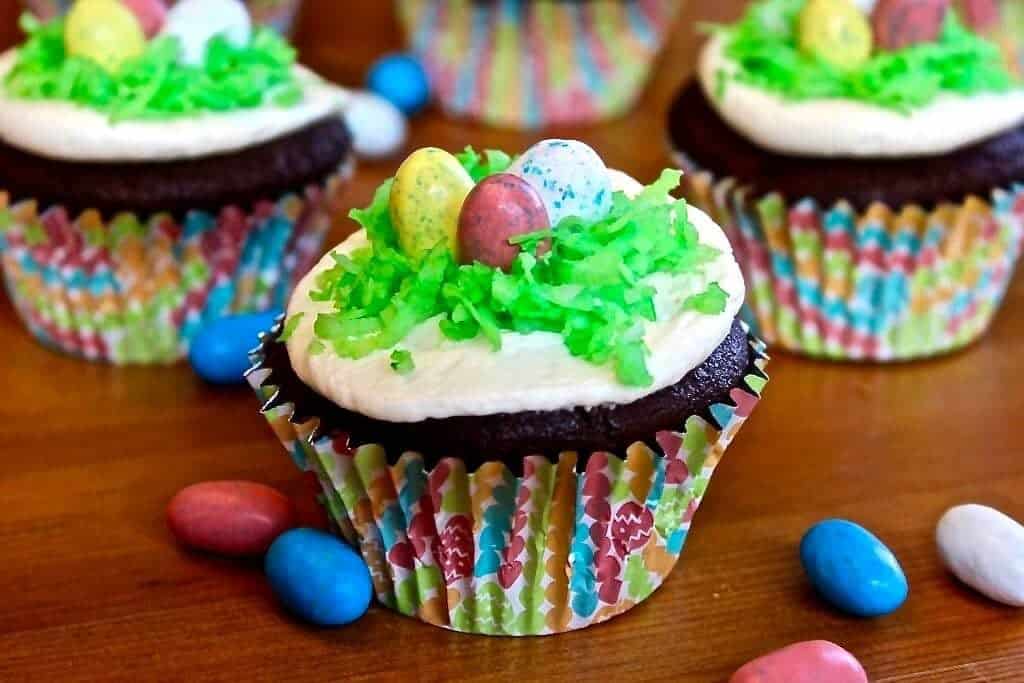 Ingredients
For the Cupcakes:
12 Cadbury eggs-frozen
1/2 Cup Guinness Beer (I used Extra Stout)
1/2 Cup Unsweetened Cocoa Powder
1 Stick Butter (1/2 Cup)
1 Cup Flour
1 Cup Granulated Sugar
3/4 Tsp Baking Soda
1/4 Tsp Salt
1/3 Cup Sour Cream
1 Large Egg
Frosting:
3 Cups Powdered Sugar
1 Cup Salted butter ( 2 sticks room temperature)
1-2 Tbsp Whipped cream
1 Tsp Vanilla extract
Decorate:
1 Cup Shredded White Coconut
1 bag of malted robin easter egg chocolates
Instructions
Freeze your cadbury eggs ahead. they need to be solidly frozen before making this recipe!
Preheat Oven to 350 F
Heat Butter and Guinness in a small Saucepan to a simmer.
Add Cocoa powder in and whisk into the mixture until it is combined.
Remove Saucepan from heat and let cool.
Mix together Flour, Sugar, Baking Soda, and Salt in a medium bowl.
Next Beat together the Egg, Vanilla, and Sour Cream on a low speed.
Slowly add the chocolate sauce mixture into the egg and sour cream, beat together until combined.
Next add the flour mixture one part at a time, beating thoroughly in between additions, make sure to scrape the sides of the bowl down.
Once the batter is thoroughly mixed, pour the batter into a muffin tin lined with baking cups.
Fill baking cups 1/2 full.
Put a frozen Cadbury egg on it's side in the middle of the batter.
You don't need to pour more batter on top of the egg, there may be some egg sticking out the top of the cupcake when baked, but you can just frost right over it!
Bake for 18-20 minutes or until a toothpick comes out cleanly when inserted.
For the frosting:
In an electric mixer cream butter by itself for 2-3 minutes until it is light and fluffy.
Slowly add in the powdered sugar, mixing in between additions.
Finally add in the vanilla extract and 1 tablespoon of the whipped cream.
If the consistency too thick then add in the additional tablespoon of whipped cream. ( I only needed 1)
Put the frosting into a piping bag and pipe immediately onto cupcakes with a circle tip
To Decorate:
Dye shredded coconut green by using a gel food coloring and adding a small amount to about 1 cup of shredded coconut. Add a tablespoon of water, and mix well until you get the green color you want.
Place green coconut shreds on top of the frosted cupcakes in a nest design
Top with malted chocolate robin eggs
Pin it: