Black Bottom Cupcakes. A Luscious, rich, moist chocolate cupcake with a dollop of chocolate chip studded cheesecake on top. A beautifully dramatic, eye catching treat.
These little darlings came into our family from a friend long ago. It's my pleasure to share Betty's delightful dessert recipe with all of you.
This time of year parties are everywhere. Game Day, tailgates, family and friend get-togethers, holidays and office parties.
Here's something a little special to add to the treat table.
These are easy to make and REALLY rich and yummy.
Notice the beautiful texture of the dense chocolate cake. This recipe turns out every time. Wait till you see the inside!
Many of my friends and family members have shared recipes with me over the years.
I've been fortunate to know a lot of excellent cooks in my life. I'm putting these family treasures on the blog to share with you so they won't be forgotten!
Recipe Notes on Black Bottom Cupcakes:
This decadent treat is simple to make and tastes like you spent hours in the kitchen.
This recipe makes 18 cupcakes exactly if you follow the directions. Do not overfill the muffin tins and they will turn out just right.
I use coconut oil in my baking, (I usually melt it and add it as a liquid). It's pretty easy to work with and I love the taste and texture coconut oil adds to my baked goods.
You CAN buy coconut oil that is refined so all the flavor of the coconuts is gone if you prefer.
Also, Go ahead and substitute heart healthy avocado oil for the coconut oil if you like.
I have used avocado oil in this recipe and it works great. One to one works fine.
Please stay far far away from shortening and nasty processed vegetable oils. They are unhealthy and the flavor is Ucky (yes that is a word in my vocabulary), in my opinion.
TIPS:
These cupcakes STICK to the muffin tins if you don't take precautions. Use cupcake liners for a good outcome.
Also, Let these cupcakes completely cool before removing them from the muffin tins.
The cream cheese topping needs to firm up before they are handled. The liners come right off once the cupcakes are cooled and set up.
Your Printable Recipe Card: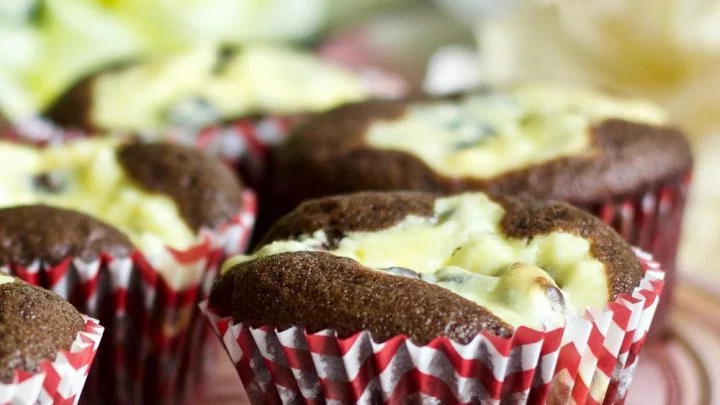 Yield:

18 cupcakes
Black Bottom Cupcakes
Black Bottom Cupcakes. Luscious, moist chocolate cake in a cup with a dollop of chocolate chip studded cheesecake on top. A beautifully dramatic, eye catching treat. This is a well tested recipe.
Ingredients
For the Cream Cheese Topping:
8 0z. cream cheese
1 large egg
1/3 Cup Sugar
1/8 tsp. salt
6 oz. chocolate chips
The Cake Filling:
11/2 Cup Flour
1 Cup Sugar
1 tsp. baking soda
1/2 tsp. salt
1/4 Cup cocoa powder
1 Cup water
1/3 Cup coconut oil (or avocado oil)
1 Tablespoon vinegar
1 tsp. vanilla
Instructions
Preheat oven to 350 degrees F.
Fill an 18 hole muffin tin with paper cups. Set aside.
In a medium bowl:Combine the cream cheese filling ingredients except the chocolate chips. Once combined add the chocolate chips and set aside.
In a separate large bowl: Whisk together the dry ingredients for the cake filling. Now make a well in the center of the mixed dry ingredients and add cake filling wet ingredients. Stir together until thoroughly mixed.
Fill the cupcake paper liners 1/2 full with the cake mixture.
Drop 1 Tablespoon of the cream cheese topping on top of the cake mixer in each cupcake liner.
Bake in preheated oven for 15-20 minutes. Cool completely before removing from the cupcake pan.
Notes
These cupcakes require paper liners or a VERY well oiled slippery pan. They tend to stick.
Cooling them completely ensure the cream cheese topping will be completely set.
Nutrition Information
Yield
18
Serving Size
1 cupcake
Amount Per Serving
Calories

302
This recipe was originally published October 14, 2014.
Looking for more cupcakes? We have an entire Cupcake Corner full of yummy, from scratch, choices. Enjoy!
Follow Us:
We enjoy meeting you on our social networks. Follow us on Facebook, Pinterest, Instagram . Tag us with your pictures of our recipes and comment on how it went for you. We would love to see what you do with them.
We often like, comment and share your posts of our recipes on our daily Instagram stories.
Ask questions and rate the recipe in the comments section below. Please share what you did with this recipe. We are always looking for more and better ways to make homemade food. Other cooks love your ideas!
Recent Posts: