Slow cooker pork loin roast makes your house smell wonderful and your family happy.
This Fragrant, Fall spiced crock pot pork loin roast makes its own flavorful applesauce. Pork roast, bacon and apples are such good flavor buddies.
This easy slow cooker dinner is perfect for busy days and hectic meal times.
This is my pork loin roast recipe from way before crock pots were a household item.
Now instant pots are giving the crock pot a lot of competition. Use whichever you prefer. This recipe for pork loin roast crock pots or instant pots perfectly well.
I used to make all my pork loin roasts in a Dutch oven. In my oven. It was a lot harder to make with more pot watching but we loved it.
The flavor of the bacon with the apples and cinnamon are divine in with the boneless pork loin.
CrockPot Apple Cider Pork Roast
I use my handy dandy instant pot for my slow cooker pork roast recipes now. In fact I use my instant pot for all of my slow cooker recipes.
I broke my crock pot awhile ago. I replaced it with the instant pot. Same footprint. WAY more functionality.
Join the Facebook Instant Pot Community for great recipes and information on all things instant pot.
I love that I can leave my instant pot on the slow cooker function and not worry about over cooking the recipes. Just set the timer and go.
My husband adores apples and pork. He always asks for homemade applesauce to dip his pork roast in except when I make this recipe.
He just piles on the sweet cooked apples and raisins over his meat and happily munches away!
If you are feeling really lazy drop a bunch of carrots into the crockpot with everything else. Sweet, Juicy and oh so good with the pork and applesauce. And it keeps dinner all in one pot.
Slow Cooker Pork Loin Roast Recipe:
This is one of our favorite Fall recipes for pork.
If you are looking for ideas for other crock pot pork recipes try Slow cook Harvest Pork Roast Dinner, Slow Cooker Pork Apple Squash Dinner, or Crock Pot Asian Pineapple Pork.
This is an incredibly EASY Pork Loin Crock Pot recipe to make.
You don't even have to cook the bacon first.
Just dump it all in the pot basically and set the pot. Very nice for a busy day.
To cook a pork loin in four hours you will need the high heat setting on your crock pot or instant pot.
If you want your dinner to simmer for 8 to 10 hours use low heat settings.
I'm recommending some crock pots without a breakable crock for you this time. I keep breaking my ceramic crock pot inserts. The ceramic crocks crack and eventually become un useable. Such a waste.
If you have a favorite crock pot that you cannot live without let us know in the comment section. If I ever do go back to a slow cooker these are the ones I'm eyeing.
Your Printable Recipe Card: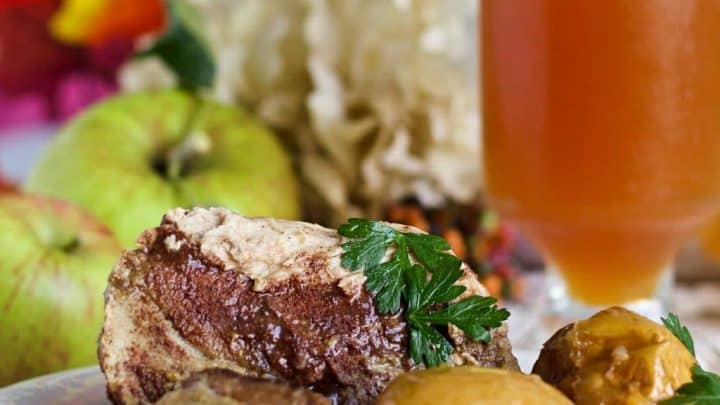 Yield:

6
Crock Pot Apple Cider Pork Roast
Total Time:
4 hours
15 minutes
Crock Pot apple cider pork roast. Fragrant, slightly sweet, Fall spiced pork roast makes its own flavorful applesauce. Pork roast and apples are such good flavor buddies. It's apple season now so let's make use of apples in this delicious, easy meal.
Ingredients
3 lb. boneless pork roast
1 Cup chopped apples
1/2 Cup fresh apple cider
1/2 cup brown sugar
1 Teaspoon fresh ginger diced (about 1/2 inch of root)
1 Tablespoon cinnamon (I used a cinnamon stick broken into thirds)
1 tsp. apple pie spice(opt.)
2 Tablespoons raisins
1 Cup onion (sliced fine)
1/2 Cup Bacon uncooked (I used 3 strips bacon)
Instructions
Slice the pork roast into 1 inch slices and lay them in the bottom of your crock pot. Spread the apples, onions and ginger around and over the pork slices.
Mix the apple cider, spices and brown sugar together and then pour the mixture over the pork.
Lay the bacon strips over the top of the pork roast.
Cover the crock pot and turn on high for four hours or low for eight hours.
Nutrition Information
Yield
6
Serving Size
1
Amount Per Serving
Calories

416
Total Fat

56g
Saturated Fat

20g
Trans Fat

0g
Unsaturated Fat

31g
Cholesterol

217mg
Sodium

289mg
Carbohydrates

32g
Fiber

2g
Sugar

26g
Protein

56g
Pin it: