Carrot Cake with pineapple and pure maple syrup is an easy to make, rich dessert cake full of delicious flavor and a scrumptious texture. Dotted with nuts and cinnamon, and topped with a homemade rich cream cheese almond frosting, this recipe takes your grandmothers carrot cake and gives it a full makeover.
You can make this recipe for two nine inch layer cakes, or as a 9 x 13 inch sheet cake. We are discussing all of the best ways to make a fluffy, flavor filled carrot cake that everyone is sure to love.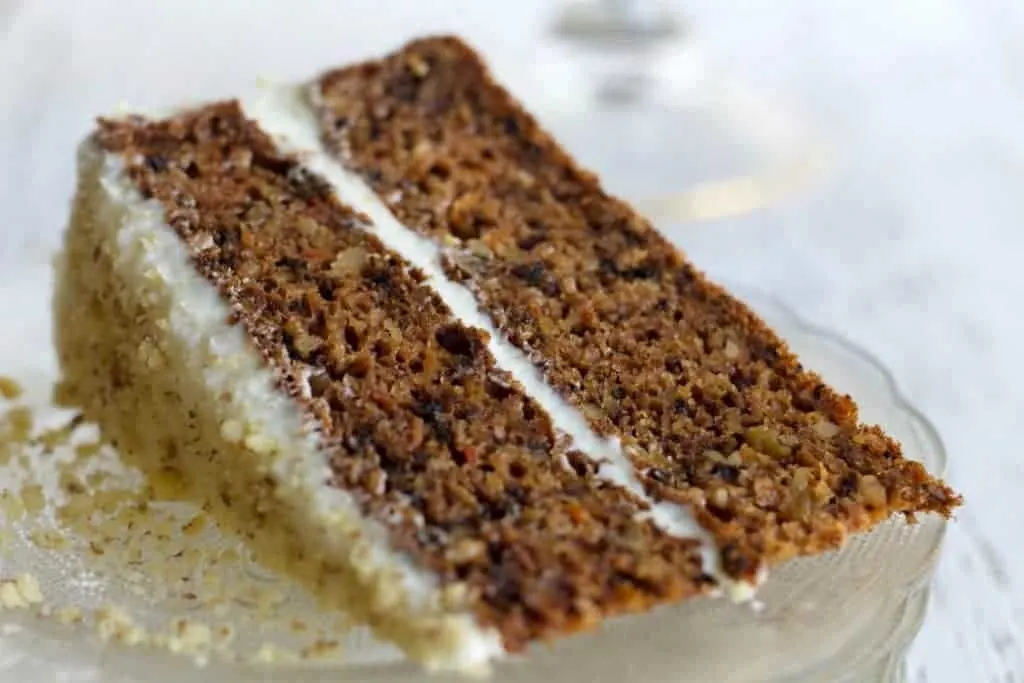 When the harvest comes around we are eager to use the fresh produce in as many recipes as possible, and fresh carrot cake is of course on the menu when the carrots come in. If you guys have been around here for a while you know we love to put our own spin on the traditional recipes which is exactly what we are doing with this one.
The pineapple adds an additional depth of flavor and sweetness, while also keeping the cake moist and creamy. We love to use natural sweeteners whenever possible so pure maple syrup was brought in to replace the standard processed white sugar and it's a welcomed one! Nuts are a common addition to our cookies and cakes as we love the added crunch and deep nutty flavor, but you can of course omit them if you want.
Why is it called carrot cake?
Well, as the name suggests carrot cake is made with carrots. The well known recipe has been around for decades and is most often topped with a rich cream cheese frosting that balances the sweet cake beautifully.
Carrot cake is thought to have originated in England when housewives were using sweet ingredients in place of sugar during WWII. Sugar was costly at the time and folks were very good at substituting ingredients in their kitchens, and using everything they had very efficiently.
These beautiful rainbow carrots and the Nantes variety carrots are in this cake. They are sweet so naturally I just had to try a carrot cake with them. If you plan to make this or any carrot cake be sure to look for a sweet carrot with an inconspicuous core.
Tough old carrots without sweet flavor will give you a dry flavorless cake with a poor texture. Look for fresh carrots of a sweet variety for a really wonderful result.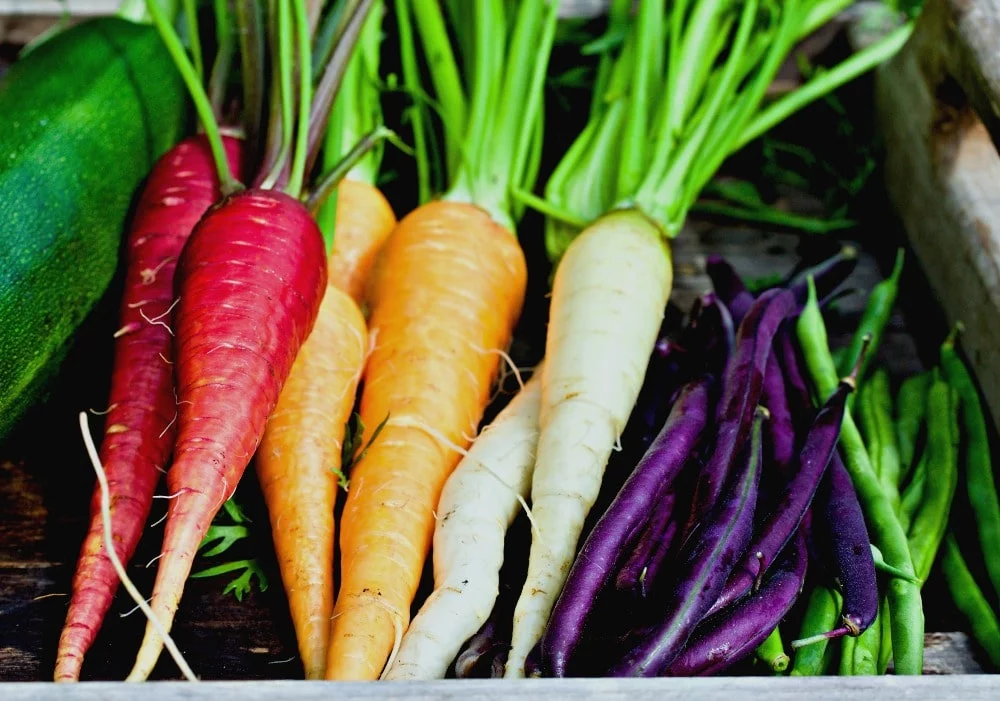 Why is carrot cake not healthy?
Carrot cake is no different than any other cake, even when you opt for fresher more natural ingredients. It is high in saturated fats, contains a high amount of sugars and flour which will spike blood sugar levels and is not very sustaining. Cake is cake after all and this one, while it is a fruit cake, is usually topped with sugary frostings that cannot be categorized as healthy.
Does carrot cake always have raisins?
Nuts and raisins are commonly found in carrot cake as it is classified as more of a fruit cake. Fruit cakes are dense because they are filled with dried fruits and nuts. They are however completely optional so if you wish to omit them you absolutely can.
We opted to keep the nuts but not add raisins to our recipe, instead we added crushed pineapple in place of some of the sugar it called for. The combination of flavors is divine and the texture was pleasantly moist and soft.
How can I make the best cream cheese frosting?
You can certainly buy a pre made cream cheese frosting if you prefer, and there are things you can add to it to make it stand out and taste like a fresh, homemade frosting. Things like adding a touch more vanilla or almond, and if you are using it for a carrot or spice cake, add some pumpkin spice seasoning to really bring out the flavor.
If you are following our recipe and making your own, we suggest adding the almond extract along with vanilla; it really brings a luscious richness to the frosting. Be sure not to over mix the frosting or you risk it breaking down and losing it's fluffy texture. Allowing the butter and cream cheese to soften is a very important key, if they are cold there will be chunks in the frosting and it will not have that silky smooth texture that you want.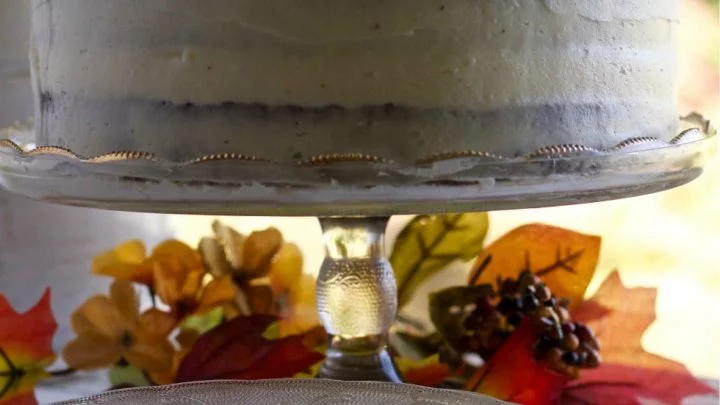 Yield:

16 slices
Carrot Cake Recipe
Total Time:
1 hour
10 minutes
A scrumptious carrot cake sweetened with pineapple and pure maple syrup. The cake stands alone and is pleasantly sweet and moist with a very good flavor.The cream cheese frosting adds a creamy sweetness to the cake that definitely says dessert!
Ingredients
For the Cake:
4 large eggs
1 cup maple syrup
8 oz. Crushed Pineapple, drained
2 tsp. vanilla extract
2 Cups organic all-purpose flour
2 tsp. baking soda
2 tsp. baking powder
1/2 tsp. salt
2 tsp. ground cinnamon
3 Cup grated carrots, grate it on medium to large size grater
1 Cup chopped walnuts, or pecans
For the frosting :
1/2 Cup butter, softened
8 oz. cream cheese, softened
3 Cups confectioners' sugar
1 tsp.vanilla extract
1/2 tsp. almond flavoring
1 Cup chopped pecan, Or walnuts
Instructions
Cake Instructions:
Preheat oven to 350 degrees F . Grease and flour a 9x13 inch pan. OR grease and flour 2 nine inch cake pans. (Parchment paper cut to fit the bottom will ensure a no-stick cake).
In a large bowl, beat together eggs, pineapple, maple syrup and, almond flavor and vanilla.
Mix in flour, baking soda, baking powder, salt and cinnamon.
Stir in carrots. Fold in walnuts. Pour into prepared pan.
Baking Instructions:
Bake in the preheated oven for 40 to 50 minutes for the 9 x 13 inch baking pan, or until a toothpick inserted into the center of the cake comes out clean.
For the 2 layer nine inch cake bake the layers in a preheated oven for 35 minutes or until a toothpick inserted into the middle of the layers comes out clean.
Let cool in pan for 10 minutes, then turn out onto a wire rack and cool completely.
To Make Frosting:
In a medium bowl, combine butter, cream cheese, confectioners' sugar, almond and vanilla flavorings.
Beat until the mixture is smooth and creamy.
Frost the completely cooled cake. If thawing the cake before frosting it. Allow the cake to reach room temperature before frosting it.
Garnish with nuts as desired.
Notes
Note: Maple syrup is a lovely sweetener that caramelizes as it bakes. This give the cake a very brown color as you can see in our cut slice pictures. This is normal and does not indicate a burnt cake. A dry cake that is overly shiny and tough is a result of overbaking.
If you feel your oven is over browning this cake, reduce the oven temperature to 325 degrees. Increase the baking time as needed to pass the toothpick test.
This recipe makes one 9 x 13 inch sheet cake or a two layer nine inch cake as shown. When baking the nine inch rounds the baking time is only about 35 minutes.
Add at least 10 more minutes baking time for a sheet cake. Expect to cool the cake completely before frosting. This will also add another half hour of so to the time it takes to finish this cake for serving.
If tightly wrapped, this cake can be frozen without frosting a week or so. The finished cake retains it's moisture for at least two days at room temperature if kept covered.
Nutrition Information
Yield
16
Serving Size
1
Amount Per Serving
Calories

426
Total Fat

22g
Saturated Fat

8g
Trans Fat

0g
Unsaturated Fat

13g
Cholesterol

76mg
Sodium

417mg
Carbohydrates

54g
Fiber

2g
Sugar

37g
Protein

6g
Carrot Cake Recipe with Pineapple and Pure Maple Syrup Recipe Notes:
This is a very easy recipe but baking does require paying attention to detail. Here are a few tips to help you get the very best results possible from this recipe.
Baking tips and Suggestions:
Grate the carrots on the large holes of your grater. If you are using either a food processor or box grater, grating your carrots with a very small mesh will produce a juicy mush that will not work well in this recipe.
Do not over mix the cake mixture. If too much air is incorporated, the cake will fall during baking.
The baking time you use will also determine your results. Every oven is different. I recommend the first time you bake this recipe to set your timer five minutes early. Use the toothpick test to determine doneness. This is a heavy cake so you do not want to under-bake it. The nine inch cake pans will be done way ahead of a sheet cake!
This recipe works for both a two layer nine inch cake or 13 x 9 sheet cake. Please note the different instructions and baking times for each cake baking method to achieve best results.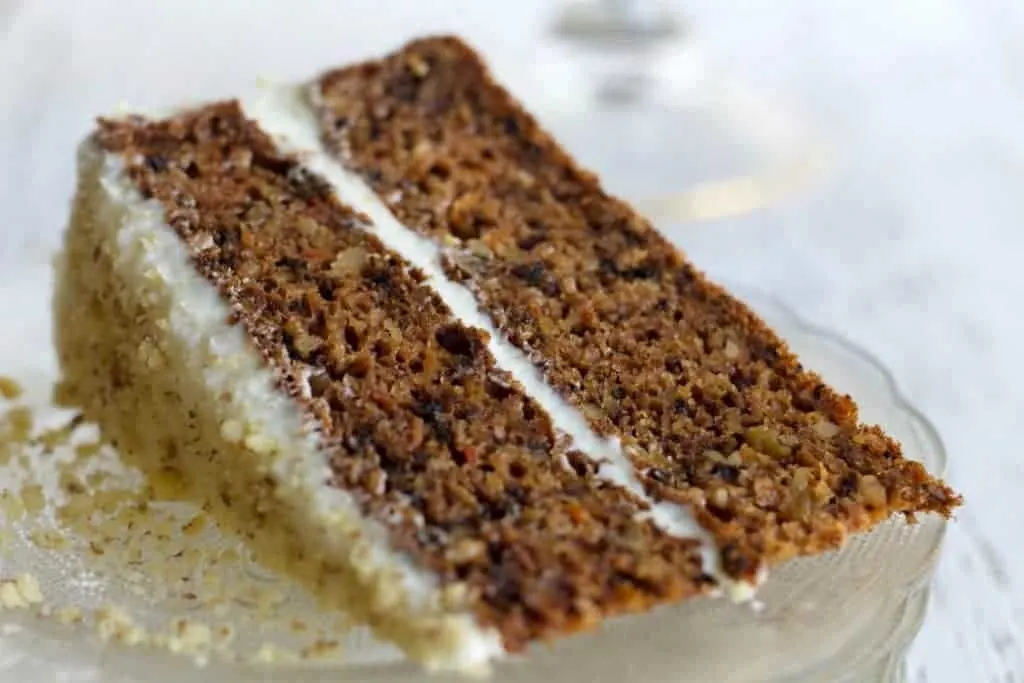 Adapted from All Recipes Carrot Cake #3
Follow Us:
We enjoy meeting you on our social networks. Follow us on Facebook, Pinterest, Instagram . Tag us with your pictures of our recipes and comment on how it went for you. We would love to see what you do with them.
We often like, comment and share your posts of our recipes on our daily Instagram stories.
Ask questions and rate the recipe in the comments section below. Please share what you did with this recipe. We are always looking for more and better ways to make homemade food. Other cooks love your ideas!
Recent Posts: