Carrot Cake with pineapple and pure maple syrup is an easy to make, moist, rich dessert full of delicious flavors. Enjoy the decadent touch of a traditional thick, rich cream cheese frosting. Make this cake as either a nine inch two layer cake or as a 9 x 13 inch sheet cake.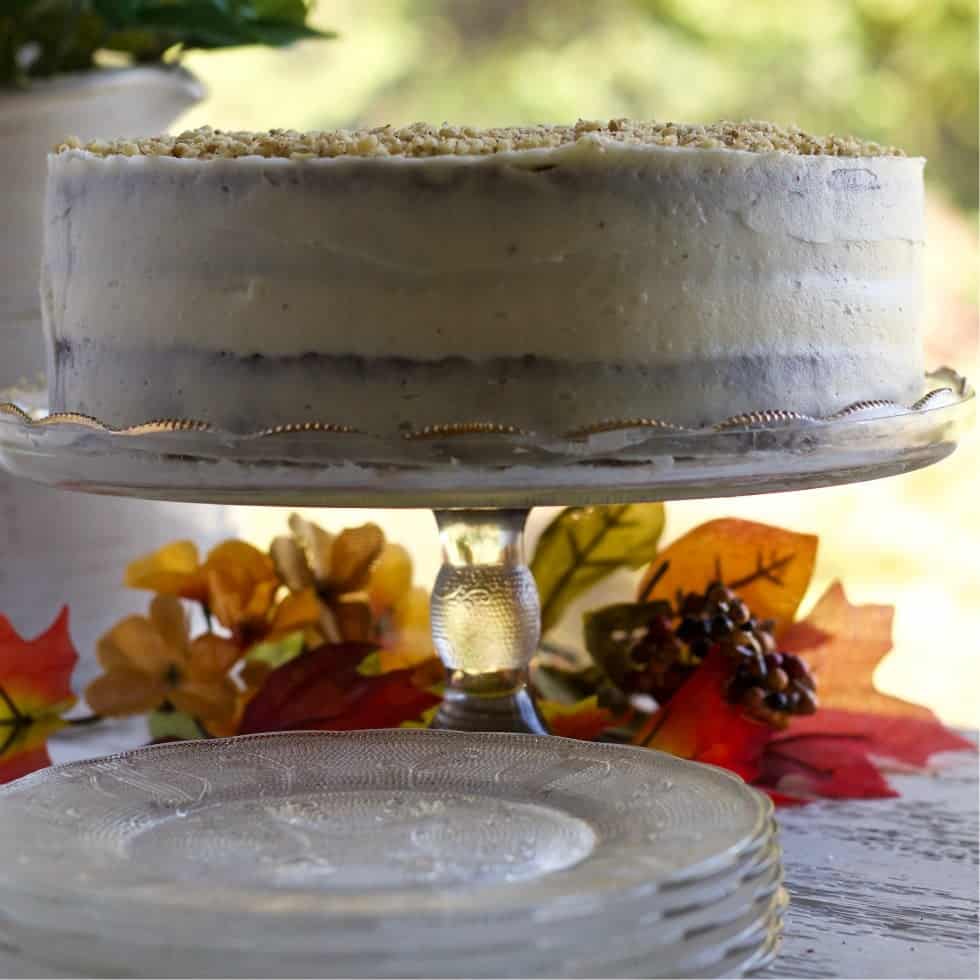 It's harvest time for our 2017 garden. Dave grew a TON of amazingly sweet yummy carrots this year. I told him I needed a load of them for our green juices. Carrots help the juicer digest all the leafy greens we eat. So Dave took me seriously and grew rows and rows of lovely rainbow carrots. He still has lots of carrots in the ground but he's started pulling them AND…my fridge is stacking up.
I made him this carrot cake as a treat. He loves it. Three of my adult kids and my two year old granddaughter Ellie, are also big fans of this recipe. So I had to share it with you too.
These beautiful rainbow carrots and his Nantes variety carrots are in this cake. They are so sweet! I just had to try a carrot cake with them. If you plan to make this or any carrot cake be sure to look for a sweet carrot with an inconspicuous core.
Tough old carrots without sweet flavor will give you a dry flavorless cake with a poor texture. Look for fresh, in season, Fall or Spring carrots of a sweet variety for a really wonderful result.
I decided to trade out the granulated sugar and vegetable oil usually used in a carrot cake. I just could NOT justify 2 cups of sugar AND the sweet cream cheese frosting. Kayti has gestational diabetes right now. Feeding her is a challenge and I'm a bit over trained on avoiding processed sugar lately. (but she could eat this cake without blowing up her glucose numbers!).
I often use maple syrup instead of either white or brown granulated sugar in my recipes. Pure Maple Syrup while still rather high in glucose is about a third lower (one to one) than granulated sugar. So it's a nice way to reduce the glucose load in sweet treats. I also cut the amount of maple syrup by one half of amount of sugar. Maple syrup is so sweet a recipe can often use less as this one did without sacrificing flavor.
Pure maple syrup adds a nice caramel touch to this cake and has plenty of sweet using only one cup. I buy my Pure Maple syrup at Costco to keep the cost down. It is a rather expensive sweetener so I tend to add only as much as I need.
I added crushed pineapple for the other cup of sugar. The combination of flavors is excellent! The cake came out very moist and held together well too.
Since Dave is slamming me with gorgeous carrots right now I put three cups of carrots into this cake. You can eat this cake pretty much guilt free….if you don't touch the naughty cream cheese frosting 🙂
But really, this is a dessert. We are not talking health food here. But we ARE talking a healthier delicious, updated version of an old traditional favorite. Without the frosting a piece of this cake is under 300 calories and full of pretty good for you food.
As you can see, I did not pile on the frosting along the sides or create a lot of decorating embellishments to this cake, However, you certainly can. I'm not a fancy cake decorator. Kayti is our master of Cupcake Corner. She let's herself go in that magical place and creates fun, naughty yums.
Just now she is off on Maternity leave. I could not convince her to help me decorate this carrot cake, so I leave you this delicious, if plain Jane decorated, dessert.
I would LOVE to hear from you! How did this cake turn out for you ? Please share your experience in our comment section. Rate this recipe and Send me pictures of your creations. How do you decorate yours?
One more note on this cake. I worried when I first cut into this cake and looked at the crumb. I thought it looked dry. I took a slice to Dave with bated breath. He said it was moist and loved the flavor (I almost didn't believe him). I tried a piece and found a moist, flavorful crumb that holds together quite well. Relief!
The next day, Kayti, Brian and Evan all came over and had a slice…and thought it moist and delicious. Mind you we are now on day two! I sent some home with them. They still enjoyed it on day three. So this cake has passed the vetting process quite well. I hope you enjoy it as much as we did.
Carrot Cake Recipe with Pineapple and Pure Maple Syrup Recipe Notes:
This is a REALLY easy recipe. But baking does require paying attention to detail. I am including a few tips to help you get the very best results possible from this recipe.
Baking tips and Suggestions:
Grate the carrots on the large holes of your grater. If you are using either a food processor or box grater, grating your carrots very small mesh will produce a juicy mush that will not work well in this recipe.
Measure your ingredients accurately for best results. This will affect your finished product. Baking requires accuracy.
Do NOT Overbeat the cake mixture. If too much air is incorporated, the cake will tend to fall during baking.
The baking time you use will also determine your results. Every oven is different. I recommend the first time you bake this recipe to set your timer five minutes early. Use the toothpick test to determine doneness. This is a heavy cake so you do not want to underbake it. The nine inch cake pans will be done way ahead of a sheet cake!
This recipe works for both a two layer nine inch cake or 13 x 9 sheet cake. Please note the different instructions and baking times for each cake baking method to achieve best results.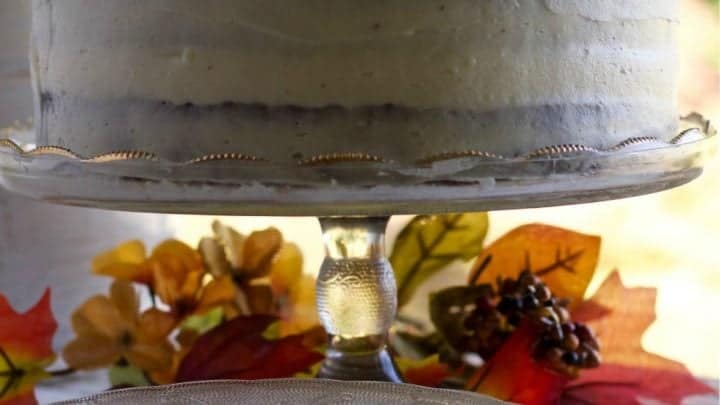 Yield:

16 slices
Carrot Cake Recipe
Total Time:
1 hour
10 minutes
A scrumptious carrot cake sweetened with pineapple and pure maple syrup. The cake stands alone and is pleasantly sweet and moist with a very good flavor.The cream cheese frosting adds a creamy sweetness to the cake that definitely says dessert!
Ingredients
For the Cake:
4 large eggs
1 cup maple syrup
8 oz. Crushed Pineapple, drained
2 tsp. vanilla extract
2 Cups organic all-purpose flour
2 tsp. baking soda
2 tsp. baking powder
1/2 tsp. salt
2 tsp. ground cinnamon
3 Cup grated carrots, grate it on medium to large size grater
1 Cup chopped walnuts, or pecans
For the frosting :
1/2 Cup butter, softened
8 oz. cream cheese, softened
3 Cups confectioners' sugar
1 tsp.vanilla extract
1/2 tsp. almond flavoring
1 Cup chopped pecan, Or walnuts
Instructions
Cake Instructions:
Preheat oven to 350 degrees F . Grease and flour a 9x13 inch pan. OR grease and flour 2 nine inch cake pans. (Parchment paper cut to fit the bottom will ensure a no-stick cake).
In a large bowl, beat together eggs, pineapple, maple syrup and, almond flavor and vanilla.
Mix in flour, baking soda, baking powder, salt and cinnamon.
Stir in carrots. Fold in walnuts. Pour into prepared pan.
Baking Instructions:
Bake in the preheated oven for 40 to 50 minutes for the 9 x 13 inch baking pan, or until a toothpick inserted into the center of the cake comes out clean.
For the 2 layer nine inch cake bake the layers in a preheated oven for 35 minutes or until a toothpick inserted into the middle of the layers comes out clean.
Let cool in pan for 10 minutes, then turn out onto a wire rack and cool completely.
To Make Frosting:
In a medium bowl, combine butter, cream cheese, confectioners' sugar, almond and vanilla flavorings.
Beat until the mixture is smooth and creamy.
Frost the completely cooled cake. If thawing the cake before frosting it. Allow the cake to reach room temperature before frosting it.
Garnish with nuts as desired.
Notes
Note: Maple syrup is a lovely sweetener that caramelizes as it bakes. This give the cake a very brown color as you can see in our cut slice pictures. This is normal and does not indicate a burnt cake. A dry cake that is overly shiny and tough is a result of overbaking.
If you feel your oven is over browning this cake, reduce the oven temperature to 325 degrees. Increase the baking time as needed to pass the toothpick test.
This recipe makes one 9 x 13 inch sheet cake or a two layer nine inch cake as shown. When baking the nine inch rounds the baking time is only about 35 minutes.
Add at least 10 more minutes baking time for a sheet cake. Expect to cool the cake completely before frosting. This will also add another half hour of so to the time it takes to finish this cake for serving.
If tightly wrapped, this cake can be frozen without frosting a week or so. The finished cake retains it's moisture for at least two days at room temperature if kept covered.
Nutrition Information
Amount Per Serving
Calories

406
If you purchase items from our affiliate links we may receive a small commission at no extra charge to you. Thank you for supporting Homemade Food Junkie!
Pin it:
Adapted from All Recipes Carrot Cake #3