The Fall harvest right through the dead Winter months are a great time to evaluate your garden. Go ahead and Dream a little. What would really improve your garden experience? Taking Stock Of the Garden allows you to plan your next garden for better success.
Welcome to our final Tuesday in the Garden Blog hop for 2017. Our theme this week is Winter Garden Prep. Please click on every garden bloggers link in this post bottom for really great info on Winter Garden Prep.
Join us in our video tour our garden:
I have written three posts in past years that will help you with Winter garden prep.
Fall Garden Chores, Winter Hoop Gardening with Raised Beds, and our Lasagna gardening post. Take a look at these posts now for great tips on preparing for next Spring's weed free garden! If you are just getting started on building a new garden plot next spring (maybe you moved?) consider these points about garden location before you decide where to put your garden.
My tip for right now in the garden as the temperature cools is hoops.
Hoops are useful all year. Dave always has them standing on his raised beds. They are great for plant and trellis support and wonderful for cold framing large garden areas.
Crops still producing may need frost protection soon. Place hoops over crops and cover them with plastic that can be moved for venting easily in the warm times of day. Here's how Dave uses and builds hoops.
But what I REALLY want to discuss with you today is…
Taking Stock of the Garden this Fall. It helps you make a better garden next Spring!
Dave and I go through our garden every Fall as we harvest. We see our successes and our fails. The motivation for us is we want to do better next year. I bet you do too. The "I wishes" and "I wants". Do you recognize this? Maybe it's "I wish we had made those raised beds" or (In my case) "I really want to get those flowering bushes Transplanted when they go dormant". And I want to start companion planting!
As winter comes we continue to look at the garden plot. Every sort of warmish day with no rain Dave gets itchy to get started.
Now is the time to take stock and PLAN! Get those projects on your 'to do' timeline so they are done when you need them next spring. Create, imagine and do your research. What will help you have a great garden experience next year?
Taking Stock of The Garden:
Look at the produce you are harvesting:
What grew well? What seed varieties did well? Which ones did not? Our bodacious corn seeds outperformed our last years choice. We will plant it again. We will replant the purple green beans and purple potatoes and rainbow carrots we grew this year too. They all did well and we enjoyed them. Make a list of your successes and fails. Write it down!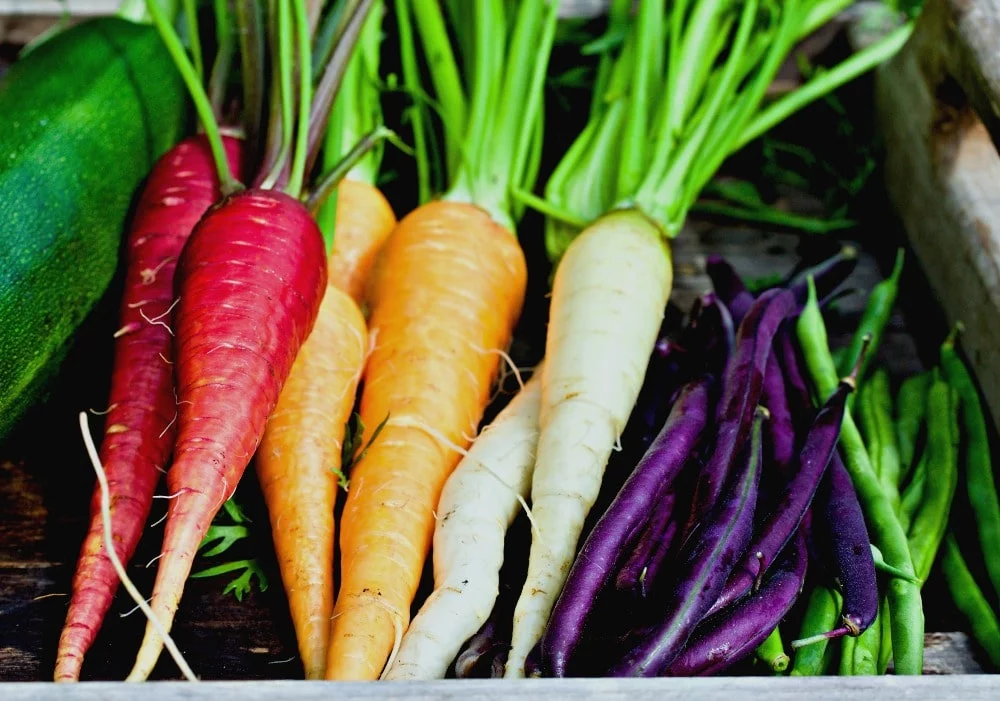 Did you plant the right amount of crops? Every gardener struggles with this. We never know how much we will get exactly. but for Dave and I, ONE hill of zucchini is all we need. Thank you very much!
For kitchen gardeners and preserving gardeners the crops and garden size needs are vastly different. A canning (or preserving) garden is a large endeavor for enthusiasts that plan to spend a lot of time and energy in the garden and kitchen both all season. If you just want fresh table produce during the growing season, keep your garden small.
2017 Garden Corn. We like this Bodacious variety and will plant it again.
Try new things every year. Get your list of DIY projects in order for next spring.
First, Make a list of things that would help you in the garden. Then figure out ways to accomplish your goals. We gain so much from the internet these days. There are a lot of creative ways to improve your garden without spending a ton of money. We have invested some money in our garden for projects we really value. The payback in time and efficiency has to be worth it!
For example, Dave made a DIY Garden Tool Box we LOVE. So handy to have the small tools close, organized and dry. It's just a small thing. but a HUGE garden helper he made from scrap wood.
One of Dave's Big garden Success projects are his easy DIY potato barrels. Dave has decided these barrels are his favorite method of growing spuds. They also grow tomatoes and peppers well and easily move around the garden. Easy soil amending too.
These blue barrels were an experiment that turned out so well they are now a permanent part of our garden. I put together a post all about Spring garden Projects. If you are looking for ideas to make your garden easier check it out!
Harvesting Purple Potatoes with the grandkids. We strongly encourage kids in the garden. They learn so much! Notice the mulching straw. That area all used to go to weeds. For that reason…
We love the lasagna garden method of weed control. So nice to have some elbow room in the garden and not fight the weeds!
Thee More Ideas to prepare you for next Spring:
Make an impromptu garden plan now! Fall is when the crops are still in the ground and you know what grew well..and what didn't. (We never remember what we planted the year before). Pencil out a rough plan now so when you are ready to finalize your spring garden plan you remember what you did this growing season.
Amend your soil before the next growing season. Dave's greenhouse is due for another round of soil amendments. Here's how he builds a healthy Garden soil.
Are you ready to start a compost pile? Composting is a big subject with lots to consider. Look at this post for do's and don't and ideas on types of composting that may work best for you.
What new things did you try this year? How did they work?
One thing we did: We had heard Borage would attract pollinators. Boy Howdy! We planted borage seed by our tomatoes and had a MASSIVE pollination improvement to tomatoes.
Back in the day, Dave would have me shake the tomatoes to pollinate them. I had to shake them every day at lunch time when he was at work. Kinda ridiculous.
So yes, welcome to our garden Borage! With this method we encourage pollinators in our garden too. The bees LOVE borage. Win win!
Dave does want you to know Borage does get big and floppy. My picture shows only one tiny part of the plant we grew from seed. Borage is just like many other herbs. Rather wild. But the pollination results are worth a bit of untidiness.
Taking Stock Of the Garden helps us identify and remember what we tried and how it worked. That's how gardening gets better. Always be willing to try new methods. If they fail, don't keep them. But if they work, Enjoy a better garden!
We are sold on companion planting. We love the new added dimension of flowers and herbs in the garden. I have MUCH to learn about this subject and hope to do research before our next planting season so we can improve our crops.
Taking Stock Of the Garden includes the greenhouse. Dave tried a new method of growing his tomatoes.
Dave has used his double tomato trellis for the three years he has had his greenhouse. They still work great! This year he tried another new technique.
He covered the soil under the tomatoes with plastic. He stapled the plastic to the wooden bed sides and cut holes for his tomato starts. The plastic formed a barrier so mold spores stay off the tomato vines.
By next spring I'll write a post on it. This is a very helpful idea!
Take Stock Of the Garden. If your garden becomes more chore than pleasure you need to think about ways to make your garden plot easier and better.
Here are some ideas.
What's growing that you are NOT eating?
What crops do you want to eliminate next year because they just don't fit in your garden climate or on your dinner table?
Make a list of what you really want to plant next year and put it in your garden plan! Make sure each veggie earns its spot in the garden. They all take time and work. If you don't eat the crop don't grow it.
Build a Weeding solution for next year:
This is the time to see the problem weedy areas in your garden plot.
Where do the weeds overwhelm the produce right now? If you are like me, weeding is not what you want to do in a large garden.
Here are some suggestions to control weeds.

Focus on the trouble spots and find solutions before you plant next spring.
Plastic mulch layers in the whole garden (refer to our lasagna gardening adventures) really help.
Build high Raised garden beds with a gravel path over the weed patch. Raised beds have so many advantages you need these!
Insect problems:
Dave is struggling with SOMETHING eating his greenhouse pepper sprouts. Clean off at the ground! He had to restart his peppers several times this spring. That's part of why his peppers are so late. He has no idea what is eating them so we continue to work on that problem.
Our outdoor garden has Flea beetle problems, cabbage worms and aphids. ORGANIC SOLUTIONS:

Dave has had pretty good luck with hand picking bugs, spraying with neems oil and our homemade Organic Insecticidal soap, and dusting problem plants (like our cabbages) with diatomaceous earth.
It's important to arm yourself with organic solutions to bugs and weeds. Otherwise the temptation is strong to bring in the heavy hitting chemicals.
Organization and arrangement of your garden:
We have benefitted so much from our raised beds and gravel pathways. The garden became much easier to organize and keep weed managed once the raised beds were in place. Figure out what works for you.
How can you keep the garden plot more organized so you can work efficiently in your garden?
Taking Stock of the Garden really helps cement a plan.
Now is the perfect time to remember and make a note of your garden successes and failures.
Make your garden experience better next year by giving some thought to this years garden failures and successes.
Please Share in the Comments section your gardening ideas too. Happy Gardening!
Here is our Tuesday in the Garden blog hop. You won't want to miss any of these wonderful garden bloggers. They all have a great deal of garden expertise from all over the country. Enjoy!
An Oregon Cottage
Frugal Family Home
SaveSave