DIY Garden Tool Box is a well loved and appreciated gift to your favorite gardener. Any gardener with small tools will tell you how easy they are to lose. Painting the tool handles is a help for sure. I seem to lose even the brightest yellow small tools. So now we have a place to leave them that is handy and dry right in our garden! They won't be left out in the rain either. A Garden Tool Box is such a welcome, practical gift!
This post offer two Garden Tool Box ideas. A practical build it from scratch version for handy people and a more crafty version that may appeal to those with small kids that need an already assembled, ready to decorate idea.
Come join our Tuesday in the garden Mother's Day gift idea blog hop. Click the links in the post bottom to get more helpful ideas for your gardening mom!

Do you ever lose your garden hand tools? You know, your three-pronged hand rake or your hand shovel? How about that handy knife for cutting veggies and string? How about the string? And hand sized pruners? I have no idea how many of those I have forgotten in my flower beds or garden to find much later, all rusty and ruined.
Dave made us this handy garden tool box for our garden. It's his very practical gift for my Mother's Day present. (I think he is tired of tracking down tools I leave all over the property) 🙂
This is a creative idea for a gardener's gift! Mother's Day is close! Any time of year a handy garden tool box is a welcome gift for both guy and girl gardeners. Think Father's Day and birthdays too! Do you enjoy creative projects? This is a fun one, especially with kids!
This box can be attached to a fence, raised garden bed, or on its own post in a convenient spot. It will look great with the garden flowers, vines or vegetables growing all around it in high summer. Use what you have on hand. Do you have an Old mailbox or existing wood crate?? Paint and stencils make them adorable after decorating and so fun with children's personal touch.
Our DIY Garden Tool Box:
The best part of this project is you can do what works best for your skill level, materials at hand, creativity and Local climate. Make your box any size and dimension you prefer. This garden tool box turned out very different from my cuter, smaller vision. But Dave's thinking veers toward large and practical 🙂
We love keeping things simple and free, or cheap. He did have to buy the hinges for under $5.00. Everything else we had lying around needing a new purpose. That's cost-effective gardening!
Dave started with a 1/2 inch plywood sign left over from our youngest Daughter's Wedding. He used it for the base and then built the box sides and top.

Dave's box measurements are about 20 inches wide x 14 inches deep. He used our hand tools for his guides.
He cut the sides to angle down (so the rain will run off) with his skill saw. You could use a hand saw, square and cheap miter box to complete this project, if that's what you have.
His angled sides are about 4 inches at the front up to 11 inches in the back.
He screwed the sides together with his screw gun.
The lid is 1/2 inch plywood. Dave added an inch to the width and length of the lid dimensions to provide some overhang for easy gripping when opening and to keep the rain out of the box! So make your lid larger than the bottom!
He offset the lid hinges on the back to compensate for the lid angle by adding two small pieces of plywood. Otherwise the angle won't work when you attach the hinges.(Look at the bottom painting pic to see what he did)

The sides of the box are 3/4 inch pine boards from some old cabinets we had. Solid wood adds strength and is more stable to screw into than all plywood sides would be.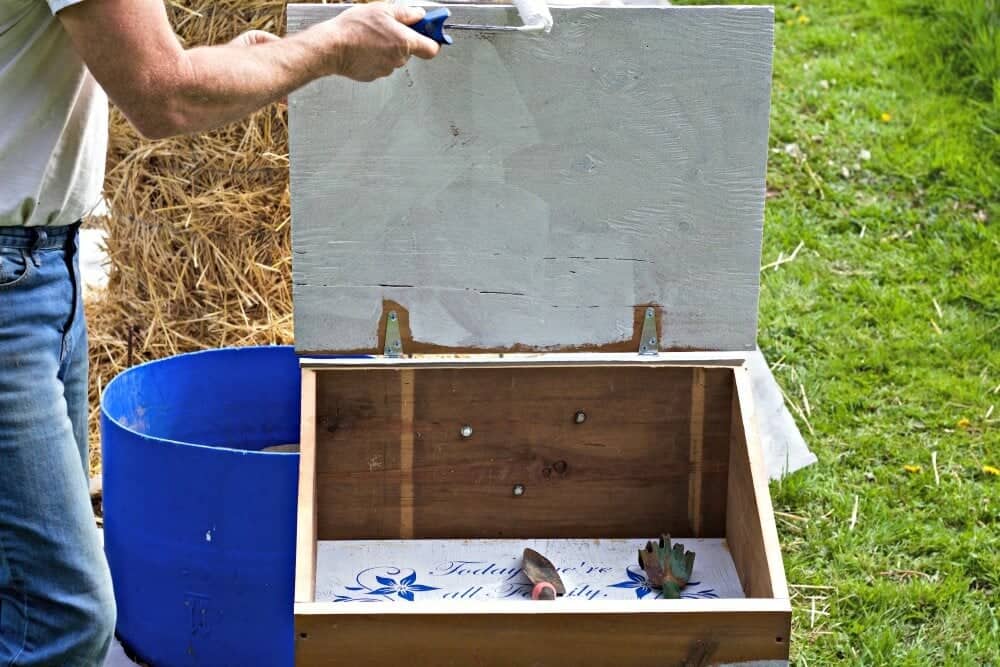 Dave attached the garden tool box to an existing post in the garden. He used three, two-inch lag bolts to attach the box to his post for strength.
I LOVE that he used that old wedding sign in the bottom. Everytime I reach for a tool I think about that special day 🙂

Notice on the back under the lid we added weather-stripping (we had some of that too!). Dave wanted to keep out the rain and the BEES! I never considered it but yes, yellow jackets, wasps and hornets all look for places to nest during the growing season.
We have a hive of yellow jackets that took over an old table saw box next to Dave shop. Now I can't mow over there:( In the past yellow jackets have nested under our stairs, under house eves, in old trucks, and of course, they love the greenhouse. Pesky things! Weather stripping and a good fitting lid will keep them out!
As you can see, we have lots of room for our small tools, scissors, string and miscellaneous small stuff we need out there. I'm sure my vision would have looked adorable. But this box is easy to open, see into, and has lots more room than a mailbox. Something to think about.
Dave primed the garden tool box with extra primer he had. He finish coated it with our leftover greenhouse green paint. We may add weather stripping to the entire lip of the box to get that fit tighter!
UPDATE: One year later, I am so grateful for this handy Garden tool box. Every time I go to the garden and want to start a project I know where the tools are. Safe and dry. Love that!
HERE IS ANOTHER IDEA FOR YOUR GARDEN TOOL BOX: Painting a mailbox! Ideas and materials:
This is a great idea if you have kids that want to do a craft for a gardener gift. If you're not handy with a saw…this gives you a more appropriate gift. This option will result in a smaller garden tool box and it will be more expensive to complete than the one Dave made.
Repurpose an Old mailbox or take a look at these snazzy new ones from Amazon 🙂


Craft stores, like Michael's, have cute stencils and paints (look for clearance sales) to decorate your metal or plastic mail box. This is an especially easy way to involve the kids! let them choose (or find) a mailbox and decorate it for a gift or fun craft project! Bright colors are attractive to kids, easy to see, and cheerful in the garden! Play! Go as simple or elaborate as you like! Your gardener will love such a fun, practical gift.
I may go get some stencils and decorate our garden tool box. If I do I'll post a picture! Also Dave is considering adding dividers to our garden tool box to keep things neat and tidy.
Please go see our other blog hop contributors. They all have fantastic ideas for gifts for gardeners!
Mother's Day is Just Around the Corner!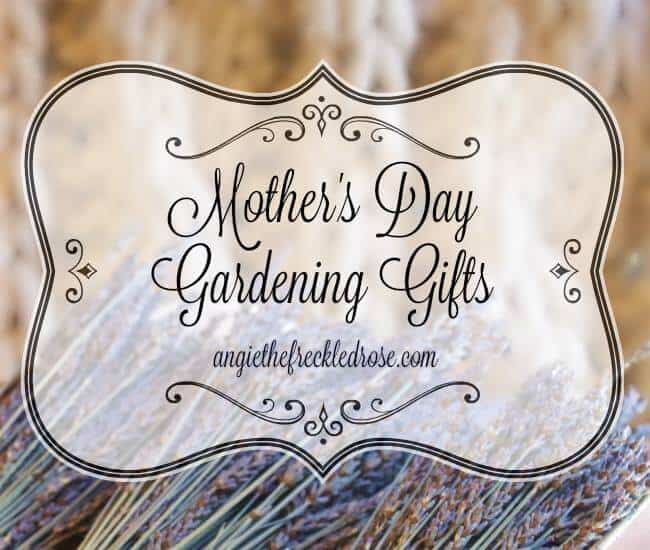 Angie the Freckled Rose Mother's Day Gardening Gifts
Frugal Family Home 3 Garden Gift Ideas Perfect for Mother's Day
An Oregon Cottage DIY Reclaimed wood Box and Mason jar planters
PIN IT: