This quick and easy summer peach dessert is a wonderful way to use up extra peaches without going to a lot of trouble. Your family will really love these brown sugar and cinnamon dipped fried peaches with candied pecans. To really ramp up the indulgence factor set a scoop of vanilla ice cream in the center of your hot fried peach. NOW add the candied pecans and grab a spoon. Yummy!
This recipe is one of the best simplest sweet peach dessert recipes. You don't have to heat up the oven or wait for a fancy cobbler or pie to bake. Just grab your skillet and whisk up a few things. Viola. very quickly you will have a wonderfully satisfying summer treat that is pretty and scrumptious.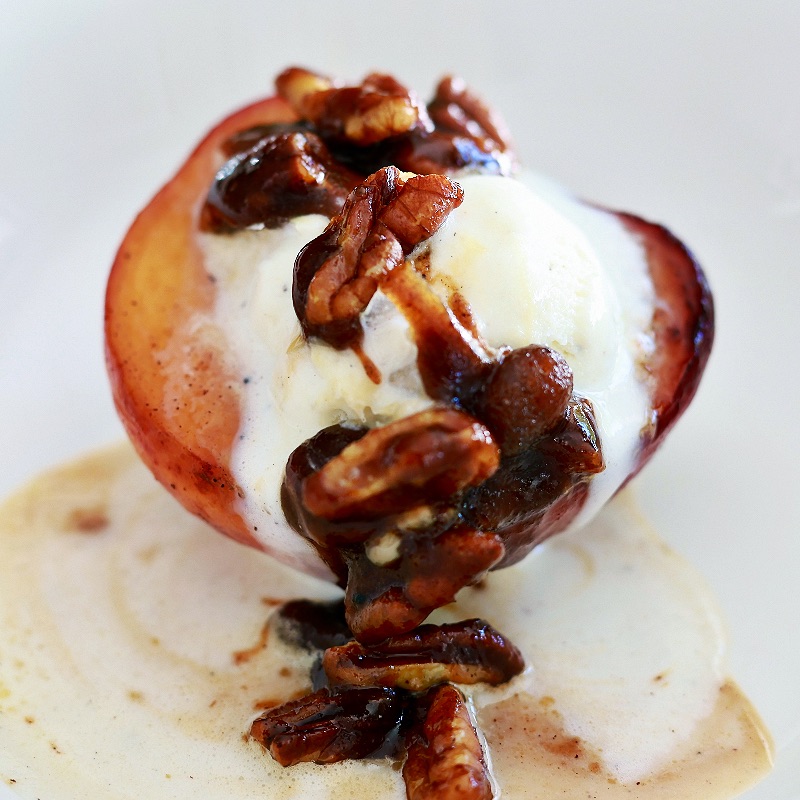 Tips For This Fried Peach Dessert Recipe:
Here are some tips to help you make your skillet-cooked peach dessert with candied pecans the best it can be:
Choose Ripe Peaches: Use ripe but firm peaches for the best flavor and texture. Overly ripe peaches might become too mushy during cooking.
Preheat the Skillet: Make sure your skillet is preheated over medium heat before adding the butter. This helps ensure even cooking.
Even Slicing: When slicing the peaches, try to make the slices as even as possible so that they cook uniformly.
Butter Temperature: Be sure to use room temperature butter. Cold butter can cause uneven cooking and may not coat the peaches properly.
Candied Pecans: Watch the pecans closely as they cook. Once they start turning golden and the sugar is melted, they can burn quickly. Stir occasionally to coat them evenly.
Ice Cream Timing: If you're serving the dessert with ice cream, you might want to have it ready in the freezer or scoop it just before serving to ensure it doesn't melt too quickly.
Customize Sugar: Adjust the amount of brown sugar to your taste. If you prefer a sweeter dessert, use more sugar, or use less if you're aiming for a less sweet option.
Spices: Don't be afraid to experiment with different spices or combinations. Just remember to start with a small amount and adjust to taste.
Serve Warm: This dessert is best enjoyed when served warm. If you're not serving it immediately, you can reheat the peaches briefly before serving.
Presentation: Consider garnishing with a sprig of fresh mint or other garnish that says fresh summer dessert.
Keep It Simple: While variations can be fun,(we give you several ideas for variations below) the basic flavor profile of the peaches and the crunch of the candied pecans are already a winning combination. Don't overwhelm it with too many spices at once. Keep it simple.
Don't Overcrowd the Skillet: If your skillet isn't large enough to accommodate all the peach halves without crowding, cook them in batches to ensure they fry and caramelize properly.
Quality Ingredients: Use high-quality ingredients, especially for the butter. Good quality butter will give you the best texture and flavor.
Taste and Adjust: Taste the sugar mixture, any added spices and the candied pecans as you go to ensure they're as sweet and flavorful as you want them to be.
Here are some ideas for variations and substitutions for this skillet-cooked peach dessert. There are so many ways to go with fried peaches. They make a great base for all of these peach recipes.
Almond Peach Dessert:
Substitution: Replace pecans with almonds.
Variation: Add a touch of almond extract to the brown sugar and cinnamon mixture for an almond-flavored twist.
Spiced Peach Recipe:
Substitution: Replace cinnamon with a pinch of nutmeg and cardamom.
Variation: Infuse the butter with a small piece of ginger while melting, then remove it before adding the peaches for a hint of ginger flavor.
Coconut Peach Delight:
Substitution: Replace pecans with shredded coconut.
Variation: After frying the peaches, sprinkle toasted coconut over them before drizzling with the sugar syrup.
Berry-Peach Fusion:
Addition: Mix in a handful of raspberries, blueberries, or blackberries along with the peaches.
Variation: Create a mixed berry and peach skillet dessert by using a combination of fresh or frozen berries and peaches.
Lemon-Infused Peaches:
Addition: Zest of a lemon added to the sugar mixture.
Variation: Squeeze a bit of lemon juice over the peaches after frying for a zesty kick.
Vanilla Peach Indulgence:
Addition: A splash of vanilla extract or vanilla bean paste to the brown sugar and cinnamon mixture.
Variation: Serve the peaches with a dollop of whipped cream infused with vanilla.
Maple Pecan Peach Delight:
Addition: Replace some of the brown sugar with pure maple syrup for sweetness.
Variation: Incorporate a sprinkle of sea salt on the candied pecans for a sweet-savory contrast.
Caramelized Peach Elegance:
Variation: Cook the peaches a bit longer until they caramelize and turn slightly golden before removing from the skillet.
Nutty Chocolate-Peach Treat:
Addition: Chop dark chocolate and sprinkle it over the hot peaches before adding the candied pecans.
Variation: Serve with a scoop of chocolate swirl, rocky road or other chocolate flavored ice cream in the peach center instead of vanilla.
Feel free to mix and match these ideas. Just remember to taste as you go so you get your desired balance of flavors. That's the beauty of Homemade. You can play with recipes like this one.
Create your own signature fried peach dessert and then come back and tell us what you did! We always enjoy hearing your feedback and ideas on our recipes.
What Type of Peaches ?
For the very best results with this recipe choose peaches that are slightly firm and have a good balance of sweetness and acidity. Here are a few varieties of peaches that will fry up good and easy.
Freestone Peaches: These peaches have a flesh that easily separates from the pit, making them ideal for slicing and pitting. They are often sweeter and less tangy than clingstone peaches.
Yellow Peaches: Yellow-fleshed peaches are the classic choice for most peach recipes due to their sweet and juicy nature.
White Peaches: White-fleshed peaches are a bit sweeter and less acidic than yellow peaches. They can add a delicate and mellow flavor to your dessert.
Semi-Freestone Peaches: These are a hybrid between freestone and clingstone peaches. They have some of the easy-pitting qualities of freestone peaches while maintaining good flavor.
Clingstone Peaches: These peaches have flesh that clings to the pit, which can make them a bit trickier to work with. However, they can be used if you're careful while slicing and removing the pit.
Subacid Peaches: These peaches have a good balance of sweetness and tanginess, which can provide a nice contrast of flavors in your dessert.
When choosing peaches for frying, look for those that are slightly firm but not hard. Overripe peaches may become too mushy during cooking. It's also a good idea to taste a small slice before cooking to gauge their sweetness and flavor.
Keep in mind that availability may vary based on your location and the time of year. If possible, visit local farmers' markets or orchards to find the freshest and most flavorful peaches for your skillet-cooked dessert.
Should You Peel the Peaches?
Peeling the peaches for your skillet-cooked peach dessert is not usually necessary, however, here are some ideas on this subject.
Peeling the Peaches:
Peeling off a thick or ugly, bumpy or malformed peel might be more palatable in presentation.
Peeling can help reduce any bitterness that might come from the skin.
If you're concerned about peel texture, flavor or appearance or have guests who prefer peeled peaches, peel them.
Leaving the Peels On:
The peach skin contains fiber and nutrients, so leaving it on adds nutritional value to your dessert.
The skin adds it own color and texture. If you like it leave it on.
Peeling peaches can be time-consuming. Leaving the skin on keeps this recipe quick and easy to prepare.
The skin also provides a slight tartness that balances the sweetness of the dessert.
If you do choose to leave the peels on, wash the peaches thoroughly to remove any dirt, sprays or residue.
To remove the peels: Blanching the peaches quickly in boiling water for about 30 seconds and then transferring them to an ice water bath will help loosen the skin and make it easier to peel.
Yield:

8 peach desserts
Pecans and Fried Peach Dessert
Looking for a way to use up extra peaches? This peach dessert is very quick and simple to make all in one skillet. Add ice cream and you have a summer dessert that will wow your family and guests without heating up the oven. They will love it and so will the cook!
Ingredients
8 peach halves
1 Cup pecans
brown sugar
cinnamon
butter
Optional: Vanilla Ice cream
Instructions
Wash, dry slice and pit the peaches.
Gather ingredients
Set a 12 inch skillet over medium heat.
In a flat open bowl, Whisk together the brown sugar and cinnamon.
Add half the butter to preheated skillet.
Dip the peach halves one at a time into the sugar mixture
As you dip the peaches, set them cut side down, into the buttery skillet.
Allow them to fry until they are soft throuhg (not mushy) and caramelized on the bottom.
Remove the fried peaches when they are browned on the bottom to a plate. set aside.
Add remaining butter into the skillet and pour in the pecans.
Cook until they are browned and completely coated with the sugar syrup. Remove from heat.
To serve: Serve each peach on a small plate or in a bowl. Serve with just the candied pecans drizzled over top OR set a scoop of ice cream into the peach center and drizzle the candied pecans over it all.
Notes
For ideas on variations, substitutions and all the tips for this peach dessert recipe, please read the entire post. Enjoy!
This recipe easily doubles for larger batches or you can cut the amounts in half for just two.
Nutrition Information
Yield
8
Serving Size
1
Amount Per Serving
Calories

207
Total Fat

13g
Saturated Fat

3g
Trans Fat

0g
Unsaturated Fat

9g
Cholesterol

11mg
Sodium

25mg
Carbohydrates

23g
Fiber

4g
Sugar

19g
Protein

3g
More Delicious Dessert Recipes:
Here is a smattering of pictured desserts that are perfect for summer. We have SO many dessert recipes. Be sure to check them all out here.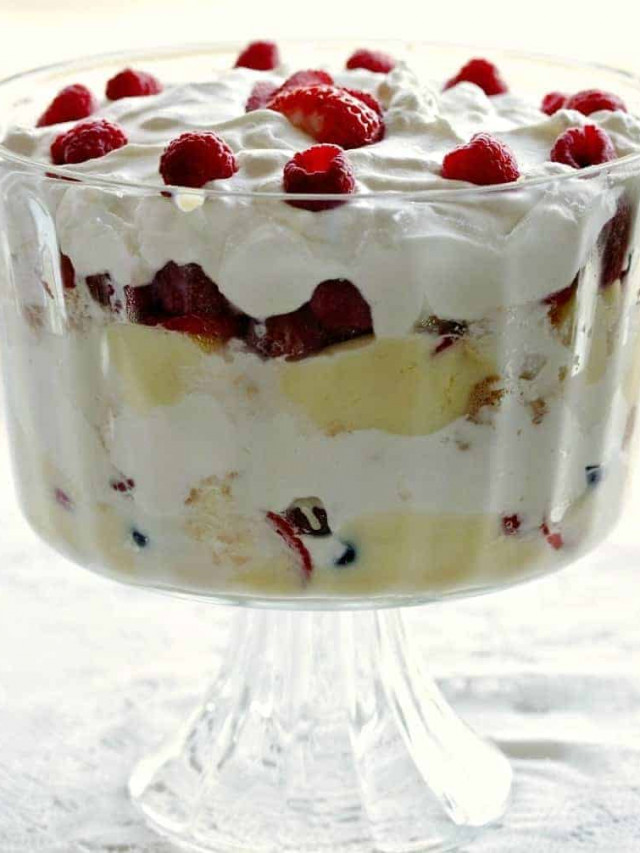 Follow Us:
We enjoy meeting you on our social networks. Follow us on Facebook, Pinterest, Instagram . Tag us with your pictures of our recipes and comment on how it went for you. We would love to see what you do with them.
We often like, comment and share your posts of our recipes on our daily Instagram stories.
Ask questions and rate the recipe in the comments section below. Please share what you did with this recipe. We are always looking for more and better ways to make homemade food. Other cooks love your ideas!
Recent Posts: