The Strawberry Bubbler Mocktail Drink is a deliciously light refresher. This invigorating blend of strawberry and lemonade is perfect for drinking on a sun-kissed summer afternoon.
Served in an elegant wine glass, the vibrant red of the muddled strawberries shines through, adding dimension and interest. Take this drink anywhere. It serves well at summer parties, cocktail gatherings, bridal and baby showers, or at any special event you need a pretty drink that offers plenty of flavor and fizz without alcohol.
For all that, it is a very nice 'at home' drink as well. Enjoy this pretty fizzy mocktail by the pool with friends and family, on the veranda, or savor it indoors for a quiet respite. this Sparkling Strawberry Lemon mocktail drink captures the essence of summer in every bubbly sip.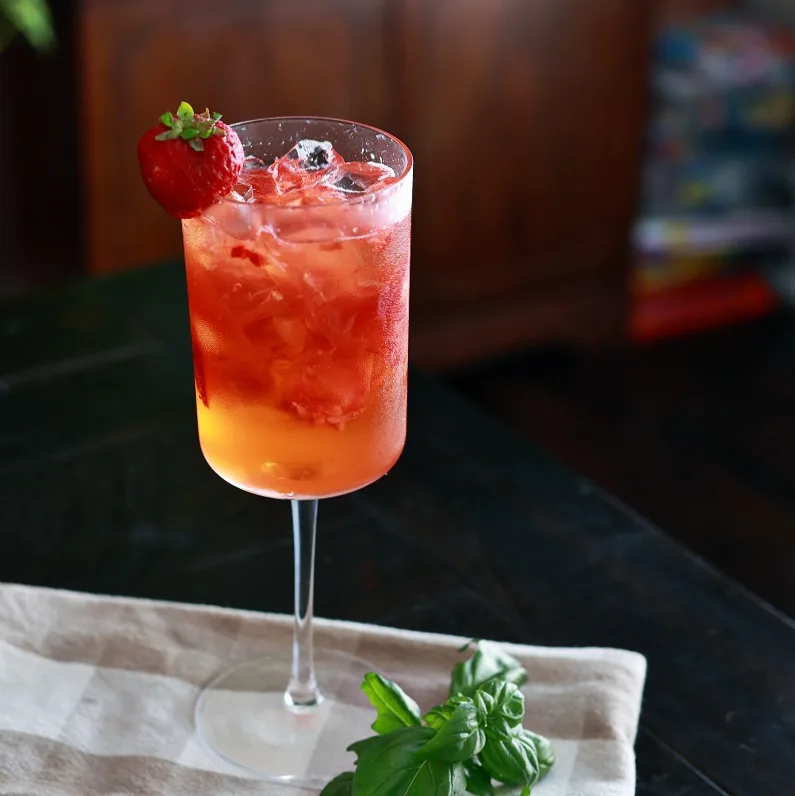 The Strawberry Bubbler Mocktail Drink Recipe:
The instructions ingredients are really quite simple for this drink. This mocktail recipe is a simple three ingredient drink. But it does require a muddler. A little muddling will get you a lovely flavorful drinking experience. Mostly it's just a pour and stir drink. Then sip and enjoy.
What is a muddler? Its a bartenders tool used to soften fresh ingredients before using them in your drink. This is done by gently mashing the ingredients together until they are bruised and softened. For this mocktail recipe we muddle the sliced strawberries with the lemonade to release the berry juices and blend the flavors.
What You Will Need:
Lemonade
Four fresh sliced strawberries
lemon lime soda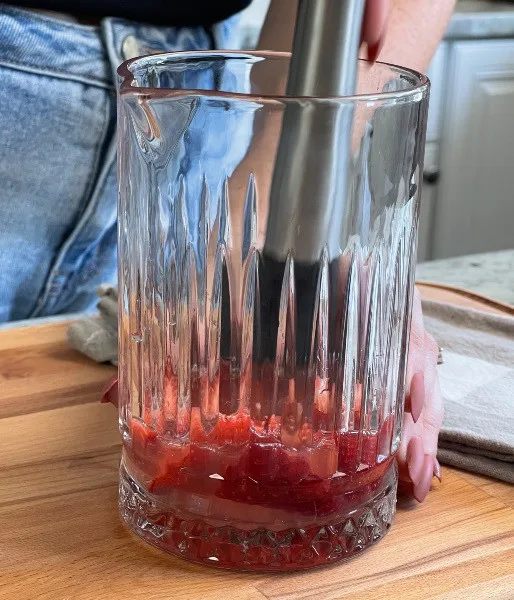 After muddling, simple pour the muddled ingredients into your glass, add ice and top with the soda. Give it a stir to bring up the muddled strawberries for best presentation. Garnish with the whole strawberry and serve.
Tips For This Mocktail Drink:
Here are some tips to help you make the most of your mocktail:
Use Fresh Ingredients: Since this mocktail relies on the natural flavors of lemonade and strawberries, using fresh and ripe strawberries is essential. Make sure the strawberries are juicy and sweet for the best results.
Muddle with Care: When muddling the lemonade and strawberry slices, be gentle. The goal is to release the flavors and juices from the strawberries without completely pulverizing them. A few light presses with a muddler or the back of a spoon should suffice.
Strain if Desired: We added the pulp for color and a bit of interest. However, You can strain the muddled mixture before pouring it into the wine glass if you prefer. This will remove any strawberry pulp or seeds, and give you a clearer drink.
Chill Ingredients: Make sure all your ingredients are properly chilled. Chilling maintains the refreshing and crisp quality of the drink. Chill the glass too if you are wanting the ice to slow melt in hot weather.
Serve with Ice: Adding ice to the mocktail helps keep it cold and refreshing. to avoid dilution, use ice cubes that won't dilute the drink too quickly, such as larger cubes or spheres.
Stir Gently: Once you've poured the muddled mixture into the wine glass, add the ice and top with the lemon-lime soda. Give the drink a gentle stir to ensure that the flavors are evenly distributed.
Adjust Sweetness: Depending on the sweetness of your lemonade and strawberries, you might want to adjust the overall sweetness of the mocktail. You can do this by adding a touch of simple syrup if desired.
Experiment and Personalize: Be creative if you like. Try adding a splash of another fruit juice, a sprig of fresh mint, or even a hint of bitters for added complexity.
Presentation is a big part of the mocktail drink vibe. A whole strawberry makes a nice simple display that speaks to the flavor of the drink. But you can play around with different fruit garnishes. Try citrus slices, berries, or even a slice of kiwi, to add a flavorful pop. Just be sure they add something to the drinking experience. If you want to have edible garnishes, they should be tasty with the drink you're serving. Herbs like basil or mint can also make nice additions to the garnish.
The glass you serve this drink in can create the ambience of a beautifully crafted alcoholic drink, even though it's a drink for all ages. Be sure to use a nice wine glass or a tall collins style glass to create the spirit of an adult drink with some nice garnish touches to really set this mocktail drink up for its best showing.
Variations and Change up Ideas:
There are numerous ways to experiment with this drink to create exciting variations. Here are a few ideas:
Fresh Herbs Or Citrus Zest:
Add a few leaves of fresh mint, basil, or thyme to infuse herbal aromatics into the drink. Gently muddle the herbs along with the strawberries to release their essential oils.
You can also Enhance the citrusy profile by adding a touch of lemon or lime zest. This will intensify the lemony flavors and add a fragrant dimension to the drink.
Ginger Kick:
Grate a small amount of fresh ginger (learn more about gingers benefits here) into the muddled mixture for a subtle kick of warmth and complexity. Ginger's spiciness pairs well with the fruity components.
Honey Syrup:
Create a honey syrup by mixing equal parts honey and hot water. Use this to sweeten the drink instead of plain sugar, adding a touch of natural richness to the flavor.
Fruit Juices:
Introduce a splash of other fruit juices like orange, pineapple, or passion fruit to create a multi-dimensional fruitiness.
Bitters:
A few dashes of herbal or fruit bitters can add complexity and depth to the mocktail. Choose bitters that complement the existing flavors.
Coconut Water:
Replace some or all of the lemon-lime soda with coconut water for a lighter, tropical twist. This variation can make the drink even more refreshing.
Remember to taste as you go and adjust the quantities of your new ingredients to keep a good balance of flavors.
You can make up multiple versions of the Strawberry bubbler mocktail drink, each with its own distinct personality. We'd love to know what you do with this recipe.
Printable Recipe Card: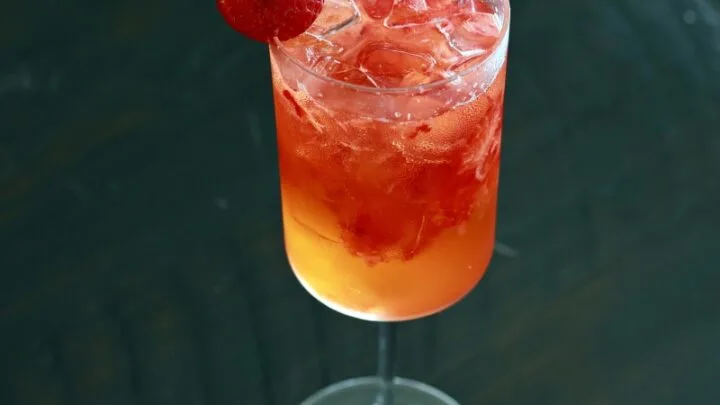 Yield:

1 mocktail
Strawberry Bubbler Mocktail
The strawberry bubbler mocktail is a bright bit of summer refreshment you are going to love. This combination of muddled strawberries, lemonade and soda creates a lovely fresh tingle on your taste buds. Perfect for parties, the pool or under your veranda.
Ingredients
4 fresh strawberries-washed, sliced, and hulled (Reserve one whole for garnish)
1 1/2 oz. lemonade
4 oz. can lemon lime soda
ice
Instructions
Pour the sliced fresh strawberries and lemonade Into a Muddler pitcher.
Muddle them together until the strawberries release their juice and are soft.
Pour the muddled ingredients into your 10 oz. glass
Add ice over the berries.
Top it off with your lemon lime soda.
Garnish with the whole strawberry on the side og the glass.
Notes
For ideas and tips on making this recipe and for variations you can do please read the entire post. Enjoy!
Nutrition Information
Yield
1
Serving Size
1
Amount Per Serving
Calories

92
Total Fat

0g
Saturated Fat

0g
Trans Fat

0g
Unsaturated Fat

0g
Cholesterol

0mg
Sodium

16mg
Carbohydrates

23g
Fiber

1g
Sugar

21g
Protein

1g
More Delicious Mocktails To Love:
We have a wonderful selection of mocktail drinks. Most of these are very easy mocktail recipes you can whip together with only a few ingredients in a shaker. There is a couple blender drinks here and a few may require a bit of muddling to get this flavor blended. They are all delicious and worth it!
Look at the photo gallery below for non alcoholic drink inspiration. Find one you want to know more about? Click the text link. Enjoy!
These are all appropriate as mocktail recipes for kids. For even more drinks for kids and grown ups alike, look at the list below the photos.
More Non Alcoholic Drinks:
Follow Us:
We enjoy meeting you on our social networks. Follow us on Facebook, Pinterest, Instagram . Tag us with your pictures of our recipes and comment on how it went for you. We would love to see what you do with them.
We often like, comment and share your posts of our recipes on our daily Instagram stories.
Ask questions and rate the recipe in the comments section below. Please share what you did with this recipe. We are always looking for more and better ways to make homemade food. Other cooks love your ideas!
Recent Posts: