Enjoy a taste of tropical paradise with the Blue Hawaiian mocktail. This vibrant, captivating drink refreshes with a blend of tropical flavors. Tangy Pineapple juice and coconut water make up the base of this drink. Add a touch of blue Raspberry Syrup to bring in that sweet blue green color. Top it off with sparkling water and ice. Perfect tropical refreshment.
The Blue Hawaiian cocktail is typically prepared as a shaken drink. Shaking the ingredients together in a cocktail shaker helps to thoroughly mix and chill the components, creating a well-balanced and refreshing beverage. The shaking process not only combines the flavors of the various ingredients but also aerates the mixture.
To make this Blue Hawaiian mocktail, we also use a shaker to blend together the elements of this drink and give you the proper taste and texture. Staring it over ice and then topping it off with sparkling water adds even more icy fizziness. so welcome on a warm summer day.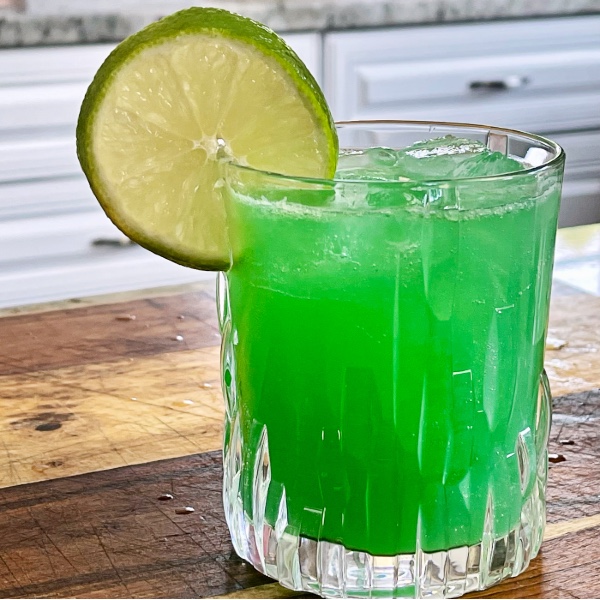 What is a blue Hawaiian made of? A Blue Hawaiian cocktail recipe is a tropical cocktail made with light rum, blue curaçao (a blue-colored citrus-flavored liqueur), coconut cream, and pineapple juice. The combination of blue Hawaiian Ingredients results in a lovely blue drink that brings to mind the colors of a clear blue sky and the inviting waters of a Hawaiian beach. And it's very tasty. 🙂
You can also make your Blue Hawaiian drink recipe with coconut rum for an even more tropical vibe.
What Flavors Make up Blue Hawaiian? Blue Hawaiian cocktail's flavors include creamy coconut, tangy pineapple, and citrusy blue curaçao liqueur. A warm white rum ties all the flavors together into a sweet refreshing drink with all the tropical vibes of a Hawaiian paradise.
Non Alcoholic-Blue Hawaiian Recipe:
Our challenge in this mocktail recipe is to remove that foundational rum and provide you with a drink that is still a delicious refreshment that speaks Hawaiian skies and waves. We think you're going to love this tiki drink mocktail.
Substitutions:
Like with all recipes, it's good to have some substitution ideas if your out of something or want to take this drink into a new direction.
Here are some suggested substitutes for the ingredients in the Blue Hawaiian mocktail recipe:
Orange Juice: Replace orange juice with another citrus juice like tangerine, mandarin, or even a blend of lemon and lime juice for a tangy twist.
Pineapple Juice: If you don't have pineapple juice, mango juice or passion fruit juice can offer a similar tropical flavor.
Coconut Water: Coconut milk or coconut cream can be used instead of coconut water, although they are creamier and might alter the texture slightly.
Blue Raspberry Syrup: If you don't have blue raspberry syrup, you can use non alcoholic blue curaçao syrup for a similar blue color and a hint of citrus flavor. Blueberry syrup can also provide a different fruity twist.
Sparkling Water: Club soda, tonic water, or any other carbonated water can work as a substitute for sparkling water.
Crushed Ice: If crushed ice isn't available, you can use ice cubes, but you might want to adjust the quantity to control the amount of dilution and chill.
Frozen Blue Hawaiian Mocktail:
Want to make an icy blue hawaiian drink, similar to a slushy out of this recipe? For really hot days slushies are fantastic and can be served to adults in the proper glass with a garnish.
Just Follow these steps.
Instructions:
Begin by chilling the orange juice, pineapple juice, coconut water, and blue raspberry syrup in the refrigerator.
Once chilled, combine the orange juice, pineapple juice, coconut water, and blue raspberry syrup in a blender.
Add the crushed ice to the blender to give the frozen texture to the drink.
Blend the mixture on high until everything is well combined and the ice is completely crushed, resulting in a slushy consistency.
Pause the blender and taste the mixture. Adjust the sweetness or tartness by adding more blue raspberry syrup or citrus juice if needed.
Gradually add the sparkling water to the blender and pulse a few times to incorporate it into the mixture. This step adds a fizzy element to the frozen drink.
Once the sparkling water is mixed in, blend for a few more seconds until the drink reaches a uniform texture.
Pour the Blue Hawaiian mocktail into glasses and garnish with a slice of pineapple or orange, if desired.
Serve immediately and enjoy your refreshing frozen mocktail!
By blending the ingredients with ice and sparkling water, you'll create a slushy and frozen version of the Blue Hawaiian mocktail, perfect for cooling down on hot days or enjoying as a fun and icy treat.
Presentation:
This Hawaiian tiki drink is typically presented in a tall, elegant glass that showcases its vibrant blue color and inviting layers of flavors.
Glassware:
The cocktail is commonly served in a tall glass, such as a simple highball or the more elegant hurricane glass. Both these glasses showcase the drink's beautiful blue green lagoon color. And they are large enough to provide space for the various ingredients.
Garnishes:
A slice of pineapple or an orange or lime wheel are just a couple of the many ways you can garnish this drink. An Umbrella or Straw completes the tropical vibe.
Ice: While the cocktail itself is chilled, some presentations might include a few ice cubes in the glass to keep the drink cool throughout consumption.
The blue Hawaiian Drink Recipe Card:
Below you will find our printable recipe for this mocktail. We enjoy your feedback on our recipes. Please let us know your thoughts in the comment section below!
Yield:

1 mocktail
Virgin Blue Hawaiian Drink
The lovely blue Hawaiian mocktail is an tasty combination of pineapple juice, blue raspberry syrup, coconut water and sparkling water. Add ice for perfect summertime refreshment.
Ingredients
2 oz. orange juice
2 oz. pineapple juice
1 oz. coconut water
1 Tsp. blue raspberry syrup -(we used Torani)
4 oz. sparkling water
1/2 Cup Crushed ice
Instructions
Pour ice in the shaker
Add all ingredients into the shaker (except sparkling water)
Shake the shaker vigorously until cold
Strain it into a 12 oz glass with ice
Top it off with the selzer water
Serve Garnished with a lime wheel
Notes
Please read the entire post for substitution ideas, and the frozen version of this drink.
Nutrition Information
Yield
1
Serving Size
12 oz.
Amount Per Serving
Calories

120 kcal
Total Fat

.5 gramsg
Sodium

20 milligramsmg
Carbohydrates

30 gramsg
Fiber

1 gramg
Sugar

25 gramsg
Protein

0.5 gramsg
More Fantastic Mocktails:
There's always more ways to enjoy non alcoholic drinks with an elegant twist reminiscent of your favorite cocktails. here's a few we know you'll enjoy.
Cocktails:
Follow Us:
We enjoy meeting you on our social networks. Follow us on Facebook, Pinterest, Instagram . Tag us with your pictures of our recipes and comment on how it went for you. We would love to see what you do with them.
We often like, comment and share your posts of our recipes on our daily Instagram stories.
Ask questions and rate the recipe in the comments section below. Please share what you did with this recipe. We are always looking for more and better ways to make homemade food. Other cooks love your ideas!
Recent Posts: