Our Sparkling Peach Bellini Mocktail is rich with the natural sweetness of fresh peach puree, balanced with a touch of simple syrup, and topped off with bubbly sparkling cider. This faux champange cocktail is a perfect companion for many special events, like baby showers, book clubs and other occasions where cocktails are a bit too much for all the guests, or even just one. 🙂
This drink is so easy to put together and its also beautiful. So if you're hosting a brunch, celebrating a special moment, or simply unwinding after a long day, our Peach Bellini Mocktail is a great baby Bellini mocktail for your drink list.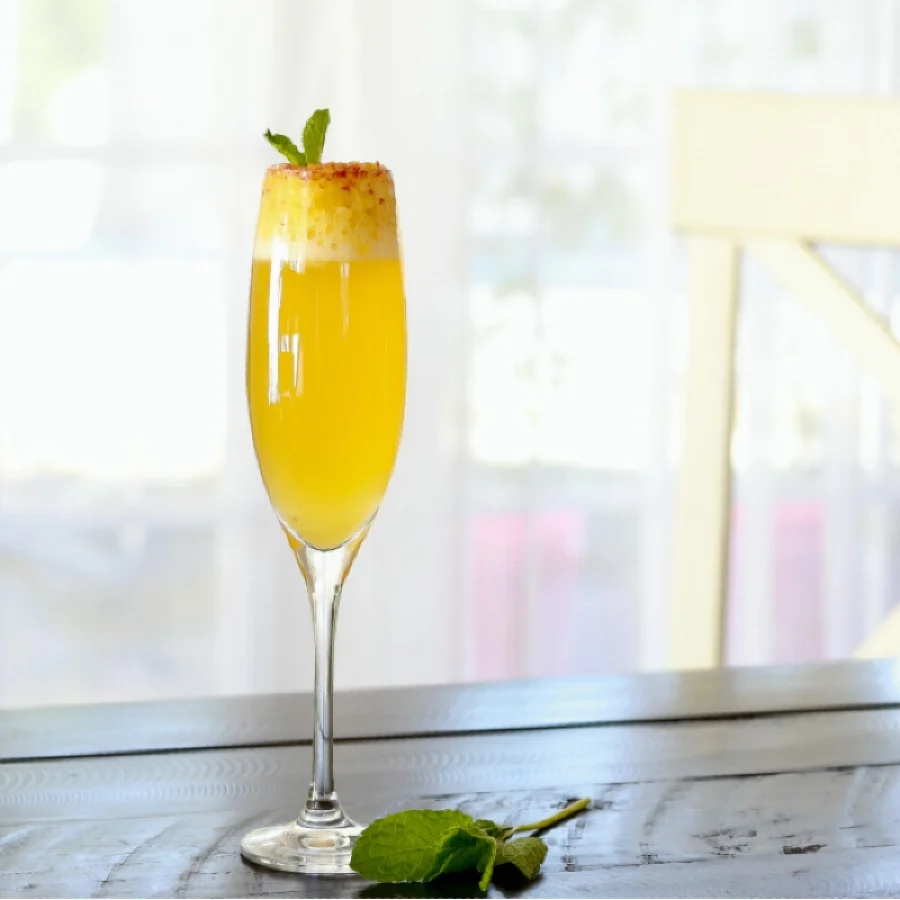 What's a peach Bellini made of? A peach Bellini is a blend of peach purée and alcohol. What type of alcohol is in a peach Bellini? Bellinis usually use Prosecco or other sparkling wine with an optional dash of lemon juice. The ingredients are proportioned this way. 2 ripe peaches to a 750 ml bottle of sparkling wine.
When we make this recipe into a peach Bellini mocktail we normally replace the sparkling wine with either lemon lime soda or sparkling cider or water. You can also choose to use a non alcoholic Prosecco. Or, you can pitch the recipe and try a bottle of non alcoholic peach bellini in a bottle, like Belvior non alcoholic peach bellini from the UK. Most of the peach Bellini mixes out there will have alcohol in them so avoid those.
Virgin Peach Bellini Recipe:
It only takes a few minutes to whip up your best peach Bellini mocktail, so you should definitely do that. It's delicious and easy. There are tons of ways to make this recipe your own and give it a signature twist.
The peach Bellini mocktail is a very good group drink too. Just scale up the recipe in our printable for the number of people you're serving. If you are serving this for a large crowd you will want to make the peach purée ahead (include the lemon juice to prevent browning), so all you have to do is pour the puree and add the bubbly. Very quick and easy. Just add a sprig of mint or other garnish to suit your event.
When to Use Lemon Juice:
Using lemon juice in fresh fruit peach Bellini recipes (in fact this applies to all fresh fruit Bellinis), whether alcoholic or non-alcoholic may be a good idea. It depends on the specific peaches(or other fruits) being used and the desired flavor profile. Before adding lemon juice think about what you're doing and if it is a help. Be careful with it. A little lemon juice goes a long ways.
Balancing Sweetness: Lemon juice balances the natural sweetness of fresh fruits. This works differently in different fruits with different levels of ripeness and natural sugars. Fruits like peaches, mangoes, and strawberries can be very sweet. A touch of lemon juice can provide a pleasant tartness that prevents the drink from becoming cloying. Be sure to start small and taste before adding more.
Prevent oxidation: Lemon juice's antioxidant properties help prevent browning or discoloration in fruit purees. f you plan to make your fruit puree several hours to a day ahead of serving add lemon juice to prevent browning.
Flavor: Lemon juice brightens and enhances the flavor profile of the Bellini. It highlights different flavor notes in the fruit puree. It can be just the right thing to bring out the flavors.
Acidity for Carbonation: When making Bellinis with sparkling ingredients like sparkling cider, the lemon juice's acidity makes for a livelier and more effervescent drink.
Substitutions:
There are several different sparkling beverages you can use as a substitute for sparkling cider in your mocktail recipes. They will all add something different to your Bellini.
Sparkling Water: Sparkling water, whether plain or flavored, is a versatile and calorie-free option. It provides effervescence without adding any additional sweetness.
Club Soda: Club soda is another popular choice for adding fizz to mocktails. It has a slightly salty taste that can help balance sweetness and acidity in your drinks.
Soda Water: Similar to club soda, soda water is carbonated water that can provide a fizzy element to your mocktail.
Tonic Water: Tonic water has a slightly bitter taste due to the addition of quinine. It can add complexity to your mocktail and works well with citrus and herbal flavors.
Lemon-Lime Soda: Lemon-lime soda, like Sprite or 7UP, can add a touch of sweetness and citrusy notes to your mocktail.
Ginger Ale: Ginger ale is a flavorful option that can add a hint of spiciness and warmth to your mocktail. It pairs well with fruits like peaches.
Flavored Sparkling Water: Explore various flavored sparkling waters on the market, such as berry, citrus, or herbal-infused options, to add a twist of flavor to your mocktail.
Non-Alcoholic Sparkling Wine: If you're looking for a sophisticated option, non-alcoholic sparkling wine can mimic the experience of champagne or prosecco in your mocktail.
Kombucha: For a probiotic-rich and tangy twist, consider using plain or fruit-flavored kombucha as a substitute.
Fruit-Infused Sparkling Water: Some brands offer sparkling waters infused with natural fruit flavors, which can complement the fruits in your mocktail.
When selecting a substitute for sparkling cider, consider the flavor profile of your mocktail and how it will interact with the other ingredients. Experiment with different options to find the perfect match for your recipe.
More Versions of This Bellini Mocktail Recipe:
It's endless really, you can change the bubbly, use fish or frozen fruits and make bellini mocktails using different fruits and fruit blends. Have fun experimenting!
How to Make A Frozen Peach Bellini Mocktail:
Frozen peach bellini is a particularly good choice for hot weather days. Enjoy the icy cold peachy drink by the pool or your favorite fan to cool your self off in style.
You can make a frosty peach Bellini mocktail by using frozen peaches when making the puree. OR, Instead of using fresh peach puree, freeze the peach puree in ice cube trays and blend the frozen cubes with your favorite non alcholic bubbly, for a slushy, refreshing variation.
Alternately, if you only have fresh peaches on hand you can add an equal amount of ice to the food processor or blender to whip up a frozen Bellini.
Be sure to also use chilled EVERYTHING. That includes all the ingredients, glassware and even your blender bowl if you're in hot weather. This way you can sip the Bellini and enjoy its icy coldness all the way to the bottom of the glass.
There are TONS of ways to make a Bellini mocktail out of LOTS of fruits other than peach. And there are some ideas here for ways to blend peach with other fruits to change things up.
Strawberry Bellini Mocktail: Use 4 to 6 fresh strawberries instead of peaches in our recipe.
Raspberry Bellini Mocktail: Substitute 1/2 cup (to one cup to taste) of fresh raspberries for the peaches in our recipe.
Sparkling Cider Blackberry Peach Bellini: Add 1/2 Cup fresh blackberries to the food processor to make this recipe into a cider blackberry peach Bellini mocktail.
Raspberry Peach Bellini: Add a handful of fresh raspberries to the peach puree before blending for a delicious twist on the classic recipe.
Tropical Peach Bellini: Enhance the flavors with a splash of tropical fruit juices such as pineapple, mango, or passion fruit before adding the champagne substitute.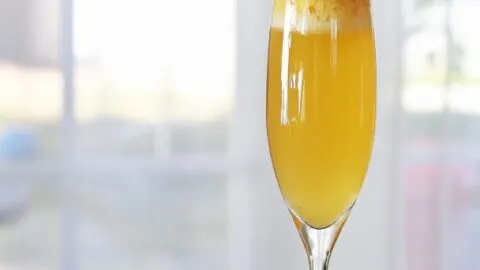 Yield:

1 drink
Peach Bellini Mocktail recipe
Fresh peach bellini mocktail is a beautiful, refreshing summer drink. And it only takes a few minutes to make. This mocktail will present well ar so many specila occasions and its great for non alcholic group events.
Ingredients
1 oz. fresh peach purée
1/2 oz. simple syrup
4 oz. sparkling cider (Or non alcoholic Prosecco)
1/2 tsp. lemon juice (optional: Use when making puree ahead of serving)
Instructions
Add the fresh peach and simple syrup to a food processor and whir until smooth. We kept the skin on and it floated to the top for a nice garnish effect. You can peel the peach if you prefer.
Pour the sweetened peach puree into the bottom of a tall narrow stemmed wine glass.
Pour the sparkling cider over the puree and give it a gentle stir. The peach solids will float to the top of the glass.
Garnish as desired. We used a sprif of mint but a peach slice is also quite pretty when balanced on the top of the glass.
Nutrition Information
Yield
1
Serving Size
1
Amount Per Serving
Calories

93
Total Fat

0g
Saturated Fat

0g
Trans Fat

0g
Unsaturated Fat

0g
Cholesterol

0mg
Sodium

5mg
Carbohydrates

23g
Fiber

1g
Sugar

21g
Protein

0g
More Delicious Mocktails:
Look at all these beautiful non alcoholic cocktail options. You're going to love these pretty mocktails. What a fantastic way to enjoy a well presented, tasty beverage without the alcohol. Enjoy!
Champagne Cocktails You May Enjoy:
Follow Us:
We enjoy meeting you on our social networks. Follow us on Facebook, Pinterest, Instagram . Tag us with your pictures of our recipes and comment on how it went for you. We would love to see what you do with them.
We often like, comment and share your posts of our recipes on our daily Instagram stories.
Ask questions and rate the recipe in the comments section below. Please share what you did with this recipe. We are always looking for more and better ways to make homemade food. Other cooks love your ideas!
Recent Posts: