Our scrumptious Cheesy Chicken and Rice Recipe is a one-skillet wonder. This easy meal puts together the ever popular flavors and textures of tender chicken, fluffy rice and broccoli. It finishes with a velvety blanket of gooey cheddar cheese. It's full of sustaining nutrients, good smells and lovely chicken cheese texture. Yum!
This quick and easy dish is an ideal choice for those busy weeknights when you need some filling nutritious food to feed the family. They are going to love this meal. And when you don't have much time to get it on the table this simple one pan chicken and rice recipe will speed you on your way.
The beauty of this chicken and rice recipe lies in its simplicity. It has only a little prep and not much cooking time. By cooking everything in one skillet, you minimize cleanup and let the flavors meld together beautifully. Good for the cook and just good!
If you have leftover cooked chicken from another meal, use it for this one! This recipe is an excellent way to repurpose chicken pieces, or leftover rotisserie chicken into a completely new and delicious dish.
And If you have any leftovers from this chicken and rice recipe, you can easily transform them into a delicious lunch the next day. This makes a yummy cheesy chicken and rice wrap or you can warm some up in a hearty bowl with a splash of water or broth in your microwave for a quick meal.
This recipe is naturally gluten-free so it's perfect for individuals with gluten sensitivities or dietary restrictions. That also makes this a great chicken and rice recipe for group events.
Tips for Making Cheesy Chicken and Rice Recipe:
Choose the Right Chicken: Opt for boneless, skinless chicken breasts or thighs for this recipe. They cook evenly and stay tender throughout the process.
Prep Ahead: Cut your chicken into uniform pieces and measure out your ingredients before you start cooking. This will help streamline the cooking process and ensure everything is ready to go.
Seasoning is Key: Don't skimp on seasoning! Generously season your chicken with the herbs and spices in this recipe before cooking. This helps to infuse each bite with flavor.
Sear to Perfection: When sautéing the chicken, make sure to sear it until it's golden brown on all sides. This not only develops a delicious crust but also enhances the overall taste of the dish.
The Aromatics: Onions and garlic are the aromatic base for many great dishes. Sauté them until fragrant and translucent to add depth and complexity to your cheesy chicken and rice.
Rice Selection: Choose long-grain white rice for the best results. It cooks evenly and maintains a pleasant texture in the final dish.
Proper Rice Cooking: After adding rice to the skillet, give it a quick stir to coat it with the flavors. Allow it to toast for a minute before adding liquid. Follow the recommended liquid-to-rice ratio to ensure perfectly cooked rice.
Broth vs. Water: While you can use water for cooking the rice, using chicken broth will impart an extra layer of flavor to the dish.
Timing is Everything: Keep an eye on the cooking times. Overcooked chicken can become dry, and overcooked rice might turn mushy. Follow the recipe's guidelines closely.
Melted Cheese: Once the rice is cooked, sprinkle your favorite cheese over the top. Cover the skillet briefly to let the cheese melt into a delectable blanket of gooey goodness.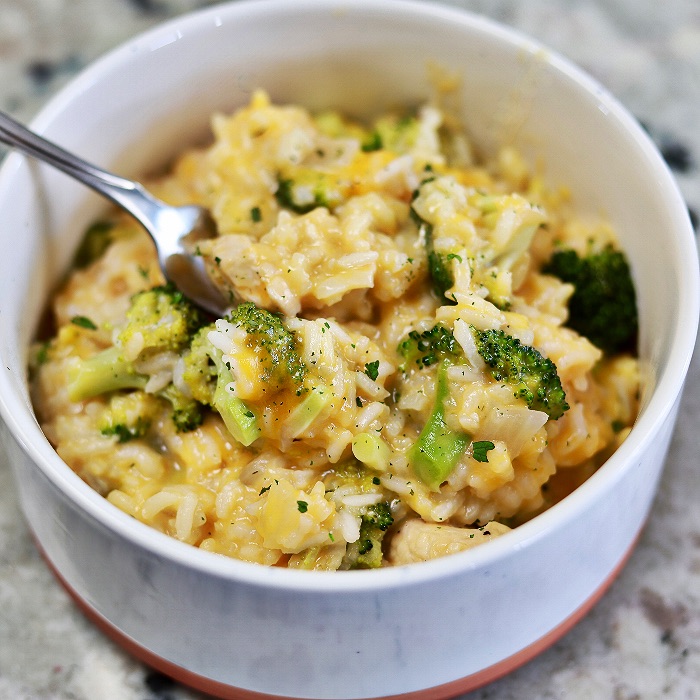 Substitution suggestions:
Chicken Breast: If you are out of chicken breasts try Chicken Thighs (boneless and skinless). Thighs are a slightly fattier cut that can add extra flavor and tenderness to the dish.
Broccoli Florets: Cauliflower Florets or Green Beans are both good choices when broccoli is scarce. Feel free to addd other vegetables of your choice as well. Chicken cheese and rice go with many vegetables.
Long Grain White Rice: Basmati and Jasmine rice have a similar long-grain texture and delicate flavor that can complement the dish well and will make suitable replacements for long grain white rice.
Chicken Broth: Vegetable broth can provide a flavorful alternative to chicken broth. If you're out of broth, you can use water and adjust the seasonings to taste.
Onion: Shallots or Onion Powder will replace the onion. Shallots have a mild onion flavor and can work as a substitute. If you don't have fresh onions or shallots, you can use onion powder in moderation.
Garlic: Garlic powder can offer a similar garlic flavor to fresh garlic. Use a smaller amount as it's more concentrated.
Cheddar Cheese: Both mozzarella and Monterey Jack have a mild and melty quality and will work well as a substitute for the cheddar in this chicken recipe.
Olive Oil: Both avocado and coconut oil will work well in this recipe to replace the olive oil and they have good health properties.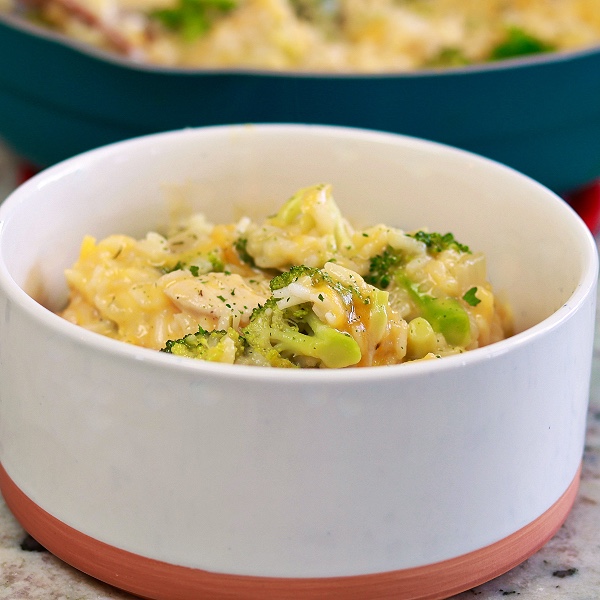 More Ideas For Cheesy Chicken and Rice Recipe:
This chicken dinner recipe is versatile. Customize it to suit yourself. Change it up anyway you like.
Change out the spices to your favorite herbs, spices, or secret ingredients to make it uniquely yours. With chicken and rice, the flavor profile can be easily changed to keep this recipe fresh and interesting for your family. Try cajun seasonings or any other you enjoy.
Vegetable Change Ups: You can add your favorite vegetables, such as bell peppers, corn, carrots, or peas.
Cheese Variations: Experiment with other cheese varieties such as Gouda, Swiss, or even a blend of cheeses for a unique twist.
The Rice : You can adjust the cooking time and liquid quantity to achieve different rice textures – from slightly firm to tender and creamy. Using whole-grain rice or a rice/quinoa blend will add extra protein and fiber.
Sauce Variation: If you enjoy a saucier dish, adding a can of cream of mushroom or cream of chicken soup to the skillet along with the chicken broth will give you an extra creamy and flavorful sauce with your meal.
Freezing:
You can adapt the Cheesy Chicken and Rice Recipe to be a freezer meal if you want a convenient make-ahead meal. Just make a double batch. Eat one and freeze the other.
By following these steps, you can turn the Cheesy Chicken and Rice Recipe into a convenient freezer meal that allows you to enjoy the same delicious flavors with minimal effort on busy days. Just remember to follow proper food safety guidelines when freezing, thawing, and reheating your meals.
Here's how to prepare and freeze this chicken and rice dinner:
Preparation for Freezing:
Cook the Dish: Follow the recipe instructions until the point just before adding the cheese. Cook the chicken, rice, and vegetables as directed, but omit the cheese.
Cool Completely: Allow the cooked mixture to cool completely before proceeding. This helps prevent condensation and freezer burn when freezing.
Portion and Package: Divide the cooled mixture into individual serving-sized portions. You can use freezer-safe containers or resealable freezer bags. Make sure to squeeze out as much air as possible from the bags before sealing.
Label and Date: Label each container or bag with the recipe name and the date of preparation. This will help you keep track of storage times.
Freezing:
If using bags, Lay them flat on a baking sheet in your freezer. This allows for easier stacking in the freezer. Once it's frozen solid, you can stack them vertically or lay them down.
For rigid container stack them as you wish in the freezer, lid up.
Cooking from Frozen:
Thawing: To cook your freezer meal, remove from the freezer and allow to thaw in the refrigerator overnight. Thawing in the refrigerator helps maintain the texture of the ingredients.
Reheat: Once thawed, transfer the thawed portion to a skillet and reheat gently over medium heat. You may need to add a splash of broth or water to prevent sticking and to rehydrate the rice. Make sure the dish is heated thoroughly.
Cheese Melt: Sprinkle the shredded cheese over the reheated mixture and cover the skillet briefly to let the cheese melt. This will give you the same gooey and cheesy topping as if you were making it fresh.
Serve: Once the cheese is melted, give it a gentle stir to distribute the flavors, and your Cheesy Chicken and Rice recipe is ready to be enjoyed!
Meal Prep Friendly:
Prepare some components in advance, like chopping the vegetables or marinating the chicken, to save time on busy weeknights. This makes the cooking process even quicker and more convenient.
Yield:

6 servings
Cheesy Chicken and Rice Recipe
This simple and delicous Cheesy chicken and rice one pan meal will fill your family with satisfying proteins, carbs and veggies. Its yummy and simple to prepare. Put it on your family favorites list. Try it today!
Ingredients
1 1/2 lb chicken breast (cubed)
2 1/2 cups broccoli florets (chopped)
1 cup rice (long grain white)
2 1/2 cups chicken broth
1 small onion
2 cloves garlic
2 cups cheddar cheese (sharp shredded)
1/2 tsp cracked black pepper
1/2 tsp salt
2 tsp olive oil
Instructions
Preheat large skillet on medium heat and add olive oil
When skillet is heated, add the chopped onion
Cook until onion is translucent and add in cubed chicken breast, salt and pepper.
Continue cooking until chicken breast pieces are browned.
Add the minced garlic cloves and cook until fragrant (around 30 seconds to 1 minute)
Push chicken and onions to one side of pan and add a small amount of olive oil.
Add the rice to the pan and sauté for 2 minutes.
Pour in the chicken broth and bring to a boil.
Reduce heat to low and simmer for 12 minutes covered.
Add broccoli to skillet, cover with lid, and cook an additional 8 minutes.
Add in the grated sharp cheddar cheese and place lid back on for 3 minutes. (or until cheese is melted)
Enjoy! Refrigerate leftovers.
Nutrition Information
Yield
6
Serving Size
1
Amount Per Serving
Calories

435
Total Fat

20g
Saturated Fat

9g
Trans Fat

0g
Unsaturated Fat

8g
Cholesterol

139mg
Sodium

957mg
Carbohydrates

15g
Fiber

2g
Sugar

2g
Protein

48g
More Delicious Chicken Dinner Recipes:
Chicken is such a versatile, cost effective meat and so easy to work with. Here are some more chicken dinner ideas we think you'll enjoy.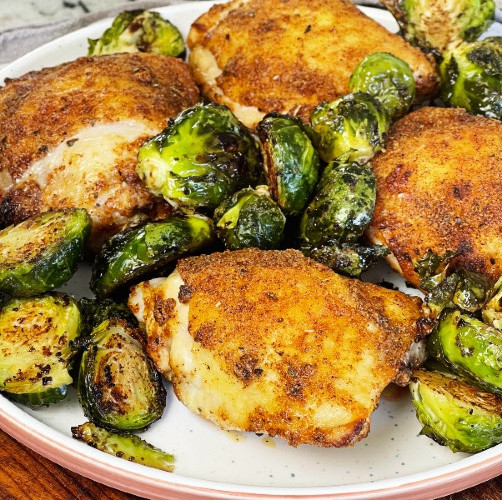 Follow Us:
We enjoy meeting you on our social networks. Follow us on Facebook, Pinterest, Instagram . Tag us with your pictures of our recipes and comment on how it went for you. We would love to see what you do with them.
We often like, comment and share your posts of our recipes on our daily Instagram stories.
Ask questions and rate the recipe in the comments section below. Please share what you did with this recipe. We are always looking for more and better ways to make homemade food. Other cooks love your ideas!
Recent Posts: