Hot alcoholic Coffee drinks are warm and comforting. Café Amaretto with Brandy and a dollop of sweet whipped cream combine with freshly brewed coffee beautifully in this hot coffee cocktail.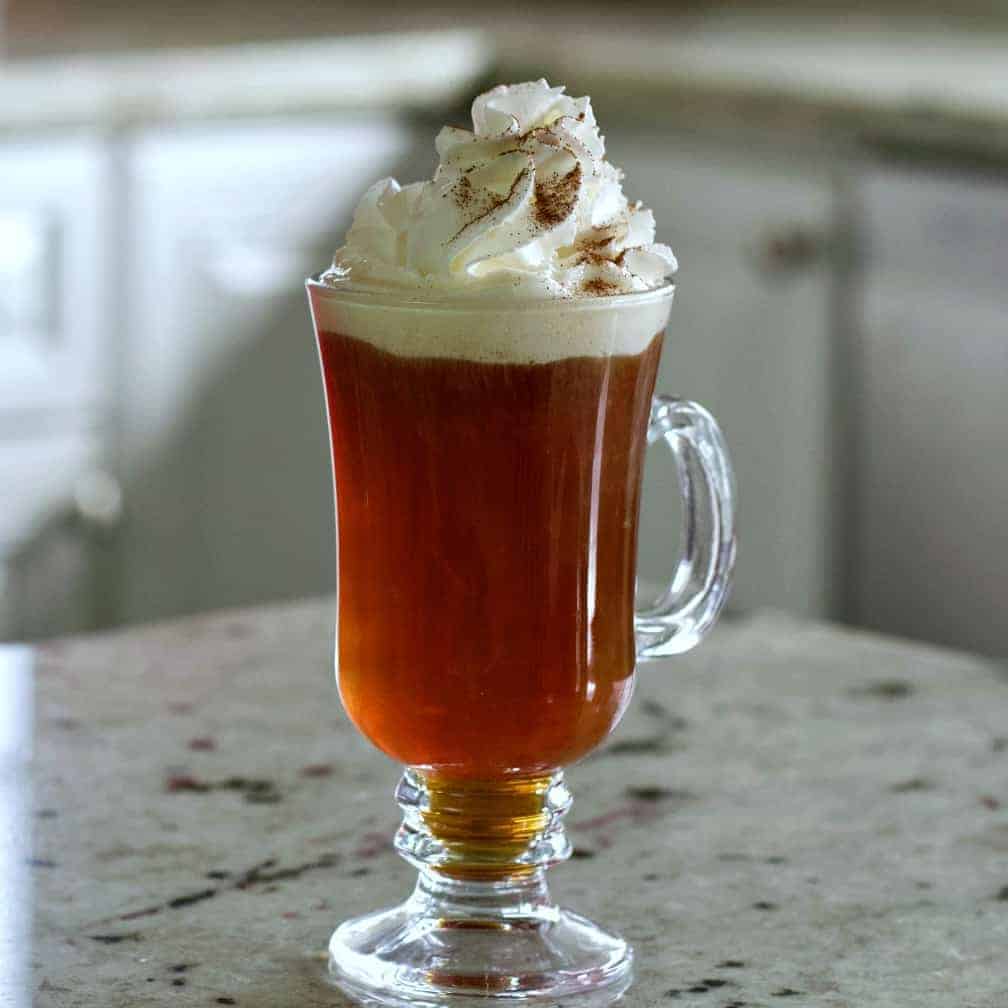 Want a pretty fireside drink? Here you go. Coffee drinks with alcohol fit the bill perfectly.
Amaretto Cafe is a hot coffee drink recipe with both brandy and Amaretto.
Make one of these for you and your bestie. Sip this indulgent hot brandy drink with almond liqueur when the cold winds blow.
More Alcoholic Coffee Drink you may Enjoy:
These are all cold coffee drinks you will want to make.
Our Amaretto Sour Classic Cocktail is an old standby for Amaretto liqueur lovers. If you're looking for more ways to use your bottle of Amaretto 'the Sour' is a good one.
Since the beginning of coffee people all over the world have loved their coffee drinks in many different forms.
Cafe Amaretto Drinks:
Coffee in Italy is rich and dark. The Cafe Amaretto is a Italian coffee culture cocktail.
Our Café Amaretto is made with freshly ground coffee.
Espresso Version:
However, If you have an espresso machine you are itching to use with this recipe….
You will find a stronger Italian espresso version of this drink in our printable recipe card notes section below. It's deeper and boozier.
Coffee alcohol drinks come in many forms. Play with both of these hot coffee drink ideas. Let us know your favorites.
Amaretto Coffee Recipe:
This is a brandy cocktail as well as an Amaretto cocktail. Both alcohols are necessary to get the flavor balance just right.
Ingredients:
Use a full bodied dark roast coffee or espresso coffee bean.
Freshly grind your beans just before brewing in the coffee maker for best flavor.
How much alcohol stays in your hot cup of coffee?
Are you worried your yummy brandy and almond liqueur will float off in a heavenly steamy cloud? Well a little of it actually will.
Alcohol will evaporate in heat. And even in open bottles of booze. keep a lid on it. But you needn't worry over much. Most of the alcohol kick will remain in this boozy coffee.
About 85% of the alcohol in this recipe will remain in your hot coffee drink while imbibing.
I found this fun article at the VinePair that goes into detail on this subject if you want to know the many ways alcohol evaporates from your hot alcoholic drinks and otherwise.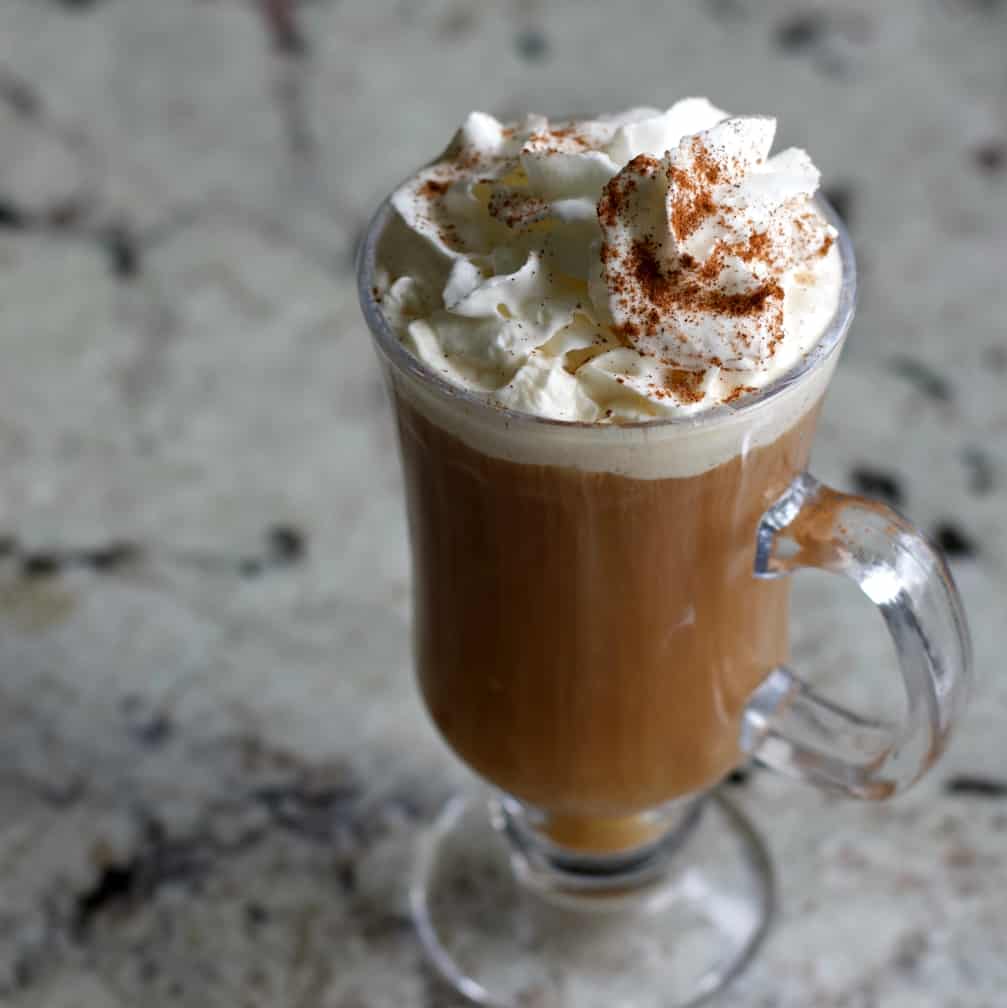 For the Garnish:
The whipped cream is optional but a nice indulgence. We used canned whipped cream because it is easy. You may whip up your whipped cream from heavy whipped cream and sugar or maple syrup if your out of canned.
The spice on top of the whipped cream can be anything you like. We used cinnamon
Visual Guide: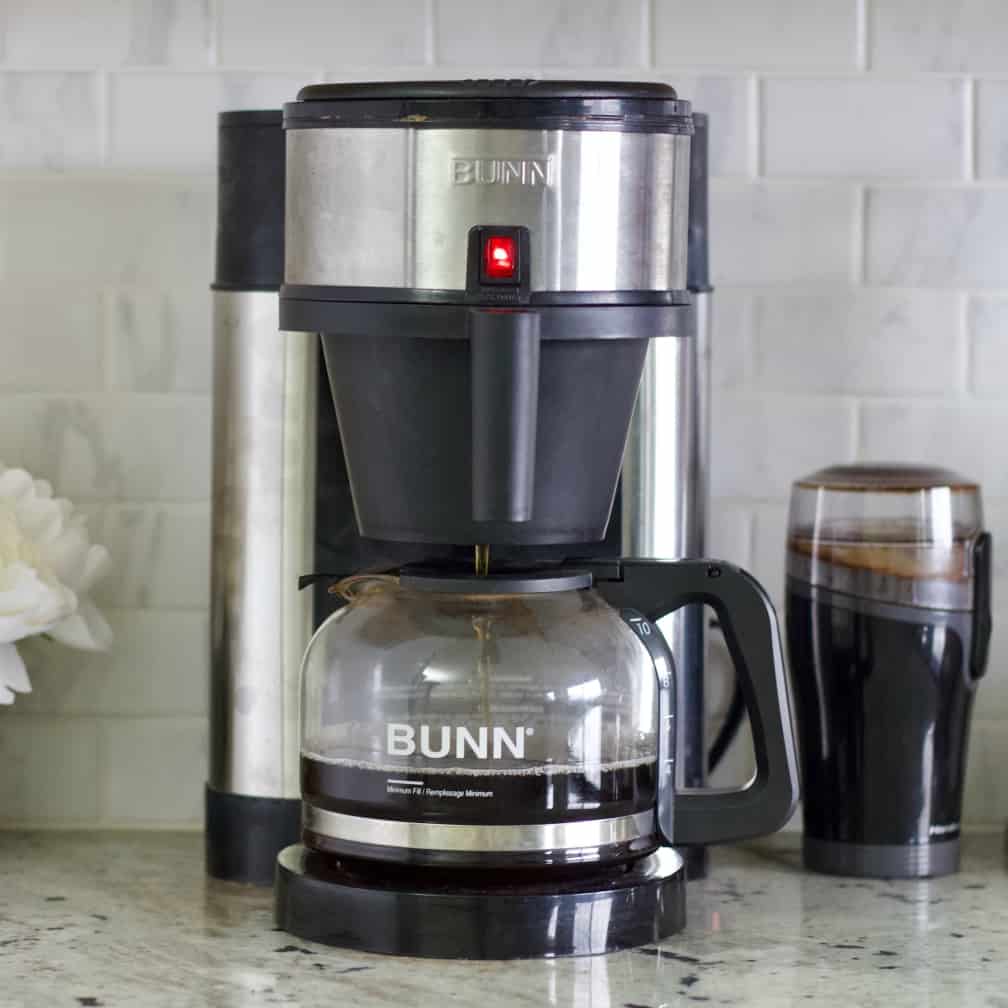 The longest process is grinding and brewing up your coffee beans.
After the freshly brewed coffee is made this is a simple pour and stir recipe.
The whipped cream is optional but a nice indulgence.
The spice on top of the whipped cream we used is cinnamon.
Your Printable Recipe Card:
Yield:

1 café Amaretto
Café Amaretto Alcoholic Coffee Drink
Cafe Amaretto coffee drink with brandy and freshly brewed coffee is topped with sweet whipped cream and a bit of cinnamon. Warm your bones with this yummy brandy coffee. A cozy comforting Alcoholic fireside drink.
Ingredients
1 oz. Amaretto
1/2 oz. Brandy
6 oz. hot coffee
1/4 Cup whipped cream
1/8 tsp. cinnamon
Instructions
Brew fresh coffee
Pour the Amaretto into a warmed heat resistant mug.
Add the brandy.
Pour in the hot coffee.
Top with whipped cream.
Sprinkle cinnamon over whipped cream.
Notes
If you are looking for a hot alcoholic coffee drink with a bit more intensity try this Italian version.

Italian Coffee Variation:
Use fresh hot Espresso rather than coffee.
Add 3/4 oz. brandy
add 3/4 oz. Amaretto
Garnish as desired.

Nutrition Information
Yield
1
Serving Size
1 coffee drink
Amount Per Serving
Calories

180
Total Fat

3g
Saturated Fat

2g
Trans Fat

0g
Unsaturated Fat

1g
Cholesterol

11mg
Sodium

8mg
Carbohydrates

13g
Fiber

0g
Sugar

12g
Protein

1g