Warmly Rich and creamy smooth Irish coffee offers a cozy drink for chilly days. If you enjoy drinking coffee and whiskey together try this delicious coffee drink.
Irish Coffee is a popular alcoholic caffeinated coffee beverage. This drink is traditionally made with Irish Whiskey, Hot Coffee, Sugar, and topped with heavy cream. The Jameson Irish Coffee is a stirred cocktail. The first 3 liquid ingredients are stirred together until the sugar is melted. The drink is then topped with whipped heavy cream, so it creates a collar on top of the drink.
We love this drink with Jameson Irish Whiskey. Other versions of this drink use Baileys Irish Cream, Bourbon, or Kahlua. However, the traditional recipe calls for Irish Whiskey as the alcohol base.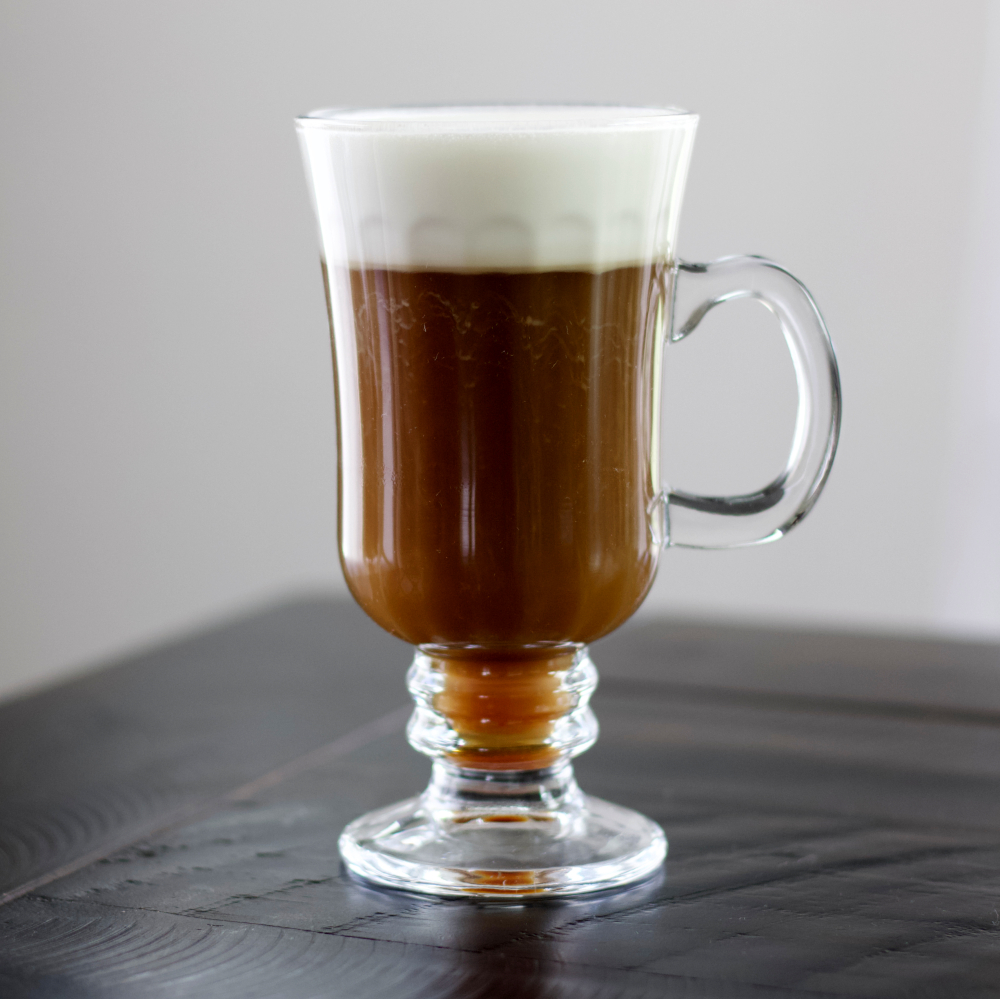 What is the taste of Irish Coffee?
Irish Coffee tastes like a smooth cup of coffee with a hint of whiskey. The collar of cream on top allows a small amount of cream in every sip of coffee. This makes the drink a tasty and easy to drink cocktail. Irish coffee can be made with other alcohol additions like Kahlua or Baileys. However these cream liqueurs will change the traditional taste of the Irish Coffee. A true Irish coffee is made with Irish Whiskey not cream liqueurs.
Can you get Drunk drinking Irish Coffee?
Irish coffee can get you drunk when consumed in large amounts. This cocktail has 1.5 oz of Irish Whiskey. The Irish Coffee has a lower amount of alcohol when compared to stronger cocktails. The ABV (alcohol by volume) of Irish Whiskey is around 40%. Any alcoholic beverage can intoxicate an individual when consumed in large amounts. One Irish Whiskey will produce a light buzz in the average person. We have a great article on the alcohol amounts in cocktails.
Why is it Called Irish Coffee?
Irish Coffee was said to be invented in the chilly little town of Limerick Ireland. Airport Chef Joe Sheridan was said to have created this beverage to help airplane passengers keep warm. It is rumored that an airport guest asked him if this was Brazilian Coffee. Sheridan replied "No, that is Irish Coffee!" This drink hails from the beautiful land of Ireland and continues to be a popular drink around the world.
Is Irish Coffee a morning drink?
Irish Coffee is often consumed in the morning or at brunch. Many restaurants offer these popular coffee cocktails on the breakfast or brunch menu. Since this drink offers a healthy dose of caffeine in it, most people prefer to drink Irish Coffee earlier in the day. This drink can also be consumed as an afternoon pick me up. Be careful when drinking this Jameson Irish Coffee in the evening, it could keep you up all night long.
More Coffee Drinks:
Any time of year coffee drinks are welcome. Try these!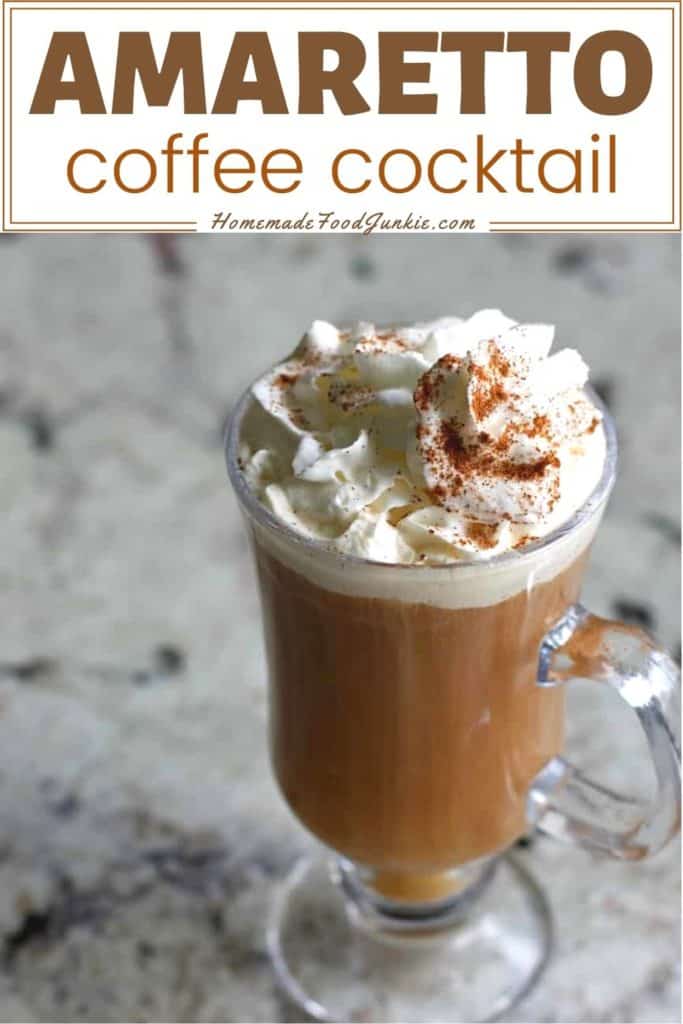 Visit our Cocktail Section for our complete line up of Cocktails.
Pouring Whiskey into coffee didn't begin in Ireland. Rather coffee with whiskey, brandy and other alcohols began in Europe hundreds of years ago.
It jumped over to the Isle of Ireland at some point this last century and made a name for itself.
There are several stories of how the Classic Irish coffee was originally created. The classic recipe has been around since the 1950s.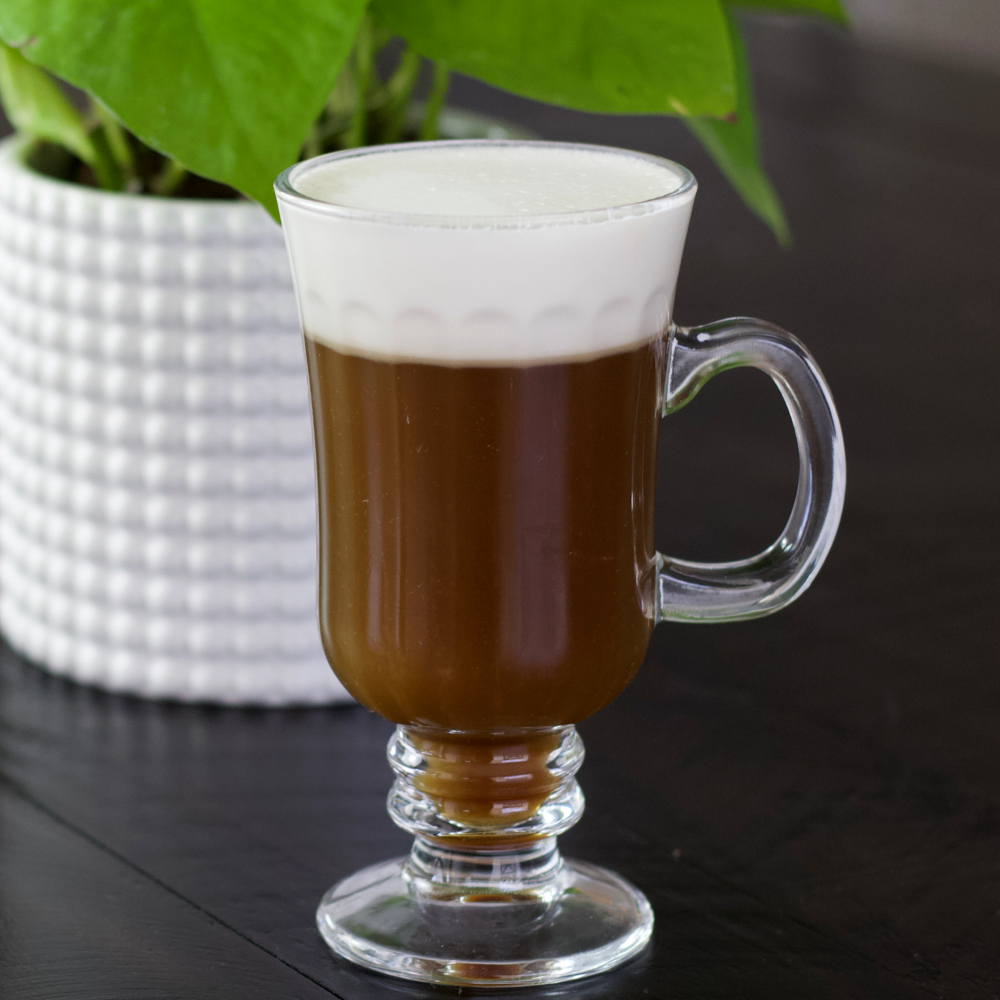 Irish Coffee Ingredients:
You can choose your favorite Irish whiskey. We used triple distilled Jamesons. It's easy on the pocket book, widely available and makes great Irish coffee.
Also try Paddy Whiskey or Knappogue Castle brand whiskey. The green Tullamore Dew offers a softer sweeter whiskey in Irish cream coffee.
What is your favorite?
Recipe Ingredients List:
Irish Whiskey
Hot coffee- We use french roast beans-medium grind
brown sugar
lightly whipped heavy cream
The Cream on top:
I've seen MANY different ways to finish this drink. Our method gives you that drinkable thickened cream in the mouth in a nice smooth stream with your whiskied coffee.
Rather than a stiffer blob of canned whipped cream topping that will try to go down your throat in one gulp.
I enjoyed sipping my coffee whiskey through a creamy liquid on top. If you choose to use a canned topping with all the trimmings you'll need a spoon.
Irish coffee mugs: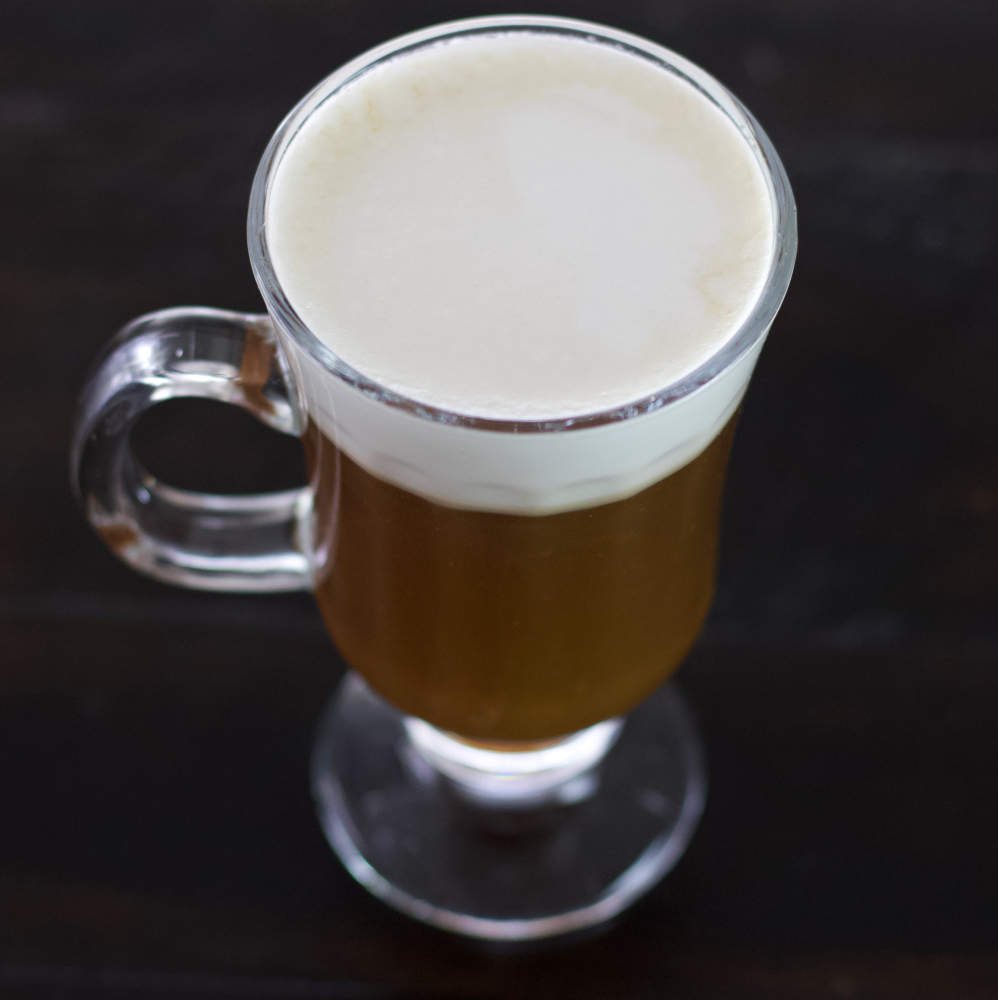 Our favorite mugs for this drink are this style Irish Style coffee Mugs. They have a nice shape for this recipe.
Maybe you prefer a different style. Just make sure you use heat proof glass mugs. They have a nice handle and are designed to handle the heat.
Here is an entire Amazon page of Irish coffee Mugs . Choose your own favorite style.
How to make Irish Coffee:
Below you will find the walkthrough recipe card. If you print out the recipe the pictures will not print. This is to save you ink and paper.
Please also watch our demonstration video to see how we build this coffee drink. You will find the video in the sidebar and at the bottom of this recipe.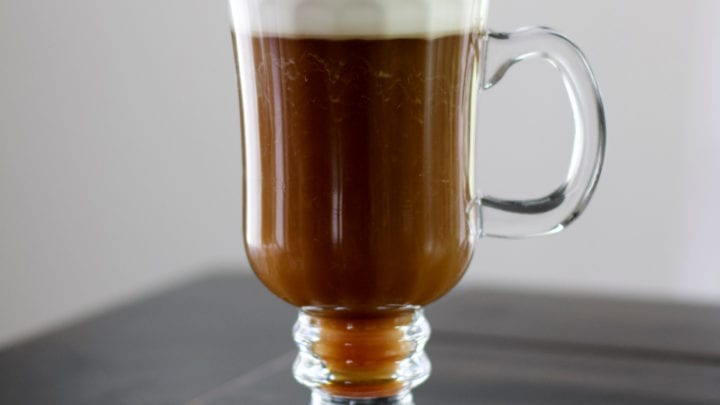 Yield:

1 Irish Coffee
Irish Coffee Recipe with Jamesons
A smooth rich Irish coffee with Jamesons whiskey for a truly authentic Irish whiskey. Real cream floats over the top adding it's own indulgent touch.
Ingredients
1.5 oz. Jamesons Whiskey
4 oz. fresh brewed coffee
1 Tablespoon Brown Sugar
1 oz. heavy cream-lightly whipped
Instructions
Brew up a pot of your favorite coffee. We used French roast beans ground fine.
Whisk the heavy whipping cream lightly. You want it to have a bit of body. But it needs to remain a thick frothy liquid that easily pours over the top. set aside.
Pour the coffee into an 8 oz. Irish coffee mug (or any 8 oz.heat proof mug you prefer).
Add the brown sugar and Irish Whiskey.
Stir until the sugar is completely melted.
Pour the thickened cream over the hot coffee mixture.
Serve.
Notes
Drink the coffee right through the cream for the best effect. You can use any topping you prefer of none at all. However the cream is a part of this recipe. Not just a garnish.
Nutrition Information
Yield
1
Serving Size
1
Amount Per Serving
Calories

439
Total Fat

22g
Saturated Fat

14g
Trans Fat

1g
Unsaturated Fat

6g
Cholesterol

67mg
Sodium

22mg
Carbohydrates

12g
Fiber

0g
Sugar

12g
Protein

2g
Follow Us:
We enjoy meeting you on our social networks. Follow us on Facebook, Pinterest, Instagram . Tag us with your pictures of our recipes and comment on how it went for you. We would love to see what you do with them.
We often like, comment and share your posts of our recipes on our daily Instagram stories.
Ask questions and rate the recipe in the comments section below. Please share what you did with this recipe. We are always looking for more and better ways to make homemade food. Other cooks love your ideas!
Recent Posts: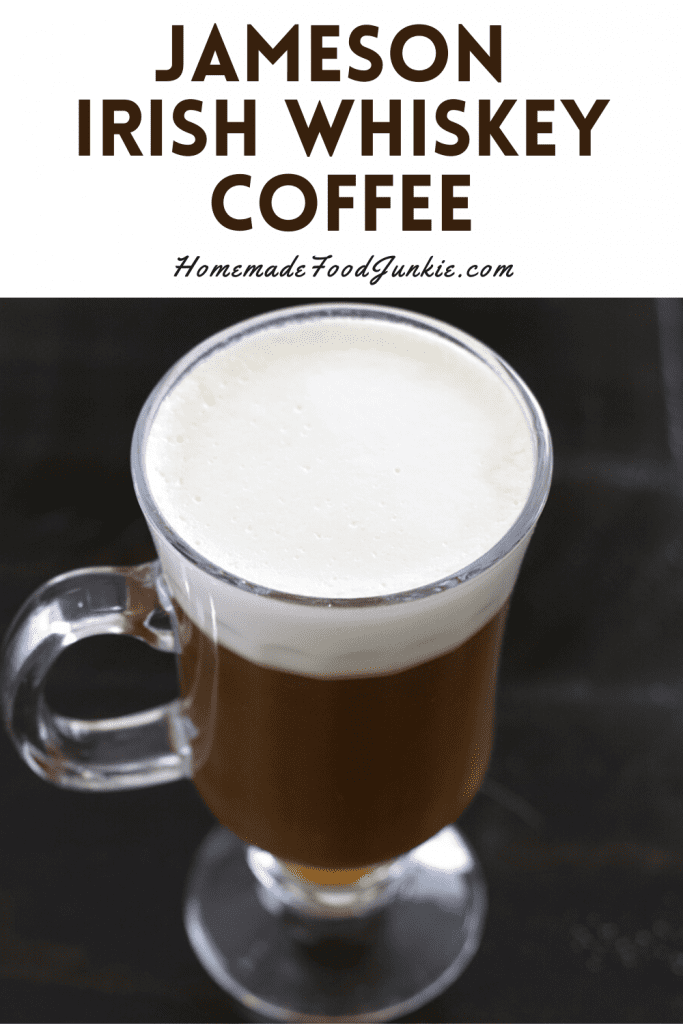 Please Follow us on Instagram. Tag us with your pics of our recipes. We love to see what you've done with them. We like comment and share your posts out on our daily stories.