This one pot Mexican rice and chicken dinner is all about keeping it simple in the kitchen and delivering a fun, delicious and nutritious meal to the family with a South of the Border flair. This Mexican style chicken recipe is full of filling, healthy ingredients with plenty of Mexican flavor. And it's all made in under 40 minutes and served from one large skillet. We love simple yummy dinners like this and know your family will too.
What is the rice with chicken dish in Spanish? The rice with chicken dish in Spanish is commonly known as "Arroz con Pollo." This popular Latin American dish typically consists of rice and chicken cooked together with various spices and ingredients, creating a flavorful and hearty meal. Arroz con Pollo may have regional variations, but the basic components usually include rice, chicken, vegetables, and seasonings. It's a delicious and comforting dish enjoyed in many Spanish-speaking countries.
Is arroz con pollo popular in Mexico? Actually no. Arroz con Pollo is more common in other Latin American countries in Central and South America. That said, Mexican cuisine does have a lot of delicious chicken dishes. Just not quite the same as the Arroz con Pollo dishes you find in countries like Puerto Rico, the Dominican Republic, or Colombia.
Even though it's a bit of a misnomer…We think you'll enjoy our quick and easy knock off Mexican Rice and chicken recipe.
Recipe Tips:
Prepare Ingredients: Before starting, make sure all your ingredients are chopped, minced, and measured. This will help you work efficiently.
Sear the Chicken: Heat the vegetable oil in a large skillet over medium-high heat. Season the chicken pieces with prepackaged Taco seasonings or a combination of salt, pepper, cumin, and paprika. Now, Sear the chicken in the skillet until it's browned on all sides, about 5 minutes. Remove the chicken from the skillet and set it aside until needed.
Add Rice, Tomatoes and Chicken Broth: Pour in the diced tomatoes (including the liquid) and chicken broth. Mix everything well, making sure the rice is evenly distributed. Bring the mixture to a simmer.
Return Chicken to Skillet: Once it's simmering, return the seared chicken pieces to the skillet. Make sure they're evenly distributed.Add in the corn and black beans.
Simmer and Cover: Reduce the heat to low, cover the skillet with a lid, and let it simmer for about 20-25 minutes or until the rice is cooked, and the chicken is tender. Check it occasionally and add more chicken broth if needed to prevent sticking.
Check for Doneness: Taste the rice for doneness. It should be tender, and the liquid should be absorbed. Adjust the seasoning with salt and pepper if necessary.
Garnish and Serve: If desired, garnish your Arroz con Pollo with fresh Avocado slice, sour cream, cilantro or parsley. Serve it hot, and enjoy your delicious meal!
Mexican Rice Variations:
You can change the recipe to create different versions of the Mexican rice. They all go well with the chicken. This is a fun way to make this simple recipe endlessly interesting. By using various ingredients and flavors this recipe just never stops offering flavors you love into the family meal.
Here are some ideas for different versions:
Spanish/Mexican Saffron Rice:
Add a pinch of saffron threads for a distinctive Spanish flavor and yellow color. Soak the saffron threads in a tablespoon of warm water before adding them to the rice.
This cilantro lime rice recipe offers a bright and zesty flavor for a nice contrast to the taco seasoned chicken. Recipe is linked above.
Chipotle Mexican Rice:
Replace the Rotel tomatoes with diced tomatoes in adobo sauce for a smoky and spicy kick. You can adjust the amount of sauce to control the heat level.
Feel free to mix and match these ideas to create your own unique versions of Mexican rice, experimenting with different ingredients and flavor profiles to suit your preferences. The taco seasoned Chicken will go well with any of these combinations.
What Do you Serve With Mexican Rice?
If you're looking to add a side dish to complement Mexican Rice and Chicken or stretch it for a larger crowd, here are some options:
Grilled black Bean Corn Salad: Is a great side dish for mexican meals.
Grilled or Roasted Vegetables: Seasoned grilled or roasted vegetables such as bell peppers, zucchini, and onions can provide a nice contrast to the rice and chicken.
Salsa and Pico de Gallo: Fresh cucumber salsa or pico de gallo can be served as a side or used as a topping for your chicken and rice.
Corn on the cob slathered with butter, mayonnaise, cotija cheese, chili powder, and lime juice is a flavorful and fun side dish.
Sweet and Spicy Candied Jalapeños add a tangy and spicy kick to your meal.
Spinach, Bacon Avocado Salad: add avocado slices to the top of the salad. Bacon is optional for a side for Mexican meals. Also peppers add spice!
Tossed Green Salad: A basic green salad with mixed greens, cherry tomatoes, cucumbers, and a lime-cilantro dressing can provide a fresh contrast to the richness of the main dish.
Our one-pot Mexican rice and chicken dinner is a satisfying meal complete in itself with chicken and Mexican rice paired in one dish.
Storing the Leftovers:
When stored properly in the refrigerator, leftover Mexican rice and chicken should remain safe to eat for approximately 3 to 4 days. Longer if you have a good fridge. You know how things keep in your fridge but hold this recipe at most 5 to 7 days.
To ensure the best quality follow these guidelines:
Cool Down: Allow the cooked meal to cool down to room temperature within two hours of cooking. Do not leave it out at room temperature for long or it will begin to degrade.
Storage Containers: Transfer the leftovers to airtight containers or sealed storage bags. Ensure that the containers are sealed tightly. Exposure to air leads to faster deterioration.
Labeling: Label the containers with the date when you cooked the meal. This helps you keep track of how long it has been in the fridge.
Refrigerate Promptly: Place the sealed containers in the refrigerator as soon as possible after the meal has cooled down. Make sure your fridge is set to a temperature of 40°F (4°C) or lower to slow down the growth of bacteria.
Reheating: When reheating the leftovers, reheat to an internal temperature of 165°F (74°C) to kill any potential bacteria. Microwaves are great for reheating this meal.
The leftovers are amazing for home or office lunches, when stored in single serving microwave safe containers.
Freeze This Mexican Rice and Chicken Dinner
This is a perfect meal to have handy in the freezer for meal trains or busy nights at home when all you can do is throw it in the microwave. You can freeze the leftovers of your Mexican rice and chicken dish, or you can prepare it as a freezer meal in advance for convenient future use.
Here are some tips for freezing this meal:
Freezing Leftovers:
Cool Down: Allow the Mexican rice and chicken to cool down to room temperature before freezing. Cooling it down before freezing prevents moisture buildup, which can result in freezer burn.
Portion: Divide the leftovers into individual or family-sized portions. This makes it easier to thaw and reheat only the amount you need.
Airtight Containers: Transfer each portion into airtight containers or heavy-duty freezer bags. Remove as much air as possible to prevent freezer burn. Label each container or bag with the date to keep track of freshness.
Freeze: Place the containers or bags in the freezer. Make sure to store them in a way that keeps them flat, so they can be easily stacked.
Use Within 2-3 Months: For best quality, consume the frozen leftovers within 2-3 months. While frozen meals can be safe to eat beyond this timeframe, the quality and flavor may start to deteriorate.
Making it a Freezer Meal in Advance:
Prepare and Cook: Follow your recipe as usual up to the point before pressure cooking in the Instant Pot. Instead of cooking, allow the mixture to cool down.
Portion and Freeze: Portion the uncooked Mexican rice and chicken mixture into airtight, freezer-safe containers or freezer bags. Label each container with cooking instructions and the date.
Freeze: Place the containers in the freezer, and they can be stored for 2-3 months.
Cooking from Frozen:
Properly storing and labeling your frozen Mexican rice and chicken will help you enjoy a convenient and delicious meal whenever you need it.
When you're ready to enjoy your freezer meal:
Thaw: If you're using portioned leftovers, thaw them in the refrigerator overnight. For a freezer meal, you can cook it directly from frozen in either the oven or instant pot.
Reheat: If you've thawed the meal, you can reheat it in the microwave, on the stovetop, or in the Instant Pot on the "Sauté" mode until it's heated through.
If cooking from frozen, You can remove the freezer packaging and place the frozen mixture in the Instant Pot. Add a little extra liquid if needed, and cook on high pressure for about 10-15 minutes. Natural release. For the microwave remove meal to microwave safe dish, defrost setting for the weight and then and heat in stages of 1 to 3 minutes until the meal is hot through. For the stovetop put the frozen meal into a skillet on low heat with a little liquid and let it slow cook covered while stirring occasionally until it all heats through.
Mexican Rice and Chicken Recipe:
Our printable recipe card for Mexican chicken and rice with queso (cheese), black beans and corn is below. This dinner is easy to put together and change up with a few seasonings or herbs, like cilantro if you want to. We love it just the way the recipe is written. However, adding peppers, cilantro or even your favorite salsa will bring out even more flavor for your family.
We also have in our recipe notes the complete method for making Instant pot Mexican chicken and rice. Both the skillet and instant pot and very simple methods for making this meal. You chose what works best in your kitchen.
Let us know how you enjoy this recipe in the comment section below.
Yield:

6 servings
Mexican Rice and Chicken
A very simple 40 minutes dinner, including prep. The whole family will love this meal. Make it how youy like it. It's easy to change up the spices for more or less heat. Add your favorite finishing touches to this one pot skillet dinner and enjoy the flavorful blend of Mexican rice and seasoned chicken with corn, black beans and cheese. Excellent!
Ingredients
1 Cup Long Grain White Rice
2 Cups chicken broth
1 10 oz. can Rotel tomatoes
1 lb. boneless skinless chicken breasts- cut into one inch pieces
1 15 oz. can black beans-drained and rinsed
2 Tablespoons taco seasonings
1 Cup frozen corn kernels
2 Cups Mexican blend cheese-shredded and divided
1 tsp. olive oil
Instructions
Pre-Heat deep 12 inch skillet (with lid) to medium heat.
Add olive oil and cubed chicken pieces.
Sprinkle Taco seasoning over chicken and cook until chicken is browned.
Remove chicken to bowl or plate.
Pour rice, chicken broth and tomatoes into hot skillet.
Bring the skillet to a boil. Add back the chicken and pour in the rinsed black beans.. Cover the skillet and reduce to simmer..Simmer 20 minutes or until rice is soft
Remove lid and add in frozen corn and cheese.
Replace cover and cook five more minutes until its all warm and melted.
Plate and serve. Servng suggestion: Top with sour cream and avocado slices.
Notes
Instructions for Instant Pot Mexican Chicken and Rice:
Sauté Mode: Set your Instant Pot to "Sauté" mode and add the vegetable oil. Once it's hot, add the oil and chicken pieces..
Sear the Chicken: Season the chicken pieces with your taco seasonings (cumin, paprika, chili powder, etc.), salt, and pepper. Add them to the Instant Pot and brown them on all sides. This should take about 3-4 minutes.
Add Rice and Tomatoes: Stir in the rice and canned Rotel tomatoes (with their juices). Mix everything well to coat the rice with the flavors.
Add Chicken Broth: Pour in the chicken broth, ensuring that the rice is evenly distributed in the pot.
Pressure Cooking: Close the Instant Pot lid and set it to "Manual" or "Pressure Cook" mode on high pressure for 6 minutes. Make sure the steam release valve is in the sealing position.
Natural Release: Allow the Instant Pot to naturally release pressure for 5-10 minutes after the cooking time is complete. Then, manually release any remaining pressure by carefully moving the steam release valve to the venting position.
Fluff and Serve: Open the Instant Pot lid, fluff the rice and chicken with a fork, and give it a good stir to combine all the ingredients evenly. Taste and adjust the seasonings if necessary.
Garnish and Serve: Serve your Instant Pot Mexican rice and chicken hot, garnished with fresh cilantro, lime wedges, shredded cheese, sour cream, diced avocado, or any other toppings you prefer.
Using the Instant Pot for this recipe can save you time and effort, and it will still result in a delicious and flavorful one-pot Mexican rice and chicken dinner.
Nutrition Information
Yield
6
Serving Size
1
Amount Per Serving
Calories

439
Total Fat

16g
Saturated Fat

8g
Trans Fat

0g
Unsaturated Fat

6g
Cholesterol

103mg
Sodium

757mg
Carbohydrates

33g
Fiber

8g
Sugar

3g
Protein

41g
More Simply Delicious Chicken Dinners:
All these chicken dinners are very easy to make and well tested, family pleasing meals. We know your loved ones will all enjoy some or all of these yummy chicken dinners. Take a look!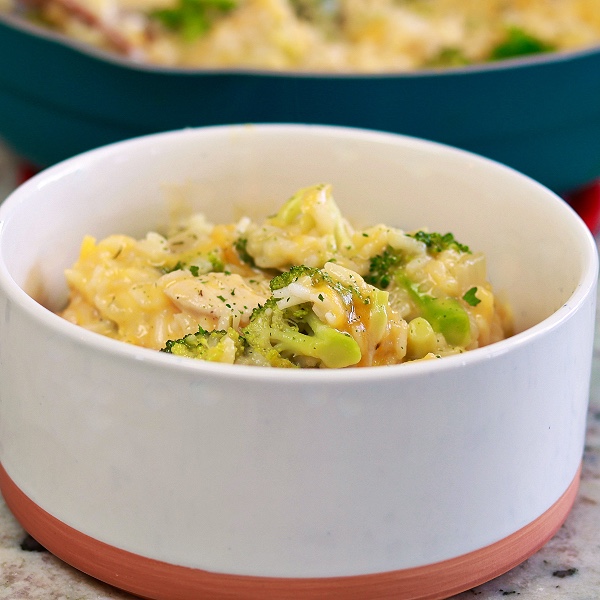 More Chicken Recipes!
Follow Us:
We enjoy meeting you on our social networks. Follow us on Facebook, Pinterest, Instagram . Tag us with your pictures of our recipes and comment on how it went for you. We would love to see what you do with them.
We often like, comment and share your posts of our recipes on our daily Instagram stories.
Ask questions and rate the recipe in the comments section below. Please share what you did with this recipe. We are always looking for more and better ways to make homemade food. Other cooks love your ideas!
Recent Posts: