Instant Pot Chili Verde KETO recipe is just one more reason to love your instant pot. This gluten free recipe is incredibly easy to make and SO full of delicious south of the Border flavor. Treat your family to this low carb Mexican entrée.
Made as directed this is a KETO compliant, low carb Gluten free meal. Chili Verde is also an excellent filling for tacos, enchiladas, sliders and carnitas too. Very versatile recipe the whole family will enjoy.
The instant pot makes inexpensive tough cuts of meat like pork shoulder VERY tender, flavorful and moist. Try Instant Pot Pot Roast dinner for another example of how your instant pot can turn a cheap cut of meat into a tender, flavorful dream meal (with a gravy made right in the pot!).
The process of pressure cooking has one HUGE advantage over all the other methods I have used to cook meat. The pressure drives the flavor of the sauce right into the meat. Seriously. That's a big reason to make saucy meats like this one in your instant pot.
AND…it's so easy. After you sear the meat. Lock the lid and go visit with the family for an hour and let the pressure cooker do the work. Such a nice way to make dinner.
I'm using my homemade Instant pot Bone Broth in this recipe. For the best flavored bone broth Instant Pot Bone Broth is just unbeatable. The added nutrients in your meals really make this process worth doing. The instant pot saves you time and money when you make your own bone broth too. Win win win!
Visit our Instant Pot Recipes Page for more on cooking with the instant Pot and yummy recipes.
This KETO dinner in particular we devoured and Dave requested this as leftovers too. Just yum!
Watch your sides if you are on a strict KETO diet. All the add on vegetables and Tortillas must be calculated separately.
I found these helpful Infographics over at www.ruledme.com
I am shocked that onions are so high in carbs! Good thing Dave and I are not eating KETO right now or I would have blown our carb count. Sadly some of our very favorite veggies are really high in carbs.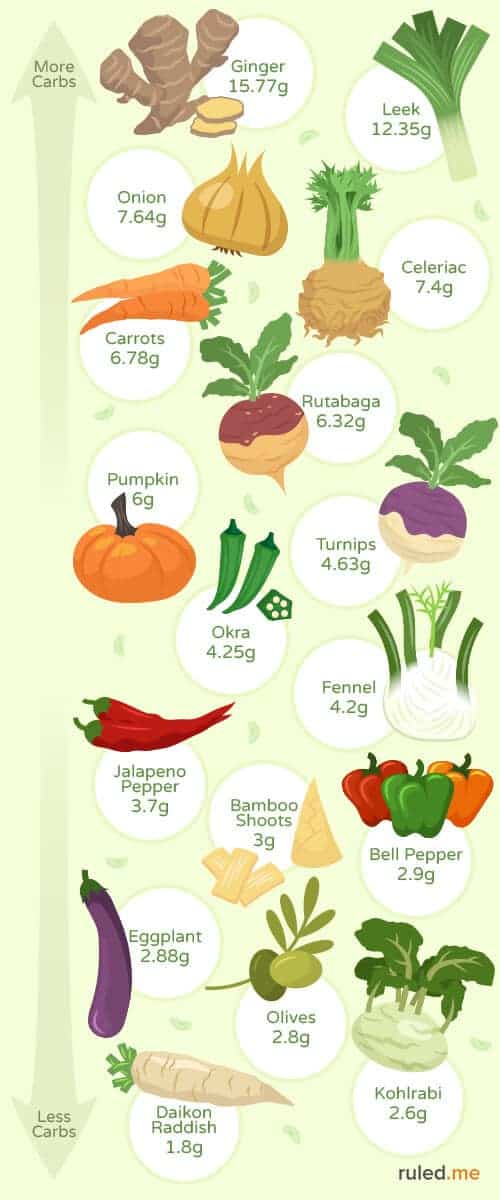 Fortunately, Dave and I enjoy all sorts of veg. I hope you find some veggie sides you enjoy in the LOWER carb veggie list below.
Instant Pot Chili Verde KETO Approved Recipe Notes:
Jalapeño and cilantro are both very good garnishes to this meal if you have them. The tomatoes, onions and white corn tortillas make this a (Probably NON KETO) meal . Dave filled up his favorite type of tortilla with this spicy pork and veggies. So good!
This Mexican recipe is about as easy as dinner gets. The instant Pot makes it MUCH more quickly than cooking it over the stove.
Instructions:
Cut up the pork and rub in the seasonings.
Load the seasoned pork into the instant pot and brown it on all sides to really bring out the flavor of the meat.
Pour in the two ingredient sauce and lock the lid. Cook and serve.
I hope you enjoy this delicious KETO recipe.
Yield:

4 servings
Instant Pot Chili Verde KETO Dinner
Natural release time:
10 minutes
Total Time:
1 hour
15 minutes
A wonderfully flavorful Mexican recipe the whole family will enjoy. KETO compliant and gluten free. This recipe can also be used to make a meat base for(not gluten free or KETO)tacos, burritos and enchiladas.
Ingredients
2 lbs. boneless Pork shoulder
1 tsp. salt
1/2 tsp. pepper
avocado oil
2 cups salsa verde
2 cups chicken broth
fresh cilantro and Jalapeño for garnish
Instructions
Cut meat into several large pieces
rub the salt and pepper into the meat pieces.
Set the instant pot to sauté on high.
add the avocado oil.
Using tongs place the meat pieces into the instant pot so each piece of meat touches the hot bottom of the pot.
Mix the salsa and broth together and set aside.
Turn the meat as it browns until all sides are seared.
Pour the salsa mixture over the meat.
With the tongs move the meat pieces to unstick them from the pot bottom and completely coat the meat in the salsa verde. Press the cancel button.
Seal the locking lid on the instant pot and set the instant pot to manual high pressure for 55 minutes.
Once the instant pot is done. Natural release for ten minutes. Then quick release.
Serve the meat in chunks or shredded as you prefer.
Garnish with the peppers and cilantro.
Notes
Serve this recipe as a main entree or filling for your favorite taco, carnitas or enchiladas. As directed this recipe is KETO compliant.
Recommended Products
As an Amazon Associate and member of other affiliate programs, I earn from qualifying purchases.
Nutrition Information
Yield
6
Serving Size
1 Cup
Amount Per Serving
Calories

317
Total Fat

12.5g
Saturated Fat

3.3g
Trans Fat

0g
Unsaturated Fat

0g
Cholesterol

110mg
Carbohydrates

6.6g
Fiber

2.6g
Sugar

1.6g
Protein

42.9g
Original Recipe by Beauty and the Foodie