Homemade Pumpkin bread is always a huge fall treat around here. This recipe uses coconut oil and canned, fresh or frozen pumpkin with adjustments. Dave loves slices of this fragrant tasty bread in his lunch. A loaf won't last long if kept on the counter for snacks.
Our family has loved this moist, tasty pumpkin bread for generations. We make is usually from fresh or frozen pumpkin pureed from our garden crop.
Fresh pumpkins are baked or steamed, pureed and transformed into fragrant cookies, pies and pumpkin bread. Fall makes so many wonderful memories for me. Lately I've made this loaf with my granddaughters. We added a cinnamon cream cheese frosting for fun. That is a very tasty addition to this loaf!
This Pumpkin bread recipe includes instructions for pureeing fresh pumpkin. Very handy for gardeners like us, that grow their own pumpkins. Or maybe you know a gardener, or love visiting a favorite pumpkin patch every fall like my daughters do with their kids.
It's so fun to cook pies, cookies and breads made from pumpkins picked or grown together with your family members. Kids especially gain so much value out of farm to table experiences! They learn where their food comes from  and so much more!
Ironically I am showing you pictures today of this recipe made from canned pumpkin. This is the year our squashes in our garden all did very poorly. Our pumpkins are so small, I'm using the few we did get for fall decorations. So it's canned pumpkin for me this year.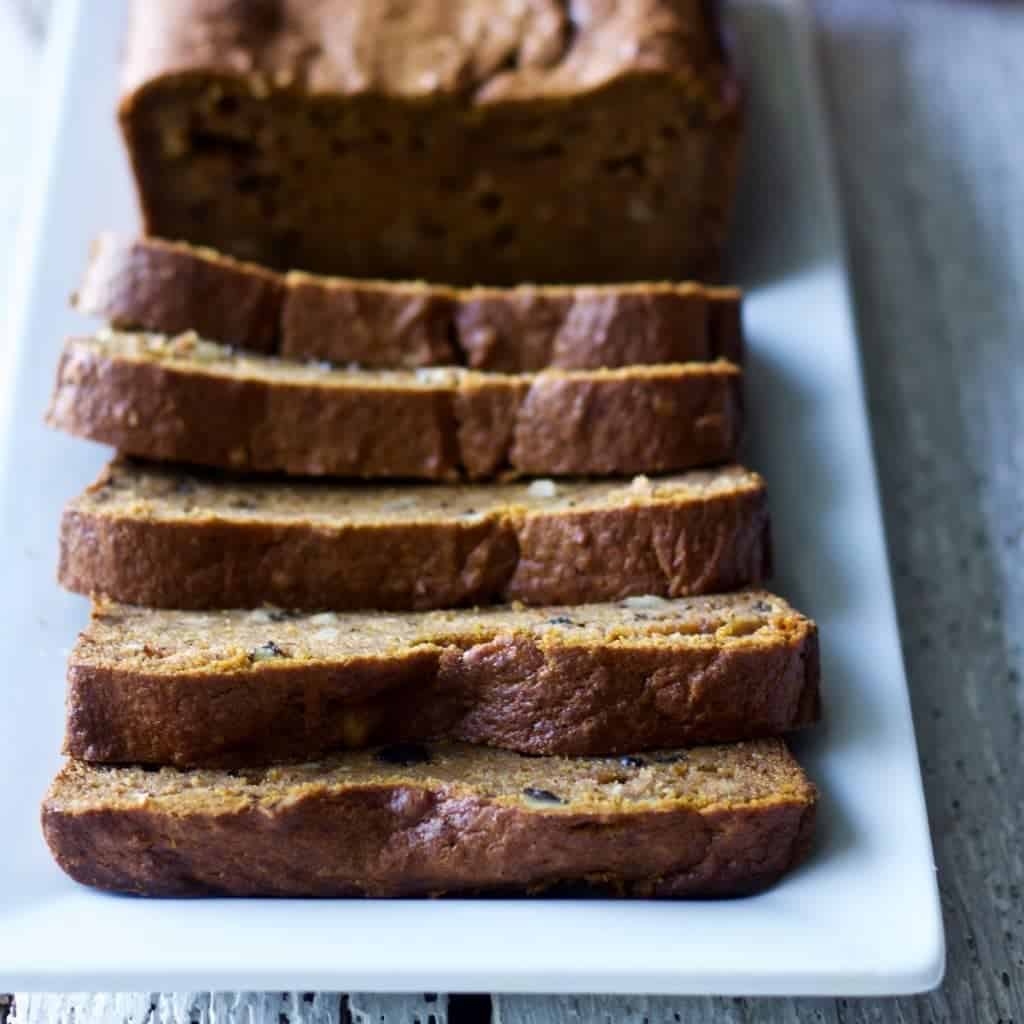 Homemade Pumpkin Bread  Recipe Notes:
This recipe makes one loaf as written. It doubles Easily. This recipe is meant for fresh or frozen pumpkin puree but canned pumpkin can be used as noted below. The baking times change depending on the looseness of your batter. Use the toothpick test to determine doneness.
To make pumpkin purée from a fresh pumpkin:
Cut a pumpkin in half,
Scoop out the sides and stringy stuff,
Lay both halves face down on abaking sheet and bake at 350º until soft when poked with a sharp knife, About 45 minutes.
Cool, scoop out the flesh and put into a large bowl.
Beat thoroughly with an electric mixer, food processor or potato masher until it's evenly pureed with no (or small) lumps.
Freeze any extra for future use.
For this recipe, if you use canned pumpkin you will get a very different consistency in the batter from using fresh or frozen.
Fresh pureed and especially fresh frozen pumpkin puree will give you a wetter, looser batter.  If you use canned pumpkin Adjust the water called for in the recipe (Increase it) to make your batch work well. The picture below is the consistency you're going for. A little looser is ok, but no denser or it won't bake thoroughly!
This is a simple, delicious recipe. It's moist and full of pumpkin and spices. This bread is a good lunch box addition, Holiday appetizer or after school snack. It's been loved by our family for generations and we hope you love it too!
You can see this is a moist rich bread. Feel Free to adjust the liquids to your tastes.
If you purchase from our affiliate Links we may receive a small commission at no extra charge to you. Thank you for supporting Homemade Food Junkie.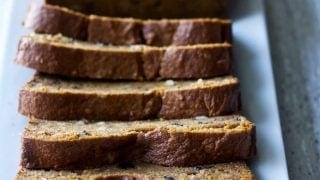 Yield:

16 slices
Homemade Pumpkin Bread Recipe
Total Time:
1 hour
45 minutes
Homemade Pumpkin bread is always a huge fall treat around here. This recipes uses coconut oil and canned, fresh or frozen pumpkin with adjustments.  A loaf won't last long if kept on the counter for snacks.
Ingredients
1 1/2 C flour
1/2 tsp salt
1 C sugar
1 tsp baking soda
1 C pumpkin puree*
1/2 C coconut oil
2 eggs beaten
1/4 C water, adjust as needed for canned pumpkin
1/2 tsp nutmeg
1/2 tsp cinnamon
1/2 tsp allspice
1/2 C walnuts, opt.
Instructions
Preheat Oven to 350 degrees
Sift together the flour, salt, sugar and baking soda. Set aside
In a separate, larger bowl, mix the pumpkin, oil, eggs, 1/4 Cup of water and spices together
Add the dry ingredients, and mix together gently with a large wooden spoon. Small lumps are fine. Add the walnuts if you use them and stir together.
Pour into a well-greased loaf pan, size 9x5x3.
Bake 50 to 60 minute
Notes
This recipe assumes you are using fresh pumpkin and taking the time to puree it. If you are using canned pumpkin the prep time to make this recipe is reduced to about 10 minutes.
This recipes doubles easily for two loaves.
Freeze this bread once it it completely cooled by wrapping tightly in plastic wrap and then in tinfoil. Freeze for up to a month. Defrost by removing tinfoil and setting on the counter at room temperature.
Nutrition Information:
Amount Per Serving:
Calories:

334
 Pin it: