Homemade pumpkin bread is always a welcome fall treat, and this quick bread recipe uses coconut oil, canned, fresh or frozen pumpkin, aromatic spices, and whatever inclusions you desire. The beauty of this pumpkin bread is that it can be made however you desire to fit your dietary needs, flavor preference, and time budget.
Homemade pumpkin bread has been around for a long time as one of the more popular quick bread recipes. Similar to banana bread, lemon loaf, zucchini breads, and apple breads; pumpkin bread graces the tables of households in the fall season as a tasty treat. It can be enjoyed plain or glazed with a simple sugar icing for added sweetness and visual flair.
This is one of our favorite quick breads and we are walking you through all of the variations and ways you can make it to suite your preferences.
This recipe includes instructions for pureeing your own fresh pumpkin and making the puree from scratch, but, you can just as easily use store bought puree if that is easier for you.
If you don't grow you own pumpkins you can purchase small sugar pie pumpkins from your local grocer during the harvest season. They are inexpensive and delicious baking pumpkins. Making puree from scratch will always yield a fresher more robust flavor, and it doesn't take long at all.
Homemade puree will also store and freeze for a variety of other recipes throughout the holiday season. It's the best way to make pumpkin bread, pumpkin muffins, and even your own pumpkin spice coffee creamer!
Homemade Pumpkin Bread Recipe
This bread is a good brunch table addition, holiday appetizer or after school snack. The flavor is outstanding, and the texture is soft, tender, and cake-like. Everyone will enjoy this scrumptious dessert bread.
This recipe makes one loaf as written, however it can easily be doubled for a larger crowd, to share with friends and family, or freezing to enjoy at a later date. This recipe is meant for fresh or frozen pumpkin puree but canned pumpkin can be used as noted below.
The baking times change depending on the thickness of your batter. We always recommend using the toothpick test to determine doneness. Insert a toothpick, or fork, into the very center of the loaf at the end of the baking time. When it comes out clean the loaf is done and ready to be removed from the oven.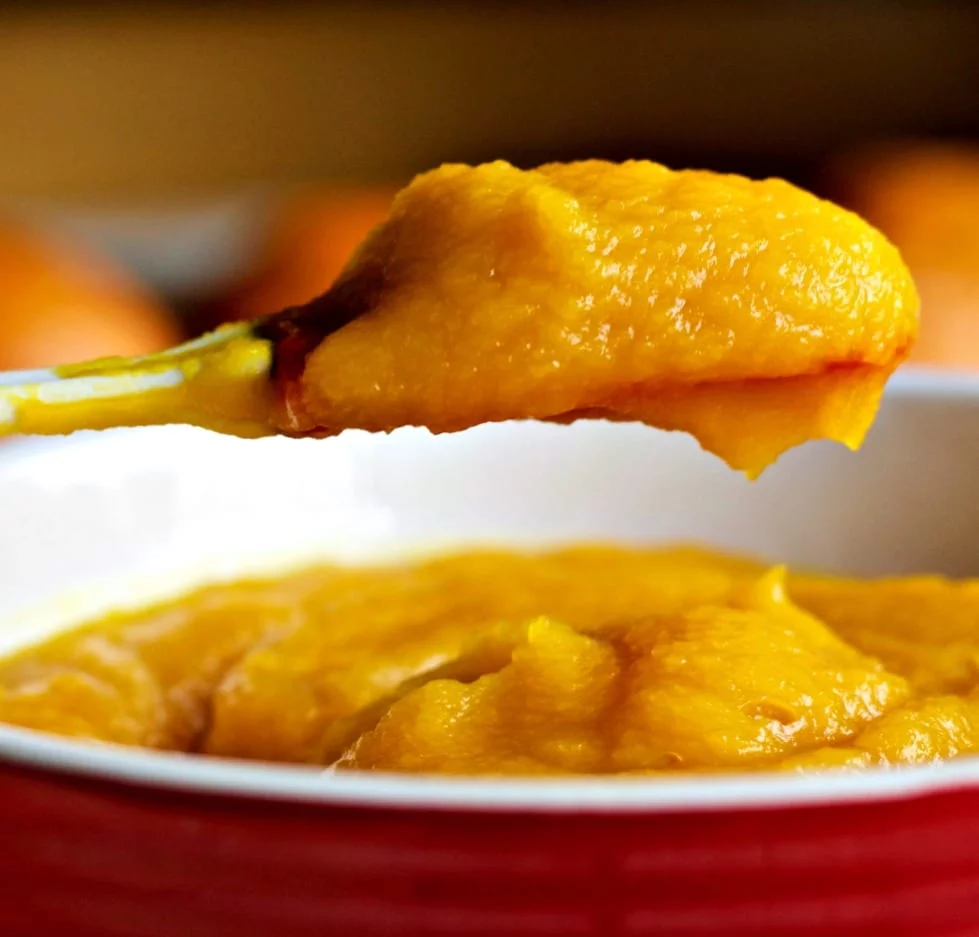 How do you make pumpkin puree?
This is a quick run down of the steps to making pumpkin puree. Here is the full roasted pumpkin puree recipe post. It is a simple method that results in creamy, smooth puree that is perfect for baking recipes throughout the harvest season.
Cut a pumpkin in half
Scoop out the seeds and stringy innerds
Lay both halves face down on a baking sheet and bake at 350º until soft when poked with a sharp knife, about 45 minutes
Cool, scoop out the flesh and put into a large bowl
Beat thoroughly with an electric mixer, food processor or potato masher until it's evenly pureed with no lumps
Freeze any extra for future use
For this pumpkin bread with fresh pumpkin you will get a very different consistency in the batter from using canned pumpkin, so make sure you are using discernment when mixing your batter and adjust the liquids accordingly.
Fresh pureed, and especially fresh frozen pumpkin puree will give you a wetter, thinner batter.
Adjustments for canned pumpkin puree
For a truly easy homemade pumpkin bread you can use the store bought canned puree. Watch the labels, don't use pumpkin pie filling. The liquids will need to be adjusted slightly if you are using the canned puree as they are thicker than any fresh puree that you would make.
This is a delicious moist pumpkin bread. It's tender and full of pumpkin and spices.
Pumpkin Bread how to baking tips
You must bake this bread until a toothpick comes out clean. Add time to your baking in 5 or ten minutes additions until your bread is completely done.
Cover the loaf with a loose tinfoil tent if you see the edges of the bread getting done before the middle is completely cooked.
It is better to cook this bread at a lower temperature for longer, than a hot temperature. Cooking the bread too hot will dry it out, and could easily burn the top and edges.
What is the best way to store pumpkin bread?
Once the homemade pumpkin bread loaf is cooked and fully cooled, store it in an airtight container at room temperature.
You can also freeze homemade pumpkin bread very easily. This is a great option if you have extra puree. Double the recipe and freeze the extra loaf to enjoy at a later time.
Cool the bread completely
Freeze the bread un-glazed for best results
Wrap the loaf tightly in heavy duty tinfoil
Put the wrapped bread in a heavy plastic bag or ziplock freezer bag.
Remove all excess air from the bag
Label with the date and recipe name
Freeze for up to 6 months
Defrost at room temperature and warm before enjoying
Icing for Homemade Pumpkin Bread
Icing is optional, but always a welcomed addition to sweet quick breads. Keep this icing recipe handy for dressing this pumpkin quick bread up for a Thanksgiving dessert or fall party tray. It is also the icing we use for our homemade cinnamon rolls.
2/3 Cup melted butter
4 Cups powdered sugar
1 Tablespoon cinnamon
2 tsp. vanilla
4 to 8 Tablespoons hot water
In a medium bowl, mix melted butter, powdered sugar and vanilla.
Add 1 Tablespoon hot water or more a little at a time until the glaze reaches a good consistency.
Spread or drizzle over the cooled pumpkin bread.
Your Printable Recipe Card
Yield:

16 slices
Homemade Pumpkin Bread Recipe
Total Time:
1 hour
20 minutes
Homemade Pumpkin bread is always a huge fall treat around here. This recipes uses coconut oil and canned, fresh or frozen pumpkin with adjustments. A loaf won't last long if kept on the counter for snacks.
Ingredients
1 1/2 C flour
1/2 tsp salt
1 C sugar
1 tsp baking soda
1 C pumpkin puree*
1/2 C coconut oil
2 eggs beaten
1/4 C water, adjust as needed for canned pumpkin
1/2 tsp nutmeg
1/2 tsp cinnamon
1/2 tsp allspice
1/2 C walnuts, opt.
Instructions
Preheat Oven to 350 degrees
Sift together the flour, salt, sugar and baking soda. Set aside
In a separate, larger bowl, mix the pumpkin, oil, eggs, 1/4 Cup of water and spices together
Add the dry ingredients, and mix together gently with a large wooden spoon. Small lumps are fine. Add the walnuts if you use them and stir together.
Pour into a well-greased loaf pan, size 9x5x3.
Bake 50 to 60 minute
Notes
This recipe assumes you are using fresh pumpkin and taking the time to puree it. If you are using canned pumpkin the prep time to make this recipe is reduced to about 10 minutes.
This recipes doubles easily for two loaves.
Freeze this bread once it it completely cooled by wrapping tightly in plastic wrap and then in tinfoil. Freeze for up to a month. Defrost by removing tinfoil and setting on the counter at room temperature.
Optional Icing Recipe:
Ingredients:
2/3 Cup melted butter
4 Cups powdered sugar
1 Tablespoon cinnamon
2 tsp. vanilla
4 to 8 Tablespoons hot water
Instructions:
In a medium bowl, mix melted butter, powdered sugar and vanilla.
Add 1 Tablespoon hot water or more a little at a time until the glaze reaches a good consistency to spread or drizzle over the cooled pumpkin bread.
Nutrition Information
Yield
12
Serving Size
1
Amount Per Serving
Calories

258
Total Fat

13g
Saturated Fat

8g
Trans Fat

0g
Unsaturated Fat

4g
Cholesterol

31mg
Sodium

217mg
Carbohydrates

33g
Fiber

2g
Sugar

18g
Protein

4g
Here are some more scrumptious pumpkin recipes to enjoy this fall season
Follow Us:
We enjoy meeting you on our social networks. Follow us on Facebook, Pinterest, Instagram . Tag us with your pictures of our recipes and comment on how it went for you. We would love to see what you do with them.
We often like, comment and share your posts of our recipes on our daily Instagram stories.
Ask questions and rate the recipe in the comments section below. Please share what you did with this recipe. We are always looking for more and better ways to make homemade food. Other cooks love your ideas!
Recent Posts: