Light fluffy Pumpkin spice pancakes with a delicious Candied Bacon Apple topping full of fall flavor. This easy breakfast offers a high energy start to your day. Complete with fresh apple, bacon and pecan topping that compliments the pumpkin spice pancakes beautifully.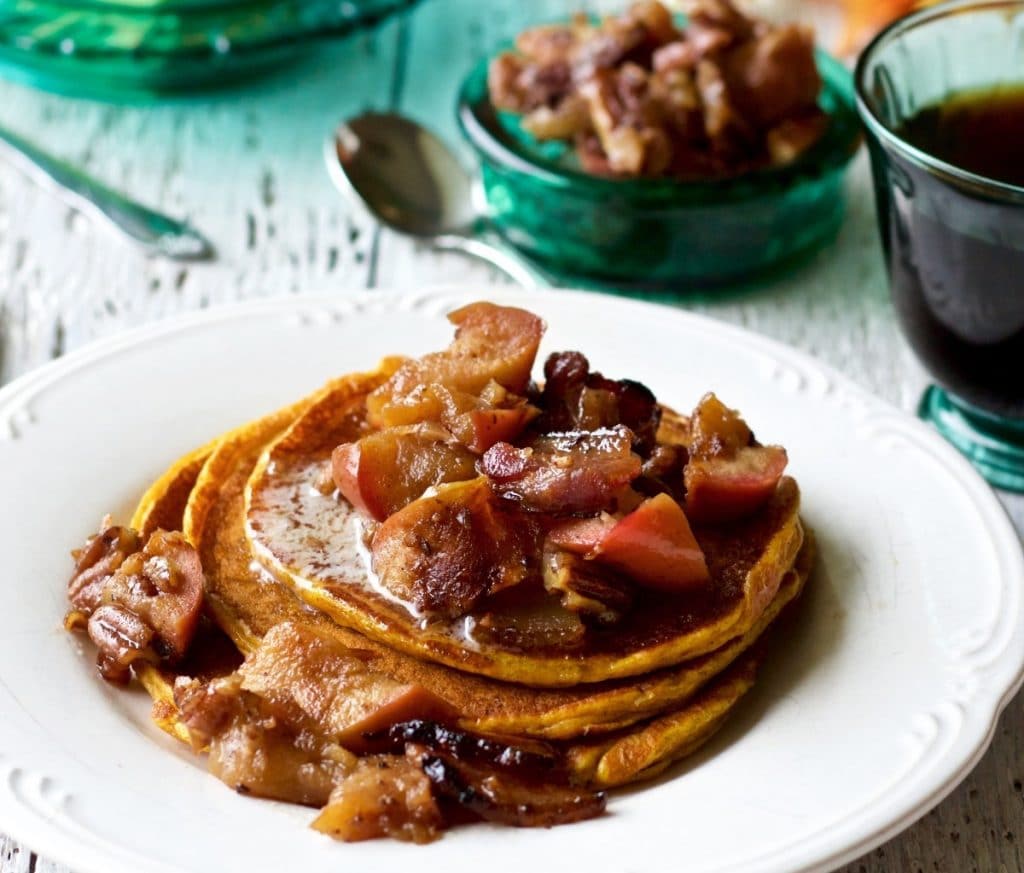 Dave and I haven't had a lazy Sunday morning together in way too long. He has had to work seven-day weeks lately. This weekend he stayed home to rest and get some fall garden chores done. I'm spoiling him a bit to get him started.
This nice cozy pumpkin pancake breakfast with a topping of our fresh apples, bacon, and pecans candied lightly in pure Maple syrup, started our day off just right! And coffee, of course, we do love our coffee.
This recipe makes way too large a batch for two people. Dave and I both dug into this hearty meal but many pancakes were left after we were filled up. I had  planned to freeze some, but…Lunch came and I  demolished another plateful…then Kayti and Brian came over and polished off the rest. Yummy all through the day and into the night!
I feel pretty proud of this recipe. It's so good and I thought it up on the fly. You know, 'what's in the fridge and the pantry? That looks good. I bet that would taste yummy…'and it did. Because it's me, you know this recipe is easy to make in less than half an hour.
I'm a toast and coffee girl in the morning. Takes a while to get the mental engines revved. That's another reason I'm proud of this creation. This was fairly early in the morning! The pumpkin spice pancakes taste so perfect on a clear crisp Fall Chore Day like this. We need lots of energy to tackle that garden.  This breakfast will hold us easily till lunch.
I'm using our apples. of course. any fuji type apple should work fine in this recipe. Don't go too sweet  or soft on the apples. They need to be firm and have a medium tart flavor (pie apples) to work well in the topping. The topping is ready when the bacon is cooked and the apples are soft but not mush.
Fresh off the griddle, these Pumpkin spice pancakes are yummy, light and tender. These delicious pumpkin pancakes are truly wonderful with this topping.  The apples, bacon, and maple syrup are excellent flavor friends with the pumpkin pancakes. The pecans lend a nice bit of crunch to this healthy, melt in your mouth meal.
This Candied Bacon Apple Nut topping would also be great on waffles or oatmeal. Enjoy the delicious flavors of Fall with every bite! I should give this topping it's own post someday. It's really good!
We use uncured natural bacon. Keep that in mind. Our bacon is not all that salty either. So if you are using a preserved brand you might need to adjust the flavors a bit to overcome the salty bacon.
These light, tender pancakes topped with candied bacon, nuts and apples bring out all the flavors of fall. What a great start to your day!
Pumpkin Spice Pancakes Recipe Notes:
These Pancakes are easy to whip up.
Start the bacon for the topping and chop up the apples and nuts before you start the pancake batter.
Throw in the maple syrup, apples, and nuts with the bacon and cover the frying pan.
Start making the pancake batter and preheat your griddle to medium. Cook them up!
Stack the pancakes on a large plate or platter to keep warm, and keep those batches coming until all the pancake batter is used.
If you have extra pancakes, wrap them tightly in plastic wrap and freeze them for the coming week!
If you purchase Items from our Affiliate links we may receive a small commission at no extra charge to you. Thank you for supporting Homemade Food Junkie.
Prep Time: 15 minutes
Cook Time: 20 minutes
Total Time: 1 hour
See Detailed Nutrition Info on
Light fluffy Pumpkin spice pancakes with a delicious Candied Bacon Apple topping full of fall flavor. This easy breakfast offers a high energy start to your day.
Ingredients
2 Cups all purpose flour
3 tsp. baking powder
1/2 tsp. baking soda
1 Tablespoon Pumpkin Pie Spice
1 tsp. cinnamon
1/2 tsp. salt
3 tbsp. Sugar
3 eggs
1 Cup Greek yogurt
1/2 c. melted coconut oil or avocado oil
1Cup pumpkin puree
1 Cup water
(For the Topping)
1/2 Cup chopped pecans
1 large Fuji or Gala apple (chopped)
3 Tablespoons maple syrup
4 Slices bacon (chopped)
Instructions
Pre heat the griddle to medium heat
In a large bowl, mix together the wet ingredients (I use a whisk).
Add in the dry ingredients a little a time mixing after each addition.
Adjust the consistency until the batter pours easily(but not runny) onto your pre heated griddle.
Pour the batter in circles about 3 to 4 inches accross on your griddle. Turn the pancakes when the bubble rise to the top and the edges of the pancake firm up. Cook another several minutes until the pancake is golden.
For the topping:
Cut bacon into one inch pieces and put into a medium frying on medium low. Add the apples, pecans and maple syrup and cook until the apples are soft and the bacon is done. Place into a serving bowl.
Serve with maple syrup.
Notes
Start the bacon first and then begin making the pancakes. Mind the skillet while you are cooking up the pancakes. It all should be done about the same time. If the topping is done first. Remove it from heat and set it aside for serving.
Pin it:
This post is part of "6 Breakfast Ideas for easy living weekends" By Dan Zehr
This post is part of 12 days of pancakes by Tina Marie Roberge SaveSave SaveSave SaveSave SaveSave
SaveSave
SaveSave
SaveSave