This simple Homemade Granola recipe brings together oats, flax, sunflower and pumpkin seeds, dried fruits, raw honey and spices for a delicious and nutritious granola. It makes the perfect breakfast cereal with milk making a tasty homemade granola cereal, or paired with homemade geek yogurt and a little honey.
Our recipe can be used a framework for you to build on. Swap out ingredients and spices to fit your preferences or dietary needs and enjoy it with your favorite foods, or on it's own as a healthy snack.
We also have recipes for the best homemade granola bars with chocolate and cranberries, a pumpkin spice granola, a crunchy granola made with steel cut oats. Granola is one of our favorite foods to have on hand and we love creating new recipes to share with you.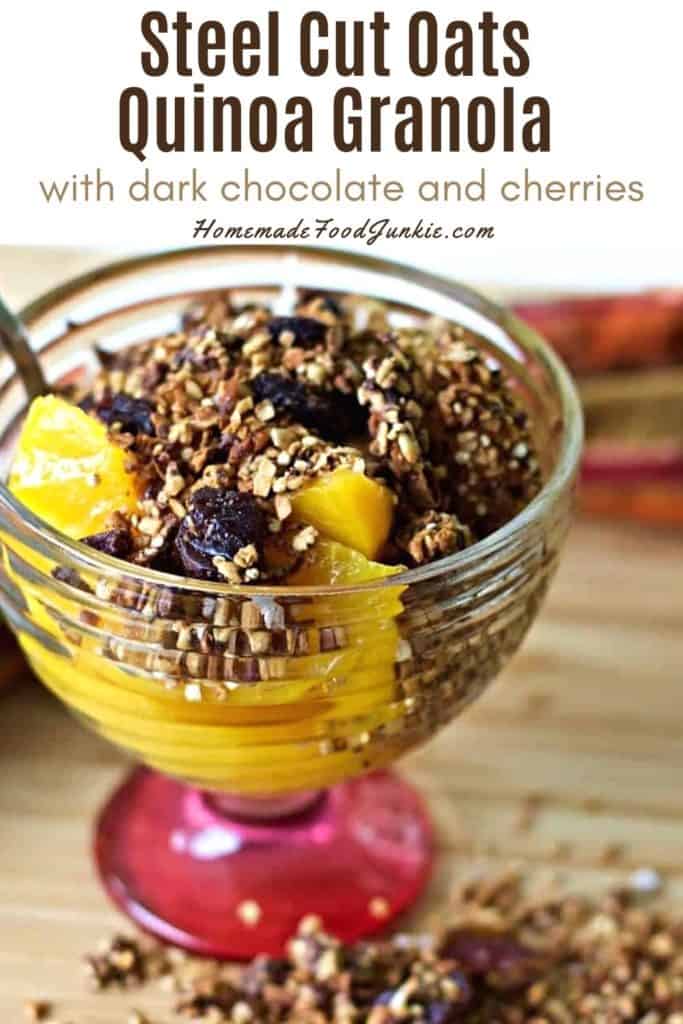 Is eating homemade granola healthy?
Granola is widely considered a health food, but often times the packaged granolas found in stores contain extra sugars, low quality oils, and preservatives that sky rocket the calorie count and lack in high quality nutrients. They are also sold in small quantities with a high price tag.
By making your own healthy homemade granola recipe you can save yourself some money, as well as enjoying fresh flavor filled granola that is high in fiber, iron, healthy fats, and even protein depending on the ingredients you choose. Because it is high in carbs, granola should only be a moderate part of your diet.
Why do you need oils in homemade granola?
High quality oils like coconut and avocado are excellent sources of healthy fats and work perfectly in homemade granola. Oils are important because they help make your granola crisp, coconut oil will add a wonderful flavor, and the spices will stick to the oats, nuts, and additional ingredients better.
Organic unrefined coconut oil is always our go to choice when making granola because it is a healthy oil that brings an added flavor and bakes into the granola perfectly.
What ingredient makes granola clump together?
If you love those clustered granolas rest assured, you can definitely make your own at home. Egg whites are the secret ingredient for getting your granola to clump together. Simply beat an egg white until it is foamy and frothy, and add it to your mixed granola right before you bake it.
The protein of the egg will bind the oats and nuts together giving you those crunchy mouthfuls.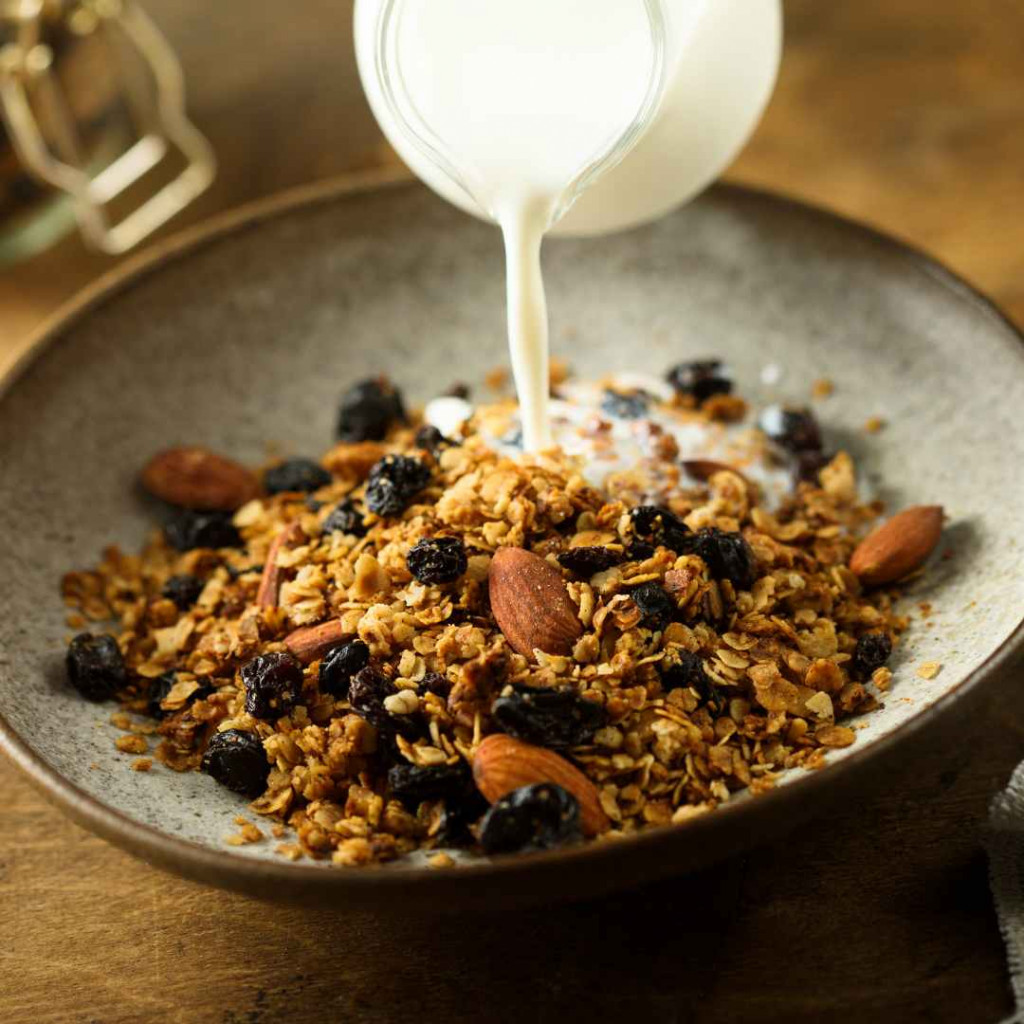 Homemade Granola recipe walk through
You will need
A very large mixing bowl. We use a 6 qt stainless mixing bowl with head room for stirring. Cut this recipe in half if you don't need a lot of granola. It holds well though…months in an airtight container or ziplock bag. Freeze it in airtight bags
2 large cooking sheets with a lip to keep the granola on the sheet when stirring it
A large stirring spoon and maybe a sharp knife to chop up ingredients
The method
Use Silpat baking mats to line the baking sheets, or use parchment paper.
Preheat your oven to 325ºF
Pour 4 quarts of regular oats into the bowl.
Stir and warm the oil, then add the raw honey or pure maple syrup and vanilla extract.
Pour this syrup into the dry ingredients and mix very well. If you find dry pockets when you're pouring onto the cookie sheets just add a bit of water and mix it up.
Bake for 20 minutes and then stir it up. Put it back in for another 20 minutes and repeat until it is as dry as you want it.
After baking, remove it from the oven and allow it to cool a bit.
Pour it back into the big bowl and add chopped dried fruit.
Do you add dried fruit before or after baking homemade granola?
Generally you do not add dried fruits to granola until after it is finished baking. Mostly because it is not necessary. Dried fruit is edible uncooked and will give you a satisfying chewy texture and sweet element.
Some other ingredients like chopped nuts, shredded coconut, and seeds tend to over bake and burn, so you may want to add them at the halfway point when cooking the granola.
How can I serve my homemade granola?
Granola is one of those wonderfully versatile foods that can be enjoyed in many ways, as well as added into other recipes. Here are some tasty ways you can enjoy your homemade granola.
Eat it as is for a delicious snack
Enjoy it as a granola cereal with your favorite milk
Use it as a topping on your favorite berry crisp dessert
Make healthy parfait desserts with Greek Yogurt
Pour it over a hearty smoothie bowl
You can make homemade granola bar recipes healthy with only a few adjustments
Enjoy with a side of peanut butter and a banana
Homemade Granola is one of those recipes that will benefit you in so many ways. It is a hearty meal and can be enjoyed alongside other nutritious foods. Because it is versatile, you can make any recipe your own by using the ingredients that you prefer and preparing it to suite your taste.
Yield:

80 servings
Homemade Granola
Additional Time:
40 minutes
Total Time:
1 hour
50 minutes
This is a very basic form of a homemade granola recipe I have been tweaking and reinventing for years. This nutritionally balanced, high- fiber, low- sodium, vegetarian, dairy- free, gluten- free is very popular in our extended family.
Ingredients
16 Cups regular oats
1/2 Cups cinnamon
1 Cup flaxseed meal
1 Cup quinoa, pre washed
1 Cup nuts, chopped
1 Cup raw sunflower seeds
1 Cup pumpkin seeds
3/4 Cup coconut oil
1 Cup raw honey or maple syrup
2 Tablespoons vanilla extract
2 Cups raisins
2 Cups dried fruit
Instructions
Preheat your oven to 325 degrees
Spread coconut oil over 2 large baking sheets with a lip.
In a 20 quart mixing bowl, add the oats, cinnamon, flax meal, quinoa, nuts, and seeds
In a separate small bowl thoroughly combine the coconut oil, maple syrup and vanilla
Pour over the dry ingredients
Mix thoroughly until all the dry ingredients are covered with the wet ingredients.
Spread this mixture on your baking sheets evenly and put into the oven to toast
Set the timer for 20 minutes. When the time goes off, using a spatula, mix the granola on the cookie sheets to avoid uneven toasting
Put it back in the oven for another 20 minutes
The granola is ready to come out of the oven when it's slightly browned and almost dry
Take the cookie sheets out of the oven and allow it cool slightly
Once cool enough, dump the granola mix back into your large bowl
Add in the dried fruit you choose and mix it in with a large spoon
Once cooled completely it's ready to put into airtight containers
Store in a cool, dry area. The shelf life is usually 1 month
Nutrition Information
Yield
80
Serving Size
1
Amount Per Serving
Calories

151
Total Fat

6g
Saturated Fat

2g
Trans Fat

0g
Unsaturated Fat

3g
Cholesterol

0mg
Sodium

104mg
Carbohydrates

23g
Fiber

3g
Sugar

9g
Protein

4g
Follow Us:
We enjoy meeting you on our social networks. Follow us on Facebook, Pinterest, Instagram . Tag us with your pictures of our recipes and comment on how it went for you. We would love to see what you do with them.
We often like, comment and share your posts of our recipes on our daily Instagram stories.
Ask questions and rate the recipe in the comments section below. Please share what you did with this recipe. We are always looking for more and better ways to make homemade food. Other cooks love your ideas!
Recent Posts: