Homemade Irish Oat Bread makes delicious bread with butter, toast and sandwiches. Full of Irish oats (also known as steel cut oats). Organic quick Irish oats add a nutty flavor and nubby texture. This delicious whole grain bread with steel cut oats is the perfect balance of flavors.
I'm an on and off bread baker. I LOVE the smell, taste and texture of homemade breads. But I'm sometimes a bit lazy about getting it actually made. I always wonder why I buy store bought every time I eat a slice of this honey oat bread. There is truly no comparison. Homemade bread is a universe above what's in your grocery store.
At one time in my life I lived where I actually had to make homemade bread all the time. We lived off grid for a couple of years. An old wood cook stove was my oven, heater and made fantastic homemade bread like this! Punishing in the summer months though. Not so much homemade bread happened then.
Cool temperature days encourage heating up the stove for homemade baked goods. Lately, I've been having a great time banging pots and pans. Lots of goodies happening here, right now. Fresh Homemade French Bread and this Irish Oat bread are just a few of the yummies we enjoy when the cook is in the kitchen.
BTW, Are you interested in making Sourdough Artisan breads? Take a look at our Beginners sourdough bread recipe. A whole new world of bread making will open for you!
Irish Oat bread is perfect for sandwiches
Lately, Dave's lunchbox is benefitting from all this bread baking. He's been eating fantastic homemade sandwiches and desserts for lunch. I made Dave this Ham and cheese sandwich with all the trimmings. YUM!
The Irish oat bread adds so much flavor to this sandwich! And it won't fall apart in your hands while you're enjoying every bite. Try this recipe and make our Italian Stuffed Meatloaf sandwich for a great lunchbox addition. I made it with one of our favorite meatloaf recipes. if you haven't tried Italian Stuffed meatloaf you really must!
This homemade bread loaf slices are large compared to store bought bread size. 1/2 of a sandwich if often more than enough to fill you up. Whole grain breads like this one are filling and full of digestible ingredients. This honey oat bread recipe is one of our favorites.
Making a homemade bread recipe takes time, but it's not really hard.
TIPS:
Best thing I've learned is follow the directions.
Use fresh, high quality ingredients (especially your flour and yeast)
Learn how to tell when gluten is properly developed (use the windowpane test)
Learn how to correctly rise and form loaves
Experience is the best teacher in bread baking. There are plenty of educational resources these days. YouTube, blogs like this one, and good books!
I put together a whole grain bread making tutorial in my homemade Whole Wheat Bread recipe If you need help with the bread making process.
My blogger friend Karen at Karen's Kitchen Stories is a master bread baker. If you feel like really getting into the bread baking craft she has lots of inspiration and bread baking tips.
Whole Grain Porridge Breads:
This multi grain bread recipe uses steel cut oats as the whole grain. The recipe uses an all purpose bread flour. This bread is actually a porridge bread. The whole grain is soaked and added in rather than milled through a grain mill.
Once you get used to making this oat bread you can experiment with soaking and adding in other grains with the Irish oats. You can also add nuts and seeds but don't get too carried away. You want a good balance of texture in your bread or it will get stiff and too dry.
Irish Oat Bread Recipe Notes:
This recipe comes from the book, 'Baking Bread, Old and new Traditions by Beth Hensperger.
I've enjoyed Beth's book on breads for several decades. She covers, equipment, ingredients, and techniques for making homemade bread. She also has a huge quantity of recipes and stunning photographs to entice you to greatness.
Today's recipe is an adaptation of one of our favorite bread recipes in her book. The first time I made this bread recipe it turned out great. The whole family loved it. We still enjoy this recipe all these many years later. That's why I'm sharing it with you. This homemade honey oat bread is a keeper!
Tips on Working with sticky yeast doughs:
This is a nubby dough, but also soft and a bit sticky. I use coconut oil when working with my yeast breads. I smear it on the counter, and my hands when working with the dough. It helps release the sticky dough so it's MUCH easier to work with.
I like coconut oil better than flour to keep the dough workable because my work surface is a lot cleaner. And the bread dough does not absorb the flour and get too dry by baking time.
I also grease the bowl I rise the dough in with coconut oil. It's the slipperiest oil with no stickiness of its own to cause trouble (like some other vegetable oils can have). I love coconut oil for bread baking and so much else!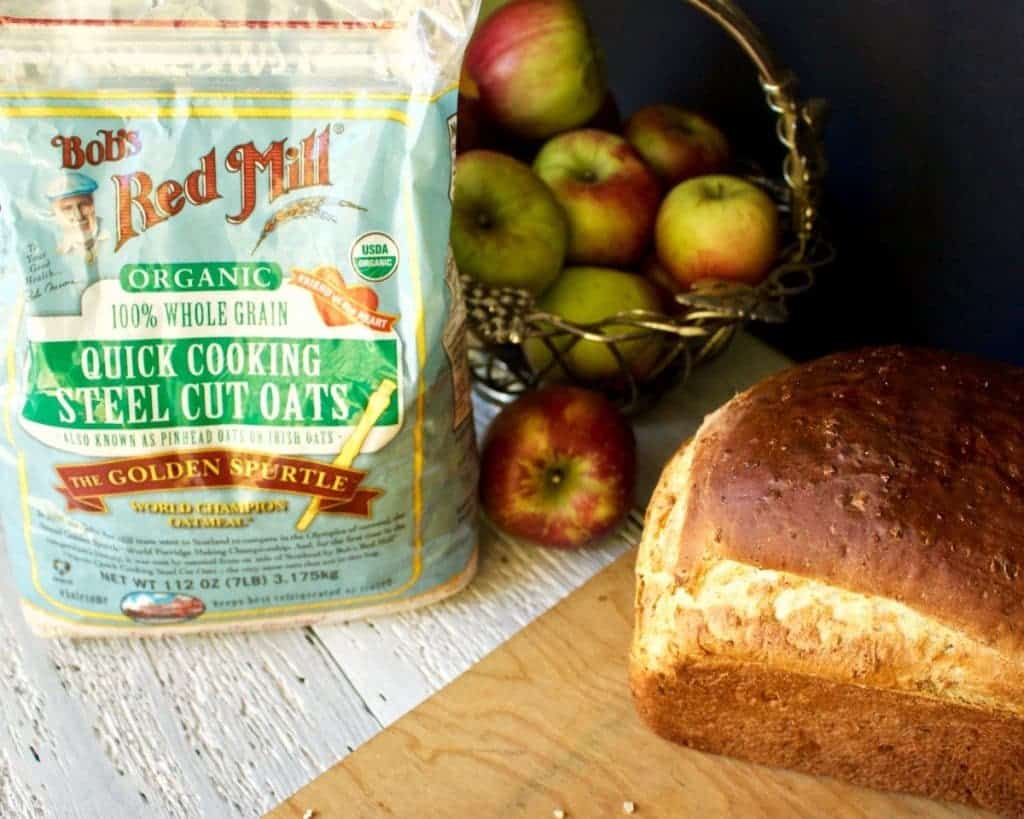 I'm using Bob's Red Mill Organic, quick Cooking Steel cut oats, Also known as Irish or Pin head oats. You can see the texture added to the loaf. A delicious addition to your breads!
Tips on making this bread recipe:
You MUST soften the oats before proceeding with this recipe. Hard oats in, Hard oats out! Bread with HARD, crunchy dried raw oats is not nice. When properly softened; instant steel cut oats offer a pleasant, slightly textured, nutty flavor addition to your bread. Everyone knows oats offer high value nutritionally. Adding more protein, flavor and fiber to your bread is always a good thing, I think!
If you are committed to butter in your baking just substitute unsalted butter one to one for the coconut oil called for in this recipe. Heart Healthy Avocado oil is also a fine oil for this bread.
A dough scraper set is a really nice help for bread bakers. They don't cost much and help a great deal handling sticky bread dough in the bowl and on the work table.
Rise the dough at 70 degrees to 90 degrees. I use my oven bread proofing function.
High Altitude suggestions (with a bread machine)
Our Reader, Karen, made this recipe at 6,000 feet! She messaged me through email. We had a fantastic conversation. She is a stellar cook! Here are her suggestions:
"So, I made the bread twice. I don't have a stand mixer-I AM the stand mixer ?
The first time I used AP flour & did the whole thing in my bread machine. Disaster! I didn't reduce the yeast enough, (altitude adjustment)

it didn't bake all the way through and completely filled my machine to the brink. Too much dough. Yuck. Bread dough all over the machine.

I decided to try again. I reduced the yeast (again) and the water. I also drained residual water from the oats. Then, I used bread flour and the machine just for mixing the dough.

These loaves came out well.
This has good flavor. I'm keeping the recipe! I might half the recipe next time."
"These are the changes I (Karen) made for elev 6035ft:

I reduced the hot water for the oats by about 2Tbsp. After the oats softened I put them into a strainer. I mixed the dry ingredients together. Then, mixed the oil, buttermilk, water(slightly reduced)& honey in a measuring cup & heated this to 115°. The eggs were stirred into liquids one at a time.

I put about half of the oats into the bread maker pan.stirred the rest into the flour mixture. I poured the liquids over oats in the pan, then spooned in the flour mixture.

I made a well in the flour and put 3 1/8 tsp. of yeast.(need to make it just 3tsp.) I set the machine to dough cycle (1 1/2 hours)

This makes a lot of dough and it was crowning even on dough cycle.(yikes!)I won't even mention what it did on the full cycle.?
At the end of the cycle I removed the dough, punched it down & put it into 2 loaf pans.
I covered them and let them rise again 30 minutes. Baked them 375° for 35 minutes (should have baked them slightly longer.)
It tastes good. I am tenacious/stubborn. I had to get this worked out for my own sake. After all the recipes I looked at, YOURS was the one that sounded the best…"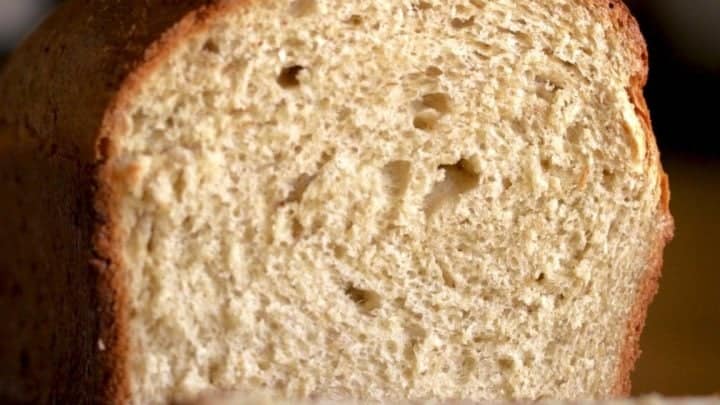 Yield:

24 slices
Irish Oat Bread Homemade Recipe
rising time for first and second rise.:
1 hour
30 minutes
Total Time:
2 hours
35 minutes
Homemade Irish Oat Bread makes delicious bread with butter, toast and sandwiches. Organic quick Irish oats add a nutty flavor and nubby texture for a heavenly, healthy, homemade bread.
Ingredients
1 1/2 Cups Boiling water
1 Cup Instant Irish oats, Steel Cut Oats
1 1/2 Tablespoons active dry yeast
Pinch sugar
1/4 Cup warm water, 105 to 115 degrees F.
1/4 Cup warm Buttermilk, 105 to 115 degrees F.(I used heavy cream with one Tablespoon Balsamic Vinegar and let it sit until curdled)
1/3 Cup raw honey
3 Tablespoons coconut oil, You'll need more for oiling the pans, work surface and bread raising bowl.
3 eggs
1 Tsp. salt
4 1/2 to 5 Cups Organic unbleached bread flour
Instructions
In a small bowl, pour boiling water over the steel cut oats and let them sit an hour until all the water is absorbed and the oats are soft. (DON"T skip this step!)
In your stand mixer bowl, sprinkle the yeast and pinch of sugar over the water. Stir to dissolve and let stand until foamy (about 5 to 10 minutes).
In a small bowl or stand mixer, whisk together buttermilk, honey, and coconut oil. Warm to 110 degrees and pour over the yeast. Add the eggs, salt, and 1 cup of the flour. Beat with a whisk until smooth (about one to three minutes on low in my stand mixer).
Add the softened oats to the yeast mixture. With a dough hook on your stand mixer (a heavy wooden spoon if you're mixing by hand), add in the flour in 1/2 Cup batches until a soft, sticky dough is formed that just clears the side of the bowl.
If using a stand mixer continue mixing until the gluten is formed (check the dough with the 'window pane test'), about 10 minutes. If kneading by hand, turn the dough out onto a lightly floured work surface and knead until a springy, soft dough is formed. Adding flour one tablespoon at a time as necessary to prevent sticking.
The dough will have a knubby and slightly tacky feel, it should pass the windowpane* test!
THEN: form the dough into a ball, place into a greased, deep bowl. Turn the dough ball once to oil it up and then cover the bowl with plastic wrap. Let rise until doubled in bulk, about an hour or so.
ONCE RISEN:
Turn the dough onto the work surface. Divide it into three equal portions and form into round loaves OR, divide it into two equal portions and form it into loaves for 9 X 5 inch loaf pans.
Place the round boules onto a greased or parchment lined baking sheet. Or Form into two loaves and place in two greased bread pans as shown.
Preheat oven to 375 degrees F.
Cover loosely with plastic wrap and let rise at room temperature until doubled in bulk. About 30 to 40 minutes.
Bake in the center of the preheated oven until golden brown and hollow sounding when tapped, about 35 to 40 minutes. Remove from oven and let cool 10 minutes in pan. Remove from pans to cooling rack, and let cool to room temperature before slicing.
Notes
*Windowpane test is done by taking a golf ball size lump of dough and stretching it between your hands until you can see light through it WITHOUT breaking the dough. This shows you the gluten is properly formed and you are done with kneading.
HIGH ALTITUDE RECOMMENDATIONS using a bread machine from a reader are in our post if you need them.
Nutrition Information
Yield
24
Serving Size
1 slice
Amount Per Serving
Calories

198
Total Fat

4g
Saturated Fat

2g
Trans Fat

0g
Unsaturated Fat

1g
Cholesterol

25mg
Sodium

124mg
Carbohydrates

34g
Fiber

2g
Sugar

4g
Protein

7g
This recipe is linked at the hearth and soul Blog Hop