This simple Vanilla Cream Fruit Tart recipe is a delicious dessert that can be garnished to fit the aesthetic of your event. Our homemade pastry crust is filled with a scrumptious white chocolate or vanilla cream filling, topped with a sweet pineapple lemon glaze, and finished with your choice of fresh fruits.
This recipe makes one 12 inch fruit pizza, or two smaller 9 inch tarts. It's the perfect centerpiece that can be used to draw attention to your event theme in a delicious and colorful way. We chose to use berries to convey the red white and blue theme for The 4th of July, you could also serve this dessert at a bridal shower with fruits suited to the colors of the event; or give it a tropical twist with sliced mango, dragon fruit, or guava.
Fruit tart recipes are endlessly versatile and can be as simple or decadent as you desire. This vanilla cream fruit tart is a more simplistic recipe that serves well for informal picnics or events. It can be made the day before your event and the fruit layer assembled quickly just before serving.
Defining terms:
What is the difference between a pie and a tart?
The terms "pie" and "tart" and 'torte' are often used interchangeably, but they do have some subtle differences in their traditional definitions and characteristics. Here are the general distinctions between pies and tarts:
Crust-to-filling ratio: Pies typically have a deeper filling and a thicker crust compared to tarts and tortes. Pies are known for their generous amount of filling, which can be sweet or savory, while tarts usually have a shallower filling.
Crust type: Pie crusts are traditionally made with a flaky or tender crust that encloses the filling completely, including the sides. On the other hand, fruit tart recipes crusts are typically more crumbly and often made from short crust.
Pan shape: Pies are commonly baked in round, deep dishes or pie pans with sloping sides. They can also be made in rectangular or square pans. Tarts, on the other hand, are usually baked in shallow, round or rectangular tart pans with fluted edges. The fluted edges give tarts an elegant appearance.
Filling composition: Both pies and tarts can have sweet or savory fillings. However, pies often have a filling that is soft and sometimes juicy, which may include fruits, custards, creams, or meats. fruit tart recipes, on the other hand, often have fillings that are more firm and compact, such as fruit preserves, pastry creams, such as our vanilla cream, or various types of cheeses.
And… What is the difference between a fruit torte and a fruit tart?
Different bakers and cultural traditions sometimes use the"fruit torte" and "fruit tart" interchangeably. However, there are some characteristics associated with each one.
Crust: A fruit tart typically has a thin, crisp crust made from pastry dough, such as pâte sucrée (sweet pastry dough) or pâte brisée (shortcrust pastry). The crust is baked until golden brown and acts as a base for the fruit and any accompanying fillings. In contrast, a fruit torte often has a thicker and denser crust, which may be made from cake batter or a nut-based mixture. The crust of a fruit torte is usually more substantial and moist than that of a fruit tart.
Filling: Fruit tarts typically have a single layer of fresh or cooked fruit arranged on top of the crust, sometimes accompanied by a pastry cream or custard filling. The focus is on showcasing the fruit. Fruit tarts may also have a glaze or jam brushed over the fruit for added shine and flavor. Fruit tortes, on the other hand, tend to have a thicker and more substantial filling, which can include layers of fruit, cake, cream, or other ingredients. The filling in a fruit torte is often more integrated and combined with the crust.
Vanilla Cream Fresh Fruit Tart Recipe:
What is Fruit Tart Cream Made From?
A traditional cream fruit tart is made with a simple cream vanilla custard. The vanilla custard is most often made from milk, sugar, eggs and vanilla that are heated and whisked together to form a thick, creamy filling that is poured into the simple crust.
Our vanilla cream fruit tart recipe is a bit more simplistic and not a traditional custard since we don't use any eggs in it. Instead we opted for a cream cheese based filling that is mixed with heavy cream and either melted vanilla or white chocolate chips for a rich flavor profile.
The Tart Crust:
This Vanilla cream fruit tart recipe feature a delicious crust. While not a traditional tart crust ours works very well with this recipe. We use this crust recipe in many of our desserts including some of our favorite pies. It is basic and straight forward while delivering a satisfying texture and tasty flavor.
This is a sweet-press in crust. TIP: We recommend you keep the crust out of the corners or you will have trouble cutting and serving the tart. Press in the crust evenly and it will cut and serve quite nicely.
This crust will be pre-baked and cooled before you add the filling so be sure to plan ahead for that time. It will need to bake at a low 300 degrees F for roughly 25 minutes or until lightly golden brown.
We have also included an almond crust recipe in the notes section of the recipe card if you need a gluten free crust.
How Do You Keep Fruit Tarts from Getting Soggy?
To prevent fruit tarts from becoming soggy here are some tips: By using these techniques, you can help keep your fruit tarts fresher and prevent the crust from becoming overly soggy. Adjust your fruit tart recipe as needed with these tips:
Pre-bake the crust as we do in the fruit tart recipe. All tart crusts should be pre-baked and cooled before you add the filling. This will not only add a rich depth of flavor, but will also stabilize the crust and help to prevent a soggy bottom.
Use a waterproof layer over the crust: brush on a waterproof layer of melted chocolate to protect the crust from moisture. Be sure to drain your fruit well so it doesn't leak juice into the tart crust.
Drain the fruit: If you're using juicy fruits, it's essential to drain them properly before placing them in the tart. After slicing the fruits, place them in a colander or on a paper towel-lined tray for a few minutes to allow any excess liquid to drain off. This step helps reduce the amount of moisture that can make the tart crust soggy.
Assemble just before serving: If you're making a fruit tart in advance, it's best to add the fruit layer shortly before serving to maintain the freshness and crispness of the crust. If the fruit is added too early, it can release juices that may cause the tart to become soggy over time.
Glazing the fruit: Lastly, consider glazing the fruit with a thin layer of apricot glaze or a light fruit syrup. This adds shine to the fruit, enhances its appearance, and helps create an additional protective layer that can minimize the absorption of moisture into the tart.
What Fruits are Used in Fruit Tarts?
Berries are the most common fruits used in fruit tart recipes. You will find berries most often heaped onto a pillowy vanilla cream filling. But you can replace the berries with any fruit that you desire for your tarts. Fruits are colorful and work well to add not only visually enticing beauty to your table, but also to convey a theme or aesthetic for your event.
Mixing and matching different fruits will also build complex and interesting flavors. Kiwi, mango, guava, and lychee fruits are wonderful tropical fruits that will work very well on this vanilla cream fruit tart. Traditional berries are popular and always a crowd pleasing option that fall under the classic French fruit tart umbrella.
You cannot go wrong in how your dress a vanilla cream fruit tart. Pretty much any fruit can be made to work with some adjustments in fruit tart recipes like this. Make this recipe yours in both flavor and design. Creativity is what makes tarts such a fun and every changing dessert.
How can you serve or decorate a vanilla cream fruit tart?
Strawberries and chocolates for Valentines Day, sugared cranberries and oranges for Christmas, or tropical fruits for a summer bash; there are so many ways to decorate and theme a vanilla cream fruit tart. Here are some of our favorite suggestions.
Blackberries and cherries dusted with powdered sugar
Raspberries and blueberries with sprigs of mint

Kiwi, strawberry, mandarin oranges, and a sugar glaze for a classic summer fruit tart
Make a homemade berry reduction to pour over top and add more fruit or dust with powdered sugar
Create a sumptuous peaches and cream tart
Are fruit tarts stable at room temperature?
Our vanilla cream fruit tart is stable at room temperature for a decent amount of time, but should not be left out in the direct sun or under hot lights for an extended period of time. It is best to dress and finish the tart a few hours before serving, and enjoy it chilled for optimal taste and texture.
Make the simple pastry crust and bake ahead, allowing time for the crust to fully cool. The simple cream filling comes together easily, just be sure you set out the cream cheese ahead of time so that it warms and softens. This will greatly improve the texture of the filling.
We do recommend making the pineapple lemon glaze to finish the tart. Unglazed the fruit is not as stable and you'll miss the depth of flavor that the glaze adds. It is a delicious compliment to the sweet cream filling.
Make these vanilla cream fruit tarts ahead the night or morning before you need them, and store covered in the fridge.
An hour or so before serving, complete the top with your fruit and finish it with the pineapple lemon glaze. Fortunately, the cream cheese filling sets up very well so it's easy to add the fruit after it sets. The glaze also sets well to hold that fruit in place with a bit of bright sweetness.
Your Printable Recipe Card
Yield:

16 slices
Vanilla Cream Fruit Tarts
Total Time:
2 hours
25 minutes
Make a festive vanilla cream fruit tart or two for a fun addition to the party table. Dress them up in red, white and blue or any ole colorful fruit, for a tasty treat! Change out the fruits to theme colors for your party!
Ingredients
For the Crust:
3/4 cup coconut oil (or softened butter)
2/3 cup confectioners sugar
2 cups all-purpose flour
2 Tablespoons water (as needed)
For the Filling:
12 ounces white chocolate chips
1/4 cup heavy whipping cream
8 oz. cream cheese
1 tsp vanilla extract
For the Glaze:
1/2 cup pineapple juice
1/4 cup sugar
1 tablespoon cornstarch
1/2 teaspoon lemon juice
For the fruits:
4 Cups Berries (or any fruit you wish)
Instructions
For the Crust:
In a large bowl cream softened coconut oil and confectioners sugar until light and fluffy.
Beat in flour-add enough that the crust mixture is crumbly but not dry. Add in one Tablespoon water if the crust is too crumbly)
Pat onto a greased 12-in. pizza pan or two 9 inch tart pans.
Bake at 300° for 25-28 minutes or until lightly browned. Cool.
For the Filling:
Melt the white chocolate in a small bowl in your microwave (careful not to burn it). OR over your stove on low heat.
In a large bowl With an electric mixer, beat melted chocolate, heavy whipping cream, and vanilla extract until smooth.
beat in ROOM TEMPERATURE cream cheese until smooth.
Spread the cream cheese mixture on the COOLED baked crust. Chill for 30 minutes.
For the Glaze:
In a small saucepan, combine the pineapple juice, sugar, cornstarch and lemon juice.
Bring to a boil over medium heat; cook and stir for 2 minutes or until thickened. Cool.
Berries Layer
Arrange berries over cream cheese layer; brush with glaze. Chill for 1 hour before serving. Store in the refrigerator.
Notes
TART ASSEMBLY:
The filling is not intended to go up to the top of the tart pan. Divide the filling equally between the tart pans.
The fruits will fill up to the sides to the crust.
Or you can use the crust on the bottom only of the tart pan if you prefer. The filling sets fimly so that will also work well.
CRUST:
If using coconut oil or other other oil for this crust add a tablespoon of water if the crust is too crumbly. Adding more oil will not help.
Any sweetened press-in crust will work well with this filling. For gluten free try this Almond crust.
Almond Crust:
Almond crust Ingredients:
2 1/2 cups almond flour
1 tsp. cinnamon
1/2 tsp. pumpkin pie spice
2 Tablespoons sugar substitute (or granulated sugar)
1/2 Cup melted coconut oil
Preheat the oven to 350 degrees F.
(To bake this Crust:)
Combine the almond flour, Stevia Blend and cinnamon in a food processor and pulse until blended.
Gradually add in the oil and pulse until crumbly.
Press evenly into the bottom of a nine inch springform pan and up the sides about an inch.
Bake 12 minutes or until golden. Cool to room temperature and then pour in the filling.
GLAZE:
The glaze will be pretty thick as it cools. Add water as needed to thin it so it brushes on your fruits well.
Nutrition Information
Yield
16
Amount Per Serving
Calories

296
Check out these other delicious desserts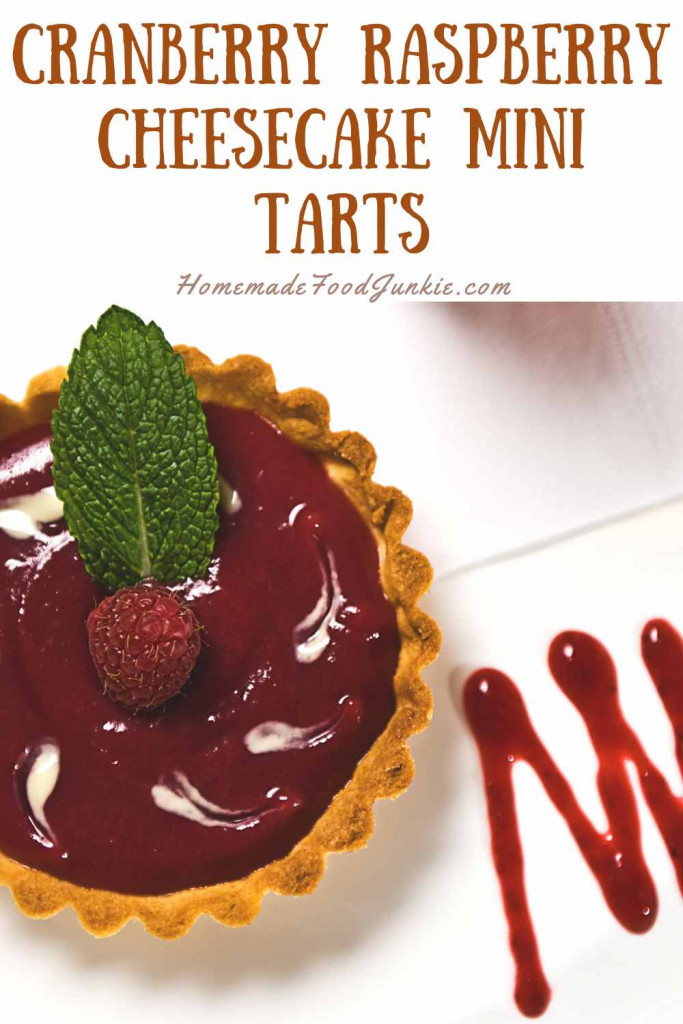 luscious Cheesecake Desserts:
This post is published at Red Tricycle and the Daily Meal online magazines