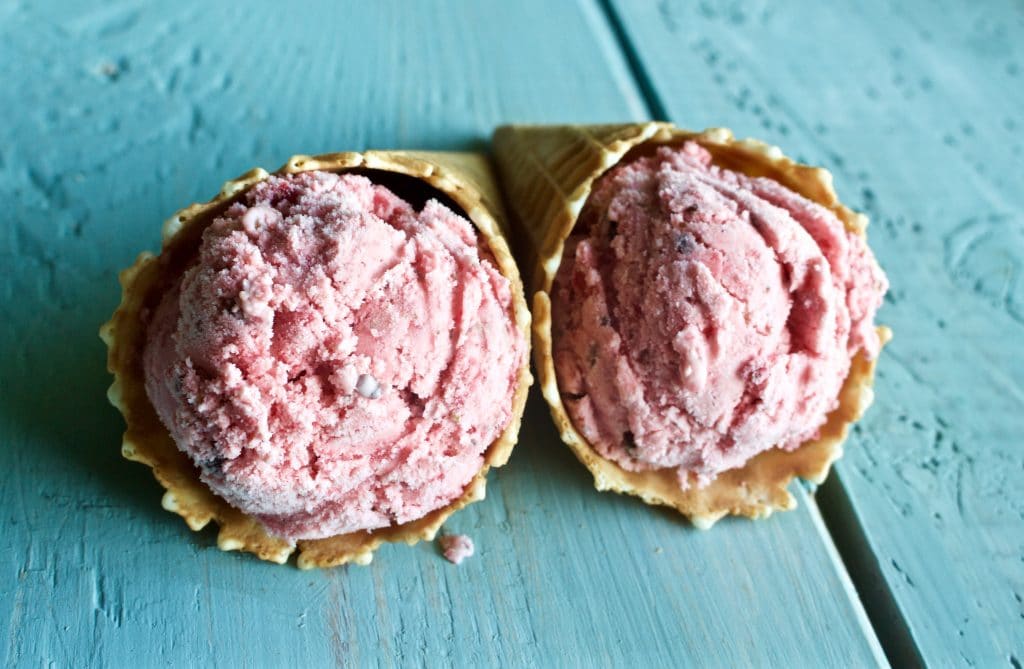 Fresh Strawberries and cookie dough candy bits come together to make this creamy, dreamy Strawberry Cookie Dough ice cream.
Homemade Fresh strawberry ice cream is the best! Rich and creamy…bursting with fresh strawberry flavor. Add the cookie candy bits; (a bit naughty to be sure…) and experience the frozen bits of cookie dough crunchyness in the cold, fresh strawberry cream. Now you're making this into another ice cream entirely with the addition of only one ingredient!
This recipe came from a trip to the store with the grandkids. They chose some candy to try in ice creams. This one is perfect with strawberry! Recently I made a batch of lemon lime Strawberry drink for floats. We tried it with this ice cream and it's a perfect flavor match. The grandkids loved these floats!
In a cone or in a bowl this ice cream is a whiz bang treat. Try it as a sundae with chocolate sauce and graham cracker crumbs!
Making homemade ice cream is fairly new around here. We try to keep it under control so our waistlines don't expand. Fortunately I take care of three hungry, active girls every day and they love ice cream too! They enjoy helping me make the ice cream and then they have to wait for it to set up in the freezer from soft serve, to ice cream cone hard.
So they get busy playing outside mostly. Lots of room to run around here and play. On the tire swing, in the kiddie pool ,or they have adventures in the tall grass in the fields. Even a big ole bing cherry tree just right for climbing and currently full of ripe bing cherries!
After all that; a nice homemade ice cream treat is a perfect way to slow down a bit. Their patience is richly rewarded.
Yield:

20 servings
Strawberry Cookie Dough Ice Cream
Total Time:
3 hours
30 minutes
Fresh Strawberries and cookie dough candy bits come together to make this creamy, dreamy Strawberry Cookie Dough ice cream.
Ingredients
1 1/2 Cups fresh strawberries
3/4 Cup whole milk
2/3 Cup granulated sugar
1/4 tsp. salt
1 1/2 Cups heavy cream
1 1/2 tsp. pure vanilla extract
1 Cup cookie dough bits candy, roughly chopped
Instructions
Prepare your strawberries by hulling them
Pulse strawberries in a food processor with the copping blade until chopped or pureed to your preference. Set aside
In a medium bowl whisk to combine milk, sugar and salt until sugar is dissolved.
Stir in the heavy cream and vanilla.
Add in strawberries mixing well until combined
Cover and refrigerate until chilled or you are ready to use
Follow the directions for your ice cream maker
About 5 minutes before the churning is finished, pour in the chopped cookie dough bites.
Enjoy your ice cream soft serve or freeze longer in an airtight container for a firmer to hard set.
Notes
Frozen strawberries can be used if fresh are unavailable
Nutrition Information
Yield
20
Serving Size
1
Amount Per Serving
Calories

150
Total Fat

9g
Saturated Fat

5g
Trans Fat

1g
Unsaturated Fat

3g
Cholesterol

22mg
Sodium

75mg
Carbohydrates

16g
Fiber

0g
Sugar

13g
Protein

1g