Zucchini cake is a fantastic way to dress up zucchini bread for a party! This recipe makes a moist, flavorful cake with a sweet glaze. Perfect party finger food on a tray! Or serve it on plates.
It's summer time and that means our favorite squash is getting started in the garden. Meanwhile, today, I'm making use of our frozen, shredded zucchini from last year in this excellent recipe. I'm whittling away the frozen goods from last summer. Recently I used the last of our frozen blueberries in Blueberry Coconut Lime Pops. Blackberries and apples are next. Making room in the freezer for garden 2015 produce is delicious work!
This Zucchini Cake is actually a remake of my Delicious Dejourger Zucchini bread recipe. I love the texture of that bread. As you can see the texture works really well for a glazed bundt cake. This cake has so much flavor and a light, almost crumbly texture. Put thin slices on a party tray(with a small napkin), or make it as a snack cake on a plate, or even a picnic or lunch box. This zucchini cake shows off well as a table centerpiece and it travels well. Your guests and family will love it
If you have a stand mixer and a 10 inch pretty bundt cake your in business. I like using the bundt cake my mom gave me (used to be my Grandma Cash's), because it has the sides molded perfectly for a glaze to run down.
To keep the bottom level on a cake plate, be sure to level the "cake" batter in the pan before you bake it.
Of course it will rise a bit, but the cake will still look great if the rise is even.
After baking, let it cool in the pan a bit to help it release from the sides of your (well greased) pan. Then invert it onto a cooling rack until it reaches room temperature.
Now CAREFULLY supporting the cake bottom, pick it up onto your cake plate. It's ready for glazing. I should have whisked my glaze more thoroughly. The little bumps in the glaze are just me working too quickly. I'm glad this cake was a snack cake for everyday family munching. They don't care if it's perfect fortunately!
Put your glaze into a plastic bag with a smallish corner cut off. Starting on the top of the cake, slowly squeeze out the glaze and let it fall off one side and then the other. You can adjust the glaze amount NOW. Once it hardens you will create a second layer of drip lines that are not appealing! Notice the second layer of glaze on the cake? Not ideal! Get the glazing done the way you want it the first time and DON"T go back and glaze it a second time (as I did); because you're trying to make it look even better. It won't look better. Once the glaze hardens walk away and don't come back with the glazing bag in your hand. Very dangerous!
I do love zucchini bread. I have several recipes for it here on the blog. If your looking for something new to do with zucchini take a look around in my recipes. Zucchini Fries, zucchini casserole, and several zucchini breads like this chocolate zucchini bread (that also makes a delicious cake!),are waiting to be discovered and more will be added this year.
The growing season is upon is. Time to use up your last years store of frozen zucchini and get ready for the new crop. It's just around the corner! This most amazingly versatile vegetable should be used young and tender. don't try to bake with it if it's old, tough and dry. It will disappoint.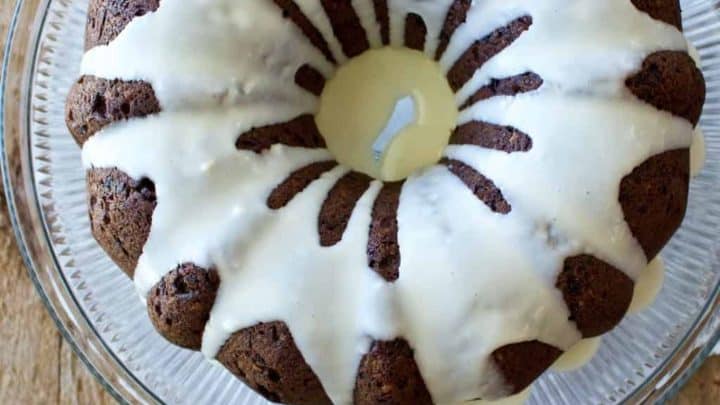 Yield:

20 servings
Zucchini Cake
Additional Time:
20 minutes
Total Time:
1 hour
50 minutes
Zucchini cake is a fantastic way to dress up zucchini bread for a party! This recipe makes a moist, flavorful cake with a sweet glaze. Perfect party finger food on a tray! Or serve it on plates.
Ingredients
4 Cups zucchini, shredded
1 1/4 tsp. salt
1 1/4 Cups all purpose flour, sifted
1 Cup whole wheat flour, sifted
2 tsp. baking soda
1 Tablespoon ground cinnamon
1/4 tsp. nutmeg
3 eggs
1 1/3 Cup white sugar
1 Cup coconut oil
1 1/2 tsp. pure vanilla extract
1 tsp. almond extract
1 1/2 Cups chopped or ground walnuts
1 Cup raisins
(For the Glaze)
2 Cups confectioners sugar
1 Tablespoon milk
1 tsp. vanilla
Instructions
Shred the zucchini and put it into a large bowl with the salt and mix them together. let stand for about a half an hour until the zucchini releases the extra liquid. Squeeze out and discard the extra liquid. If your using frozen zucchini, just squeeze it to wring out the extra liquid and use it immediately
Preheat your oven to 350 degrees
Grease a 10 inch bundt pan
Chop nuts and raisins if you are using them. Put them into a food processor for a few pulses. Don't chop them too fine. Some texture is good!
In your stand mixer with a whisk attachment add the eggs and beat until light yellow, about a minute on medium speed
Add in the sugar and beat until thick and pale, about five minutes on medium speed
Pour the oil, vanilla and almond extract into the egg mixer and continue beating about a minute. You should have a thick, pale yellow mixture
In a separate bowl sift together in a medium bowl sift together the dry ingredients
Fit a dough hook to the stand mixer
Add the zucchini into your stand mixture with the egg mixture and mix on low until thoroughly mixed.
On low speed slowly add in the dry ingredients and mix until a thick batter forms
Pour into the cake pan and level the batter
Bake 60 minutes or until a toothpick in the cake center comes out clean
Cool in the pan 10 minutes and then invert onto a cooling rack
When cake is thoroughly cooled to room temperature put put the cake onto a cake plate
Whisk together the glaze ingredients in a bowl.
Transfer the glaze to a plastic bag. Cut a small hole in the bag corner
Drizzle the glaze onto the cake as desired.
Nutrition Information
Yield
20
Serving Size
1
Amount Per Serving
Calories

318
Total Fat

15g
Saturated Fat

10g
Trans Fat

0g
Unsaturated Fat

4g
Cholesterol

28mg
Sodium

285mg
Carbohydrates

43g
Fiber

2g
Sugar

30g
Protein

4g