Indulge in the sweet and nutty flavors of freshly baked banana nut muffins. Perfectly soft and moist, with a crunchy nutty topping, these tender muffins are a delightful treat for breakfast, brunch or a mid-day snack. Made with ripe bananas, chopped walnuts, and a touch of cinnamon, these muffins are both healthy and delicious. So, fire up your oven, grab your mixing bowls, and let's get started on creating a batch of these mouth-watering banana nut muffins.
This Rich moist easy banana muffin recipe with chunky walnuts makes a fast grab and go breakfast recipe or snack.
Banana nut muffins are a delicious and light snack or breakfast option. These muffins are full of sweet banana flavor and tasty bits of walnuts. The rich flavor of the butter adds a delicious taste and gives the muffins a moist texture.
Make these muffins from ripe bananas, this recipe is so easy you will have it memorized and on hand all the time.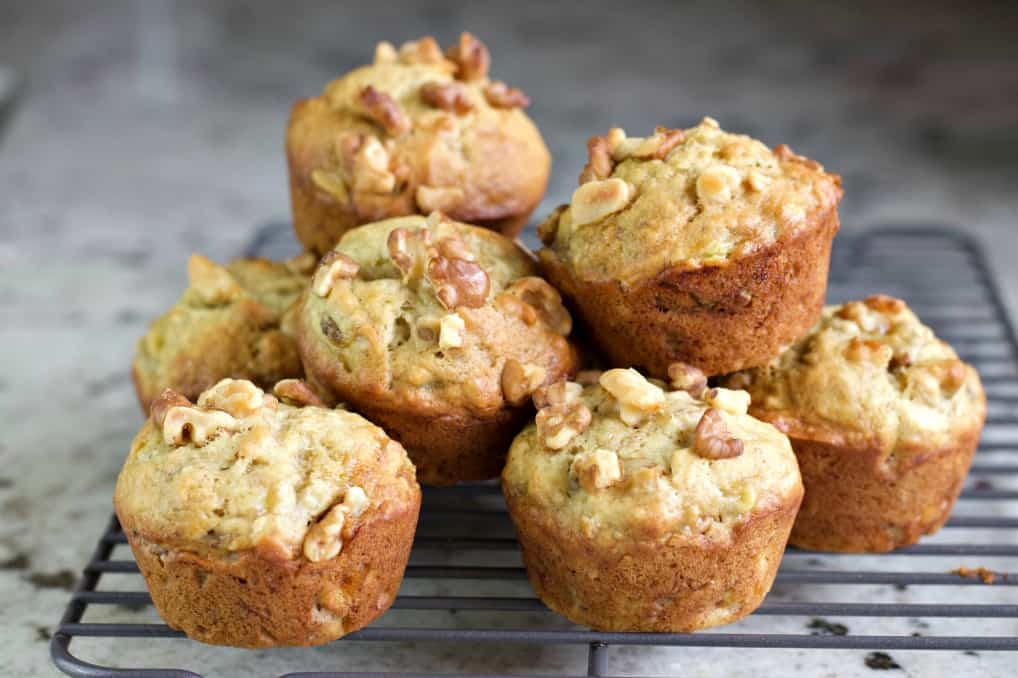 Tips for Making Bakery Style Banana Nut Muffins:
There are a few factors that contribute to making these banana nut muffins taste like they're from a bakery:
Proper ingredients and ratios: Bakery-style muffins often use high-quality, premium ingredients and precise ratios to ensure a tender, moist texture and rich flavor.
Large dome shape: Bakery-style muffins often have a large dome-shaped top, which is achieved by filling the muffin cups with a generous amount of batter. If You use large muffin cups and fill them up you may need to add a few minutes to the baking time.
Toppings: Some bakeries add a crunchy streusel topping, which adds a delicious crunch and sweetness to the muffins. We used a nut topping to create a bakery style flair for this recipe.
Baking techniques: Use precise baking techniques, such as properly preheating the oven and adjusting the baking time as needed, to ensure consistent and evenly baked muffins.
By following these techniques, you can achieve a similar taste and texture to that of bakery-style banana nut muffins in your own home.
How ripe do bananas need to be for banana nut muffins?
Bananas should be very ripe for the best sweet flavor. The riper the banana, the easier it will be to mash them up. Green bananas will have a bitter flavor and will present difficulty when you try and mash them.
I have used bruised bananas and bananas that have turned mostly transparent and almost liquid. (I never waste anything). Even these very overripe bananas will work.
However, the flavor may be a bit over the top and the texture may not be quite as good.
The ones I have pictured with the browned ugly peels on were perfect. Ugly on the outside but still a mostly lovely intact banana as you can see in the process shots and our video.
The bananas were so ripe they actually fell off the bunch and became singles. But they were still delicious in these muffins.
What is the secret to perfect moist muffins?
To get the best banana nut muffins with the perfect texture, make sure that you are not over mixing them. Over mixing batter can cause the muffins to be dense and not fluffy. Mixing the batter by hand instead of using an electric mixer is a great way to get them perfectly mixed. Don't be tempted to leave the kitchenaid running while you prepare the next ingredients.
Make sure you are following the cooking directions, over baking the muffins will result in dry and hard muffins. I like to remove them when they are browned and a toothpick comes out cleanly.
These muffins go fast. I absolutely love them and they make a wonderful addition to the lunchbox.
Is a banana nut muffin healthy?
Whether or not a banana nut muffin is considered healthy depends on various factors, such as the ingredients used and the portion size.
Bananas are a nutritious fruit (Read this Healthline Article for more on the health benefits of bananas) that provides vitamins, minerals, and fiber. However, when combined with added sugars, butter, and flour to make muffins, the nutritional profile of the muffins changes.
A standard banana nut muffin can contain a significant amount of sugar and fat, which can be high in calories. Additionally, the flour used to make the muffins can be refined and lacking in fiber, making them a less nutritious option.
You can add flax or use whole wheat flour to provide more fiber, however, this will change the muffin texture a lot. The muffins will be denser, drier and you will sacrifice the lofty bakery style vibe.
However, it is possible to make healthier versions of banana nut muffins by using alternative ingredients, such as whole wheat flour, reducing the amount of sugar, and using healthier fats, such as coconut oil or avocado. These modifications can result in a muffin that is lower in calories and has more fiber, vitamins, and minerals.
In conclusion, whether or not a banana nut muffin is considered healthy depends on the ingredients and recipe used to make it.
For this recipe, I'd have to say if your ingredients are fresh you are feeding your family well. This is a carby muffin but it is sustaining and has nuts to boost the protein. This makes an excellent choice for a grab and go breakfast, lunch or snack.
Banana Nut Muffin Recipe:
When you open one of these muffins you see the richness. Look at the structure and color of these delicious moist muffins.
Recipe Ingredients:
This is a simple recipe without much fooling around.
How To Store Banana Nut Muffins:
These yummy snacks hold for several days at room temperature in an airtight container. Store the completely cooled muffin in the fridge up to a week for a fast grab food and after school or lunch box snack.
How to Freeze Banana nut muffins:
For short term storage of up to a month just set the muffins in a leftover bread sack, suck all the air out and twist the bag closed. or set the muffins in a gallon sized ziplock bag with the air sucked out. Removing the air will prevent the muffins form drying out while frozen.
For longer freezing (3 months)
To protect the muffins from freezer burn you need to double wrap the cooled muffins. If you want them easy to grab and take, individually wrap the muffins in plastic wrap. After the muffins are wrapped you can set them into a gallon ziplock bag and suck all the air out. Now label the bag with recipe name and date and store in the freezer.
To defrost: Just remove the plastic wrapped muffins you want from the ziplock freezer bag and allow them to defrost at room temperature of in the fridge.
How to Make Banana Nut Muffins:
There really is nothing better than fresh homemade banana nut muffins. These are a very popular Homemade food Junkie recipe, and why not? Who doesn't love an easy recipe like this that feeds the family with delicious, healthy ingredients and makes the cook a baking star?
Here's the printable recipe card for you. Happy Baking!
Yield:

12 muffins
Banana Nut Muffins
These Banana Nut muffins are yummy, filling, moist and full of healthy bananas and chunks of walnuts. This is Great sustaining muffin for breakfast, lunch or snacks.
Ingredients
3 very ripe bananas
1/3 cup butter
3/4 Cup Sugar
1 egg
1 tsp. baking soda
1 tsp baking powder
1 tsp. vanilla
1/8 tsp. salt
1/4 tsp. cinnamon
1 1/2 cups flour
1 Cup chopped walnuts
Instructions
Preheat oven to 350 degrees
Grease a 12 hole muffin tin. Set aside.
In a medium bowl mash 3 very ripe bananas.
Pour the mashed bananas into a large mixing bowl. Make sure the banana is thoroughly mashed with no large chunks.
Chop and add in the walnuts.
Add all of the dry ingredients.
Mix the dry ingredients and walnuts into the mashed bananas.
Add the wet ingredients and mix until a lumpy batter forms.
Spoon or scoop the batter into your prepared muffin tin.
fill each hole evenly 2/3 full.
Add larger chunks of walnuts to the top of each muffin as desired.
Bake 20 minutes or so until a toothpick inserted into the middle comes out clean.
Cool on a cooling rack.
Notes
These muffins hold several days at room temperature if covered.
Place in an airtight container in the fridge for up to a week.
To FREEZE:
Place the muffins in a ziplock freezer bag or airtight freezer container. Suck out air and label. Freeze up to two months.
Recommended Products
As an Amazon Associate and member of other affiliate programs, I earn from qualifying purchases.
Nutrition Information
Yield
12 muffins
Serving Size
1 muffin
Amount Per Serving
Calories

249
Total Fat

12g
Saturated Fat

4g
Trans Fat

0g
Unsaturated Fat

7g
Cholesterol

29mg
Sodium

216mg
Carbohydrates

33g
Fiber

2g
Sugar

16g
Protein

4g
More Muffins To Love:
We love muffins and have several delicious muffin recipes for you:
More Banana Recipes:
Turning a problem into an asset on the menu is what banana breads are all about. Here are some great Banana Bread Recipes to try. Healthy Banana Bread, Blueberry Banana Bread, Sourdough Banana Bread.
Looking for more ideas on how to use up your very ripe bananas? These are all great recipes.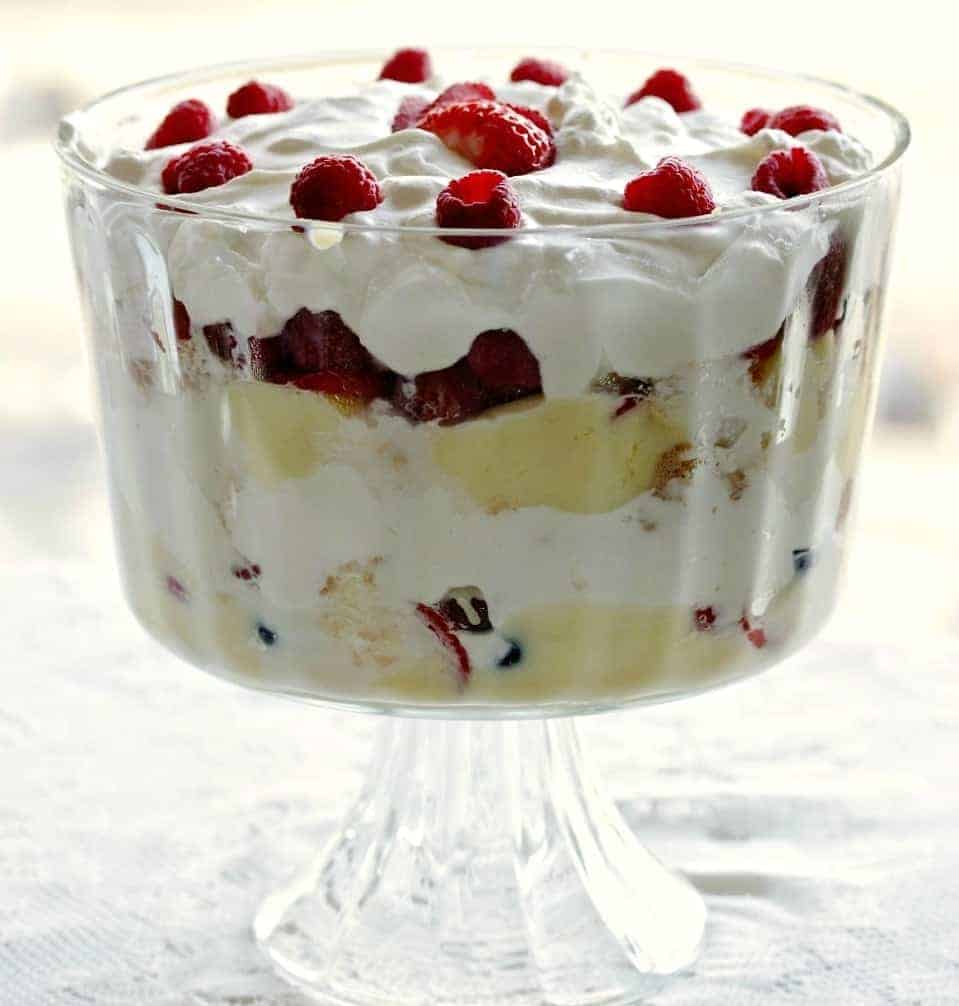 Follow Us:
We enjoy meeting you on our social networks. Follow us on Facebook, Pinterest, Instagram . Tag us with your pictures of our recipes and comment on how it went for you. We would love to see what you do with them.
We often like, comment and share your posts of our recipes on our daily Instagram stories.
Ask questions and rate the recipe in the comments section below. Please share what you did with this recipe. We are always looking for more and better ways to make homemade food. Other cooks love your ideas!
Recent Posts:
Pin It!