Homemade Banana Blueberry muffins with REAL ingredients are perfect for a quick, easy treat. Whip em up for breakfast or simple snacks.
These muffins are chock full of blueberries and bananas. Use up your ripe bananas. Your family will love you for it.
This is a very quick and adaptable banana bread muffin recipe.
We have tips and notes on alternatives for this recipe.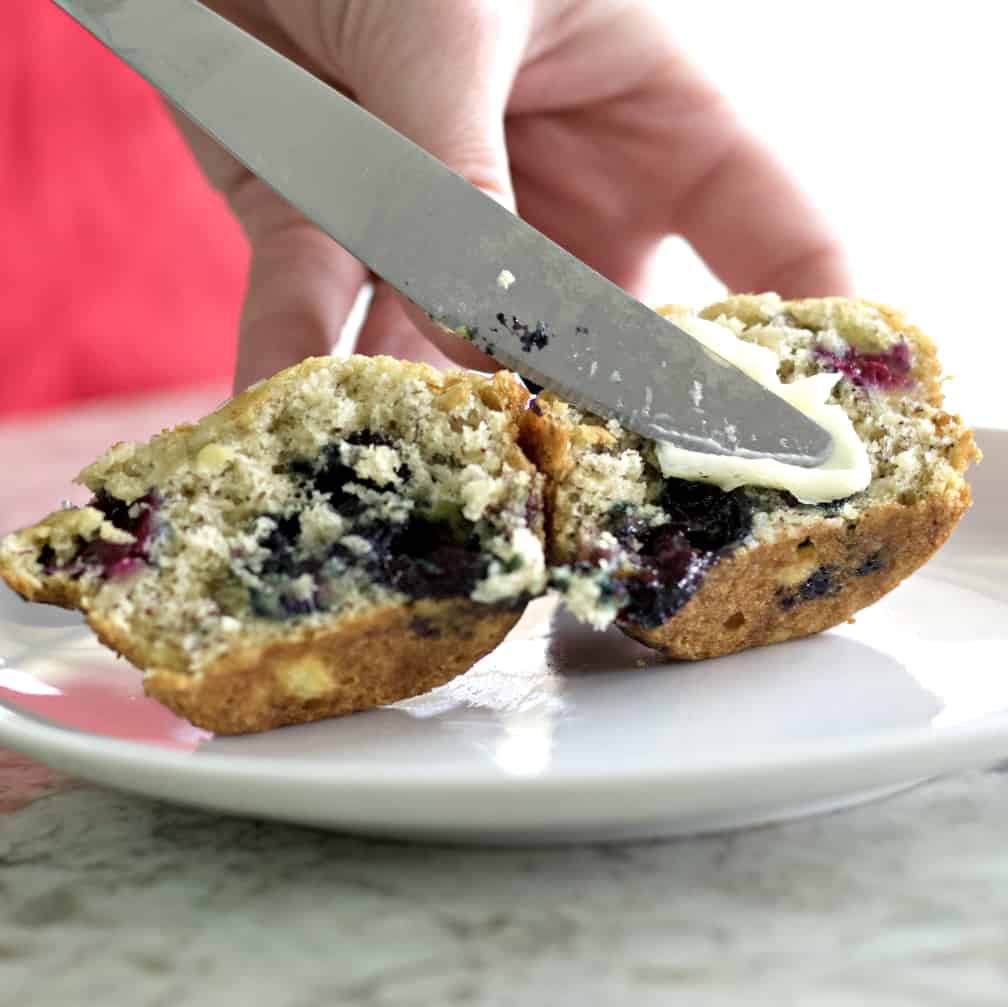 More Banana and Blueberry Recipes:
We have LOTS of banana recipes. A few or our favorites are, Banana nut bread, Banana Nut Muffins, Banoffee Pie, Banana Split Dessert and a yummy Banana Berry Trifle dessert.
Search our blog for banana to find MORE yummy ways to use up your ripe bananas.
Banana Blueberry Muffins Recipe:
Use Ripe Bananas:
It can be tough to come up with three ripe bananas on a whim. Even at the grocery they are not always available.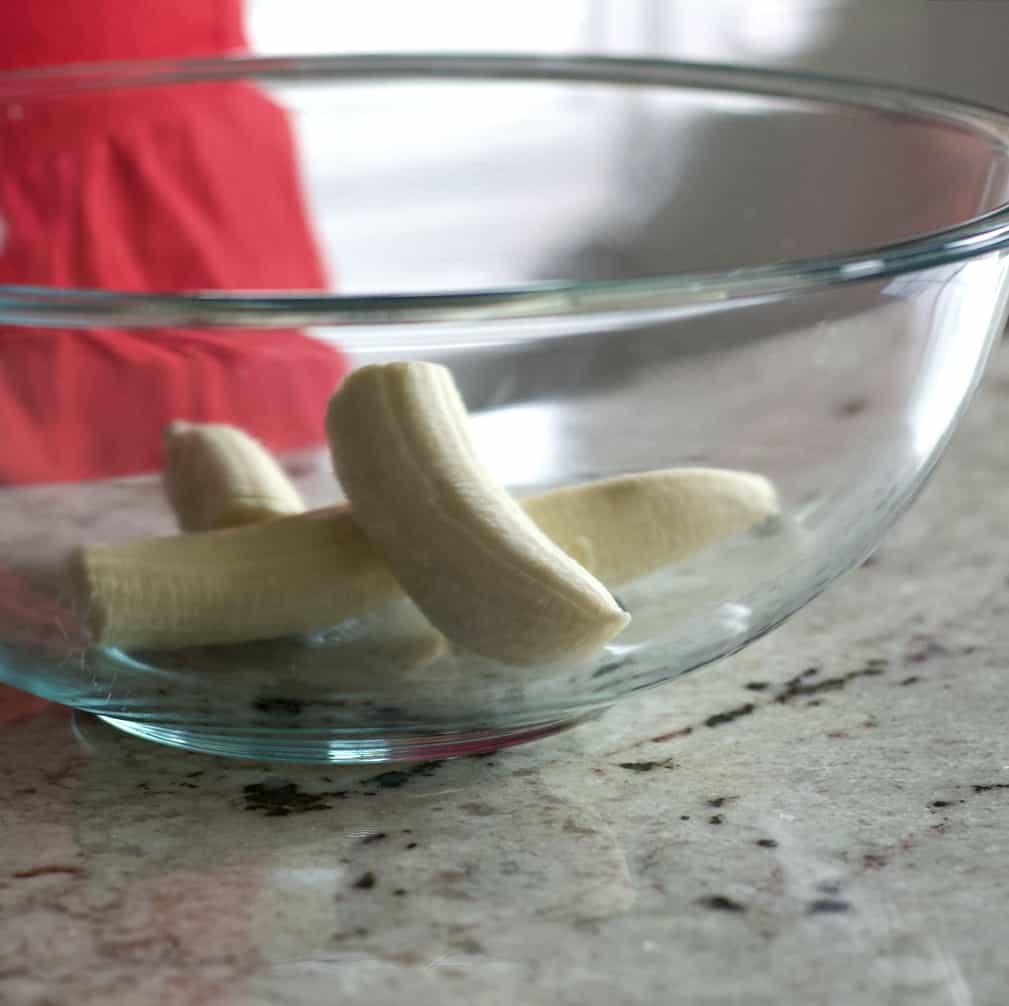 The produce departments do help us out when they can. I often find the over ripe bananas in a box next to the banana displays.
TIP: Do NOT use overly green bananas. Very ripe bananas are full of natural sugary banana flavor. You want that.
Yes, you can even use the REALLY ripe ones that are nearly transparent from ripening.
These are the bananas with disgusting brown mottled skins. They make GREAT breads and muffins.
Ripe bananas are also soft. DON'T Mash bananas when they are too green. It's REALLY difficult to get the preferred liquid texture that blends well and gives a perfect muffin.
This is how they should look when mashed.
Use EITHER fresh or frozen blueberries for this recipe.
Why do my blueberry banana Muffins Turn Blue?
When you make these muffins be GENTLE if you want clean muffin batter.
This may also be a good reason to use plump fresh berries. Fresh berries added with a gentle hand will not break and leak into your batter.
Using a stand mixer or hand held electric mixer will burst the berries. Fold the berries in by hand GENTLY at the very end if using a mixer.
Frozen berries (or canned) may leak blueberry juice into the batter. This creates blue muffins. You can mitigate this somewhat by rinsing and drying the berries before adding them to your batter.
Take a Look at our blueberry lemon muffins to see how this looks. We like them both ways. But if you need pristine muffins use the method described in our recipe card.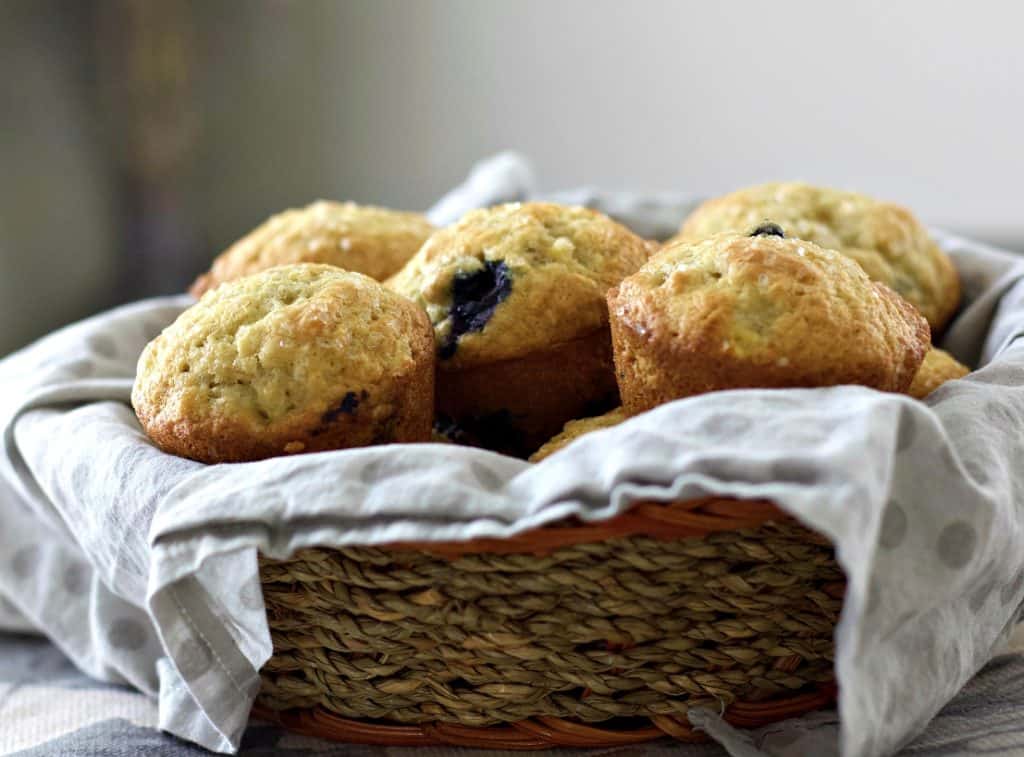 Substituting Sugars:
If you prefer to replace the sugar here are some alternatives. You will need to taste the batter as you add. One to One may work. But it's all to taste 🙂
maple syrup (one of my favorites)
Agave syrup
honey
coconut sugar
applesauce
Your Printable Recipe Card:
When you PRINT the recipe the PICTURES will not print. That is intentional to save you ink and paper. Your recipe will print in a more readable form. 🙂
Let us know what works best for you.
Please also watch our complete video recipe demonstration to see this recipe as we made it.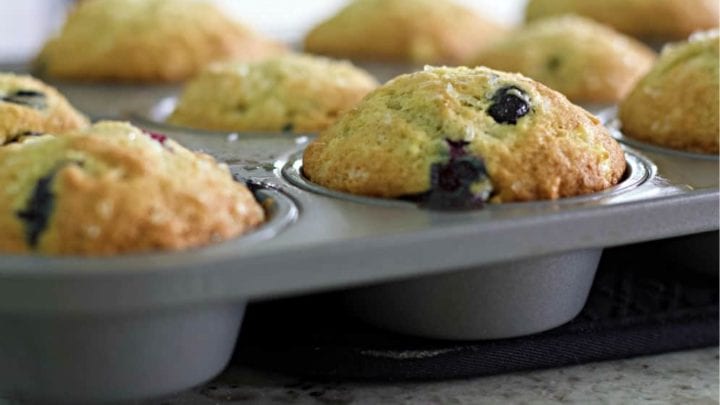 Yield:

12 muffins
Banana Blueberry Muffins Recipe
Additional Time:
10 minutes
Homemade Banana Blueberry muffins are the perfect quick and easy treat to whip up for the breakfast table, or for a simple snack.
Ingredients
3 bananas-very ripe
1 egg
3/4 Cup Granulated Sugar
1/3 Cup butter-melted
1 tsp. vanilla
1 Cup Fresh blueberries (washed and well drained)
1 1/2 Cup all purpose flour
1/2 Tsp. Salt
1 tsp. baking soda
1 tsp. baking powder
(Sanding sugar as desired for muffin tops)
Instructions
Prep:
Preheat oven to 375 degrees F.
Oil your muffin pans
Make the muffin batter:
Put the bananas into a large bowl and mash them with a potato masher until they are liquidy with no large chunks.
Whisk the egg lightly in a small bowl.
Add the egg and sugar into the mashed bananas.
Mix until well blended.
Pour in the vanilla and the melted butter. Stir until blended.
Gently fold in the fresh blueberries. (do not break the berries)
Whisk the dry ingredients together in a separate bowl.
Add dry ingredients into the batter in thirds. Folding after each addition with a spoon
Stir gently until thoroughly combined.
Fill the muffin holes evenly 3/4 full with batter.
OPTIONAL: Sprinkle Sanding sugar over muffin batter
Bake and Cool:
Bake 20 minutes or until a toothpick inserted into the muffin center comes out clean.
Let muffins sit in the pan a few minutes (5 minutes at most).
Transfer the muffins to a cooling rack to finish and set.
Remove to basket for serving.

Notes
For mini muffins:

This recipe will make 24 mini muffins. Bake at 350 degrees F for 15 minutes. Or until they pass the toothpick test.
Nutrition Information
Yield
12
Serving Size
1
Amount Per Serving
Calories

190
Total Fat

6g
Saturated Fat

3g
Trans Fat

0g
Unsaturated Fat

2g
Cholesterol

29mg
Sodium

289mg
Carbohydrates

33g
Fiber

1g
Sugar

17g
Protein

3g