Cinnamon Muffins with a sugary streusel topping make a delicious afternoon coffee cake like snack. these muffins are a tasty addition to a brunch menu. Or serve this sweet treat for a special breakfast. Made with a soft vanilla cake that incorporates sour cream and butter for a slightly tangy flavor that pairs perfectly with a sweet crumb topping.
Streusel is a crumbly topping that combines flour, butter, cinnamon and sugar. It is baked onto the tops of cakes, muffins, breads, and pies as a sweet finish that often times replaces frostings. Cinnamon muffins are typically finished with a streusel for a delicious cross between a donut and a cupcake.
Muffins are some of our favorite baked goods, and we are sharing our tips for getting the fluffiest, softest texture with bold flavor and ways to enjoy these cinnamon muffins on any occasion.
Watch our complete tutorial for how to make these scrumptious cinnamon breakfast muffins
What are the most popular muffin flavors?
Muffins are a worldwide favorite for their delicious cake like texture, wide variety of flavors, and playful easy to serve style. The most popular flavors include apple cinnamon, banana, blueberry, and chocolate chip for their classic ingredients and well loved flavors. Following these popular muffins are pumpkin and cream cheese, cornbread muffins, honey muffins, and morning glory muffins.
If muffins are a favorite of yours be sure to check out some of our other recipes like our buttermilk blueberry muffins, pumpkin cream cheese muffins, and the delicious savory zucchini bacon cheese muffins.
What is the secret to making moist muffins?
The best cinnamon muffins are soft, fluffy, and full of sugary cinnamon flavor. We are sharing our best tips for getting moist muffins that won't collapse or bake dense.
Work the wet and dry ingredients separately and gently mix them until only just combined. This reduces over mixing which is a common problem that leads to flat, dense baked goods.
Always use warm ingredients for the best consistency and to reduce over mixing. Cold butter and eggs will prevent the batter from being silky smooth and can result in lumps and less air making it's way into the batter.
Using good quality baking supplies will make all the difference in the evenness of baking, and the ease of use for you the baker. Muffin tins, ice cream scoops to measure the batter, and the proper mixing tools all matter.
Use cupcake liners to prevent the muffins from sticking to the tin. Liners will also present the muffins in a beautiful aesthetic that is not only convenient and easy to serve, but also elevates the look to fit your event theme.
Follow the baking time and temperature for the recipe. Muffins will bake quickly and are prone to over baking and collapsing once removed from the oven. Set the oven to the correct temperature and begin with a conservative bake time, watching the muffins and checking for doneness by inserting a toothpick into the center. If it comes out clean the muffins are baked through.
Be careful not to overfill the muffin tins as this will lead to underdone centers, overflow and burnt edges, and a drier base of the muffin. Fill the muffin tins to 2/3 full and use an ice cream or cookie scoop for even measuring.
Making a Cinnamon Sugar Streusel
These cinnamon muffins feature a delicious and simple streusel for the perfect finish. The addition of the streusel makes them just like cinnamon sugar donut muffins. Streusel is a fantastic way to elevate any muffin and it's such an easy topping that comes together in no time.
Begin by whisking together flour, sugar, and cinnamon in a medium bowl. This can be done with a small whisk or a fork, just be sure there are no lumps. Using a pastry cutter or fork, cut in small cubes of cold butter until everything is fully combined and crumbly.
The topping will be sprinkled on top of the uncooked cinnamon muffins and baked for a sweet, slightly crispy sugar finish.
Ways to make your Cinnamon Muffins stand out
These cinnamon muffins are fantastically fluffy, soft, and moist. They quickly become one of our favorite recipes with the addition of the streusel topping. If you are looking to play around with the recipe and have some fun with additions or tweaks, we are sharing some of our favorite ideas for you to try.
Make mini cinnamon muffins by using a petite muffin tin and creating darling bite sized cinnamon muffins with streusel
Make easy apple cinnamon muffins by adding a sweet apple filling
Make these as cinnamon roll muffins by adding a sweet frosting drizzle over the struesel
Swirl some of the cinnamon streusel throughout each muffin to make a cinnamon swirled streusel muffin
Change up the streusel by adding oats and making it an oat crumble
Add some banana to make some cinnamon banana muffins
Can you freeze muffins?
Yes, muffins freeze very well when stored properly. For this recipe we recommend freezing them without the streusel topping as that would likely become soggy once thawed.
After all of the muffins have been baked, allow them to cool completely. Place the muffins in a single row in a freezer safe, airtight bag, removing all of the excess air. Store the muffins on a flat surface in the freezer.
When you are ready to eat the muffins place them on your counter to slowly thaw. Make your streusel topping and preheat the oven to 315 degrees. When the oven is ready, top the muffins with the streusel and place the muffins in the oven to warm through and bake the topping.
How do I get rich, moist muffins every time?
The secret to the lightness and flavor in this recipe is the use of sour cream in the batter. Sour cream adds fat and moisture to the batter as well as a slightly tangy flavor that compliments the sweet ingredients.
For soft, bakery style muffins the use of dairy is important. Buttermilk, sour cream, whole milk, and full fat cream will all enhance your muffins. Greek yogurt can also be used, but the flavor will change slightly.
Cinnamon Muffins recipe
Make the streusel and prepare your 12 muffin tins. Preheat your oven to 350 Degrees F. While the oven is preheating, make your batter. Our visual walkthrough below shows you how easy these muffins are to make, and our video tutorial can be found in this post as well.
What can you eat with muffins?
Muffins are wonderfully versatile and can be enjoyed with a variety of other foods. If you are eating these muffins for breakfast, it's best to serve them with protein to help offset the high sugar content. Here are some ideas for foods to eat with muffins.
An assortment of fresh seasonal fruit
Breakfast sausage, ham, and other cuts of meat for protein
Eggs prepared fresh, or quiches
Fried potatoes or hashbrowns
Savory puff pastries like ham and spinach
Helpful Amazon Links
Good quality tools and supplies make all the difference in your baking experience. Here are some of our favorites.
Your Printable Recipe Card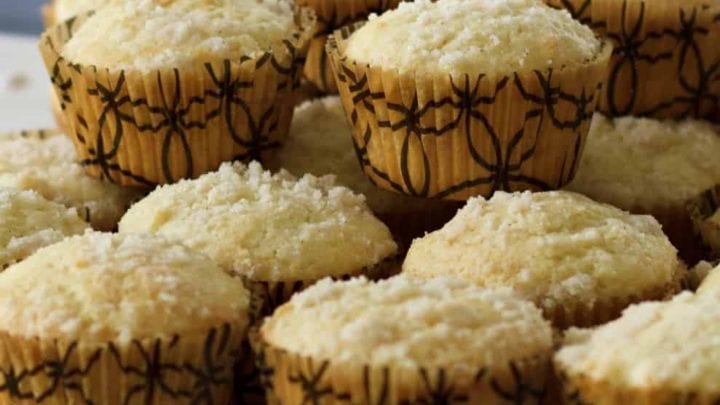 Yield:

24 muffins
Cinnamon Coffee Cake Muffins with Streusel
Cinnamon muffins with a sugary streusel topping taste wonderful as a breakfast muffin. They are light and moist and keep well for several days.
Ingredients
Streusel topping:
1/2 Cup flour
1/2 Cup sugar
1 tsp. Ground cinnamon
6 Tablespoons unsalted butter
Muffin Ingredients:
2 1/4 Cup Flour
2 tsp. Baking powder
1/2 Tsp. baking soda
1/4 tsp. Salt
1/3 Cup softened butter
1/3 Cup vegetable oil
1 Cup granulated sugar
2 eggs
1 Cup sour cream
2 tsp. vanilla extract
Instructions
Streusel Topping:
In a medium bowl mix together the flour, sugar and cinnamon.
Cut in the butter until it forms into small crumbs.
Set Aside until needed.

Preheat your oven to 350 degrees F.
Line your muffin tins with paper liners or grease them.
Muffin Instructions:
In a medium bowl whisk together the flour, baking powder, baking soda and salt. Set aside.
In a large bowl mix together the softened butter, sugar and oil until smooth.
Add two eggs one at a time. Mix between each egg until smooth.
Put in the sour cream and vanilla. Mix all the wet ingredients until well combined.
Add the dry ingredients one third at a time to wet ingredients. Mix until the batter is smooth after each addition.
With a large scoop or spoon fill each muffin hole 1/2 full evenly.
Sprinkle the streusel over the top of the batter.
Set the pans in your preheated oven and bake 15 to 20 minutes until lightly browned.
Cool on racks.
Notes
We had extra streusel leftover so if you want to load the muffins with topping it is there to spare.
Greek yogurt can substitute for the sour cream but you will notice a different flavor.
Nutrition Information
Yield
24
Serving Size
1
Amount Per Serving
Calories

201
Total Fat

11g
Saturated Fat

5g
Trans Fat

0g
Unsaturated Fat

5g
Cholesterol

35mg
Sodium

121mg
Carbohydrates

24g
Fiber

0g
Sugar

13g
Protein

2g
Follow Us:
We enjoy meeting you on our social networks. Follow us on Facebook, Pinterest, Instagram . Tag us with your pictures of our recipes and comment on how it went for you. We would love to see what you do with them.
We often like, comment and share your posts of our recipes on our daily Instagram stories.
Ask questions and rate the recipe in the comments section below. Please share what you did with this recipe. We are always looking for more and better ways to make homemade food. Other cooks love your ideas!
Recent Posts: