Nothing spells fall like the ever popular Pumpkin Spice Latte from Starbucks! That yummy warm drink always makes me want to run out and buy pumpkin everything! So why not capture that yummy scent in a beautiful and gift worthy sugar scrub?
This scrub has ground coffee in it that is also said to tighten skin and shrink fat cells thus reducing the appearance of cellulite! What a bonus! Not only does Pumpkin Spice Latte Sugar Scrub smell heavenly, it also moisturizes and can reduce the appearance of cellulite.
We do love our homemade scrubs and healthy skin care recipes. If you love them too take a look at homemade natural shimmering Lip balm, Healing Hand scrub and Homemade Healing Ointment for more great ideas.
Of course I couldn't wait to try it, right after I made it I hopped in the shower and vigorously rubbed it on my legs before I shaved them. I must say if it wasn't 9:00 at night I would have run to Starbucks right then and there and bought myself a pumpkin spice latte!
Oh my heavens! Glorious yummy coffee scents mixed with pumpkin and cinnamon filled my entire bathroom.  When I finished exfoliating and shaving my legs, they were so smooth and soft!
Let's Talk About Coconut Oil:
Coconut oil is a huge subject. This amazing oil has so many uses as a food and for skin care and it is wonderfully good for you. Today I'll keep the focus on skin care. Using coconut oil  in any body scrub leaves your skin exfoliated by the scrub ingredient, in this case, coffee grounds and WONDERFULLY moisturized by the coconut oil! I have been using coconut oil for almost two years now; as a make-up remover, moisturizer and  food. It's a very healthy fat for your body, inside and out!
Coconut oil soaks right into your skin, leaving it moisturized, but not sticky or oily feeling. My skin LOVES the feeling and results of using this oil!
Coconut oil will NOT go rancid. You can leave is sitting on you counter for a year and it will be fine.
Coconut oil has antibiotic properties. It may be for this reason I can use it so successfully on my skin. I have used many moisturizers in the past, all non comedogenic products because I always break out. Coconut oil is so far, the only product I can use as a moisturizer that won't give me acne!
For more research on Coconut oil I have links for you at the post bottom.
Pumpkin Spice Latte Sugar Scrub Recipe:
So how does one make this glorious scrub? it's ridiculously simple! I have put the recipe into a printable for you. You can eat this scrub but I don't recommend it, just ignore the nutritional info and enjoy this vigorous, fragrant moisturizing scrub!
This scrub will stay fresh and fragrant for approximately three weeks. Keep it in an airtight jar, to preserve the wonderful smell!
Yields approximately 1 1/2 cups of sugar scrub
Give your BFF a Delicious moment of indulgence and incredibly smooth skin. This Spa in a jar makes a great gift!
Pumpkin Spice Latte Sugar Scrub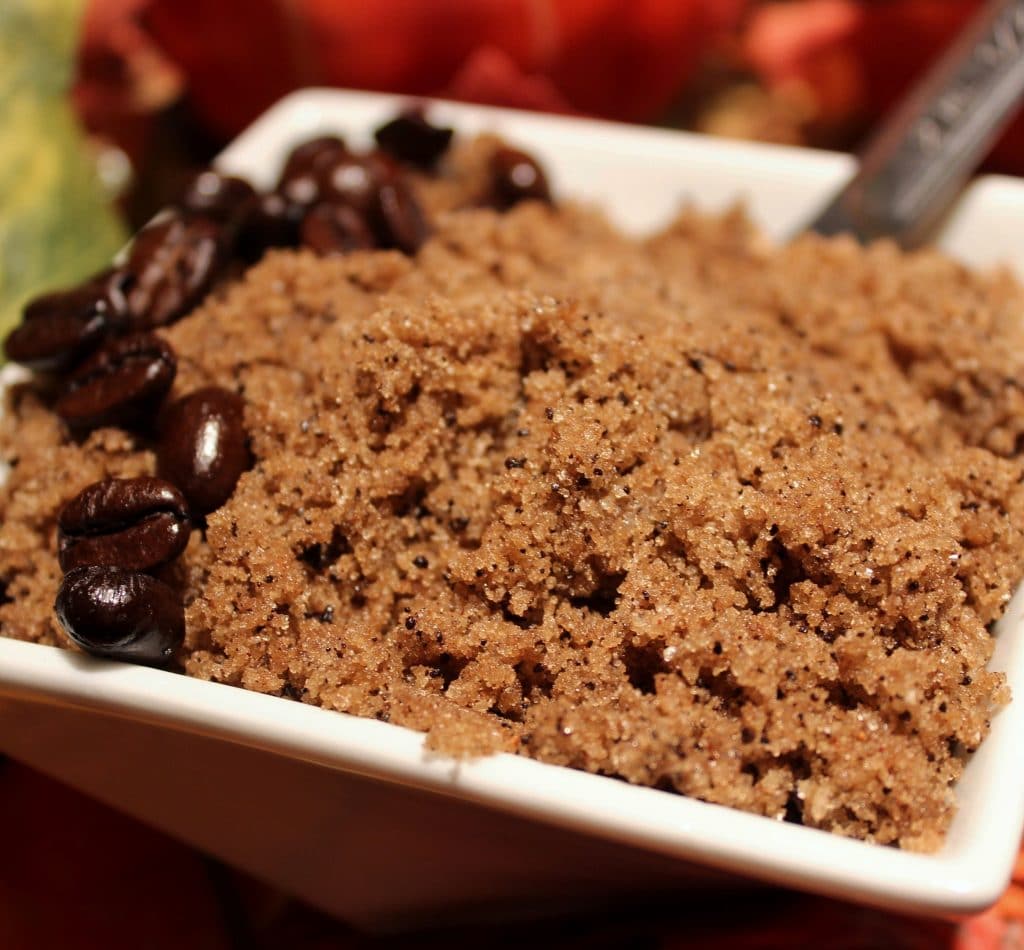 Ingredients
1/4 Tsp. Pumpkin Pie Spice
1/4 Tsp. Cinnamon
2 Tsp. Ground organic dark coffee (please note this is not calling for used coffee grounds, I recommended using fresh coffee grounds)
Dash of Allspice
Dash of Nutmeg (this is a very strong smelling spice! I made the mistake of putting in 1/4 tsp the first time I made it, heed my warning and go easy on the Nutmeg!)
3/4 Cups of Brown sugar
1/4 Cup organic granulated sugar
1/4 Tsp. Pure vanilla extract
1/4 Cup melted Coconut oil
Instructions
Simply mix all of the spices together with the coffee.
Keep smelling and add more spice to your own liking.
Once you are satisfied with the scent then add it into the brown and white sugar.
At the very end you add in the vanilla extract and the coconut oil. Go easy on the coconut oil, a little can go a long way.
Pin it:
Here are a couple of links on the benefits and uses of coconut oil for your skin.