Cranberry Raspberry Brie Bites are a fast, easy appetizer for your holiday party. Make them in your 24 hole mini muffin tin in half an hour! These are a nutritionally balanced, vegetarian, low sodium appetizer. Perfect for any crowd!
Fortunately cranberry sauce and raspberries are available nearly all year nowadays. So extend this popular appetizer beyond the Fall holidays. Try these for Super bowl appetizers, or any winter gathering.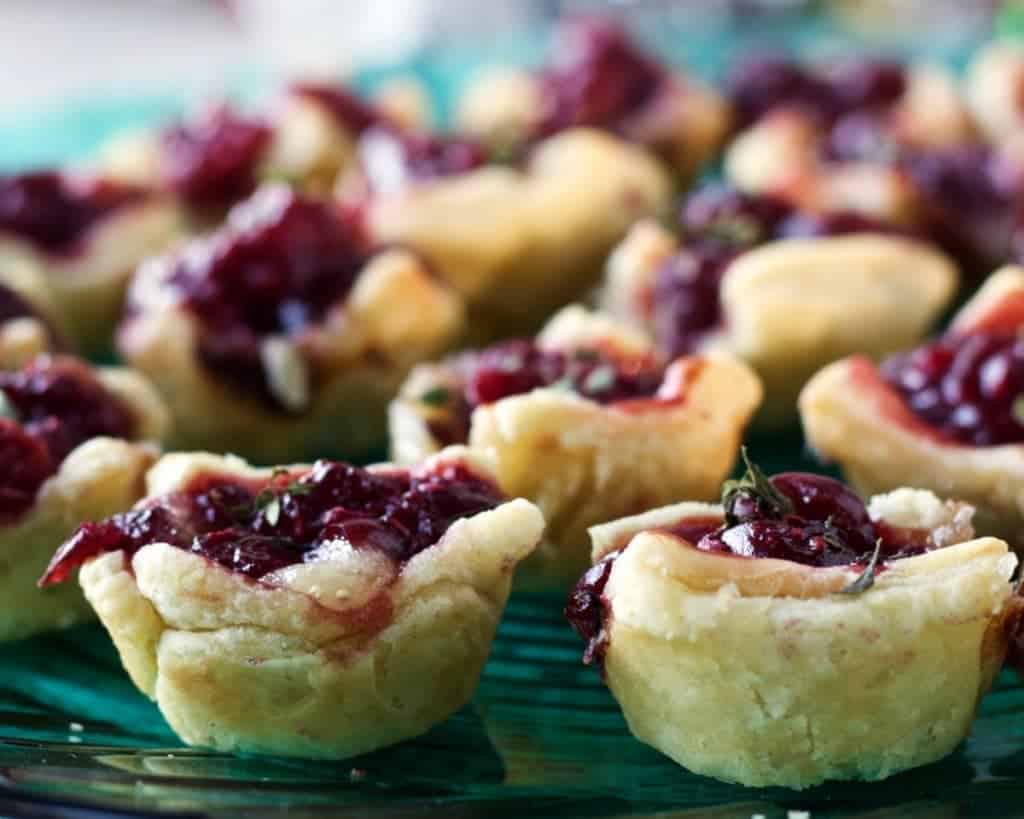 Tis the season for holiday parties! I hope you and your loved ones are having lots of fun together. Parties are all over the place between now and New Years. This Cranberry Raspberry brie bite makes yummy Thanksgiving appetizers, Christmas Appetizer or New Years Eve (or day) party food. These are the best appetizers for any winter themed party.
Want more appetizers recipes that are quick, easy, nutritious and yummy? Try these.
Gluten free Bacon Wrapped Sweet Potatoes.
Cranberry Raspberry Brie Bites appetizers:
These bite-sized holiday appetizers won't spoil the appetite, are fairly healthy… and delicious! Puff Pastry (here is a link to an organic brand) makes them so easy and Brie Cheese (find out more about Brie cheese here) gives them some nutritional substance. These little yums have Only five ingredients and go together easily.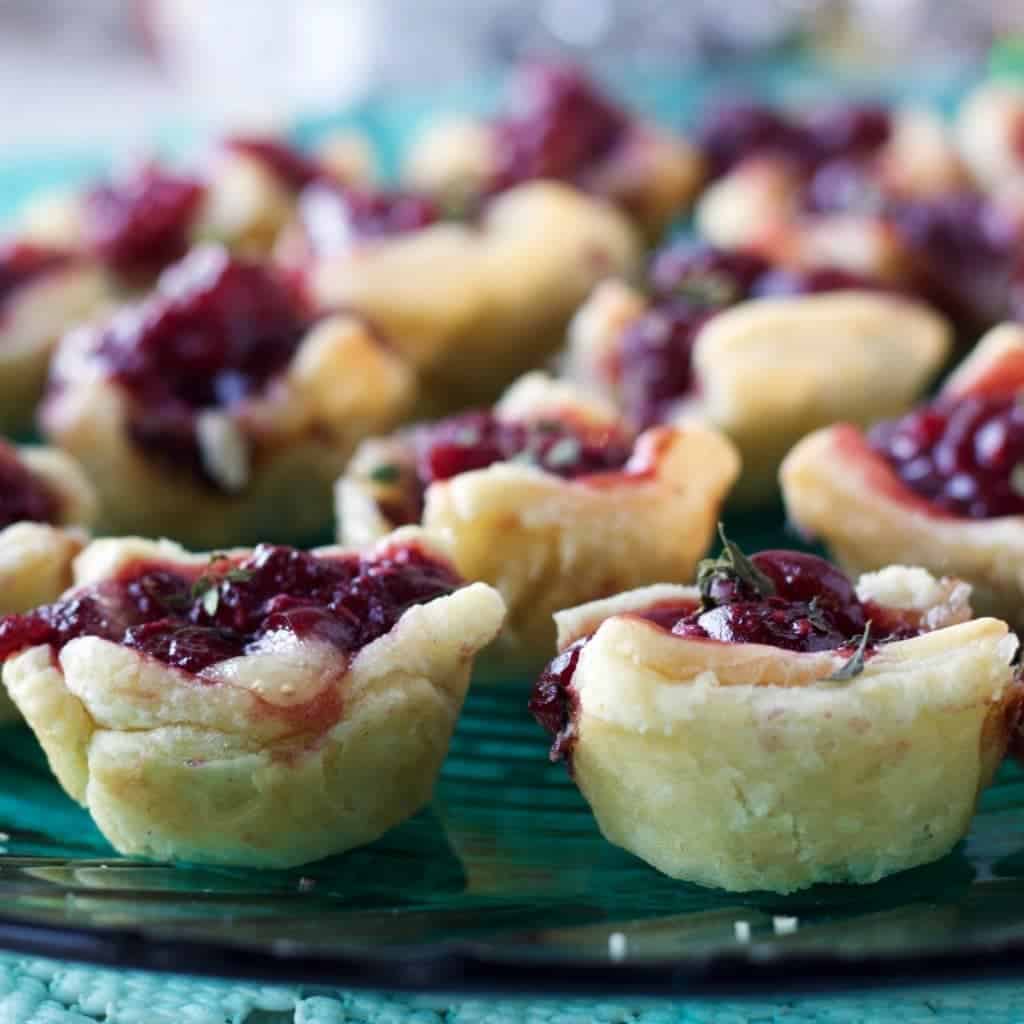 Cranberry Raspberry Brie Bites can be served warm or cold or even the next day! Once baked and cooled these are not messy! They are quite easily served from a tray as finger food.
I made 24 of these for my husband and I at his request. He ate the whole tray by himself (well I might have had a few). These are SO addicting. If you love cranberry-raspberry flavor, with a hint of brie and thyme, this easy appetizer recipe is for you, and your next winter holiday party. To make these a large crowd appetizers simply double the batch.
NOTES on the Crust:
I have used sheets of Puff Pastry in this recipe, NOT Phyllo Dough. This recipe does not work with sheets of phyllo dough. Please use puff pastry sheets for a soft, pillowy, doughy crust.
If you prefer a really easy, crispy crust, try Frozen mini Fillo Cups. See the crust they make at my Low Carb Chorizo Spinach Filo Cup Appetizers post and I used them in our tutorial video for this recipe. SO easy. Pop them in the mini muffin pans, fill them and bake! Cranberry raspberry brie bites are delicious with either crust. Perfect party finger food.
These party appetizers are ready in a half hour straight out of the oven. Serve them as soon as they are cool enough to eat without burning your mouth. These are also good at room temperature and are food safe for several hours.
I have made Cranberry Raspberry Brie Bites several times. Every time they are immediately devoured. These are great holiday party appetizers.
TIP: Don't overdo the brie. These brie bites may boil over in the oven if you make the balls too large. Keep the brie balls about the size you see pictured in the recipe card and video for best results. I recommend putting a baking sheet under them (next rack down) to catch the drips or your smoke alarm may come to the party!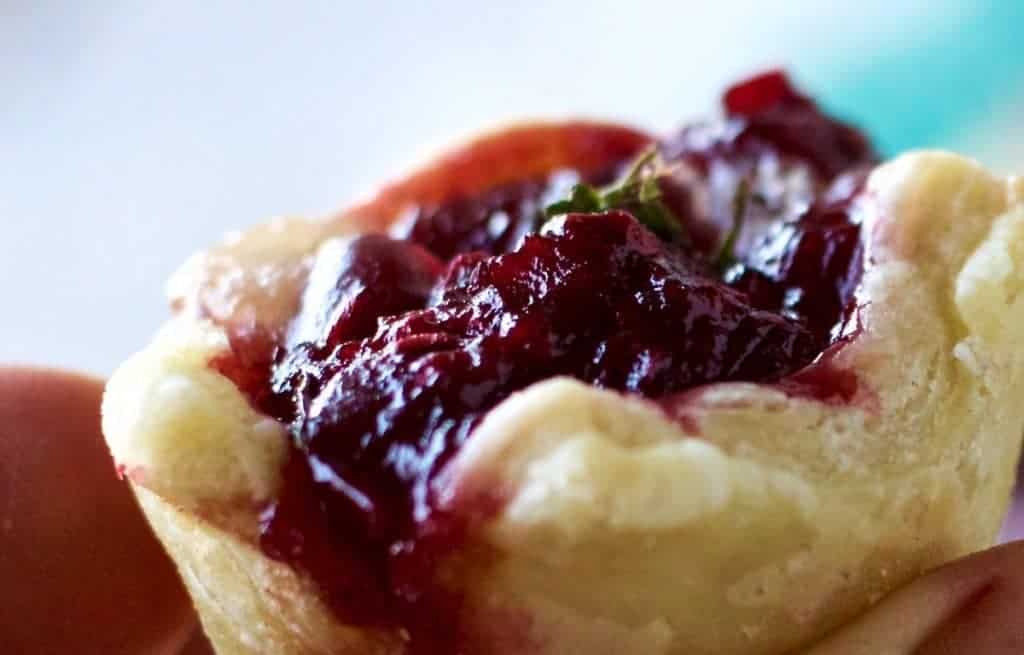 Your Printable Recipe Card:
Yield:

24
Cranberry Raspberry Brie Bites
Cranberry Raspberry Brie Bites are a fast, easy appetizer for your holiday party. Make them in your 24 hole mini muffin tin in half an hour! These are a nutritionally balanced, vegetarian, low sodium appetizer. Perfect for any crowd!
Ingredients
24 frozen Filo Cups OR 1 sheet thawed puff pastry.
1/2 Cup fresh raspberries
1/2 Cup cranberry sauce (either whole or jellied)
8 oz. Brie cheese
Thyme for garnish
Instructions
Preheat oven to 375 degrees F.
For Puff Pastry:
Grease a 24 hole mini muffin tray
Lay out the puff pastry sheet flat
Using a sharp knife or cookie cutter, cut the puff pastry sheet into 24 equal squares
fit each pastry square into a mini muffin hole, try to get the sides up to the tops of the tray.
For Filo Cups:
Place the frozen filo cups into the mini muffin cup holes.
Filling:
Remove the rind of the brie with a sharp knife.
Cut or pull off small sections of cheese and roll into small balls and place on each of the pastry sections in the mini muffin tray.
In a medium bowl, Mix together the fresh raspberries and cranberry sauce.
Place 1/2 to 1 Tsp. of raspberry cranberry sauce on top of the brie.
Sprinkle fresh Thyme Leaves on the sauce for a bit of color.
Bake at 375 degrees for 10 minutes.
Remove from oven and remove from mini muffin tray immediately to cool. (use a sharp knife around the edges to release any sticking spots.
Garnish with fresh Thyme as desired.
Place on serving tray
Serve warm or at room temperature.
Notes
These will hold well if you want to make them ahead. Bake, cool and Refrigerate covered. Warm to room temperature to serve.
OR make the trays but do not bake. Cover and refrigerate. At serving, Bake in preheated oven for 10 minutes.
Recommended Products
As an Amazon Associate and member of other affiliate programs, I earn from qualifying purchases.
Nutrition Information
Yield
24
Serving Size
1 brie bite
Amount Per Serving
Calories

50
Pin it:
This recipe is part of 35 Cranberry recipes with Festive Flavor by Autostraddle.com. If you need more cranberry recipes, Hop on over!