Cranberry Raspberry Brie Bites are a fast, delicious appetizer that present beautifully on a tray as finger food for your next gathering. You can make them in your mini muffin tin in 30 minutes, and if you need to make them ahead of time they can be stored in your fridge for a few days.
Combining fresh raspberries, cranberry sauce, brie cheese, fluffy puff pastry cups, and a sprig of thyme this recipe can be served any time of the year. It is stable at room temperature for extended periods of time throughout your event.
In this post we walk you through how to prepare and bake these appetizers quickly and with the best results. Puff pastry can be a daunting undertaking for many, but we guarantee you will want to add these to your event menu.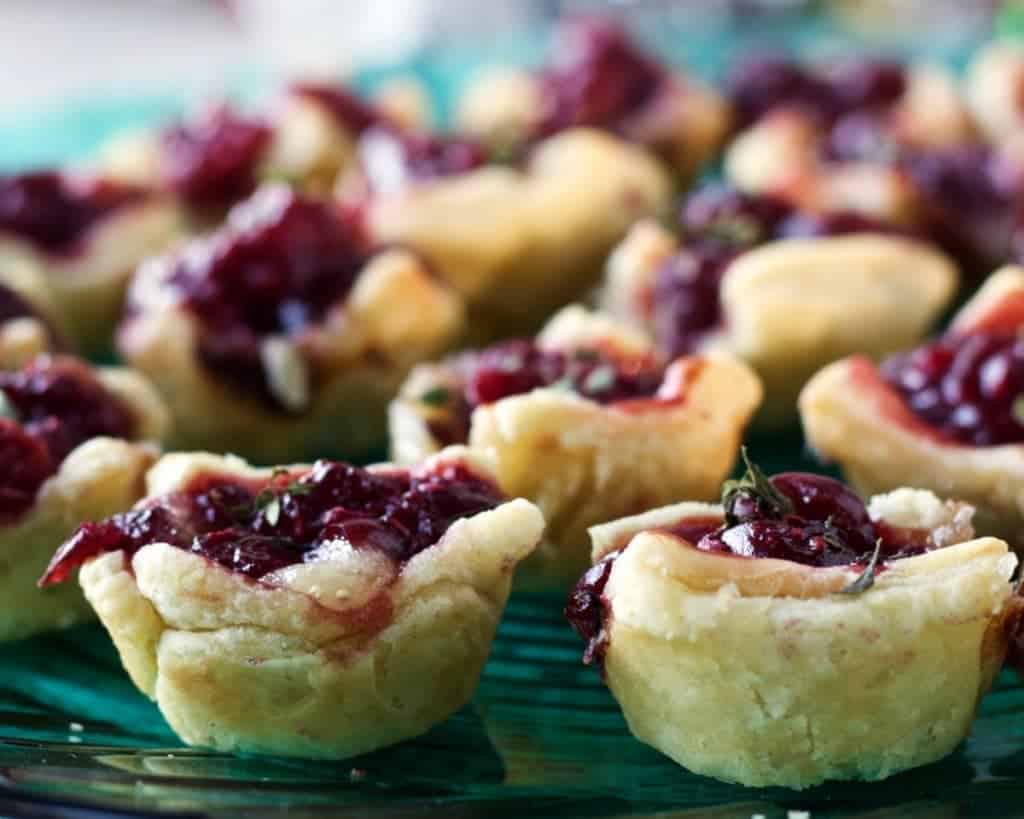 Should you cut off the rind of brie?
Most often brie cheese is baked and presented as fondue style dipping cheese. You do not need to remove the rind before baking, in fact it is helpful when presenting it as a dipping cheese. Leaving the rind on will help it keep its shape, as well as create a built in bowl. The rind is also completely edible so it can be safely consumed.
Because this recipe calls for brie to be tucked into pastry puff it is easiest to simply cut off the top of the rind, best to do when the cheese is cold, and use a spoon to scoop out the brie. If some of the rind ends up in your puffy pastry along with the brie no need to worry, it is edible and most likely your guests wont notice it.
Can brie bites be frozen?
Brie bites are a fantastic make-ahead appetizer option as they can be prepared, baked and easily frozen for up to 3 months if you aren't serving them within a few days. Simply place them in a freezer safe airtight container and store them in your freezer.
To defrost, set them at room temperature and allow them to thaw, then arrange them on a baking sheet and bake at 350 degrees F for about 10 minutes or until warmed through. If you are storing them in your fridge before your party, reheat them following the same directions.
More of our most popular appetizers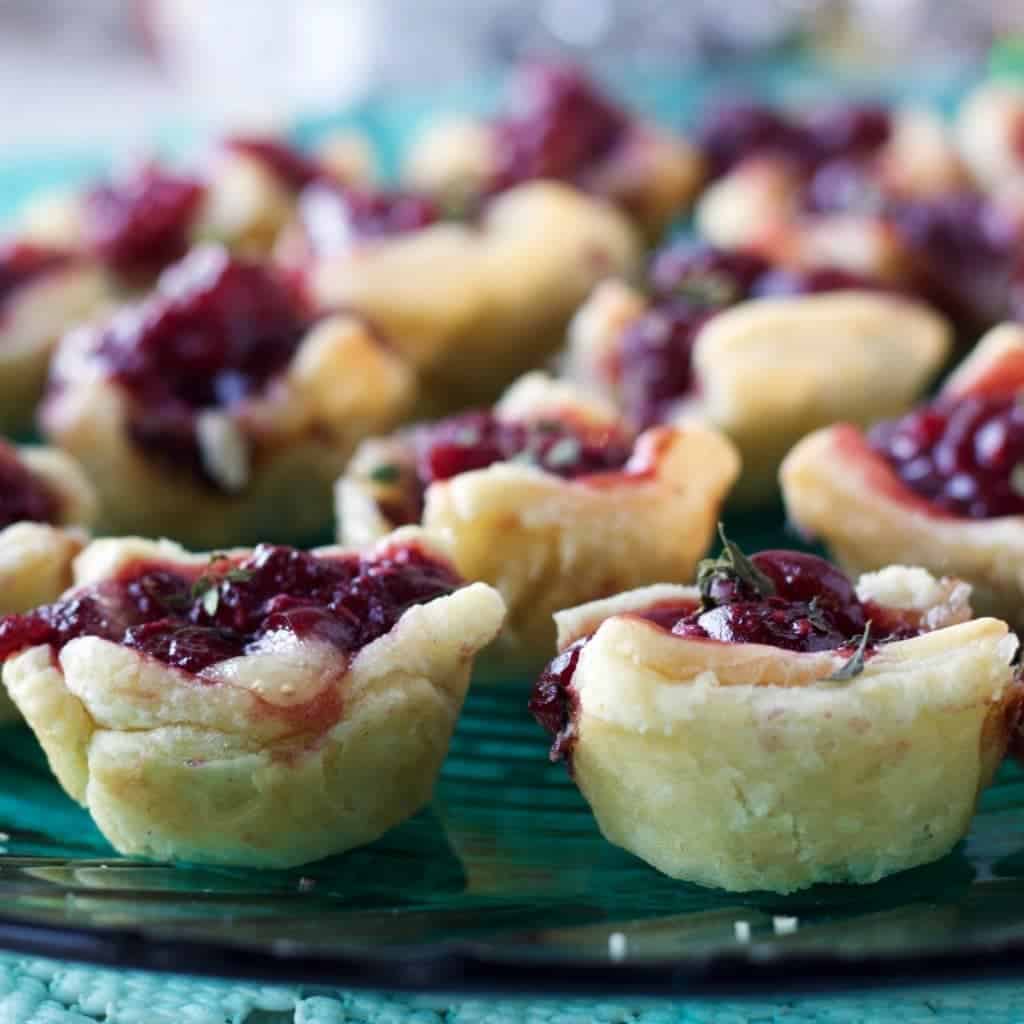 Cranberry Raspberry Brie Bites can be served warm or cold. They are quite easily served from a tray as finger food because once they have cooled, they are not messy and will hold their shape.
What jam goes with brie cheese?
Brie cheese is a well known and very well loved soft cheese that can be served fondue style for dipping breads, crackers, even nuts. Dried fruits and jams are often paired with brie because of the wonderful dance between sweet and creamy savory. You can swap out what you use in this recipe if you desire something besides cranberry or raspberry; some ideas would be
Fig and honey
Cherry preserves
Apricot jam
Raspberry or fig jams with walnut or pistachios
A sweet red pepper jam
A savory bourbon maple bacon jam
Strawberry and jalapeno jam
A hot honey drizzle
Blackberry and thyme
Pear and honey balsamic
NOTES on the Crust:
This recipe does not work with sheets of phyllo dough. Please use puff pastry sheets for a soft, pillowy, doughy crust.
If you prefer a really easy, crispy crust try Frozen Mini Fillo Cups. See the crust they make in this Low Carb Chorizo Spinach Fillo Cup Appetizers post. They would be a very easy alternative. Pop them in the mini muffin pans, fill them and bake! Perfect party finger food.
I have made Cranberry Raspberry Brie Bites several times. Every time they are immediately devoured. These are great holiday party appetizers.
TIP: These brie bites may boil over in the oven if you fill them too full. Keep the brie cheese about the size you see pictured in the recipe card and video for best results. I recommend putting a baking sheet under them (next rack down) to catch the drips.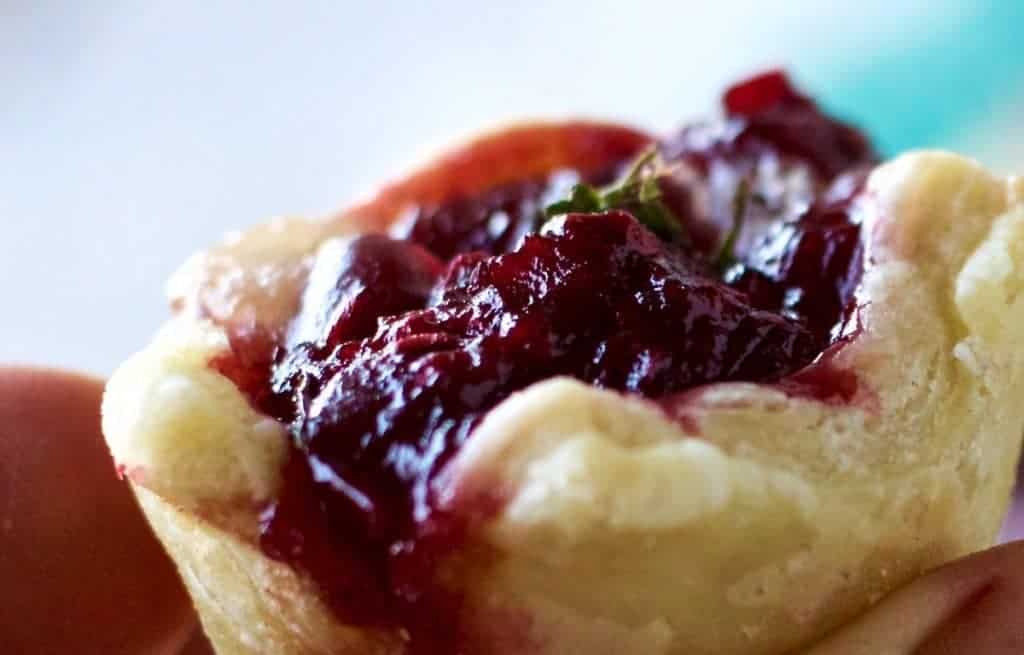 Your Printable Recipe Card:
Yield:

24
Cranberry Raspberry Brie Bites
Cranberry Raspberry Brie Bites are a fast, easy appetizer for your holiday party. Make them in your 24 hole mini muffin tin in half an hour! These are a nutritionally balanced, vegetarian, low sodium appetizer. Perfect for any crowd!
Ingredients
24 frozen Filo Cups OR 1 sheet thawed puff pastry.
1/2 Cup fresh raspberries
1/2 Cup cranberry sauce (either whole or jellied)
8 oz. Brie cheese
Thyme for garnish
Instructions
Preheat oven to 375 degrees F.
For Puff Pastry:
Grease a 24 hole mini muffin tray
Lay out the puff pastry sheet flat
Using a sharp knife or cookie cutter, cut the puff pastry sheet into 24 equal squares
fit each pastry square into a mini muffin hole, try to get the sides up to the tops of the tray.
For Filo Cups:
Place the frozen filo cups into the mini muffin cup holes.
Filling:
Remove the rind of the brie with a sharp knife.
Cut or pull off small sections of cheese and roll into small balls and place on each of the pastry sections in the mini muffin tray.
In a medium bowl, Mix together the fresh raspberries and cranberry sauce.
Place 1/2 to 1 Tsp. of raspberry cranberry sauce on top of the brie.
Sprinkle fresh Thyme Leaves on the sauce for a bit of color.
Bake at 375 degrees for 10 minutes.
Remove from oven and remove from mini muffin tray immediately to cool. (use a sharp knife around the edges to release any sticking spots.
Garnish with fresh Thyme as desired.
Place on serving tray
Serve warm or at room temperature.
Notes
These will hold well if you want to make them ahead. Bake, cool and Refrigerate covered. Warm to room temperature to serve.
OR make the trays but do not bake. Cover and refrigerate. At serving, Bake in preheated oven for 10 minutes.
Recommended Products
As an Amazon Associate and member of other affiliate programs, I earn from qualifying purchases.
Nutrition Information
Yield
24
Serving Size
1 brie bite
Amount Per Serving
Calories

50
This recipe is part of 35 Cranberry recipes with Festive Flavor by Autostraddle.com
Follow Us:
We enjoy meeting you on our social networks. Follow us on Facebook, Pinterest, Instagram . Tag us with your pictures of our recipes and comment on how it went for you. We would love to see what you do with them.
We often like, comment and share your posts of our recipes on our daily Instagram stories.
Ask questions and rate the recipe in the comments section below. Please share what you did with this recipe. We are always looking for more and better ways to make homemade food. Other cooks love your ideas!
Recent Posts: