Delightfully flavorful Pastrami Wraps lunchbox, Snacks, Appetizer Recipe. This Low-​Carb, Low-​Sugar wrap is very tasty and easy peasy to make!
I put these little delights together on a whim right out of my fridge last week. It literally took me five minutes! My husband found these in his lunchbox. I was thinking how many sandwiches he eats every week. Time for a change-up! He came home and made a point to tell me how he loved the flavor of those wraps!
He'll see these in his lunch box again. You will love these rolled up flavor bites for lunch, snacks or appetizers! I passed a tray of these to my circle of taste testers. Big smiles all around. And requests for more. My pickiest eater, who hates sauerkraut, by the way, enjoyed these! High praise indeed.
Pastrami wraps are excellent little bites. The piquant flavor of the sauerkraut adds strength to the pastrami and Jarlsburg cheese blend. Together these three unique flavors come together into a satisfying experience. Add the greens for color, nutrition and extra texture! Don't want to use Mayo? Feel free to use your favorite spread (Ranch would be great, but salty!)
Pastrami makes a powerful focal point in this recipe. I enjoy its brined pepper flavor. Milder flavored, Norwegian Jarlsburg cheese leaves the mouth with a clean feeling. Not chalky or heavy tasting like cheddar or Mozzarella. Jarlsburg is a mild, almost Swiss cheese, but not so strongly flavored. Also not as dry. We really love it. I'm using Jarlsburg in quite few recipes these days.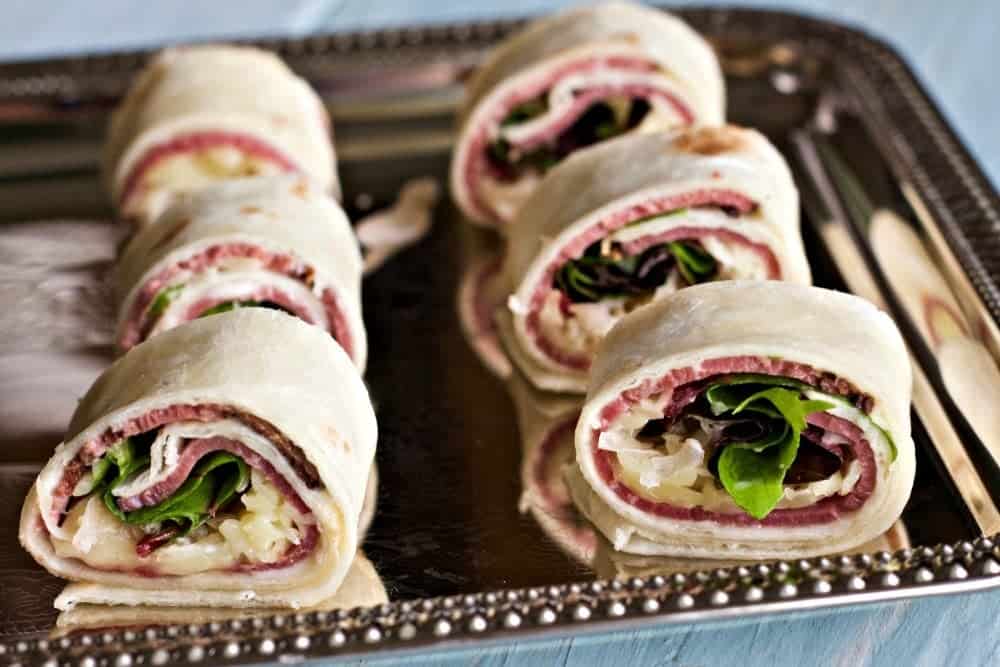 Pastrami Wraps Lunchbox, Snack, Appetizer Recipe:
Making these Pastrami Wraps is very fast. Just pull everything out of the fridge and assemble the wraps.
Lay the wrap flat (I used tortillas)
spread with Mayo
Lay on the Pastrami
spread the shredded cheese and sauerkraut
spread greens in a light layer on top
Roll the wrap!
Microwave for about 20 seconds to just barely melt the cheese.
retighten the wrap as necessary, the melted cheese will hold it together as it cools.
Cut the wrap into 6 even pieces. Serve!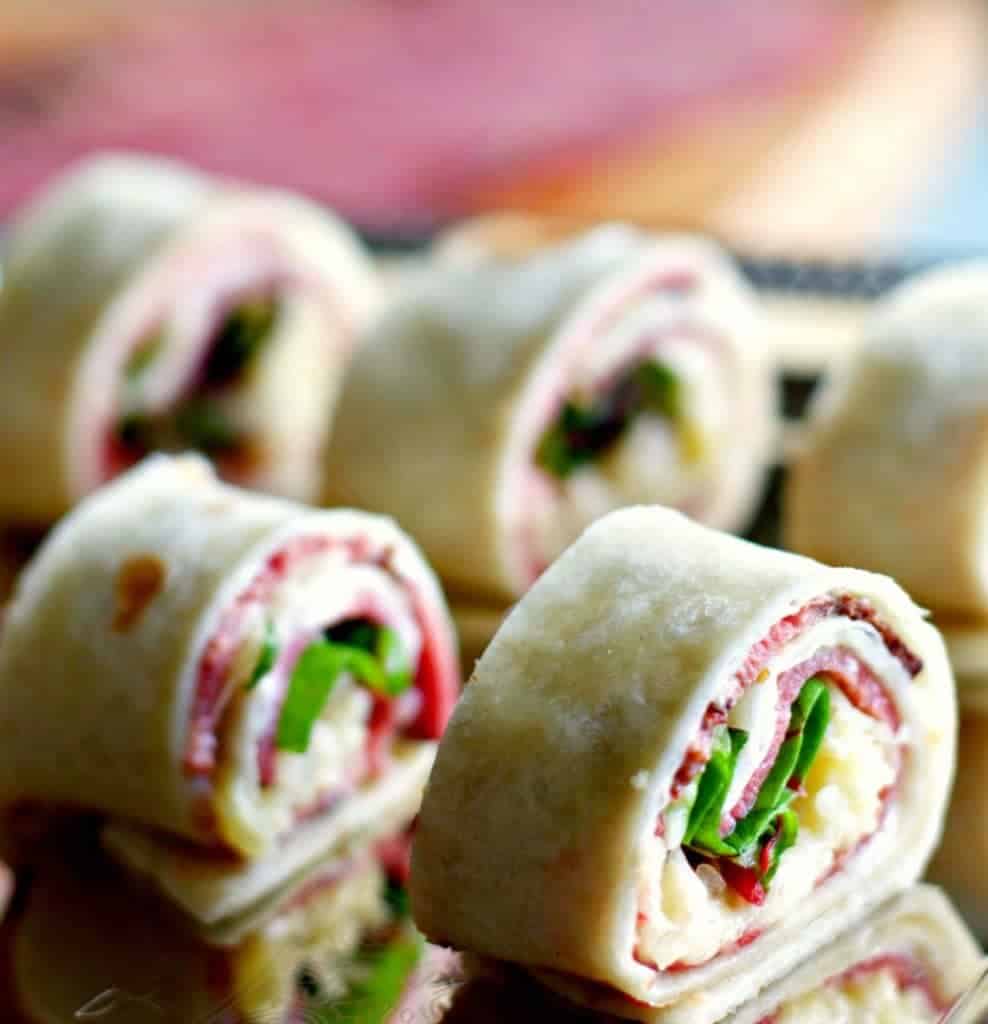 Nutrition Facts:
53

Calories / Serving
Fat 5% 4 g

Carb 1% 2 g

Protein 4% 2 g
Delightfully flavorful Pastrami Wraps lunchbox, Snacks, Appetizer Recipe. This Low-​Carb, Low-​Sugar wrap is very tasty and easy peasy to make!
Ingredients
1 low carb tortilla
1 Deli Style Pastrami slice
1 Tablespoon Mayonnaise, or your favorite spread
1/4 Cup shredded Jarlsberg Swiss Cheese
1 Tablespoon sauerkraut
1/8 Cup baby greens
Instructions
Lay out the wrap
Spread the mayo to the edges of the wrap
lay the pastrami slice on the wrap (fold it if necessary)
spread the cheese evenly all over the pastrami in a thin layer
Drop sauerkraut in small amounts over the cheese
Add greens lightly to the top
Roll the wrap as tightly as you can.
Put in microwave for about 20 seconds. (Just long enough for the cheese to melt a tiny bit)
Lay the rolled wrap on a cutting board and cut into even sections.
Nutrition Information
Amount Per Serving
Calories

53
I hope you enjoy these fun and easy to make sandwich alternatives and party food. Please share this recipe if you enjoy it! We'd love a comment on the blog to let us know your experience!
Sign up for our weekly newsletter for more recipes! We also post news and tips about our gardening. We encourage you to follow us on all our social networks. Please join the discussion! Thank you so much for your visit to Homemade food Junkie!
Pin it: