Roasted Peppers Parmesan makes a delightful simple lunch or tasty side dish. Try them them for breakfast or brunch with eggs!
Our Reader, Mandee had this to say: "I saw this on Pinterest today and sent it to my friend. She made it for dinner tonight and RAVED about it! I can't wait to try it for myself!"
We are so excited when our lovely fresh peppers ripen in the greenhouse and garden. Dave starts the pepper seed as early as he can, and babies his pepper starts through the spring.
He carefully transplants and nurtures them through summer and into late Fall. He's picked up some useful tips about growing peppers over the years.
Dave's success in the greenhouse is beyond belief! We have overflowing baskets of peppers all over the house from Fall to New Years.
Several gallon bags are dried or roasted and frozen (Learn how here). Lots more homegrown peppers are in our chili and my Roasted Pepper Cheese Fondue sauce.
The Roasting Peppers we use:
Our homegrown fresh pepper supply dwindles away after the first of the year. We use our frozen and dried peppers in the long winter and early spring months. It's a long dry spell from fresh peppers every year.
Krimson Lee Peppers are a really good roasting pepper. They are sweet and have a heat scale similar to pasilla peppers. And when they are in season we have a LOT of them.
I'm always thinking up new pepper recipes. Recipes that use garden peppers are not that easy to find. These are not sweet bells. They need to be treated differently.
Making meals from all these beauties is my challenge. I welcome it. This recipe is my own inspiration. It's SO good!
I have been dreaming about roasting peppers and filling them with an excellent parmesan cheese, our Homemade sun dried tomatoes and drizzling them with balsamic vinegar…and fresh herbs.
That's how this recipe came into being. Just a bit of kitchen tinkering. It turned out fabulous!
TAKE NOTE: These are a very flavorful but mild roasting variety. Krimson Lees can have a bit of heat raw. Deseeded and roasted they sweeten up and give that unique smoky roasted pepper flavor a sweet bell pepper CANNOT give!
To experience the flavor of this and all roasted pepper dishes as they should be, go get good roasting peppers! For all you pepper freaks out there, you know what I'm talking about.
But if all you've ever stuffed was a sweet bell…a whole new world awaits!
And then there are the Homemade Sun Dried tomatoes….get the recipe here.
Gardeners and Farmers Market fans know that fresh produce is amazingly flavorful. I made this batch of homemade Sun dried Tomatoes just to see if I could. Never going back to store bought. The flavor is amazing!
Roasted Peppers Recipe Notes:
Roasted peppers make a tasty dish. This pepper recipe takes about 20 minutes tops! You can make these for a large crowd easily.
Serve these as a fantastic side dish, light lunch or appetizer. The peppers can easily be grilled if you would rather.
Roasted pepper recipes are versatile. But you want a smoky pepper and the roasting heat to concentrate the flavor and get a sweet smoke result.
The Recipe Card has complete instructions on how to roast peppers. I roasted four Krimson Lee peppers this time. Any poblano, hatch or pasilla roasting pepper will do fine. Even Jalapenos will work.
Roasted peppers parmesan makes a great lunch or Roast up a batch for a party. These are SO good!
Your Printable Recipe Card: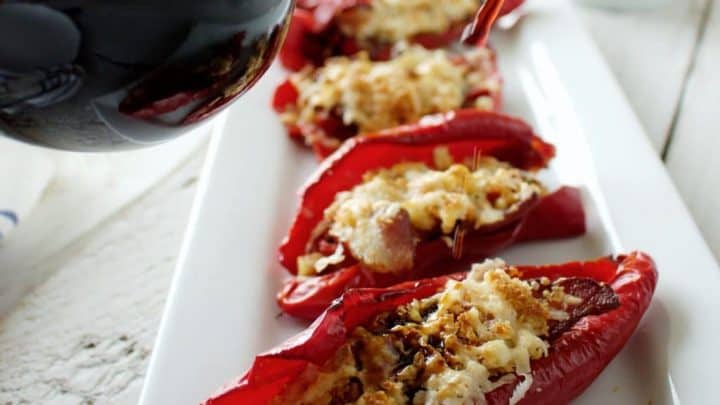 Yield:

8 stuffed half peppers
Roasted Peppers Parmesan Recipe
Roasted Peppers Parmesan makes a delightful simple lunch or tasty side dish. Try them them for breakfast or brunch with eggs! Recipes with peppers are the best!
Ingredients
4 Large Mild (or hot if you prefer) roasting peppers sliced and deseeded
2 Tablespoon balsamic vinegar
2 large bacon strips, cut in half
2 garlic cloves sliced, to taste
1 Cup freshly grated parmesan cheese
1/2 Cup Focaccia croutons roughly crushed
1/2 Cup dried tomatoes ( we are using our own sun dried recipe)
2 Tablespoons Fresh oregano for garnish
Instructions
Lay the sliced, deseeded peppers onto a baking sheet.
Put under the broiler for 5 minutes or until barely blackened, turn the peppers, and blacken the other side for a few minutes. Do not let them cook to mushy!
Meanwhile, set a skillet on medium and put the four half long pieces of bacon and the garlic into the pan. Cook until the bacon is medium crispy. (To taste)
When the peppers are broiled to just barely blackened, remove from oven.
lay the parmesan inside the pocket, then add the bacon, sun dried tomatoes, garlic add more parmesan on top.
Heavily sprinkle the crushed croutons over the parmesan.
Return to the oven on broil until the cheese and croutons get a light crispy brown.
Serve at table with balsamic drizzled over the peppers, to taste. Sprinkle with fresh oregano as desired.
Nutrition Information
Yield
8
Serving Size
1 stuffed half pepper
Amount Per Serving
Calories

123
Total Fat

6g
Saturated Fat

2g
Trans Fat

0g
Unsaturated Fat

3g
Cholesterol

14mg
Sodium

375mg
Carbohydrates

11g
Fiber

1g
Sugar

2g
Protein

6g
Join our Blog Hop For more Excellent Garden To Table Recipes!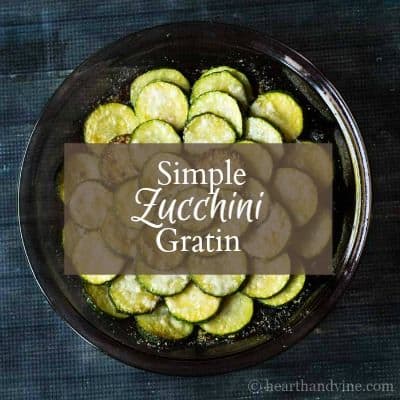 PIN THIS RECIPE FOR LATER!